As a gear tester, I sometimes find myself having a hard time trusting new brands or online stores that aren't the REIs, Patagonias, North Faces, or Columbias of the world.
Don't get me wrong, I have gear from most of those companies that I love. But one of the great parts about running my own blog is that I can choose to work with different brands to bring my readers more options for getting high-quality outdoor gear at affordable prices. So I'm here today to tell you how to get cash back on purchases at Gear.com!
Give a Buck Campaign Overview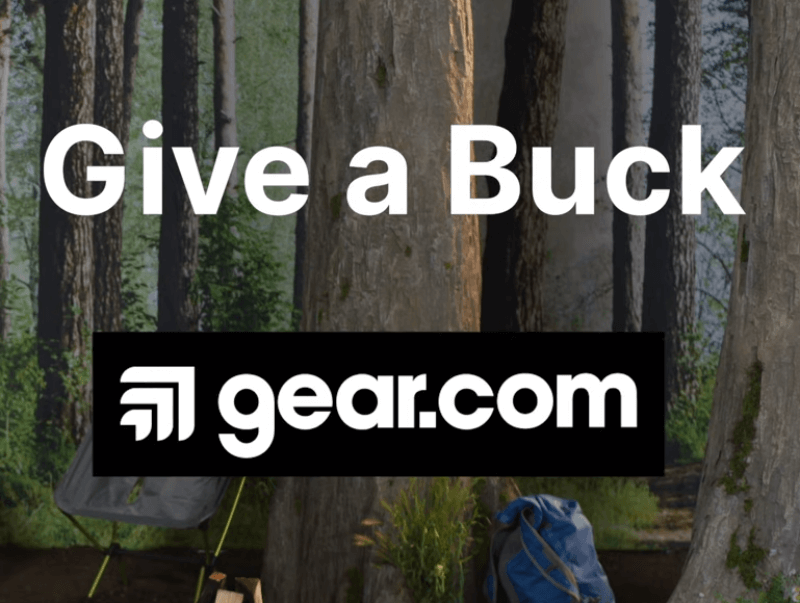 When you sign up for the Give a Buck Campaign, you'll get 20% back on every purchase you make. However, you must commit to giving half of that 20% return to a charity or friend of your choice. The other 10% can be kept so that you can use it for future purchases.
As a first-time customer, you'll get a coupon for 15% off and free shipping on orders over $79. That 15% off coupon can be applied in addition to the standard 20% off that you'll receive as the newest member of the Give a Buck Campaign at Gear.com.
The goal of this campaign is to help more folks get outside by offering discounts on the gear that you'll need to feel comfortable and safe recreating outdoors.
It also gives back to charities dedicated to a number of outdoor initiatives, including mentoring youth and creating inclusive learning environments in the outdoors. Some examples of these charities include Big Brothers Big Sisters, SheJumps, Outdoor Research, and Sacred Cycle.
Give a Buck Campaign Video
If that's too many words and numbers that don't all make sense, here's a quick video that further explains the Give a Buck Campaign!
---
$100 gear purchase = $10 cashback for shopper, $10 for a charity or a friend
---
---
Gear.com Product Reviews
As part of our partnership, I received a couple of product samples from Gear.com to test and share with you! The products I'll briefly overview here are both from Goal Zero; their portable power bank and solar lantern.
Goal Zero Flip 24 Power Bank
This portable power bank is compact and easy to take along on your travels. It recently came in handy for me to keep my phone recharged on our flight to Austin.
It allows you to charge your devices via USB port and features a 24.12 Wh battery size. It will achieve a full charge (via USB power source in 4 hours) and contains a Lithium-ion NMC battery.
When fully charged, it can provide about two charges for most cell phones and is also capable of boosting your tablet or laptop if you can't reach a wall outlet.
It's really simple to use (plug-and-play) and weighs just 4.6 ounces. If you're really going off-grid. the Flip 24 can also be recharged using the Nomad 5 (8 to 10 hours) or Nomad 7 (5 to 10 hours) solar panels from Goal Zero.
---
Goal Zero 'Crush Light' Solar Lantern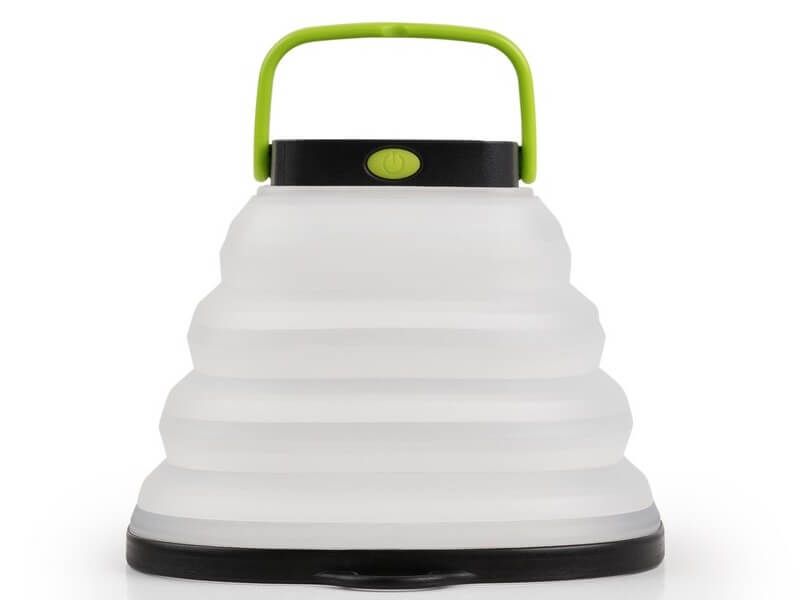 The Crush Light is a collapsible, solar-powered light that can last up to 35 hours on a full charge. It requires 2.5 hours to obtain a full charge when connected to a USB power source and 20 hours when charging from the small solar panel attached to the top of the light. It has four lighting modes (high, medium, low, and candle-light) and will last for different amounts of time when left on each setting.
When not in use, it collapses to a square that's less than 5″ by 5″ in dimension and it features a convenient clip so that you can attach it to your backpack or hang it from your tent to recharge.
The Crush Light weighs just 3.2 ounces and boasts a lithium polymer battery with a capacity of 1.85 Wh. It's a great companion for hiking or traveling and can even come in handy at home if you experience a prolonged power outage!
---
About Gear.com
As a product reviewer, I see Gear.com's website and recognize golden opportunities to find quality gear at discounted prices. But we must remember that there are always people behind the best products and services that are available both online and in-person.
So instead of re-inventing the wheel, here's what Gear.com themselves has to say about their origins:
"Gear was founded by athletes and industry professionals focused on highlighting what we love most: discovery. Nothing is as exhilarating as discovering something new and loving it. We admire so many who are pushing the boundaries of what's possible. Whether that's athletes, photographers or product designers. That inspiration drives us to envision what we can do, and it moves us to action. We hope to fuel that same drive for discovery in everyone. Discover it. Do it. Love it."
About The Backpack Guide
While I spend a lot of my time guiding others on outdoor adventures (mostly in the Tahoe region), this site is my side-hustle/passion project/hope for independent, self-employed income. It is my dream to lead multi-day outdoor excursions that focus on detoxing from our digital worlds and integrating our minds, bodies, and spirits with nature.
To that end, I started this website to share my past experiences in the outdoors and to offer knowledgeable insights on how to get out more and go farther while staying safe and well-prepared. It also gives me a great excuse to continuously research the latest and greatest products in the outdoor industry and it is my pleasure to bring you my honest reviews of those products.
FYI: I do receive a commission on purchases made through the affiliate links on this website and I use those earnings to purchase more products and free up more time so that I can keep producing useful content for you!
Let's Explore, Create, and Connect
I'm on a mission to explore the wilderness, create learning opportunities, and connect with nature. These are the objectives that underline all the content I create on this site.
I want to inspire others to recreate in their respective wildernesses and to do so in the safest, most enjoyable manner possible. I'm also very interested in the experiences of others in the wild and I want to create a community of people that share those experiences and the lessons they've learned as a result.
If you feel drawn to this mission, think we can collaborate, or simply want to connect, I'd love to hear from you! Reach out to me directly (email below), or share your adventures/product experiences by tagging @thebackpackguide on Instagram, which is where I'm most active. You can also find me on Facebook, Pinterest, Twitter, and LinkedIn.
"If you're keeping your gear pristine, you're missing the point. Your gear is just a facilitator of experiences."
– Gear.com
The Backpack Guide