If you're anything like me, it can be hard to turn your back on a great deal on a new backpack. Osprey, of course, is one of those coveted brands that can be tough to find on sale.
So, in the interest of helping anyone out there looking for a new backpack narrow down their choices, I'm going to take a moment today to highlight three discounted Osprey backpacks!
Osprey Women's Perigee Pack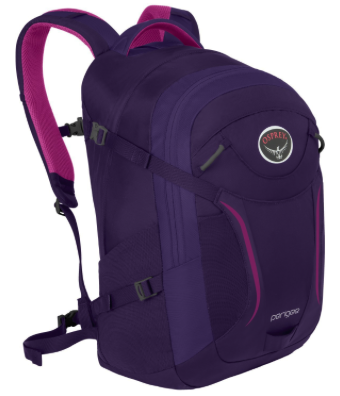 Pack Capacity: 29 liters (1770 cubic inches)
Weight: 24.8 ounces
Fabric Details: 400HD 100% Nylon
Dimensions: 19 x 11 x 9 inches
Best Use: Running, Day Hiking, Work and School, Commuter Cycling, Travel
The Women's Perigee is a great pack for a wide variety of everyday uses. One of the best, however, is to help you safely transport your books and laptop from home to school (both in style and comfort!).
The Perigee features a main compartment with a laptop and tablet sleeve, as well as a secondary compartment that helps you organize cords, pens, sunglasses, and even your smartphone.
Perhaps the most alluring feature of this pack is its reverse spacer mesh on the back panel, which will keep you comfortable no matter how far across campus you have to travel from class-to-class.
---
Osprey Wayfarer 70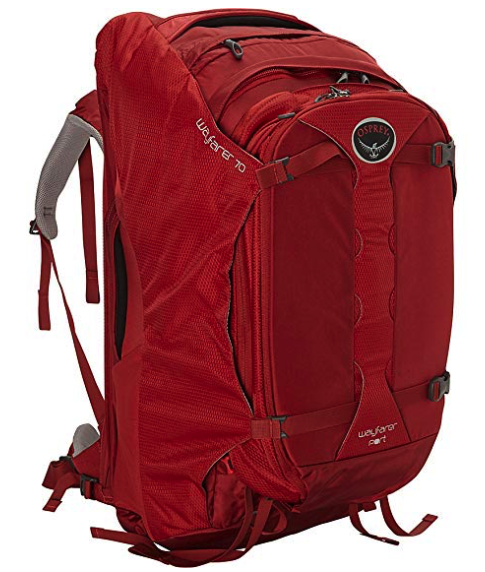 Pack Capacity: 70 liters (4272 cubic inches)
Weight: 87 ounces
Fabric Details: 330D Nylon Dobby
Dimensions: 24 x 16 x 13 inches
Best Use: Backpacking, Trekking, Travel
The Wayfarer 70 is a behemoth of a pack that's built for week-long (or longer!) trips in the backcountry. It's also an exceptional pack for traveling the world, as it has straps that tuck away and zip up to avoid damage if stowed away under an aircraft or bus.
It also offers an extremely comfortable harness and hip belt (because you'll be wearing for extended periods at a time!). Best of all, it includes a detachable daypack that lets you explore new cities and peaks without carrying your full pack everywhere you go!
---
Osprey Variant 52
Pack Capacity: 52 liters (3173 cubic inches)
Weight: 55 ounces
Fabric Details: 210D Nylon Shadow Dobby
Dimensions: 29 x 13 x 11 inches
Best Use: Climbing, Mountaineering and Alpine, Travel, Expedition
The Variant 52 is designed for pursuits of icy and snowy peaks and landscapes. It is a top loader (gear loads in the top) that is highly adjustable depending on what your adventure dictates.
It has a place for your ice tools and skis. It keeps your valuables dry under even the harshest conditions. And you can remove pieces to drop the base weight even further for those trips where lighter is better.
---
Quick Backpack Buyer's Guide
Purchasing any new backpack requires careful consideration. It's an item that you don't want to mess up because it can (and should) last you for a long time. For example, I still have the very first pack I bought. It is now over 10 years old and probably has been used for well over a thousand cumulative miles. To aid in your decision, this quick buyer's guide will focus on two critical factors: how much you want to carry and how much you'll be using your new backpack.
How Much Do You Want to Carry?
Carrying capacity is an important consideration because experienced backpackers have often narrowed down their gear to the absolute essentials. Therefore, they're most likely searching for a smaller pack that allows them to travel lighter, further, and faster.
However, new or intermediate backpackers (or those of you that only get out a few times each summer) typically like to have a little more space to carry their gear. This allows you to throw in a few of those last-minute items that may not fit on the "Essentials" list, but that will make your trip that much more fun and enjoyable.
My general rule is as follows: My typical daypack falls in the range of 20 to 30 liters (this is still a bit large, but I like to carry a little extra if I'm going out for just a day).
My typical overnight pack falls in the range of 35 to 50 liters (this gives me plenty of space for sleeping gear, food, and cooking equipment, but I won't be bringing too much else). And my typical multi-day pack falls in the range of 50 to 70 liters (this gives me plenty of space for everything I'll need for a week, or even a month, on the trail).
How Often Will You Use Your New Pack?
Are you backpacking every weekend during the summer or are you only getting out on two or three trips per summer? There will be a difference in your needs depending on how much you plan to use your new backpack. If you fall on the spectrum of more infrequent use, you can get by with buying a solid "middle-of-the-road" pack (in terms of price) and still have it lasts a few years before you even think about replacing it.
If you plan on using your new pack on a nearly weekly basis, however, it makes sense to pay a little more for a pack that you can be sure will last. When it comes to your pack, the old adage, "You get what you pay for," certainly rings true. Fortunately for you, Osprey is one of the most trusted brands on the market today.
What Do You Think Of These Osprey Packs?
Which of these, if any, would you consider buying? I'd love to know what attracts you to one pack over the others, and what features you deem "indispensable" when it comes to a backpack. Also, if you decide to purchase any of these packs after reading this review, I'd love to know how you like it once you've put it to good use for a few fall adventures!
I hope you've enjoyed this review of these discounted Osprey backpacks and I'd love to hear your feedback in the comments section below. I'll be quick to reply to any questions, comments, or concerns you feel like sharing!
About The Backpack Guide
As The Backpack Guide, I'm always looking for new trails and wildernesses to explore and I'm also interested in the experiences of others in the wild. If there is one thing I am sure of it's that we can all spend more time enjoying and connecting with Nature.
Feel free to reach out to me directly (email below), or share your latest adventure or backpack by tagging @thebackpackguide on Instagram, Facebook, or Twitter!
Fly Like An…Osprey!
The Backpack Guide