Up to this point, I've focused my backpack review efforts on packs used for hiking or backpacking. But there are, of course, many different functions for backpacks and I recently upgraded the everyday carry backpack that I use for work.
In this review, I'm going to show you the features and comforts of my new laptop backpack, the Nayo Rover, which came my way from the fine folks at Nayosmart. But first, a little story: 
I like to consider myself a digital nomad. But while my wanderlust has led me to explore many amazing places and stumble my way into several life-changing experiences, it hasn't always been the best lifestyle for the technology that I rely upon to work from anywhere. I'll admit that I haven't always invested in protecting my phone, computer, and cameras to the best of my ability. 
In fact, before I received this Nayosmart Backpack, I had been working out of a converted Camelbak hydration pack for almost two years. While it might have been unassuming while I was walking down the street in Costa Rica, it certainly wasn't the best way to keep my technology safe and my work supplies organized.
Nayo Rover Backpack Overview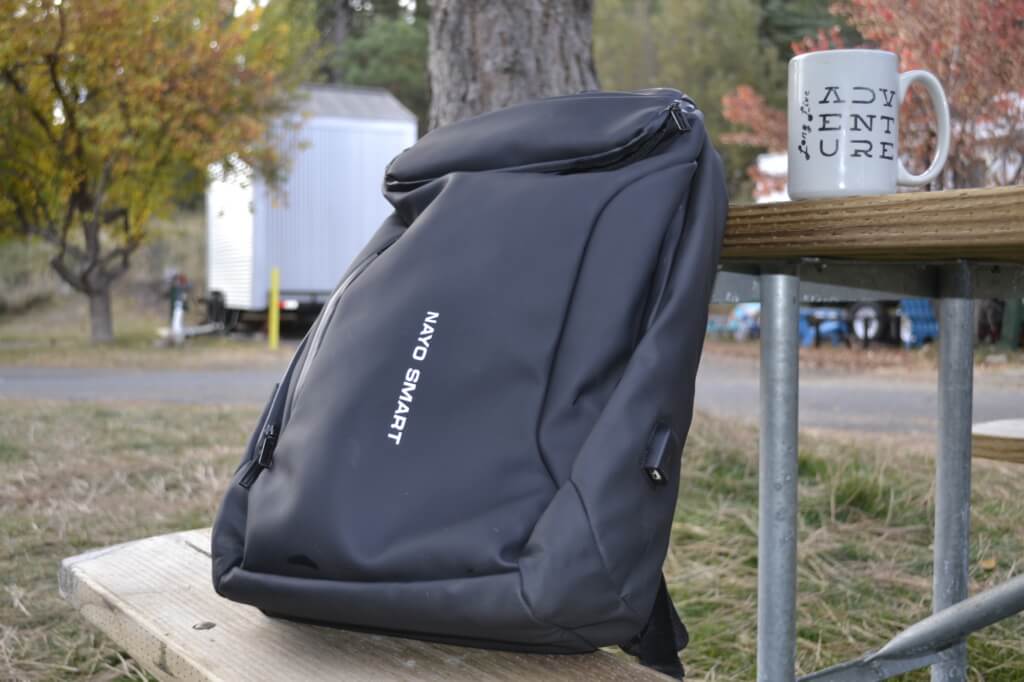 Now, let's get into it. I chose the Nayo Rover to upgrade my everyday carry laptop backpack because it was the first backpack on their site that caught my eye. I liked the sleek design even before I started to dive into any of its features or specifications.
But aside from style, I wanted a laptop backpack that allowed me to keep my work supplies more organized so that I wasn't wasting time rummaging around for my charger every time I sat down at a coffee shop. 
The Rover actually fully opens up like a suitcase so that I can easily locate (with my eyes and not just by feeling around aimlessly) whatever I need for my next task.
It also offers multiple compartments for a laptop and/or tablet and plenty of places to organize pens, headphones, an extra notebook, your power charger, and a good book (because I never know when I'm going to get to a coffee shop and feel like reading rather than actually getting any work done!). 
Pockets and Compartments
Additionally, the Nayo Rover actually features two separate interior compartments. The second is somewhat hidden under the small top pocket that's great for holding USB flash drives (my current use) or other small items. The second interior compartment also has pockets for pen/pencil storage and webbing for additional cables or chargers. 
But it doesn't end there. There are four more pockets I need to mention. The first is on the front of the pack (where I'm currently storing my external hard drives). The second is on the side of the pack and is designed to fit slim water bottles because, ya know, you can't produce your best work if you're not staying hydrated. 
The third is actually on the back of the pack and rests under the small of your back when you're wearing the pack. At first glance, you might not even realize that this "pad" is actually a "pocket," but it is designed that was a concealed place for you to carry a passport and any other important travel documents that you might want to keep concealed but still have quick access to when you need it. 
There is one more pocket on the left shoulder strap of the Nayo Rover. This zippered pocket is just big enough to hold a transit pass, hotel key card, or any other small item to which you want quick and convenient access. 
Straps and Zippers
When it comes to carrying the Nayo Rover, the straps are intentionally designed to keep the weight of the pack higher on your back. This makes it sit closer to your body's natural center of gravity and is actually designed to make the pack feel lighter.
The pack also has a chest strap that can be used to change the placement of the shoulder straps. The chest strap includes a compass and emergency whistle for those times you get lost in your everyday life (don't laugh, it happens to the best of us!)
The zippers on the Nayo Rover are also made to last. They've used SBS zippers on this pack, which compare favorably to the long-standing YKK zippers that so many rugged packs possess. (SBS and YKK are the two giant players in the global zipper industry.
Seriously though, these folks take their zipper construction, well, seriously. Check out this recent article on 'Zipper Wars' if you're interested in learning more!).
Nayo Rover Technical Specs
My tropical experience in Costa Rica last winter (see my other blog for more details!) had me thinking about a more weather-resistant backpack option for keeping my electronics safe and dry.
The Rover's exterior shell is made of 600-denier high-density polyester that's finished with a waterproof polyurethane coating. This pack has a total volume of 33-liters and dimensions of 12.6″ wide, 6.3″ deep, and 19.7″ tall.  
Nayo Rover Photos
---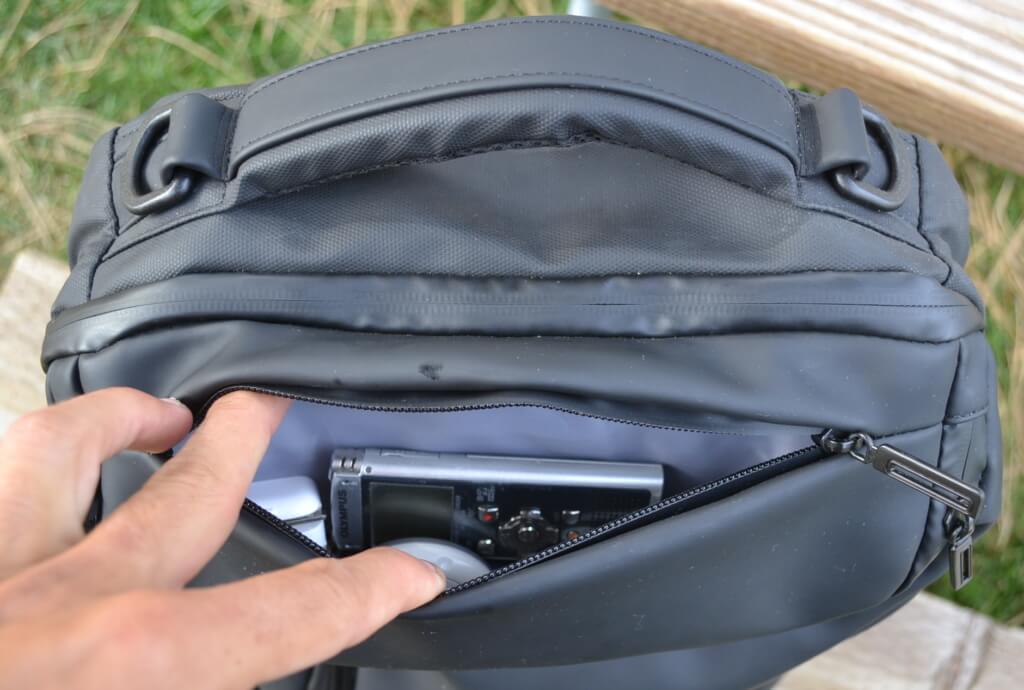 ---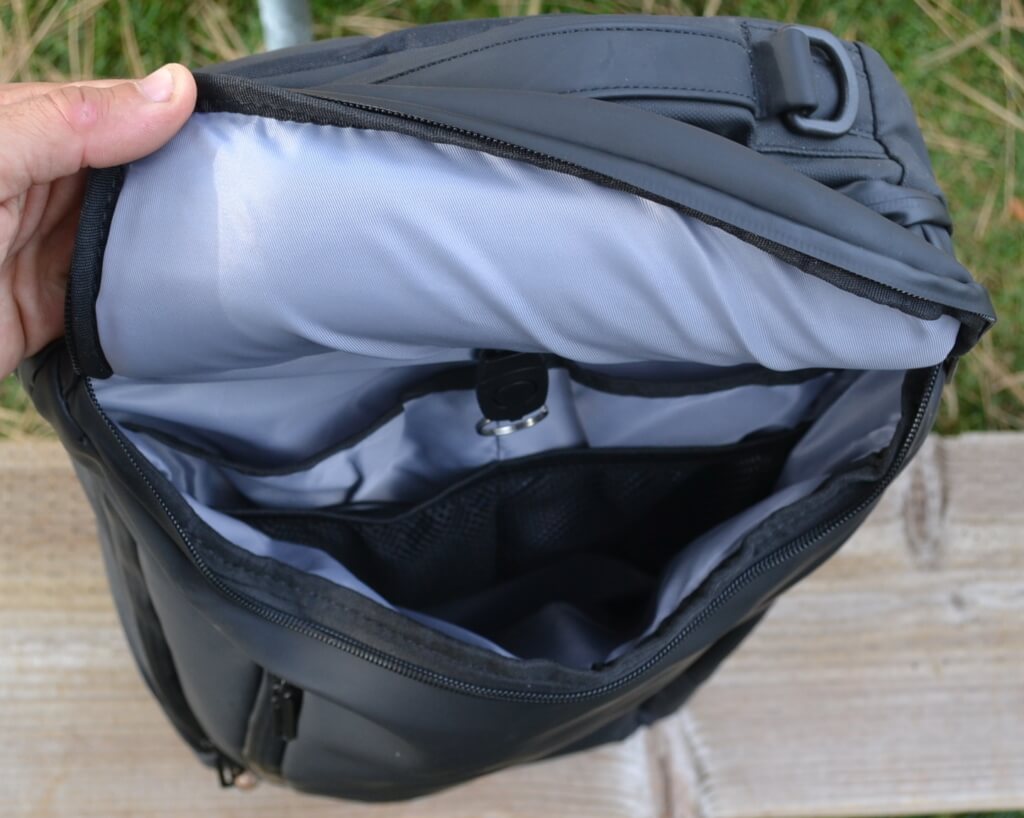 ---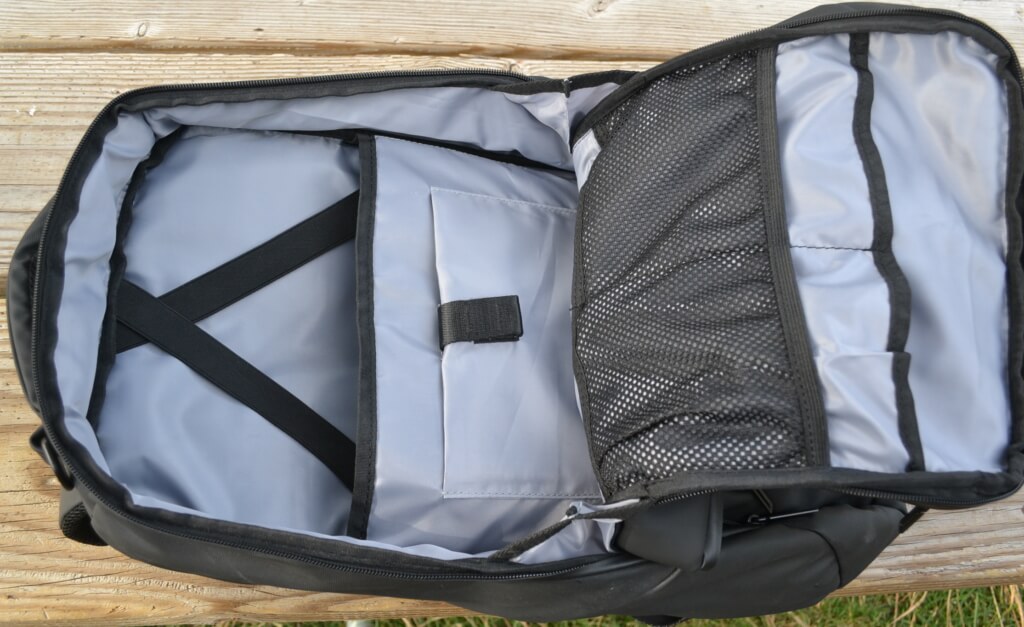 ---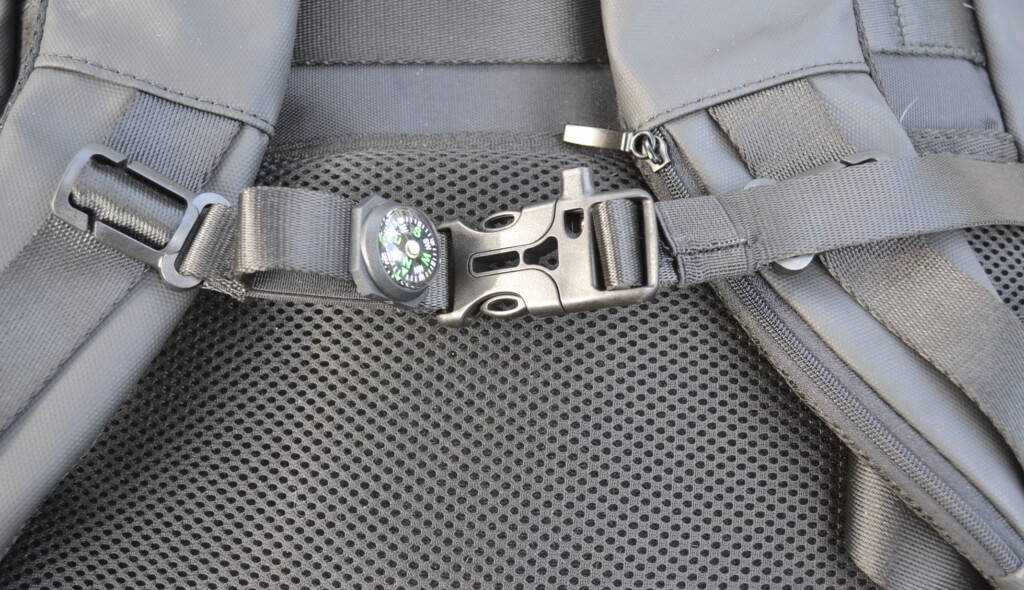 ---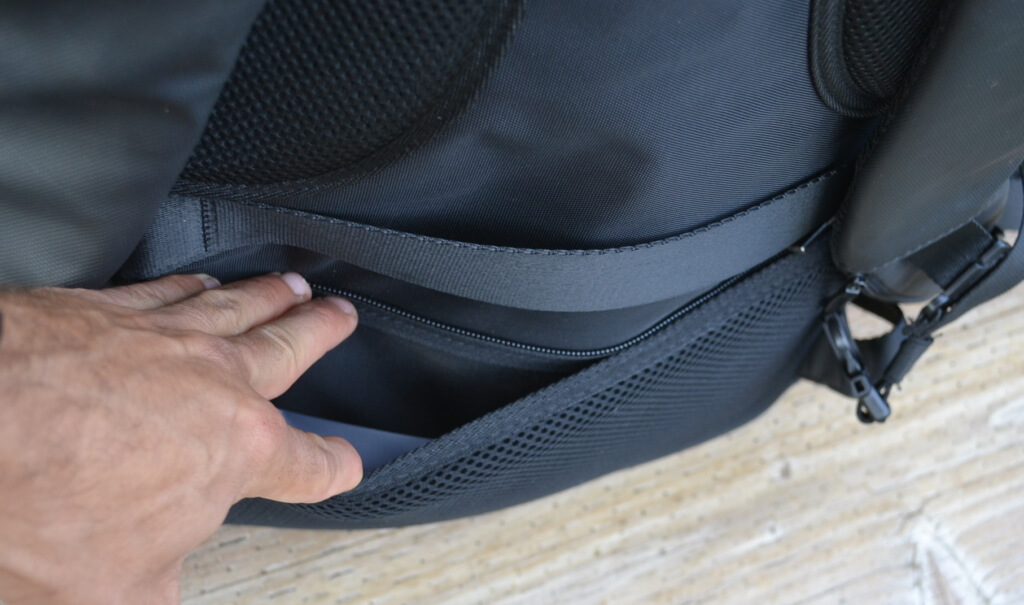 ---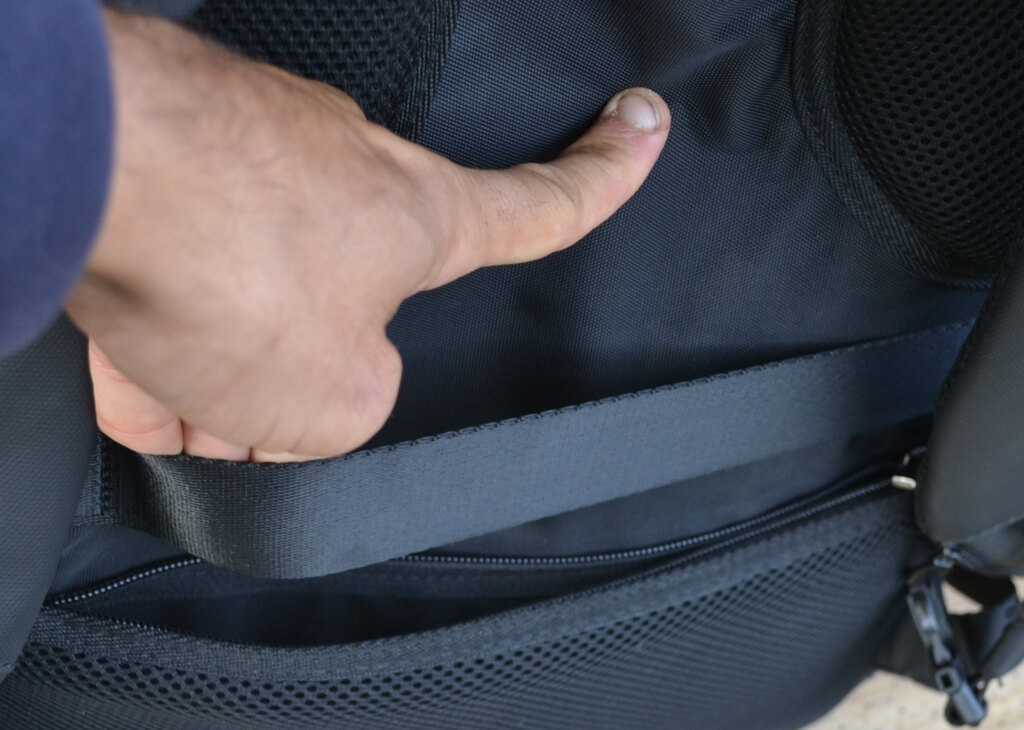 ---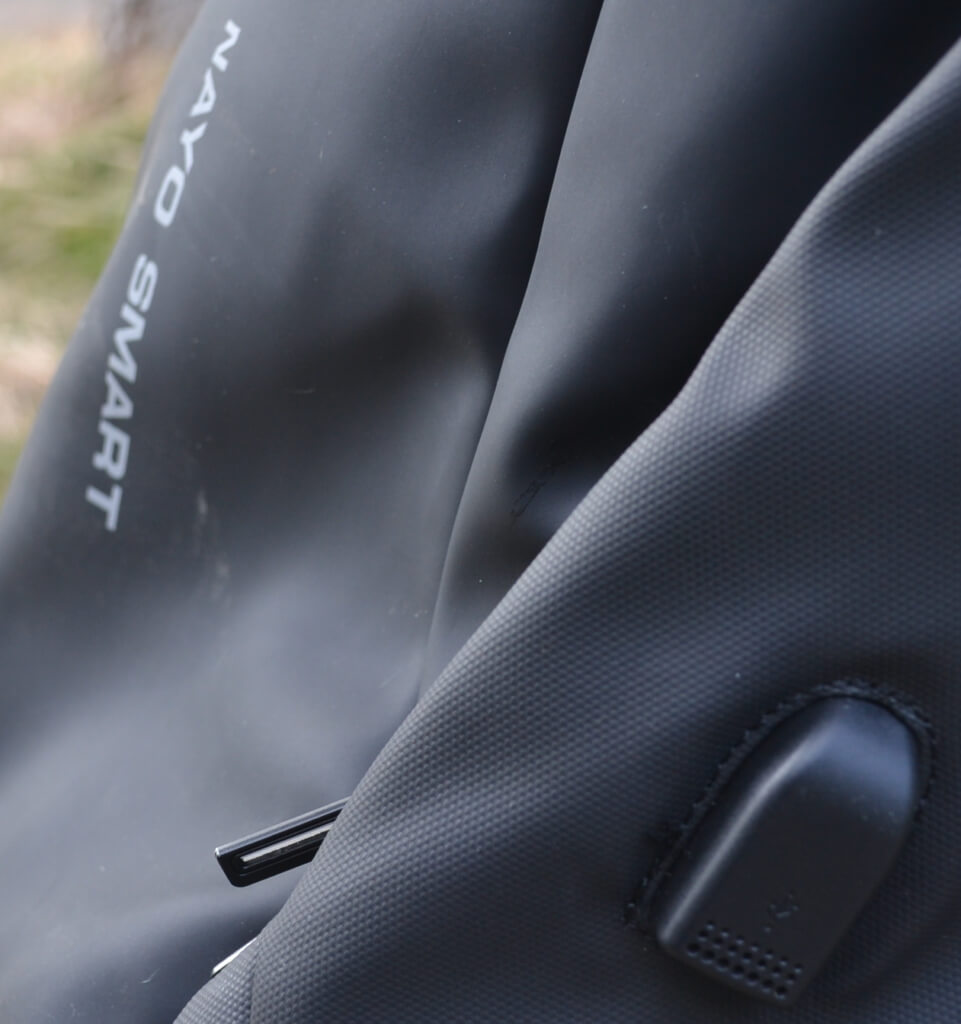 ---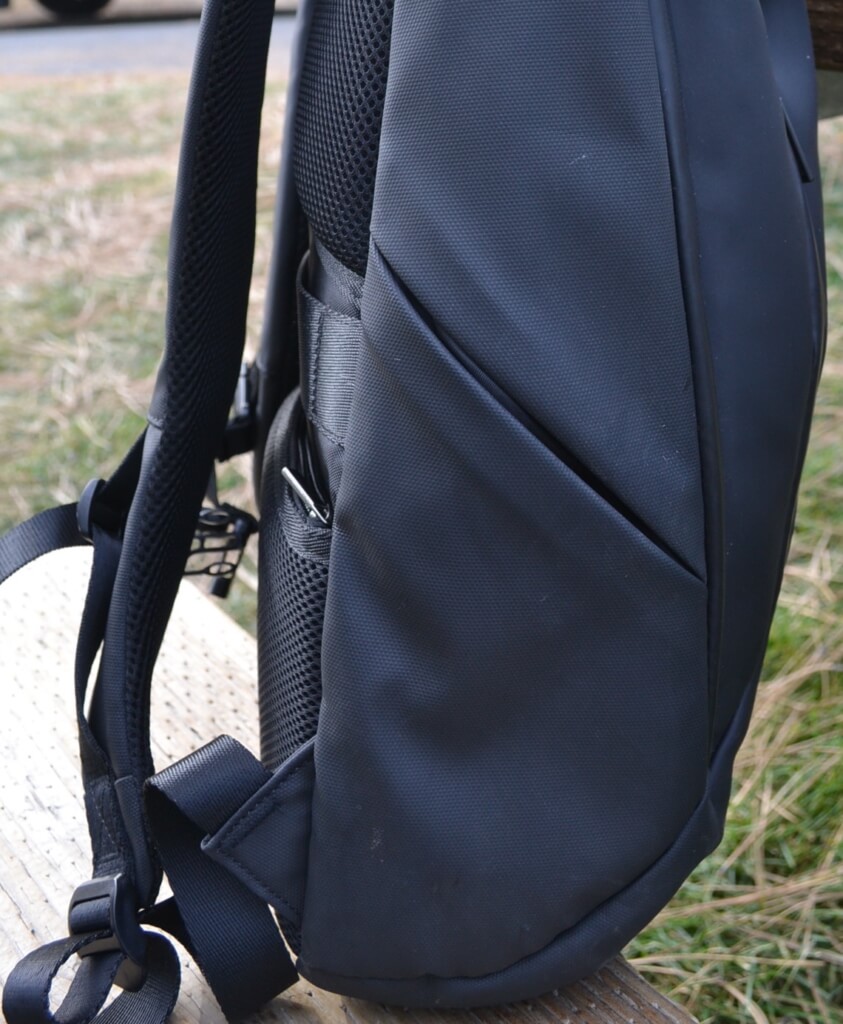 ---
My Final Verdict On The Nayo Rover
I can really sum it up in about four words: so far, so great! I've only been employing the Nayo Rover as my EDC backpack for a month or so now, but the early returns are very promising.
Unlike my last EDC backpack, all of my items now have a place and I feel organized when I arrive at my "office for the day." I also have the peace of mind of knowing that my pack is waterproof if I happen to get caught in a quick rainstorm walking to or from that office. 
This pack actually makes me feel slightly like I should add a few more daily supplies to my arsenal that help to keep me organized and productive.
I have a lot of room left in it right now and plenty of compartments, sleeves, or mesh pockets to keep everything neat and tidy. While I wouldn't really choose this pack for a day hike or a bike outing, it's a great companion for the "urban" side of my digitally nomadic lifestyle!
---
About The Backpack Guide
While I spend a lot of my time guiding others on outdoor adventures (mostly in the Tahoe region), this site is my side-hustle/passion project/hope for independent, self-employed income. It is my dream to lead multi-day outdoor excursions that focus on detoxing from our digital worlds and integrating our minds, bodies, and spirits with nature. 
To that end, I started this website to share my past experiences in the outdoors and to offer knowledgeable insights on how to get out more and go farther while staying safe and well-prepared. It also gives me a great excuse to continuously research the latest and greatest products in the outdoor industry and it is my pleasure to bring you my honest reviews of those products. 
Side Note
After you've checked out this backpack review, please check out the products on my Outdoor Gear page. Also, my Backpack Reviews include brands like Kelty, REI, Osprey, and more. For more on my adventures (as well as general hiking know-how) check out my Tips and Trails. Finally, my YouTube Channel is full of informative video content if you're not the most avid fan of reading!                                                                                                                           
FYI: I do receive a commission on purchases made through the affiliate links on this website and I use those earnings to purchase more products and free up more time so that I can keep producing useful content for you!
Let's Explore, Create, and Connect!
As The Backpack Guide, I'm on a mission to explore the wilderness, create learning opportunities, and connect with nature. These are the objectives that underline all the content I create on this site.
I want to inspire others to recreate in their respective wildernesses and to do so in the safest, most enjoyable manner possible. I'm also very interested in the experiences of others in the wild and I want to create a community of people that share those experiences and the lessons they've learned as a result.
If my mission resonates with you, you think we may have an awesome opportunity to collaborate, or you simply want to connect, I'd love to hear from you! Feel free to reach out to me directly (email below), or share your adventure by tagging @thebackpackguide on Instagram, which is where I'm most active. You can also find me on Facebook, Pinterest, Twitter, and LinkedIn.
"One thing is for sure. I'm most certainly learning a lot."
– Tucker Ballister from 'Journal from the John Muir Trail'
The Backpack Guide