As I was loading my old green REI backpack down for our trip to the tropics back in the fall, I started taking stock of the broken zippers, busted clips, and frayed seams dotting the pack's landscape.
I realized that I have had that pack for 10 years and, while I still trust it as a great travel companion when I need to check a bag, I subconsciously started to think about finding a new pack. I didn't make any moves, however, until I was contacted by My Trail Company about testing out their Backpack Light 70 model.
Because my adventures tend to come in all shapes and sizes, I liked the idea of a pack that was adaptable to suit day hikes as well as extended backcountry trips. I agreed to test and review the My Trail Company Backpack Light 70 this spring here in Costa Rica.
This review provides an overview of the pack and its features, how I've tested it thus far, my test results, and my final conclusion on the best uses for this pack. I hope you find my insights useful if you're looking for a new, multi-purpose backpack.
My Trail Company Backpack Overview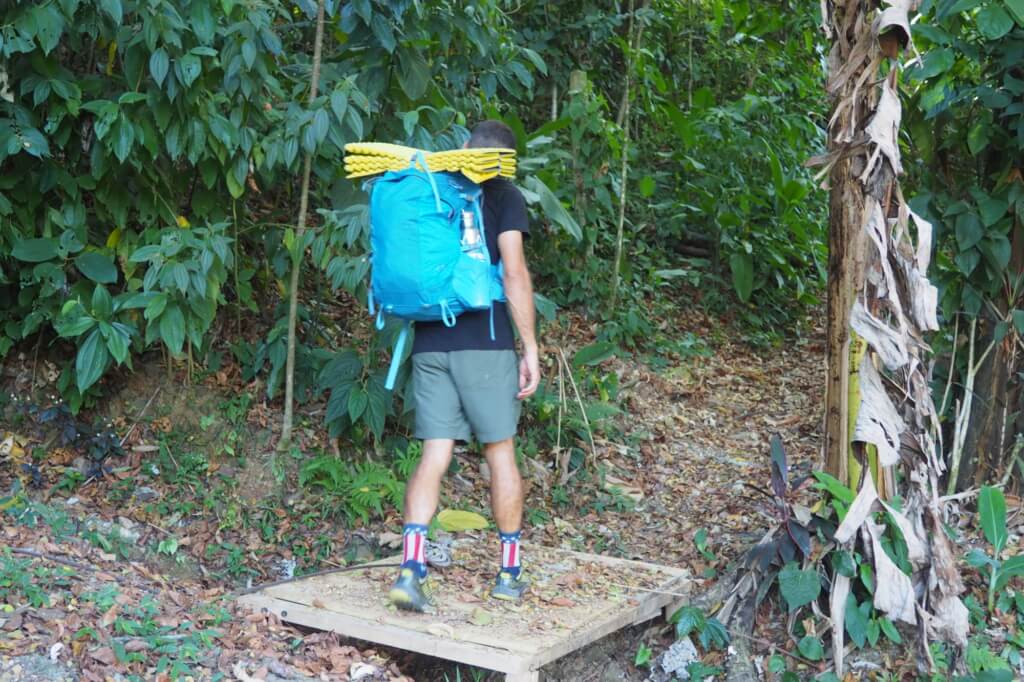 The Backpack Light 70 offers a total of (you guessed it!) 70 liters of internal storage space and offers a total base weight of just 33.5 ounces. The maximum recommended load to carry in this pack is 40 pounds, which actually will help you pare down your gear to what you absolutely need, especially if you're like me and tend to overpack.
The interesting part about this pack is that it can be compacted down to a minimum carrying capacity of just 25 liters. This makes it useful for a casual day hike to a local alpine lake while still maintaining its use as a multi-day backpacking pack.
The pack's main material is supplemented with white polyethylene Gridstop threads that boast an ultra-high molecular weight. This makes the pack's material three times stronger than Kevlar and 15x stronger than steel.
Features of the Backpack Light 70 include dual compartment front hip pockets, a roll-top closure, and a large front pouch with U-shaped zipper to store light, everyday items that you need easy access to while on the trail.
Additionally, this My Trail Company pack boasts an internal mesh hydration sleeve, twin ice axe retention loops, contoured foam shoulder straps with lifter straps, extra-long compression straps to accommodate external loads, and an adjustable stretch sternum strap with reflective tab and an emergency whistle.
This pack is available in small, medium, and large sizes. For your convenience, I've placed a screenshot of the pack's sizing recommendations below.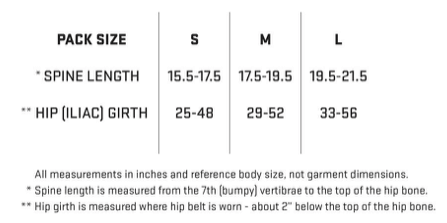 Backpack Testing Environment(s)
My first major test of the My Trail Company Backpack Light 70 came in the process of traveling from Houston to Costa Rica after the holidays. Instead of bringing my 10-year-old large REI backpack back again, I swapped it out for the My Trail pack to see if it could handle the journey.
I filled it to the brim with new tools I wanted to bring down, a month's worth of dog food for our pup, his dog bowl, my clothes, a new machete and pocket knife set, and a variety of small items and Christmas goodies. Then, I sent it along the conveyor belt and into the underneath storage compartment of our 747.
I must admit, I had some reservations about sending a brand new pack as a checked bag, primarily because I wasn't sure how it would hold up to being thrown around by the luggage attendants. Typically, when I check my backpacks I put a rain cover on them for an added layer of protection. This time, however, I had forgotten both of my rain covers back in Costa Rica, so that wasn't an option.
I'm happy to report that the pack arrived at the baggage claim in San Jose without a scratch or tear on it. It held up beautifully to the rigors of air travel and the baby blue color I chose made it super easy to pick out among the sea of other checked baggage in the terminal.
Now that we're in Costa Rica, I love the adaptability of this backpack. I can use it for a day-long hike up to one of several local waterfalls or for an afternoon trip to the Whale's Tail at low tide.
Backpack Test Results
Not only can this pack handle up to 70 liters when traveling, but it's also a super convenient day pack. It's rare to find a pack that has this type of versatility.
It can go from being your best friend on a multi-day backpacking trip to being a comfortable companion on a day trip to a nearby peak. The pack's compression straps, the harness system, and load lifter straps make it easy to adjust for comfort no matter how much weight you've loaded in it.
The pack's large exterior pocket makes it easy to store maps, multi-tools, and smaller clothing items in an easily accessible place. The large main compartment offers a place to hang and secure a hydration bladder or a sleeve to protect a good book if you don't opt to bring along a bladder.
Additionally, I love the large size of the mesh water bottle pockets on either side of the pack. They give me plenty of room to store a water bottle and slide in trekking poles, tent components, a hatchet or machete, or any other long, skinny items that wouldn't really fit comfortably in the main compartment. Lastly, the pack features two loops and hooks at the bottom for the attachment of any additional gear.
My "Trail Company" Conclusion
This is a great "do-everything" pack that I'm really excited to put into use once backpacking season swings into full force and I'm back in Lake Tahoe looking to take advantage of the accessibility of the beautiful Sierra Nevada mountains. As a frequent hiker in the spring, summer, and fall months, I often have several packs in the back of my car so that I'm ready for any type and size of adventure.
Now that I have this pack, however, I feel like I don't really need to keep multiple packs on hand at all times. If I get a call about heading up to catch the sunset from a nearby lookout point, this pack will be easy to load and sling on. If I set up a multi-day backpacking trip on the PCT, I'm confident that all my backpacking gear will fit nicely and this pack can handle the weight comfortably.
Final Thoughts On The Backpack Light 70
This pack has suited my travel and day hiking needs quite nicely here in Costa Rica.
The only drawback that I might point out in this pack is the lack of a brain compartment. This means that aside from the two mesh water bottle pockets on the sides and the two smaller hip pockets, there are really only two larger compartments in which you can organize gear.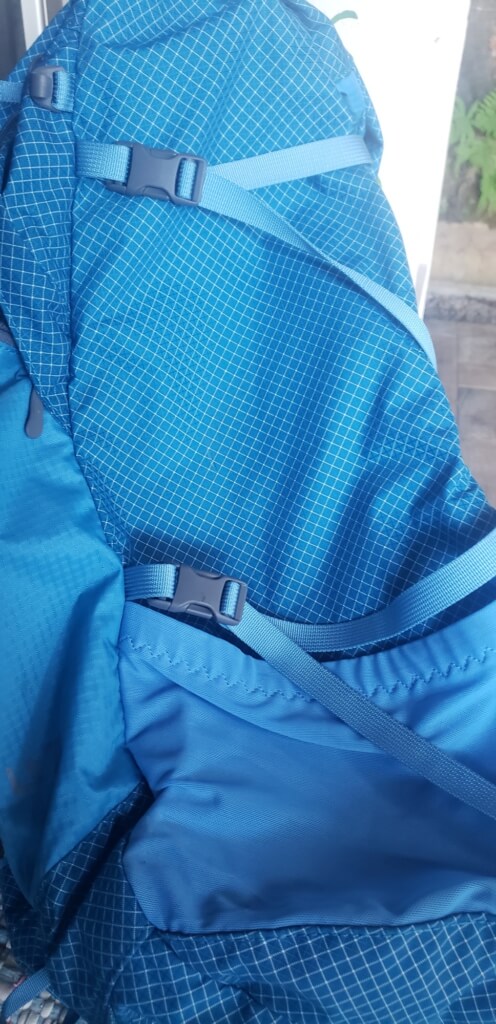 For someone like me who tends to compartmentalize most of my gear before I even load it into my pack, this really isn't a problem at all. In fact, it simplifies the process considerably. But for someone looking for a plethora of compartments and pockets in which to store gear, this pack will force you to simplify your organization process. True to its name, it will make you 'backpack light'.
My Trail Company Update
Unfortunately, My Trail Company has closed its doors since I originally received and reviewed this pack. Ultralight packs are a great choice for thru-hikers and others that don't want to carry a massive pack on their weekend adventures.
Fortunately, REI and other retailers have a great selection of ultralight backpacks to choose from.
---
About The Backpack Guide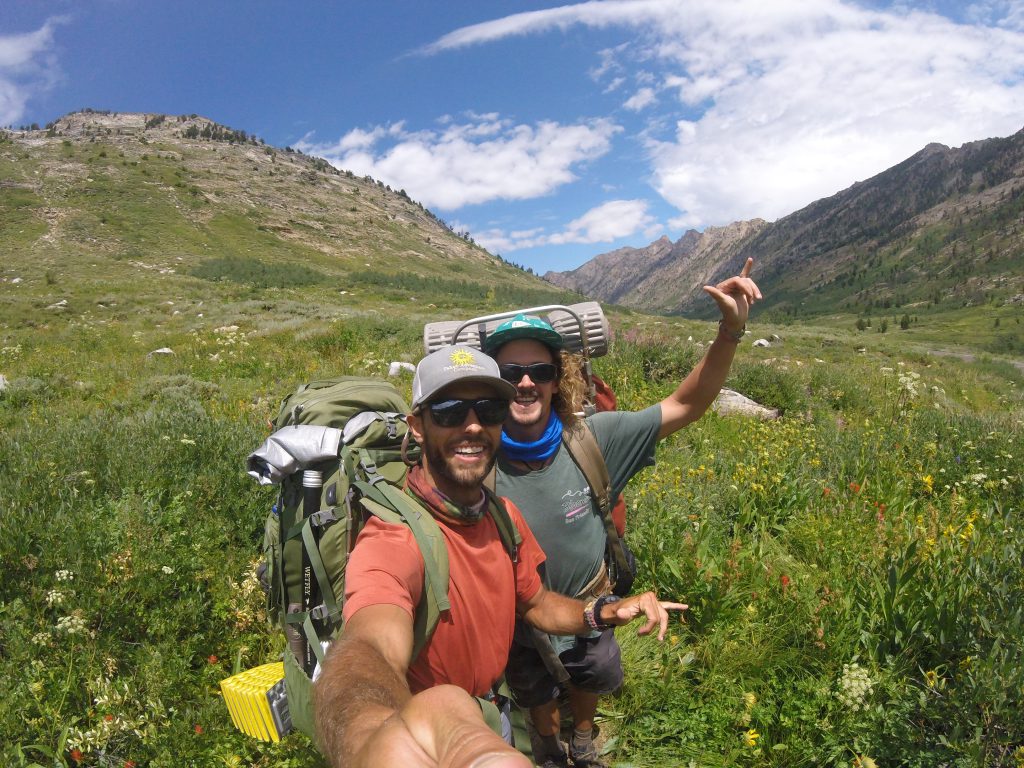 As The Backpack Guide, I'm always looking for new trails and wildernesses to explore and I'm also interested in the experiences of others in the wild. If there is one thing I am sure of it's that we can all spend more time enjoying and connecting with Nature.
What is your go-to, all-purpose pack? I'd love to know which brand (or brands) you trust with your gear on day hikes, overnights, and multi-day excursions. Also, I'd love you to hear which brands you'd recommend investing in down the road. If you've compared the My Trail Company Backpack Light 70 to other similar packs, how do you feel it stacks up?
Feel free to reach out to me directly (email below), or share your latest adventure or backpack by tagging @thebackpackguide on Instagram!
I hope you've enjoyed this review and I'd love to hear your feedback in the comments section below. I'll be quick to reply to any questions, comments, or concerns you feel like sharing!
Side note: If you're interested in other reviews, be sure to check out my Outdoor Gear page for reviews on water filters, tents, hiking shoes, trekking poles, and more. Also, check out my other Backpack Reviews, including brands like Kelty, REI, and Gregory, if you're in need of a new pack!
Find Your Trail!
The Backpack Guide