The ability to charge our devices is something that many of us take for granted in our daily lives. Just think about how many power outlets you probably pass by every day. But when we strike out on adventures, we need the best survival power bank we can get.
Power banks and solar chargers can be incredibly handy in everyday life too. So let's take a closer look at the Survival Frog Quadra Pro Power Bank.
Quadra Pro Survival Power Bank Overview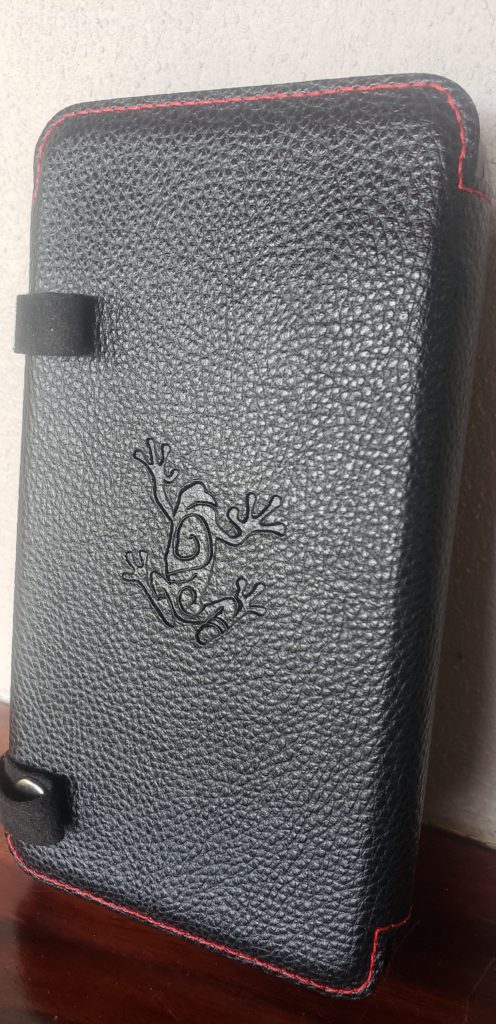 Let's start with the basic specs: the total capacity of this power bank is 6000 milliamp-hours (mAh). The bank's input is DC 5V/1A and the output is DC 5V/1A&2A. It contains four solar cells that are each 5 inches by 3 inches in size and it also features a flashlight function for navigating in the dark. It's capable of charging two devices via USB cable.
Perhaps its' most unique feature is the fact that its magnetic backing allows it to be easily positioned in direct sunlight via a metallic surface around your house or on the go.
It also features two straps that secure the power bank together when not charging. These straps also function well to hang it facing the sunlight in order to charge. I've found that this is best done using a couple of carabiners.
The power bank is also housed in a waterproof casing (which is ideal for my current environment during the rainy season in Costa Rica). That casing also makes is more durable and resistant to extreme heat in desert or arid conditions.
Survival Power Bank Testing Environment
I certainly plan to use this power bank in many situations in the future, but my recent experience has already seen it prove its worth. In the first two days of our recent relocation to Costa Rica for the winter, we experienced extended power outages. For two people that primarily work online during these months, that wasn't the most convenient start.
Fortunately, however, I had previously charged my Survival Frog Quadra Pro before the trip and we were able to use it to keep our phones charged in order to communicate with our landlords and monitor the weather. The light on the back of the power bank also came in handy to keep our apartment lit during these extended outages.
I have also utilized our deck as my primary testing environment for examining the power bank's charging ability. It faces primarily west by southwest and, at this time of the year, gets excellent afternoon sunlight (provided there is little to no cloud cover).
Survival Power Bank Testing Results
In my trials charging my phone with the Quadra Pro, I've found that it took my phone from about 50% charge to a full 100% charge in less than an hour. After this charge, the power bank was still holding more than 60% of its charging capacity. I'd bet I could get at least 3 full charges from it once it's fully charged.
In direct sunlight, it takes between 8 and 12 hours for the power bank to fully recharge, but I've also found that it will slowly trickle charge (although not at optimal rates, of course) when placed in indirect sunlight for extended periods. The other day it went from 50% charge to full charge in just about four hours.
In terms of carrying it around, whether you're on a day hike or multi-day backpacking trek, it falls somewhere about halfway on the weight spectrum. It's not an absolute brick that you'd think twice about bringing along every time, but it's also not so light that you'd barely notice it. The solar cells, of course, are going to have some weight to them and the magnet certainly adds as well.
My Survival Power Bank Recommendation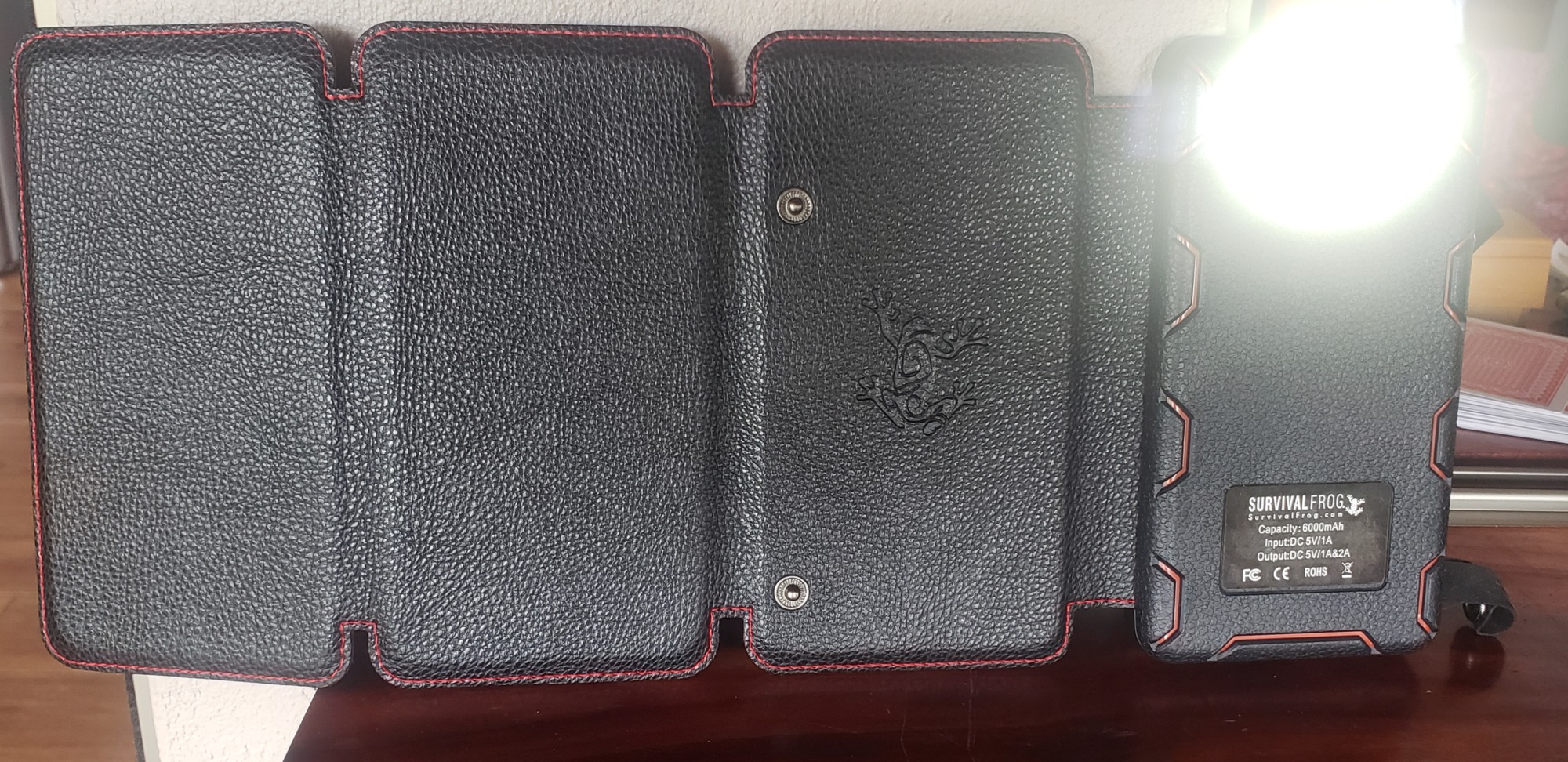 I feel that the Survival Frog Quadra Pro Power Bank is best used for travelers, day hikers, and weekend backpackers. It's highly useful, easily attachable to bags or metal objects, and offers enough capacity that you won't have to worry about recharging it on a daily basis unless you're charging a boatload of camera or film equipment.
It might be on the heavy side for thru-hikers that are going to be on the trail for weeks or months at a time. That said, it's also waterproof and heat resistant to withstand much of the elements you'd encounter on an extended expedition. When it comes down to it, it's probably just a matter of personal preference in terms of how much additional weight you're willing to carry.
Overall, I've found it extremely useful as a backup power source and I'll continue to test it in new environments and scenarios throughout the winter. There will most likely be an update to this review coming in the spring, so stay tuned!
Need a Solar Survival Power Bank?
Do you have experience with solar rechargeable power banks? If so, I'd love to know what you think about any models you've used, what your favorite features are, and what you'd do differently if you manufactured your own!
Also, if you decide to purchase the Survival Frog Quadra Pro Power Bank after reading this review, I'd love to know how you like it after you've had a chance to put it to use for a few trips or travel excursions!
The Survival Frog team also offers a number of additional products for camping, hiking, energy, food and water solutions, and much more. Check them out if you're in need of any new gear!
I hope you've enjoyed this review of the Adventure Frog Quadra Pro Power Bank and I'd love to hear your feedback in the comments section below. I'll be quick to reply to any questions, comments, or concerns you feel like sharing!
---
About The Backpack Guide
As The Backpack Guide, I'm always looking for new trails and wildernesses to explore and I'm also interested in the experiences of others in the wild. If there is one thing I am sure of it's that we can all spend more time enjoying and connecting with Nature.
Feel free to reach out to me directly (email below), or share your latest adventure or backpack by tagging @thebackpackguide on Instagram!
Power Up!
The Backpack Guide