As digital entrepreneurs, you can imagine that we have a lot of gear and supplies that we absolutely MUST keep dry. So, today I'm going to take a few minutes to highlight some of the best dry bags for traveling.
This post is inspired by my time living in Costa Rica during the rainy season. As it turns out, we happen to have arrived for some of the heaviest rains that our neighbors have seen in the 13 years that they've lived in that area.
Earth Pak Waterproof Backpack
A waterproof dry bag is great, but the ability to keep a laptop, books, and chargers dry while walking across town in a semi-monsoon is even better. Earth Pak's Waterproof Backpack is made with 500D PVC material and is available in a smaller, 35-liter size and a larger 55-liter variety.
The main compartment of this dry bag backpack features a roll-top closure with a single reinforced strip that stops water from entering at the top. The bag's side cinching straps allow you to keep a low profile for adventures of any type, including kayaking, fishing, boating, or riding in the back of your host's pickup truck on the way to the Saturday Farmer's Market.
This dry bag backpack provides a comfortable fit with padded back support, shoulder straps, and sternum buckle. It also contains an inner pocket to help you organize your belongings and a smaller exterior pocket for items you need to reach quickly.
This exterior pocket is secured with a large, splash-proof zipper. As an added bonus, this dry bag comes with an IPX8 waterproof phone case that can fit phones up to 6.5 inches in length, including the iPhone 7 Plus and the Samsung Galaxy S8+.
---
Chaos Ready Waterproof Backpack
This dry bag also has the added luxury of doubling as a backpack for convenient carry around town or while traveling. It can become your carry-on backpack and then there's no need to shuffle gear into another dry bag if it's raining upon your arrival to a new location.
It features a 22-liter main compartment, which is a little smaller than the Earth Pak, but a more manageable size for a daypack. It features Class 3 Waterproofing, which is provided by its 500D PVC Tarpaulin material.
This material keeps your belongings dry against a quick submersion or an unexpected downpour. This would've been a great pack for me to have on a recent "guided" hike where the final hurdle turned out to be wading across the engorged Uvita River (did I mention that it's rainy season here?).
The Chaos Ready Waterproof Backpack also has an exterior front pocket that secures using a Velcro strip, as well as two mesh pockets on the side for water bottles, keys, and other items. It should be noted that these three exterior pockets aren't 100% waterproof, so your valuables should go inside the main compartment, which seals using Chaos Ready's unique tri-fold buckle system.
---
Aqua Quest White Water Dry Bag Duffel
If you're looking for a duffel bag to keep things dry on a long trip (maybe at sea, for example), then it's hard to ignore the Aqua Quest White Water Dry Bag Duffel. They offer this bag in 50-liter and 75-liter varieties to give you plenty of space for all of your important gear.
The bag is made of abrasion-resistant Oxford 420D ripstop fabric with TPU lamination, DWR coating, double bar-tacked stress points, and welded seams. It comes with a single, adjustable (and removable) shoulder strap that attaches via mini carabiners to any of the 6 D-ring locations on the bag, making it easy to sling over your shoulder when chasing down that taxi or bus outside of your airport or hostel.
This dry bag duffel also comes with two external rubberized mesh pockets for additional storage. These pockets also allow you to keep wet and dry gear separate as you move about. The bag's makers also thought about attachments, as they included four extra-strength webbing loops on the bottom of the bag that can be used to strap it to a motorcycle, vehicle roof rack, boat, or any other secure location.
---
Ultra Dry Waterproof Dry Bag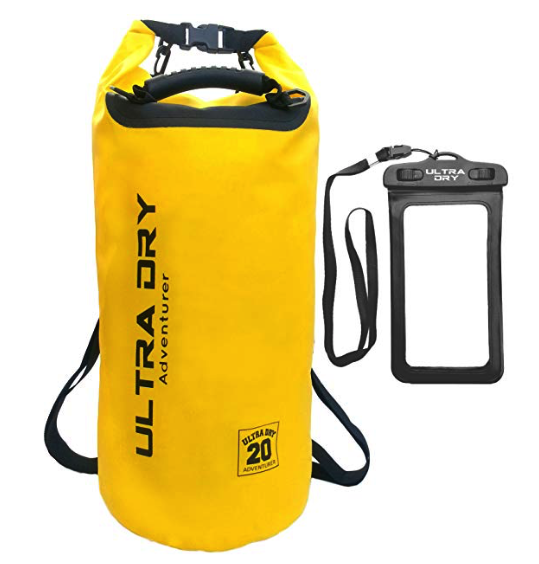 Getting smaller as we move down, the Ultra Dry Waterproof bag comes in 10-liter and 20-liter varieties. The 10-liter dry bag comes with a single sling strap to make it easy to throw it over your shoulder and head to the beach. The 20-liter dry bag features a full backpack strap system for a closer, more comfortable fit.
In addition to being waterproof, the material of this dry bag is also resistant to tears, rips, and punctures. And like the Earth Pak backpack, it comes with a waterproof phone case that measures 6.75 inches by 4 inches. It's a great alternative to larger bags for day trips up the mountain, across rivers, and out to the beach.
---
Sea to Summit Lightweight Dry Bag
Sea to Summit offers a large collection of dry bags of many sizes. This 4-liter dry bag is made for phones, keys, and wallets as you head out to the beach or out on that ocean kayaking excursion. It is made of lightweight, 70D waterproof nylon with fully taped seams.
This dry bag also features a polyurethane coating with white pigment for improved interior visibility, meaning you'll be able to more quickly locate items when you need them. The bag's waterproof Hypalon roll-top closure does not wick moisture and the bag's D-ring attachment point at the buckle makes it easy to secure safely to a kayak, life jacket, or belt loop.
These bags aren't quite as abrasion-resistant as the first few that we mentioned, so be careful to avoid sharp objects or corners. And while this bag's 10,000-millimeter hydrostatic head is more than sufficient for wet-weather and paddle use, it should be noted that these bags are not meant for full submersion. They are best used for backpacking, hiking, bike packing, and travel.
---
Buyer's Guide for the Best Dry Bags for Traveling
There can be a huge difference between an 'OK' dry bag and a 'Great' one. From my experience, you really do get what you pay for when it comes to finding a dry bag that will truly keep its contents dry in any conditions.
As you can guess, I've had dry bags fail on me in the past, and the result was that I ended up spending more money to replace its contents than I would've spent if I had bought a better dry bag in the first place.
Dry Bag Material
So, my first suggestion is that you look for a bag with at least a 400-denier waterproof material. This is thick and it means that the bag itself will be heavier.
This is a consideration if your intended use is backpacking or paddling, but it also can mean the difference between a wet or dry sleeping bag on a 30-degree September night (been there, done that, don't care to do it again!).
Dry Bag Closure
My second suggestion is to find a bag that offers a single or double strip roll-top closure. When you pack your dry bag, you want to be able to roll the top at least three times before clipping it. If you can't give it three rolls, I wouldn't trust that the contents are going to stay dry if fully submerged.
Don't Get Distracted By 'Bells and Whistles'!
My last suggestion is to stay focused on the material and closure type. There are a lot of great bells and whistles offered by today's dry bag makers, but when you flush all of that out, you're really only trying to answer one key question: will this bag keep my belongings dry when I want it to?
Other Choices for the Best Dry Bags for Traveling?
Do you have experience with dry bags in specific camping situations? If so, I'd love to know what you think about any brands you've used, what your favorite features are, and what you'd do differently if you manufactured your own!
Also, if you decide to purchase the Earth Pak, Chaos Ready, Aqua Quest, Ultra Dry, or Sea to Summit dry bag after reading this review, I'd love to know how you like whichever you acquire after you've had a chance to put it to use for a few trips or travel excursions!
I hope you've enjoyed this review of the best dry bags for camping and I'd love to hear your feedback in the comments section below. I'll be quick to reply to any questions, comments, or concerns you feel like sharing!
About The Backpack Guide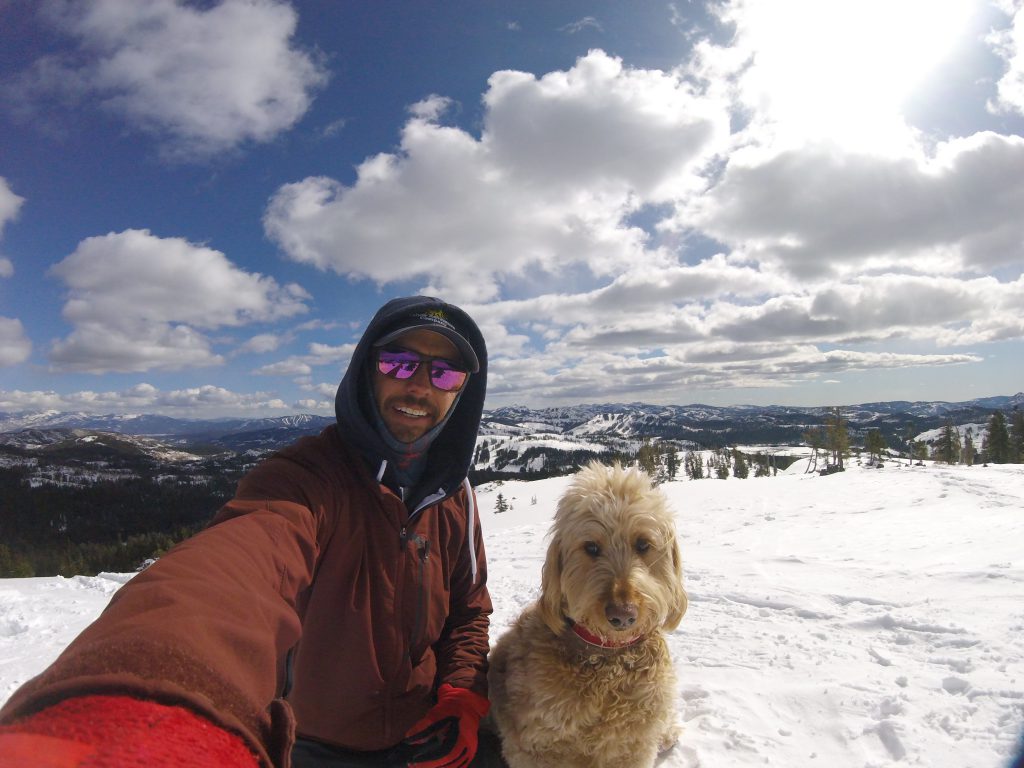 As The Backpack Guide, I'm always looking for new trails and wildernesses to explore and I'm also interested in the experiences of others in the wild. If there is one thing I am sure of it's that we can all spend more time enjoying and connecting with Nature.
Feel free to reach out to me directly (email below), or share your latest adventure or backpack by tagging @thebackpackguide on Instagram!
Stay Dry, Mis Amigos!
The Backpack Guide