Whether you're trained as a wilderness first responder or a novice outdoorsman (or woman), having a quality backpacking first aid kit in your arsenal is essential. As I've said many times in various articles, it's not a matter of if you'll need it, but instead, it's only a matter of when. So, let's take some time today to review some of the best backpacking first aid kits.
Adventure Medical Kits Mountain Series Backpacker
The Backpacker First Aid Kit from Adventure Medical Kit's Mountain Series is designed to provide enough first aid supplies for two people and four days on the trail. It features a Condensed Guide to Wilderness Medicine, written by Eric A. Weiss, M.D., and offers a superior organization.
Supplies are separated by specific injuries, making it quick and easy to find what you need to treat wounds, blisters, cuts, and scrapes, as well as when you need to administer medications or stop bleeding fast.
On the back of the kit, you'll find a concise map that details where all supplies are located inside, and internal pockets are all see-through to ensure quick access. Additionally, all interior pockets are sealed in nylon pouches with zippers to make sure that no dirt or moisture can get in and compromise valuable first aid supplies.
The Mountain Series Backpacker truly has everything you need to treat injuries and illnesses in the wilderness, and it won't add any unnecessary weight to your pack. This is my #1 recommendation because it's the kit I carry on all my hiking and backpacking trips!
---
Surviveware Small Kit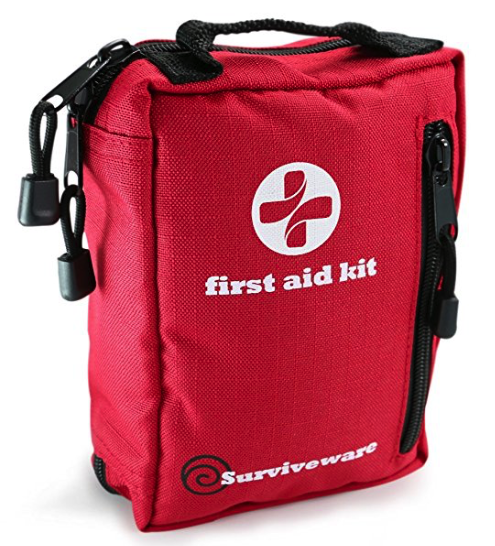 The Small First Aid Kit from Surviveware is designed to meet the needs of hikers, backpackers, casual campers, cyclists, and auto travelers alike. This 100-piece, MOLLE compatible kit measures 5.5 x 7.5 x 3.5 inches and weighs just one pound. It can strap to your pack or fit conveniently in your car's glove box.
Made with 600-Denier, water-resistant polyester and an inner laminate that keeps all supplies safe from water and dust, this kit can handle the elements and ensure your supplies are safe and sanitary when you need them.
Like the Mountain Series Backpacker, this first aid kit features inner pocket labels that help you locate the supplies you'll need to treat specific injuries and illnesses when time is of the essence.
The Surviveware Small Backpacking First Aid Kit is also backed by a lifetime warranty and money-back guarantee if you don't like how it functions.
---
I Go Compact Kit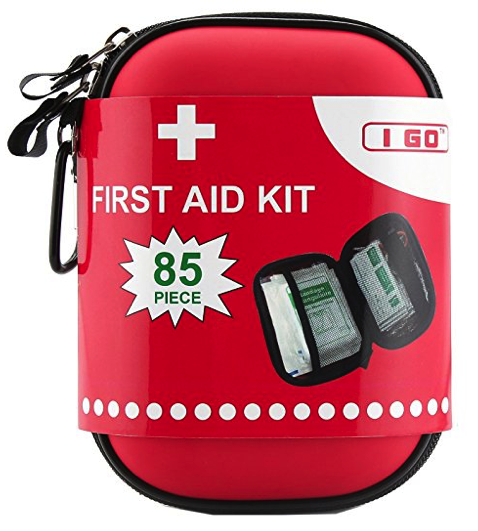 If you're searching for a compact, hard-shell first aid kit, this option from I Go is a cheap, easy pick-up. This 85-piece kit comes in a flexible but durable design with dimensions of 6 x 4.3 x 2.4 inches. Ideal for ultralight backpackers that want first aid supplies but don't want to add much additional weight, the I Go Compact Kit weighs just 0.56 pounds.
This backpacking first aid kit utilizes dividers and flaps to provide an organizational structure for your supplies. It also features a water-resistant exterior and is manufactured in an FDA and CE approved facility.
The I Go Compact Kit offers great value and a compact design that won't take up much space (whether in your backpack, car, home, or anywhere else you want to use it), but will guarantee you have the supplies you need when the moment arrives.
---
Adventure Medical Kits Ultralight .9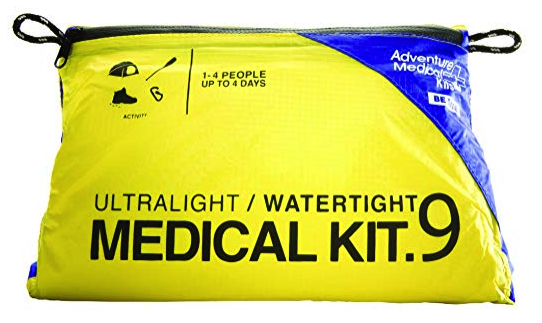 This has been my choice for a backpacking first aid kit for several years now. With the unpredictable weather of the High Sierras, I found the waterproofing of this kit to be a feature that I couldn't pass up.
The Adventure Medical Kits Ultralight .9 achieves this waterproof design through what it calls "two-stage waterproofing." The inner DryFlex bags represent stage one and the exterior bag is made from seam-sealed, siliconized nylon with a water-resistant zipper.
As its name suggests, this kit is great for ultralight hikers, with a total weight of just 7.2 ounces. It contains enough supplies to cover four people on trips up to four days in length and features supplies for wound care, blisters and burns, fractures and sprains, and so much more, all in a high-visibility bag that makes finding the supplies you need quick and easy.
The Ultralight .9 has been tested and approved by endurance athletes in such grueling races as the Eco Challenge, Primal Quest, and Raid Gauloises.
---
Mountain Series Day Tripper Lite
The little brother to the Mountain Series Backpacker, the Day Tripper Lite from Adventure Medical Kits contains enough supplies for two people on a one-day journey on local hiking trails.
To help guide you through emergency situations, it offers a Quick Guide to Wilderness First Aid pamphlet that has essential information to treat the most common hiking and backpacking injuries.
This kit also offers secure, semi-transparent pockets designed to make locating supplies a quick and seamless endeavor. Zippers guarantee that all supplies remain where you put them and the kit's trapezoidal design allows it to fit quite a bit more than you might think a kit that measures just 5.5 x 2 x 4.5 inches and weighs just 0.2 pounds might contain.
The Mountain Series Day Tripper Lite is the perfect kit for anyone that wants to ensure they have adequate first aid supplies for a summer's worth of daytime adventures.
---
What Is Your Go-To Backpacking First Aid Kit?
Which of these, if any, is your go-to backpacking first aid kit? I want to know why you like what you use and what you'd like to be improved. Also, if you decide to purchase any of these kits after reading this review, I'd love to know how you like it once you've put it to use (hopefully just for a blister or scrape)!
I hope you've enjoyed this review of these backpacking first aid kits and I'd love to hear your feedback in the comments section below. I'll be quick to reply to any questions, comments, or concerns you feel like sharing!
About The Backpack Guide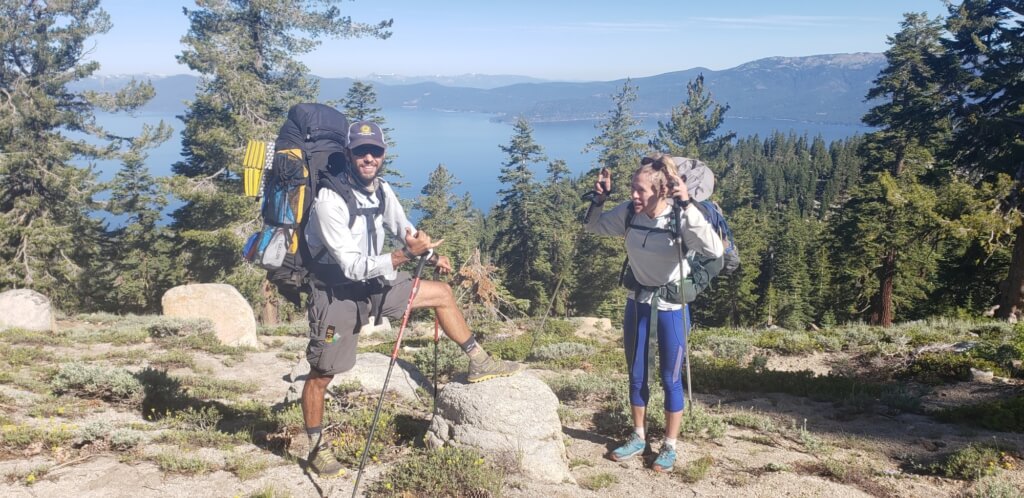 As The Backpack Guide, I'm always looking for new trails and wildernesses to explore and I'm also interested in the experiences of others in the wild. If there is one thing I am sure of it's that we can all spend more time enjoying and connecting with Nature.
Feel free to reach out to me directly (email below), or share your latest adventure or backpack by tagging @thebackpackguide on Instagram, Facebook, or Twitter!
Safe Travels!
The Backpack Guide