I've gone through a number of sleeping pads over the years. While I've previously found some comfort in inflatable sleeping pads, I've also had some that just didn't hold air. All of a sudden I'd wake up in the middle of the night with a rock jabbing me in the back. So, today I'm going to share my top picks for the best foam sleeping pads.
Foam sleeping pads are lightweight, durable, and more affordable than many inflatable or self-inflating pads out there. You won't be worried about them getting punctured or leaking air, they can easily be carried on the outside of your pack without damage, and they also double as nice seats for a little added cushion around camp.
Therm-A-Rest Z-Lite Sol Foam Sleeping Pad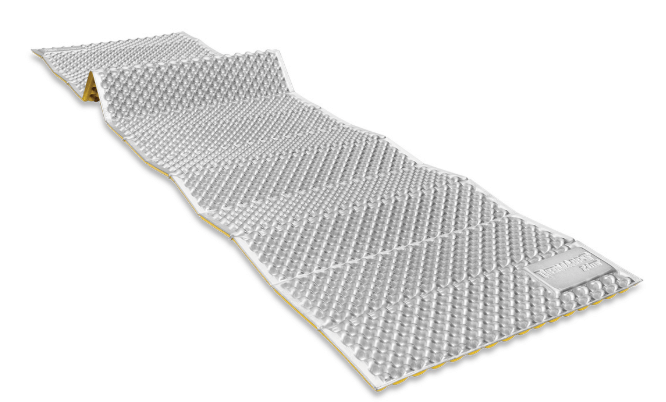 Z-Lite Sleeping Pad Overview
This is the current sleeping pad I'm working with for all my backpacking adventures, big and small. It's the lightest and most compact closed-cell foam mattress out there.
I like it because it doubles as a seat cushion when you're sitting around the campfire or just taking a break for lunch. It's an excellent choice for all those ultralight backpackers out there because of the accordion-style in which it packs up and because of its lightweight (just 10 ounces for the small version and 14 ounces for the regular model.
Z-Lite Specs
The Therm-a-rest Z-Lite is made with molded, closed-cell foam and filled with cross-linked polyethylene. It boasts an R-Value of 2.6, which makes it a credible three-season foam sleeping pad option. The small version of the pad measures 51 inches long and the regular version is 72 inches long.
Both models are 20 inches wide and 0.75 inches thick. The small model comes with packed dimensions (in inches) of 20 x 4 x 5.5 and the regular version isn't much bigger when packed, with dimensions (in inches) of 20 x 5 x 5.5.
Z-Lite Features
One of the biggest reasons why I've enjoyed the Therm-a-rest Z-Lite is its durability. I've had it for over three years now and (for the price) it has been one of the most comfortable mattresses I've ever used.
It also features a ThermaCapture surface that helps to reflect radiant heat back to your body and amplifies the warmth of its heat-trapping dimples by a full 20%. The foam is also designed to be denser on the bottom to make it more durable to wear and tear.
*Pro Tip On This Sleeping Pad*
I actually put the Z-Lite INSIDE of my backcountry bed, regardless of whether I'm spending the night in a tent or in a hammock. By doing so (and sleeping nearly naked most of the time), I'm able to maximize the pad's heat reflective capabilities to stay warm on even the coldest of nights.
---
Gossamer Gear Thinlight Foam Sleeping Pad
Thinlight Sleeping Pad Overview
If you're really looking for the thinnest foam sleeping pad out there, it's hard to beat the Thinlight from Gossamer Gear. They have designed an ultralight sleeping pad that can actually be rolled up small enough to fit inside your pack.
It can also attach to the outside without adding a bunch of bulk to your overall pack set-up. If you want to keep your backpacking setup as minimalist as possible, you should look long and hard at the Thinlight.
Thinlight Specs
The Thinlight is made of closed-cell, crosslinked Evazote foam. Each pad is just 0.125 inches thick and weighs between 2.9 and 3.4 ounces (depending on manufacturing). The pad is 59.125 inches long and 19 inches wide. When rolled up, it fits inside many of Gossamer's larger pack models comfortably.
Thinlight Features
The best feature of the Thinlight is its incredibly low weight. For ultralight backpackers out there who don't mind a little less padding at night, it's hard to get much lighter than this. But the pad's design also makes it durable and the closed-cell foam its made with is resistant to water absorption.
*Pro Tip On This Sleeping Pad*
For fans of ultralight hammock camping, Gossamer also makes an ultralight hammock camping pad that is just 0.25 inches thick. Because I haven't seen fit to go quite this light with my setup yet, I have perused the reviews of those who have to find this pro tip. This one comes to you from Rick J.:
"I'm using it on the AT to protect my Xtherm inflatable in shelters. It also blocks wind that blows up through the floorboards. It also came in handy when my tents bathtub floor failed the puddle test during a night of thunderstorms."
---
Therm-A-Rest Ridgerest Classic Foam Sleeping Pad
---
Ridgerest Sleeping Pad Overview
The Ridgerest Classic is a revival of Therm-a-Rest's original foam sleeping pad. I picked up the Ridgerest back in the day as my first ever sleeping pad. I remember it being a little thinner than my current Z-Lite, but it still very much got the job done.
And its ability to roll up can work better for certain external frame packs that a foldable pad would. If you're simply looking for an affordable, basic level of backpacking comfort, it's hard to pass up the Ridgerest Classic.
Ridgerest Specs
The Ridgerest Classic comes in two versions, regular and large. So, let's start with the specs on the regular model. The regular Ridgerest weighs just 14 ounces and boasts packed dimensions (in inches) of 20 x 8. It is 72 inches long, 20 inches wide, and 0.625 inches thick.
The large version of the Ridgerest Classic weighs 19 ounces and offer packed dimensions (in inches) of 25 x 8.5. It is 77 inches long, 25 inches wide, and 0.625 inches thick. Both versions of the Ridgerest classic offers an R-value of 2.6, which make them great for three-season use.
Ridgerest Features
The best feature of the Ridgerest Classic is that it's virtually indestructible. You don't have to worry about excessively clearing your sleeping spot before lying your pad down because you're worried about a rock popping an inflatable pad.
With the Ridgerest, there's never any concern about its durability. Additionally, the Ridgerest Classic has a unique design. It has supportive peaks and heat-trapping valleys that provide ample comfort and also keep heat from leaving your sleeping area.
*Pro Tip On This Sleeping Pad*
Because it has been a number of years since I used a Ridgerest, I went through some user reviews to scour for pro tips. And, what do you know, I found a gem. This one comes to you from 'Keepsmoving' in Colbert, GA:
"I thru-hiked the A.T. in 2012 and used my Ridgerest the whole way. It was great to just throw it in my tent and crash at the end of a days hike. Not to mention no chance of getting a hole in it from snags along the trail. I lost so much weight on my trek that the hip belt on my pack became useless. A fellow hiker gave me the idea to cut 3″ off my Ridgerest, slide it into an old pair of socks then sew this to the belt. Worked like a charm."
---
NEMO Switchback Foam Sleeping Pad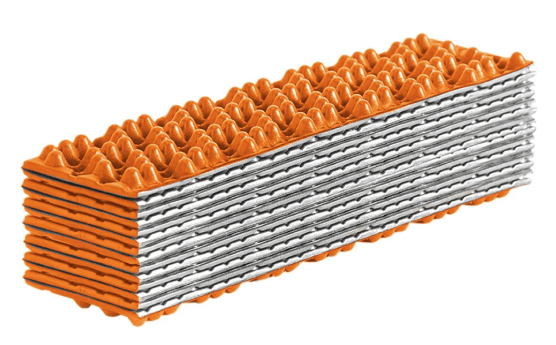 Switchback Sleeping Pad Overview
NEMO is a company that has just recently come onto the scene in the outdoor gear industry. The Switchback is their version of the Z-Lite sleeping pad from Therm-a-Rest.
It's made of closed-cell foam and finished with a low emissivity film to add a layer of warmth. It's competitive in terms of price with the Z-Lite and provides another great option for ultralight backpackers.
Switchback Specs
The NEMO Switchback is rated for use when the overnight temperature rests between 20 and 32 degrees Fahrenheit. The large version of the pad weighs just 14.5 ounces and boasts packed dimensions (in inches) of 20 x 5 x 5.5.
When expanded, the pad is 72 inches long, 20 inches wide, and 0.9 inches thick (making it a little thicker than both the Z-Lite and the Ridgerest Classic). The smaller version of the pad is 51 inches long and 20 inches wide.
Switchback Features
The makers of the Switchback designed its hexagonal patterning to make it easier to pack and attach to your pack. But that patterning also makes it feel more plush and comfortable when unfolded.
The pad features hypnoelastic zones that conform to your body to give it more support and make you that much more comfortable when you lay down to nod off to sleep. That metallic, low emissivity film we mentioned earlier also reflects more heat back to your body to keep you warm throughout the night.
*Pro Tip On This Sleeping Pad*
Again, because I'm lacking in personal experience with the Switchback (although I'd imagine you can use it inside your sleeping bag or backcountry bed, much like I do with my Z-Lite), I've scoured the Internet for reviews to bring you this pro tip. This one comes to you from 'IowaHiker33':
"Super compact, easy to fold, and very comfortable. Perfect for car-camping or anything cold-weather that requires insulation. Ability to stack means more room for the important stuff (beer!)."
---
Big Agnes Third Degree Foam Sleeping Pad
Third Degree Sleeping Pad Overview
The Big Agnes Third Degree Foam Sleeping Pad is rated for use in temperatures down to 32 degrees Fahrenheit. It's a great choice to pair with an inflatable pad to provide extra insulation from the cold ground.
Or, it can be used on its own. It's a roll-up style pad that easily packs on the exterior of your pack when not in use and is suitable for anything from multi-day backpacking trips to weekend car camping getaways.
Third Degree Specs
The Big Agnes Third Degree is available in two versions: short and regular. The short version weighs just 8 ounces and boasts packed dimensions of 20 inches by 6 inches.
The short version of the pad is 48 inches long and 20 inches wide. The regular model is slightly heavier, weighing in at 12 ounces. It has similar packed dimensions, but when unpacked it is 72 inches long and 20 inches wide.
Third Degree Features
This Big Agnes sleeping pad is made with closed-cell EVA foam that's designed to give you a firm and well-insulated barrier between your body and the cold, hard ground.
The pad is actually engineered with two foam layers (a top and bottom) that combine to offer added warmth and comfort. It features die-cut sections on its top layers that trap warm air to keep you comfortable throughout the night. It also boasts a tire tread pattern on the bottom layer that adds cushion against rocks and roots.
*Pro Tip On This Sleeping Pad*
Many folks seem to use the Big Agnes Third Degree as an added layer of insulation and cushion for cold weather camping, but given my personal lack of experience with this pad, I searched through some user reviews to find a clever use that you might not have thought of otherwise. This pro tip comes to you from Dan Gleisak in Colorado:
"Took the pad on a 6-day backpacking trip on the CDT and it was one of the best pieces of gear I brought. Only weighs 12 oz and it rolls up to the size of a loaded Italian sub, I used it as a seat when lounging around camp, as an entrance mat for my tent, to keep my socks clean while I put on my shoes, and under my sleeping pad for some extra warmth under my torso. Compared to an ultralight backpacking chair this was significantly less weight and much more versatile."
---
The Best Foam Sleeping Pads: How to Choose
As you've seen, most of the foam sleeping pads in this article are made with closed-cell foam. As I mentioned in the opening paragraphs, these pads are lightweight, durable, and more affordable than their inflatable or self-inflating counterparts.
You don't have to worry about carrying them on the outside of your pack and exposing them to puncture damage that will cause air leaks. And they also double as sit pads for a little added cushion around camp.
So, I'm going to assume that if you've read this far into this article on the best foam sleeping pads, you're not really looking too closely at inflatable or self-inflating options. So, in this section, we're going to focus on the two main factors I would consider when choosing between foam sleeping pads. Those factors are packability and comfort.
Packability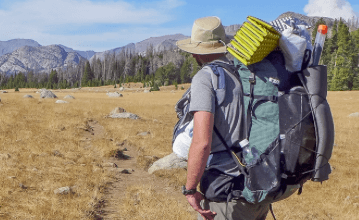 When we talk about how easy it is to pack a sleeping pad in or on your pack, the two main things to consider are overall packed dimensions and weight.
Most foam sleeping pads are either rolled up when not in use or folded in a Z-formation. They can be strapped to the top, bottom, or sides of your pack, depending on your preference. Some even roll or fold up small enough to fit inside your pack, depending on the dimensions of your pack.
The first decision you'll want to make is whether you want to secure your pad to the exterior of your pack or store it inside. If you choose the latter, you're going to want to go with the smallest packed dimensions you can find so that you have plenty of room for food, water, sleeping bag, and other hiking essentials. If you plan to store the pad on the exterior of your pack, you'll be able to work with larger packed dimensions.
The next decision you'll have to make is about weight. How much weight are you willing to tolerate in a sleeping pad? Many ultralight backpackers weigh out their gear down to the ounce, and too much extra weight can take a toll on your body when you're traveling 30+ miles every day for six months straight. But, if you're only going to be using this pad for weekend car camping getaways, you'll probably never even notice those extra four ounces.
Comfort
For me, comfort is everything. If I can get a great night's rest while backpacking and camping, then I'm relaxed and ready to handle almost anything the next day can throw at me. So, for my money, I like to have that extra layer of cushioning to make sure no rocks or roots are jabbing into my back or sides throughout the night.
When it comes to foam sleeping pads, the general rule is that a thicker pad will be a more comfortable pad. It's not rocket science here guys! A thicker pad means more cushion from those bothersome roots and rocks, and it also means more insulation from the cold. Getting too cold in the middle of the night is a surefire way to get a less-than-stellar night's sleep!
What Is Your Experience With Foam Sleeping Pads?
So there you have it! I hope you've enjoyed this summary of my top picks for the Best Foam Sleeping Pads and I'd love to hear your feedback in the comments section below. I'll be quick to reply to any questions, comments, or concerns you feel like sharing.
If you decide to purchase the Z-Lite, Thinlight, Ridgerest Classic, Switchback, or Third Degree sleeping pad after reading this article, I'd love to hear about your experience once you've taken yours out for a few trips!
I want it to be clear that I receive a commission for any product that you purchase by clicking the links I provide on this site. As an affiliate marketer, I have relationships with many of the leading brands in the outdoor industry.
Everything I earn through this site helps me continue to create more helpful resources, which will one day include guided backpacking trips!
About The Backpack Guide
As The Backpack Guide, I'm on a mission to explore the wilderness, create learning opportunities, and connect with nature. These are the objectives that underline all the content I create on this site.
I want to inspire others to recreate in their respective wildernesses and to do so in the safest, most enjoyable manner possible. I'm also very interested in the experiences of others in the wild and I want to create a community of people that share those experiences and the lessons they've learned as a result.
If my mission resonates with you, you think we may have an awesome opportunity to collaborate, or you simply want to connect, I'd love to hear from you! Feel free to reach out to me directly (email below), or share your adventure by tagging @thebackpackguide on Instagram, which is where I'm most active. You can also find me on Facebook, Pinterest, Twitter, and LinkedIn.
Side note: Once you've found the perfect foam sleeping pad, be sure to investigate the articles in my Hiking Tips and Trails section. Check out my Outdoor Gear page for reviews on water filters, tents, hiking shoes, trekking poles, and more. Also, you might enjoy my Backpack Reviews if you're in need of a new pack, which include brands like Kelty, REI, and Gregory. Finally, my YouTube Channel is full of informative video content if you're not really into reading!
"We can have wilderness without freedom. We can have wilderness without human life at all; but we cannot have freedom without wilderness."
– Edward Abbey
The Backpack Guide