No day trip in a kayak is complete without one of the best coolers for kayaking. Keeping food dry and drinks cold while you paddle to your lunch destination is a matter of preparation and requires entrusting the proper container.
If you've uncomfortably muscled through a soggy PB&J or two in your time, you know what I mean. So let's look at my top picks for the best coolers for kayaking.
NRS Dura Soft Cooler
This is my top pick because it's the cooler we rely upon all summer to safely transport our client's lunches. I guide for Tahoe Adventure Company on Lake Tahoe all summer long. These coolers will hold enough lunch supplies for groups up to 10 people and keep meat, tomatoes, lettuce, cheese, and all condiments super cold with just a single cold pack inside.
The NRS Dura comes in three sizes: small (5 quarts), medium (14 quarts), and large (41 quarts). We prefer the medium size for our kayaking adventures because they provide ample capacity and are still able to fit inside a large NRS Tuff Sack for completely waterproof storage.
This cooler uses temperature-reflective Mylar (insert trademark symbol) and closed-cell foam insulation to keep its contents cold. I also love it because the tough urethane interior lining keeps any liquids that do spill from leaking. Therefore, it keeps anything else that we store inside the same dry bag dry, even if we handle it a little too roughly.
The exterior and interior mesh pockets of this cooler also often convenient places to store a few extra granola bars (exterior) or condiments (interior) without taking up unnecessary cooler space. Finally, the cooler's removable shoulder strap allows you to tuck it away when stuffing it into a dry bag, but still bring it back out when carrying it back to your car at the end of a beautiful day on the water.
---
YETI Hopper Two 30 Cooler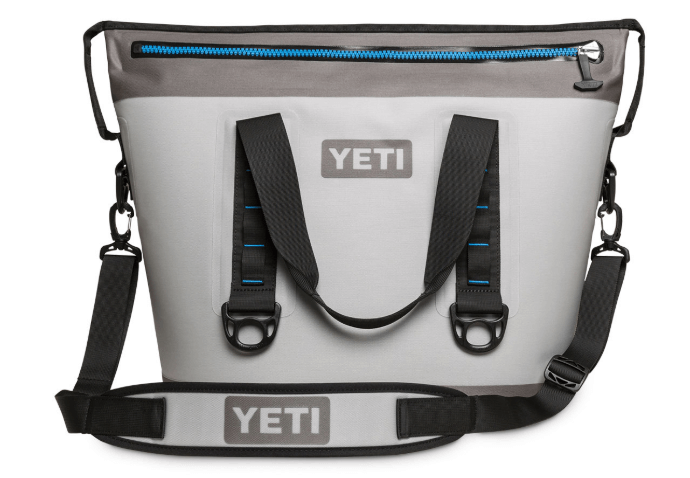 Since their founding in 2006, YETI has quickly become one of the most recognized and trusted brands of coolers that actually keep your stuff cold. In fact, these coolers keep your food supplies extra cold. They truly pioneered a better way to insulate cooler and, for that, we are all very thankful.
When it comes to kayaking, the YETI Hopper Two 30 offers plenty of capacity while still retaining excellent packability. This cooler offers a total of 30 quarts of interior space with external dimensions of 12″ x 18″ x 25″. To provide a concrete example, that's enough space to fit 28 pounds of ice (only) or 23 cans of beer for a fun afternoon on the beach. (I do not recommend drinking n' kayaking, just to be clear!)
The YETI Hopper uses closed-cell rubber foam interior insulation combined with a high-density fabric shell that's both waterproof and resistant to mildew, punctures, and the sometimes-damaging rays of the sun. YETI has also addressed what almost inevitably ends up being the weak point in a number of competing coolers: the zipper. The zipper on the YETI Hopper uses their patented Hydrolok™ technology to enforce what they claim to be "the toughest, highest-performing waterproof and leakproof cooler zipper in the world."
In addition, the YETI Hopper offers several carry options with three different sets of reinforced handles, as well as a detachable shoulder strap. With this cooler, you won't worry about it falling off your kayak, as it features a total of six D-ring tie-down points for easy, secure attachment to your vessel of choice.
---
RTIC Soft Pack 20 Cooler
The RTIC Soft Pack 20 comes with an interior capacity of 15 quarts (3.75 gallons). Another cooler that gives you plenty of interior space while still being easy enough to carry on your kayak, this cooler has the advantage of being considerably more affordable than the YETI Hopper mentioned above.
The body of the RTIC Soft Pack uses one-inch closed-cell insulation to keep your contents cold. The cooler lid has two-inch closed-cell insulation to make sure the top remains sealed as well. Because you'll be using it for food and drinks, most likely, RTIC outfit this cooler with an antimicrobial interior liner to resist mold and mildew.
Capable of holding up to 20 pounds of ice, this cooler also features a heavy-duty nylon shell that resists punctures and tears. The cooler's exterior is constructed with 100% waterproof material and the tough zipper keeps liquids and heat from entering (or exiting) the cooler's interior.
If you slide the RTIC Soft Pack 20 into a dry bag for additional support, you won't have to worry about the cooler's exterior "sweating", which could make any other items you place in with it wet. The cooler has a no-sweat exterior that will stay dry in such conditions. Finally, this cooler offers a total of six attachment points to make securing it to your kayak simple and quick.
---
Polar Bear H2O Series Cooler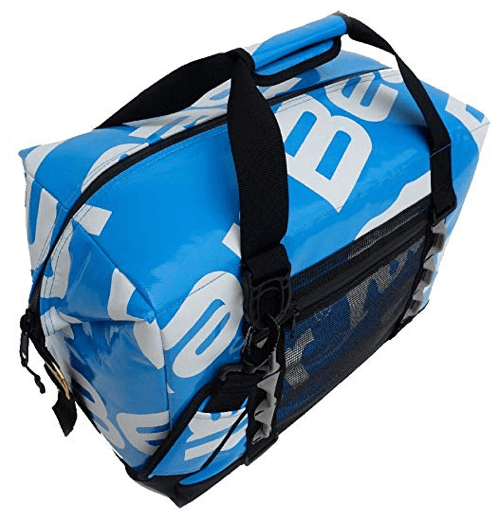 The Polar Bear H2O Series uses a DuraTemp liner to keep food cold and spills contained. The liner is both sweatproof and leakproof. Polar Bear recently redesigned this cooler's outer shell to improve performance. The outer shell of the H2O series now uses tarpaulin material to provide a waterproof seal. One-inch closed-cell foam insulation between the outer shell and interior lining ensures that your food and drinks will be cold when you want them to be.
Addressing the pain point for so many coolers, the Polar Bear H2O Series uses a YKK #10 rubber-coated Splash Guard zipper to keep water out. The exterior of this cooler can be cleaned easily by simply hosing it down after a long day on the water. The exterior shell can handle plenty of water and shouldn't be babied!
The Polar Bear H2O Series has been field-tested to keep ice for up to 3 days and stays flexible when frozen, retaining crack resistance down to -77 degrees Fahrenheit. This cooler also uses a buckle down design to maximize capacity while making it easy to get to contents when you need them. Furthermore, it features a skid-resistant rubber bottom that allows you to throw it around a bit without worrying about causing damage.
A fun additional feature of the H2O series is that it comes with two aluminum side-release buckles that double as bottle openers, eliminating the need to bring another opener along. Finally, this cooler features two carabiner bow tie daisy chains on each side and a total of eight stainless steel tie-downs to help you secure it adequately to your kayak.
---
ICEMULE BOSS Cooler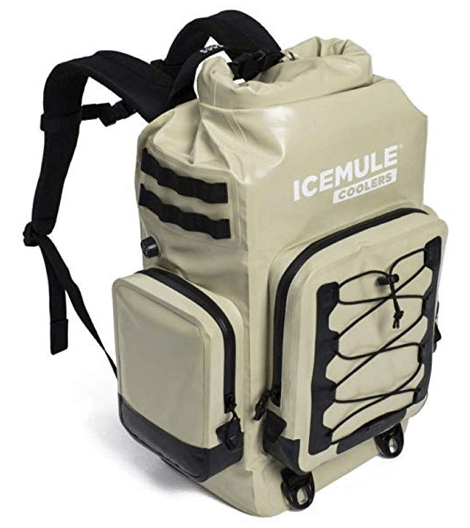 With a total capacity of 30 liters and dimensions of 11″ x 24″ x 17″, the ICEMULE BOSS is both a waterproof cooler for kayaking and a backpack cooler for your land-based adventures. The cooler's interior compartment is surrounded by three centimeters of closed-cell PolarLayer XT™ foam insulation to keep contents cold. Unique to the ICEMULE, the BOSS also contains an IM AirValve™, which allows you to add air to achieve a greater level of insulation that'll keep ice for days on end.
In addition to 30 liters of space in the main interior compartment, this cooler boasts three oversized exterior pockets for storing additional supplies. Each pocket is padded and insulated and secured by a tough PakShield™ zipper that keeps water out and cold in.
The exterior of the ICEMULE BOSS is constructed with proprietary Muleskin™ fabric and boasts welded seams to ensure ultimate temperature retention. It's 100% waterproof and capable of hauling up to 60 pounds of food, beverages, or anything else you want to keep cool on your next adventure.
Unlike any of the coolers I've mentioned previously, the ICEMULE BOSS includes a state-of-the-art suspension system to make carrying it from your kayak to the car a breeze. It features ventilated air mesh back pads and carrying straps, a cushioned hip belt, and a sternum strap. Carrying your cooler rarely gets easier and more comfortable than this.
---
Let's Connect!
Do you have direct experience with any of these coolers? If so, I'd love to know which ones, how you've liked them, and whether you'd recommend them to a friend or invest in more items from that brand in the future. Also, if you've compared your cooler to others I've mentioned in this post, how do you feel they stack up?
If you decide to purchase the NRS, YETI, RTIC, Polar Bear, or ICEMULE cooler after reading this review, I'd love to hear about your experience once you've had a chance to test the product out! Feel free to reach out to me directly (email below), or share your latest adventure or backpack by tagging @thebackpackguide on Instagram!
About The Backpack Guide
As The Backpack Guide, I'm always looking for new trails and wildernesses to explore and I'm also interested in the experiences of others in the wild. If there is one thing I am sure of it's that we can all spend more time enjoying and connecting with Nature.
I hope you've enjoyed this review and I'd love to hear your feedback in the comments section below. I'll be quick to reply to any questions, comments, or concerns you feel like sharing!
Other Resources From The Backpack Guide
I'd also like to kindly invite you to check out the other content on my site. That includes Hiking Tips and Trails and my Outdoor Gear page with reviews on water filters, tents, hiking shoes, trekking poles, and more. Also, you might enjoy my Backpack Reviews if you're in need of a new pack, which includes brands like Kelty, REI, and Gregory. 
Finally, my YouTube Channel is full of informative video content if you're not really into reading! I do receive a commission on purchases made through the affiliate links on this website. Those earnings go directly back into my efforts to produce more informative content for my readers!
Stay Cool!
The Backpack Guide