Increasingly, studies are showing that hiking with poles can have significant positive effects. Carbon hiking poles reduce impacts on knees, ankles, hips, and all the joints in between.
From personal experience, they also keep your hands closer to heart level, which reduces that uncomfortable swelling of the hands and fingers that happens on longer hikes. If you're looking for a new set, be sure to consider these three Black Diamond Carbon hiking poles.
Black Diamond Distance FLZ Carbon Hiking Poles
Black Diamond's Distance Carbon FLZ is the company's premier, foldable set of hiking poles. They combine an ultralight carbon construction with Z-pole technology and FlickLock adjustability for exceptional performance.
The Z-Pole Rapid Deployment System consists of three parts: a concealed inner cord, a single push-button release to collapse the pole, and a one-pull, speed cone deployment. This deployment works by grabbing the grip and first shaft and pulling them apart. The poles will snap together and be ready to use.
The most recent update to these poles has made them 30% stiffer in order to improve joint support. Additional reinforcements around the lever-locking mechanisms and upper shafts make these the most durable, 100% carbon hiking poles made by Black Diamond.
The shaft of these poles separates into three distinct sections so that they can easily be stowed inside your pack or attached to it when not in use. The grips of these poles are made of lightweight EVA foam that wicks moisture and breathes well to stay dry. They come with interchangeable, non-scarring rubber Tech tips and carbide Tech tips.
One reviewer on Black Diamond's website had this to say about these poles: "Black Diamond has really got their design sorted with this pole. Short pack length is great for international travel, good range of adjustment, and quality is second to none. I use mine for mountain trekking and as support for my tent or tarp."
---
Black Diamond Alpine Z Carbon Hiking Poles
These hiking poles are a true four-season option made for everything from summer peak hikes to winter expeditions. Black Diamond's most recent improvements on these poles include better joint support and increased durability to handle more of what life on the trail will throw at you.
Like the Distance FLZ poles, the Alpine Carbon Z hiking poles employ Z-pole technology to make them easy to deploy at a moment's notice. These poles have three separate shaft sections connected by a concealed inner cord.
These sections collapse at the push of a single button and deploy using Black Diamond's speed cone technology. In these poles, each Speed Cone guides a shaft into place and stiffens the joint between the two sections when the pole is locked.
When these poles are folded to be stored on or in your pack, the pole's Kevlar center cord is protected by flexible tube ends. Black Diamond improved the durability of these hiking poles by adding an aluminum ring and sleeve to each pole section to protect its carbon interior.
The Black Diamond Alpine Carbon Z hiking poles boast natural cork grips with dual-density tops and breathable, moisture-wicking straps. These poles also come with non-slip mini-grip extensions made of EVA foam.
They also have Flex Tech Tips that allow either rubber or carbide tips to be used with them. Finally, they include trekking baskets for hiking and compactor powder baskets for use in snow.
Here's what one Black Diamond reviewer had to say about the Alpine Carbon Z poles: "I use them for ground SAR where I find that the most important aspect of a pole is that you actually brought it with you! The size and overall ballerness of these poles (the Alpine Carbon Z) make them ideal for SAR and tracking, snowshoeing and hiking. Pick up a pair and take them with you, every time."
---
Black Diamond Alpine Cork Carbon Hiking Poles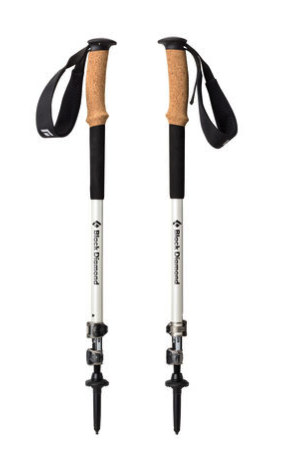 These 100% carbon hiking poles are designed to tackle alpine terrain throughout all four seasons. They are highly versatile and fully adjustable to remain useful for any adventure at any time of the year.
Whether you're looking for hiking poles to help you along difficult backpacking routes, steep alpine climbs, or mid-winter treks through snowy landscapes, the Black Diamond Alpine Carbon Cork hiking poles will be by your side.
These poles are comprised of three separate carbon shafts that adjust at two points using Black Diamond's FlickLock Pro locking mechanisms. These lever-locks make it easy to adjust the height of your poles to accommodate changing terrain. They also boast better security than hiking poles that rely on twist locking mechanisms.
When it comes to grips, the main grips are made of comfortable, moisture-wicking cork and these poles have mini-grip extensions made of non-slip EVA foam to give you the ability to choke up on steep terrain.
The wrist straps are durable and padded for comfort and interchangeable Tech Tips allow you to switch between durable rubber and carbide tips. These poles also come with trekking baskets for spring, summer, and fall hiking, as well as powder baskets for winter use.
According to one reviewer on Black Diamond's website, "Really liked these light-weight poles. So much so that I'm re-ordering a new pair since mine were stolen from the trailhead on my second hike with them. These would be great for mountaineering."
---
Why Carbon Hiking Poles?
Carbon has become a useful material for hiking poles because carbon is much lighter than aluminum. It's important to remember that all carbon poles are not created equal, but most are comprised of a matrix of carbon fibers set in resin.
Poles with superior carbon construction provide excellent strength for all forces aligned with the lay of these fibers, which is typically from the top (grip) to bottom (tip) of a hiking pole.
The major benefit of carbon over aluminum is weight. Although carbon hiking poles can be a bit more expensive than their aluminum counterparts, reducing weight is super important to many ultralight hikers out there today. The lightest hiking poles on the market are those that offer 100% carbon construction.
Ready to Hike with your New Carbon Hiking Poles?
Do you have experience with carbon hiking poles? If so, I'd love to know what you think about any brands you've used, what your favorite features are, and what you'd do differently if you manufactured your own!
Also, if you decide to purchase any of these three Black Diamond Carbon Hiking Poles after reading this review, I'd love to know how you like whichever you acquire after you've had a chance to put them to use for a few trips or travel excursions!
About The Backpack Guide
As The Backpack Guide, I'm always looking for new trails and wildernesses to explore and I'm also interested in the experiences of others in the wild. If there is one thing I am sure of it's that we can all spend more time enjoying and connecting with Nature.
Feel free to reach out to me directly (email below), or share your latest adventure or backpack by tagging @thebackpackguide on Instagram!
I hope you've enjoyed this review and I'd love to hear your feedback in the comments section below. I'll be quick to reply to any questions, comments, or concerns you feel like sharing!
Hike On!
The Backpack Guide