My affinity for Sawyer Products stems from the simple fact that they share a first name with my younger brother. So I was ecstatic when they agreed to send me the Sawyer Gravity Water Filtration System to use and review.
The Sawyer Gravity Water Filtration System Overview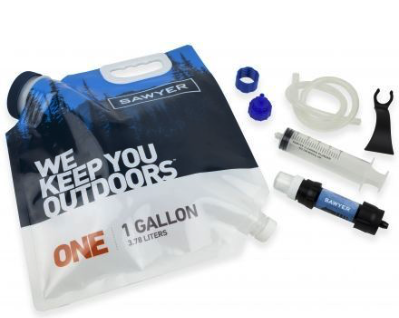 The 'SP160' One-Gallon Sawyer Gravity Water Filtration System filters a full gallon of water in under 7 minutes through a small, gravity-fed mini filter.
The one-gallon bladder weighs just 4.5 ounces when empty and, once filled, it gives you the ability to set up a communal "water station" in the center of camp. This greatly reduces the number of times you need to return to the closest water source to refill. Gone are my days of sitting beside a stream or lake for 20 minutes of pumping water.
The Sawyer Mini-Filter is a light and versatile filter that weighs just 2 ounces and fits nicely into almost any pack. It is rated to 0.1-micron absolute filtration, which means that it removes 99.99999% of all bacteria (i.e. salmonella, cholera, and E. coli) and 99.9999% of all protozoa, such as giardia and cryptosporidium.
The mini-filter in this water filtration system is also equipped with threads on both sides, which means you can screw the On/Off cap onto the filter for easy functionality while filtering to control water flow.
Testing Environment for the Sawyer Gravity Water Filtration System
On my first trip with the One-Gallon Sawyer Gravity Water Filtration System, we headed over the hill and down to a spot we call "Emerald Pools."
It is a stunning section of the South Fork of the Yuba River with towering granite cliffs on either side of the river (making for excellent cliff-jumping opportunities) and some of the coldest water you'll dive into (year-round! It never warms up!).
We hiked down to the river from the trailhead and then proceeded about a half-mile downriver before crossing and setting up camp at a little beach spot for the evening.
Here's a quick photo of our spot: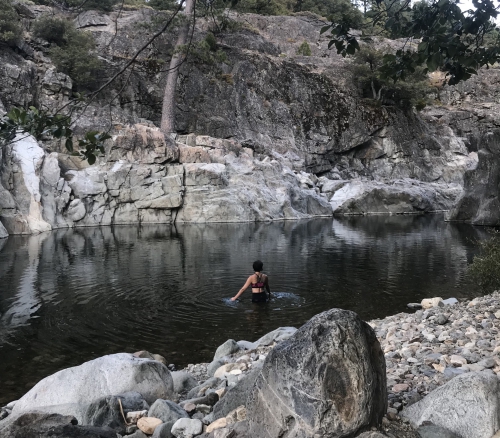 As part of the camp set-up, there just so happened to be a convenient string hanging down about 10-feet from the large tree that provided our camp with abundant mid-day shade. I decided it was the perfect string for the water bladder and, after filling it from that frigid water, I strung it up and let my companions know it was theirs for the taking as needed.
We spent one night at this spot and the better part of the next day. There were 6 of us on this trip and I think we refilled the bladder 3 or 4 times in total. It provided ample drinking water for the whole crew and the Mini Filter ran strong throughout.
Here's a photo of the mini-filter and it's size in relation to my hand:
Pros of the Sawyer Gravity Water Filtration System
– Large water capacity
– Less time spent filling the bladder
– Lightweight
– Easily folds up and stores away in your pack
– Perfect water purification solution for group camping
– Small and light enough to take on a multi-day camping trip
– Super easy to use. Gravity does all the work!
– A breeze to clean once I got home. Just add water to a syringe and rinse several times.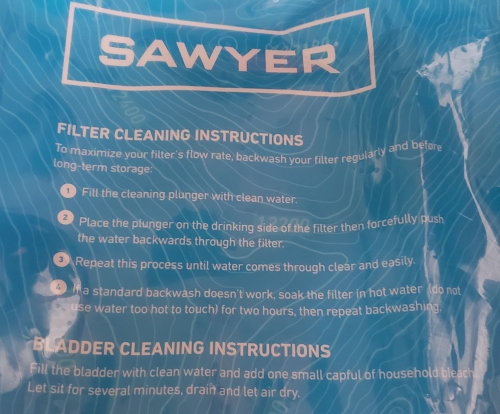 Cons of the Sawyer Gravity Water Filtration System
– Filtration itself isn't "lightning speed".
– Takes about 1-2 minutes to fill a 32-ounce water bottle
– No place to hook the tube and filter cartridge when not in use (although we got creative!)
Final Verdict on the Sawyer Gravity Water Filtration System
Overall, I'm super happy with the Sawyer Gravity Water Filtration System. I shouldn't be surprised, as I've had several quality Sawyer products that I've been very happy with in the past. However, finding a water filtration system that I'm truly happy with has been a bit of a struggle for the last several years.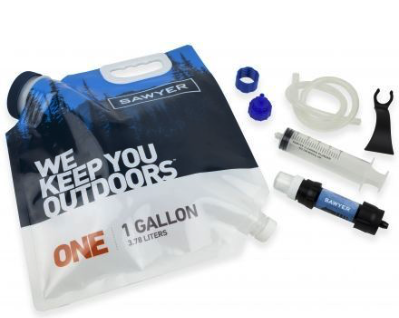 In the early days of my backpacking adventures, I used a hand-pump style filtration system from MSR. It worked just fine, but as I mentioned earlier, it required about 20 minutes of steady pumping to fill a 32-ounce bottle. Sure, it meant getting an upper body workout after a day of all legs, but it certainly wasn't ideal. So when the filter element finally cracked, I was ready to investigate new solutions.
Enter the LifeStraw and the SteriPen UV filters. Honestly, I bought the LifeStraw as a backup for all other solutions (except maybe iodine tablets). I still haven't put it to use, so my verdict is still out on that one. But I have used the SteriPen as my main method of filtration for the last two or three years.
While I haven't had any health issues (and I would've known if I did), I have had the SteriPen run out of batteries on me during a trip, it's not the lightest item to bring along, and I've also struggled to fully trust what I can't help thinking looks so much like a "magic wand."
As such, I'm excited to finally have my preferred method of water filtration rely on gravity and one of the most highly-rated, lightweight filters on the market. A huge thank you to the team at Sawyer Products for making an excellent water filtration system and for allowing me to test and review it!
---
Share Your Water Filtration Experience!
I'd love to know if you like gravity-fed water filters and, if so, which specific brand you trust to provide you with clean water in the backcountry. Also, If you decide to purchase a Sawyer Water Filter after reading this review, I'd love to know how you like it after you've had the chance to use it a few times!
I hope you've enjoyed this review of the Sawyer Gravity Water Filtration System and I'd love to hear your feedback in the comments section below. I'll be quick to reply to any questions, comments, or concerns you feel like sharing!
About The Backpack Guide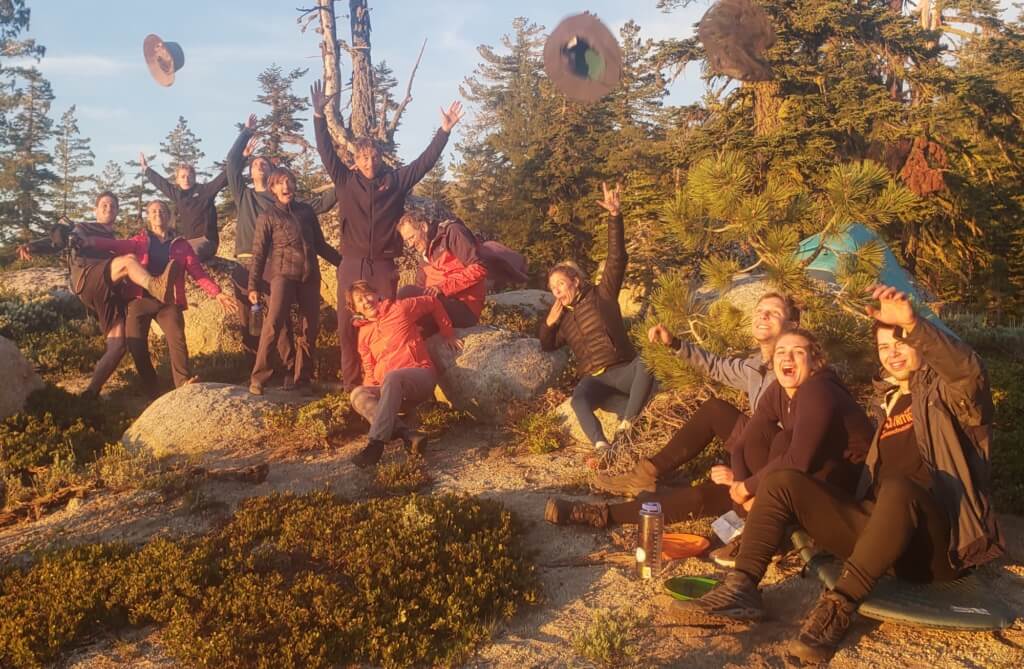 At The Backpack Guide, I'm always looking for new trails and wildernesses to explore and I'm also interested in the experiences of others in the wild. The content that I create here is meant to help others explore the wilderness, create new learning opportunities, and connect with nature.
Feel free to reach out to me directly (email below), or share your latest adventure or backpack by tagging @thebackpackguide on Instagram!
Thank You Gravity!
The Backpack Guide
Sawyer One-Gallon Gravity Water Filtration System
39.99