If you're looking for a new pack for rock climbing, ice climbing, skiing, backpacking, or mountaineering, we're going to take some time today to assess the Arcteryx Alpha FL Pack.
The Arcteryx brand was founded on the idea that "there is always a better way," and its products are tested and proven in one of the most challenging ranges on the planet, the Coast Mountains of British Columbia.
Arcteryx Alpha FL Pack Overview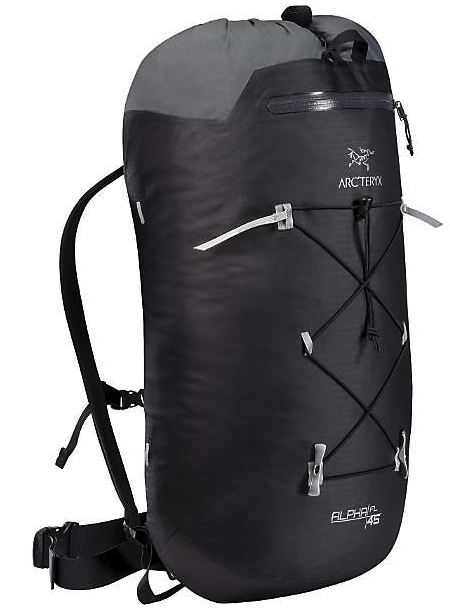 Pack Capacity: 32 liters (1,953 cubic inches)
Weight: 24 ounces
Fabric Details: 46% Nylon, 46% Polyester, 8% Elastane
Best Places to Buy: REI or Amazon
This pack is specifically designed for light and fast ascents. It features a low base weight and ample capability for securing ropes, ice axes, harnesses, and other gear to its exterior. The inside and outside of the pack are urethane coated for weather resistance and improved abrasion protection against rocks and sharp ice climbing gear. It truly combines the "simplicity of design" with "rugged and high-performance materials."
Arcteryx Alpha FL Pack Technical Specifications
Frame Type: Frameless
Pack Access: Top
Pockets: 2 (+ main compartment)
Ideal Trip Length: Expedition
The Arcteryx Alpha FL Pack is designed to be both ultralight and waterproof. It maintains a small, carry-on size with the ability to be fully loaded for extended expeditions. While Arcteryx focused on minimalist alpine mountaineering when designing this pack, they also kept it functional for a wide variety of climbing applications.
Arcteryx Alpha FL Pack All-Weather Features
The Arcteryx Alpha FL Pack is designed to be capable and efficient throughout the four seasons. For starters, a glove-friendly one-handed cord lock closure makes it quick and easy to open and close the pack without wasting a moment. It's also been designed with Advanced Composite Construction (AC2) fabric and sealed seams to keep the rain and snow out and your gear dry.
Comfort didn't escape the minds of the makers of this pack either. The Alpha FL is outfit with revised shoulder and sternum straps for improved fit, as well as a rigid, formed back panel that provides extra support while retaining comfort. The pack's low-profile, harness-compatible waistbelt also helps you stabilize the pack once it's loaded down.
The Alpha FL boasts a number of additional all-weather features designed specifically with climbers in mind. These include an external bungee compression system for crampons, 4 ice tools, or a bulky belay parka, four integrated side lash points and six front lash points that accommodate straps up to 22-millimeters wide and a top rope strap buckle now anchored on the back panel for easier use.
Arcteryx Alpha FL PackUser Reviews
Of 21 people that reviewed the Arcteryx Alpha FL Pack on Moosejaw, 16 of them have given the pack a full, 5-star rating. If you're wondering about the rest, three gave it 4 stars and two awarded the pack 3 stars. It's hard to find a pack out there these days without a 1-star review, but it seems (on this platform at least) that we've done so here. So let's take a look at some pros and cons of these reviews.
Pro #1: "Light, Durable, and Useful"
One reviewer said that "It is light and durable, and makes for a great climbing pack" and another said that it "carries quite well for how light it is." The pack's reviewers seem to be very happy with its ability to strap ropes and other climbing gear to the outside as well, with another reviewer saying that the "crampon straps work great" and "ice axe/tool attachments are easier to use than traditional attachments."
Con #1: Sizing
One reviewer claimed that this pack was all he or she has ever wanted, but when it arrived it did not fit. Further research then revealed that Arcteryx only makes this pack in a single size, which can be detrimental if you don't have what they must have deemed to be an "average" body type.
Con #2: Not The Most Comfortable
While simultaneously applauding Arcteryx for making a climbing-specific pack, one reviewer lamented that this pack might be too specific to climbing. With its focus on light and fast climbing, some reviewers have suggested that it's not very comfortable once fully loaded and that it could use an organization solution to keep gear and supplies organized inside the pack.
Pro #2: All-Year Use
Despite those shortcomings, many reviewers applauded the Alpha FL's ability to perform functionally for a wide variety of activities and in all-weather settings. Having a pack that is truly useful all-year-round is rare, so that's a definitely huge pro to consider about this pack.
Is The Arcteryx Alpha FL Pack For You?
If you're looking for a new expedition pack for one of these Three Mountaineering Expeditions in North America, it's hard to ignore the Arcteryx Alpha FL Pack as a great option.
And even those of you gearing up for a winter that might not be quite that adventurous but still includes plenty of backcountry ski trips might consider this pack. When you look at a pack that has the number of potential uses that this one does, there's really no ruling it out, no matter your intended purpose.
Or…
---
What do you think of the Arcteryx Alpha FL Pack?
I'd love to know what attracts you to one pack over another and what features you deem "indispensable" when it comes to a backpack.
Also, if you decide to purchase this pack after reading this review, I'd love to know how you like it once you've put it to good use for a few fall adventures!
I hope you've enjoyed this review of the Arcteryx Alpha FL Pack and I'd love to hear your feedback in the comments section below. I'll be quick to reply to any questions, comments, or concerns you feel like sharing!
About The Backpack Guide
As The Backpack Guide, I'm always looking for new trails and wildernesses to explore and I'm also interested in the experiences of others in the wild. If there is one thing I am sure of it's that we can all spend more time enjoying and connecting with Nature.
Feel free to reach out to me directly (email below), or share your latest adventure or backpack by tagging @thebackpackguide on Instagram, Facebook, or Twitter!
Become an Alpha Today!
The Backpack Guide