Over the years, I've really come to appreciate the benefits of carrying a hammock for backcountry sleeping, as opposed to lugging in a heavier tent set up. That's why I'm going to tell you about my top backpacking hammocks.
These hammocks are the two with which I have the most experience. Later on in the article, I highlight my Most Anticipated Backpacking Hammock of 2019.
In other words, I share with you the hammock I'm most anticipating buying and testing in the coming year. I hope you enjoy, and if you're wondering how in the heck you sleep comfortably in a hammock, just wait until next week, when I'll be publishing 'Hammock Camping: 10 Reasons to Sleep Elevated'!
Grand Trunk Ultralight Starter
---
My Grand Trunk Backpacking Hammock Experience
The Ultralight Starter from Grand Trunk was the first backpacking hammock that I ever bought. Back when I acquired mine, hammock camping was still a relatively new phenomenon.
The hammock that showed up was nearly twice as big (when packed) as the ultralight starter is now. Grand Trunk has clearly done a great job changing the materials of this hammock so that it's more compressible and fits in a smaller bag when not in use.
The other major change that's happened with this hammock since I bought mine is with the straps. Back then, the Trunk Straps were not available. I actually don't think the hammock came with straps at all, if I recall correctly. It was up to me to choose the right string or nylon rope to hang it properly, which I had trouble doing at first (and which my friend actually paid the price for once, but that's a story for another time!)
Fortunately, the Trunk Straps are now available and, if you purchase the entire Ultralight Starter Bundle, you'll get the hammock and Grand Trunk Tree Slings in one package!
Specs on the Grand Trunk Ultralight Starter
Today's Ultralight Starter is made of King Rhombic ripstop polyester. It features triple-lock stitched seams and two nautical grade carabiners on either end. The hammock's dimensions measure 9'6″ in length and 4'6″ in width. It's capable of supporting one person (up to 300 pounds) and weighs just 12 ounces when packed up. It's the perfect lightweight backpacking hammock for young adventurers.
Why I Recommend The Grand Trunk Ultralight Hammock
The Ultralight Starter is the perfect hammock for anyone that's looking to explore sleeping in a hammock in the backcountry for the first time. The price point is right for those that aren't sure if they'll be able to comfortably spend a whole night in a hammock in the woods and it can double as a cozy reading hammock around your property or on day trips if you decide you're more of a tent-sleeper!
---
Kammok Roo Single
---
My Kammok Backpacking Hammock Experience
I was very lucky to acquire a Kammok Roo Single and a set of their Python Straps while I worked as an outdoor guide in Austin, Texas. I actually met several members of the Kammok team at that time, as they are based in Austin.
I was really excited at the time to step up my hammock camping game, and the Roo Single has gone with me on numerous trips around Texas and in my home mountains outside of Truckee, California ever since.
The biggest difference I noticed when I made the switch from my old hammock to the Roo was how easy it was to set up. I was also impressed by the strength of the straps. While I know it's recommended as a 'Single', I've definitely shared my Roo with my partner comfortably without worrying about it tearing or the straps breaking.
As far as sleeping goes, I love the cocoon shape that my body naturally falls into in the Roo. The straps make it easy to adjust the head end of my hammock slightly higher than the foot. I like this technique because I was always told that you shouldn't sleep with your head below your feet and it seems to make my legs feel better and more alive in the morning when I use it.
Overall, the Kammok Roo has made me seriously consider why I even still have a tent. The only things holding me back from committing to the backpacking hammock life are:
1) the Kammock Roo Single doesn't include a rain fly or trap; 2) It also doesn't include a bug net; and 3) I seem to have misplaced mine after using it very successfully for a 6-day, 5-night backpacking trip in the Ruby Mountains. It was with me all the way until I got home after driving 6 hours from the trailhead back to Truckee!
Specs on the Kammok Roo Single
The Roo is made with Gravitas ripstop nylon fabric with diamond ripstop reinforcement. This reinforcement keeps the fabric from stretching excessively so that it performs better and lasts longer. The Gravitas fabric is also water-resistant, breathable, fade-resistant, and silky soft. The hammock's dimensions measure 8'4″ in length and 4'2″ in width. It's capable of supporting up to 400 pounds and weighs only 10 ounces when packed up. It's built for adventurers who want to travel light and sleep comfortably!
Why I Recommend The Kammok Roo Single
Ease and convenience. It's really as simple as that. The Roo takes just a few minutes to set up once you're familiar with it and it takes up a very minimal amount of space in your pack. For trips like the one in the Ruby Mountains I mentioned above, it was clutch to reduce the weight and space taken up by my sleeping arrangement so that I could have room for other supplies!
---
But. . .The Best is Yet to Come!
So, those are the two hammocks I've tested and feel comfortable recommending to you. But before I go, I want to tell you about the hammock release I'm anticipating most in 2019. The Mantis Hammock from our dear friends at Kammok is an all-in-one backpacking hammock that'll make you forget you ever had another!
The Kammok Mantis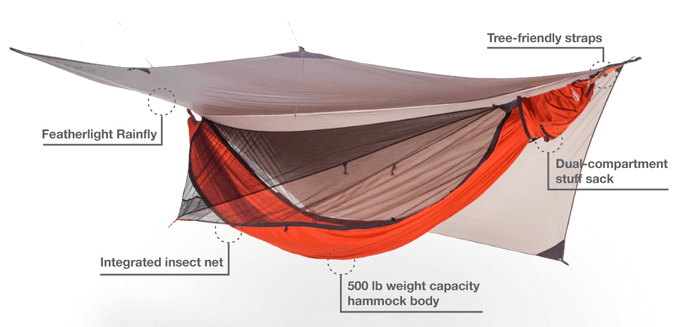 ---
This all-in-one set up features a lightweight, breathable hammock body that can support weights up to 500 pounds. Moving up, it includes an integrated insect net to keep mosquitoes, flies, and those indomitable No-See-Ums out of your resting space. From there, this set up offers a featherlight rain fly to keep you (and your gear) dry if it starts raining unexpectedly in the middle of the night. The tree-friendly straps and a dual compartment stuff sack round out this entire backpacking hammock set up.
The entire package weighs less than two pounds and requires less than 60 seconds to set up (without the need for tying a single knot!). It boasts four-season adaptability and a flat-lay design. Many users have claimed it's much more comfortable than a ground tent and Gear Patrol said that "the Mantis proves itself to be a capable tent alternative for those looking to carry less on the trail."
---
Why I'm Excited About The Mantis Hammock
For starters, backpacking season is right around the corner and I've realized that I haven't done anything to replace the Kammok Roo that I lost last summer. But beyond that, and even with my old Kammok, I had to purchase a separate tarp (as seen in the featured image) to make my set up more resistant to rain. And even then, I couldn't keep those pesky bugs from bothering me in the morning. Has anyone wondered why mosquitoes always seem to buzz right in front of your face first thing in the morning?
Anyhow, I'm excited about this hammock set up because it truly is an "all-in-one" solution. It gives you the ability to sleep elevated in any environment and, with the purchase of an additional sleeping bag or hammock liner, I could even make this my go-to for winter camping excursions!
I want to get my hands on one of these before I get home this summer, as the big winter in the Sierras means there might not be as many places to set up a tent in the backcountry early in the season as there normally is. If you want to learn more about the Mantis and the Mantis UL, check out the video below!
---
---
My Top Backpacking Hammocks
I hope you've enjoyed this summary of My Top Backpacking Hammocks and I'd love to hear your feedback in the comments section below. I'll be quick to reply to any questions, comments, or concerns you feel like sharing.
If you decide to purchase the Grand Trunk Ultralight Starter, Kammok Roo Single, or Kammok Mantis after reading this article, I'd love to hear about your experience once you've taken it out for a few trips!
I want it to be clear that I receive a commission for any product that you purchase by clicking the links I provide on this site. As an affiliate marketer, I have relationships with many of the leading brands in the outdoor industry.
Everything that I earn through this site helps me continue to create more helpful resources, which will one day include guided backpacking trips focused on education, connection, and empowerment.
About The Backpack Guide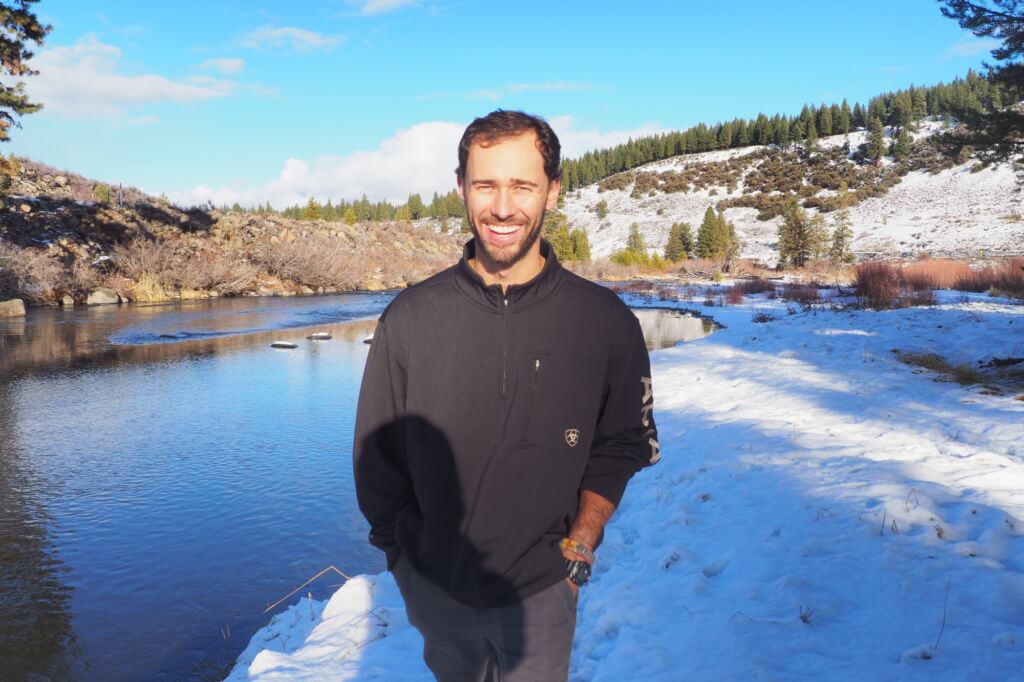 As The Backpack Guide, I'm on a mission to explore the wilderness, create learning opportunities, and connect with nature. These are the objectives that underline all the content I create on this site.
I want to inspire others to recreate in their respective wildernesses and to do so in the safest, most enjoyable manner possible. I'm also very interested in the experiences of others in the wild and I want to create a community of people that share those experiences and the lessons they've learned as a result.
If my mission resonates with you, you think we may have an awesome opportunity to collaborate, or you simply want to connect, I'd love to hear from you! Feel free to reach out to me directly (email below), or share your adventure by tagging @thebackpackguide on Instagram, which is where I'm most active. You can also find me on Facebook, Pinterest, Twitter, and LinkedIn.
Side note: Once you've found the perfect backpacking hammock, be sure to investigate the articles in my Hiking Tips and Trails section. Check out my Outdoor Gear page for reviews on water filters, tents, hiking shoes, trekking poles, and more. Also, check out my Backpack Reviews, including brands like Kelty, REI, and Gregory, if you're in need of a new pack. Finally, my YouTube Channel is full of informative video content if you're not really into reading!
"The stars were better company anyway. They were very beautiful, and they almost never snored."
– David Eddings
The Backpack Guide