I grew up just north of Lake Tahoe in the town of Truckee. From a young age, I began hiking, backpacking, kayaking, and otherwise exploring all that this area has to offer. Still, I find new gems seemingly every summer. If you're visiting this spring, summer, or fall, here's a quick list of some best hikes near Lake Tahoe!
Emerald Bay State Park
Trailhead Location
138 Emerald Bay Rd, South Lake Tahoe, CA
Hike Distance
2-3 miles
Level of Difficulty
Moderate
Time Needed
3-4 hours (depending on how long you play at the bottom!)
Fun Features
Views of Emerald Bay and Fannette Island, a hidden castle, and a waterfall!
Hike Overview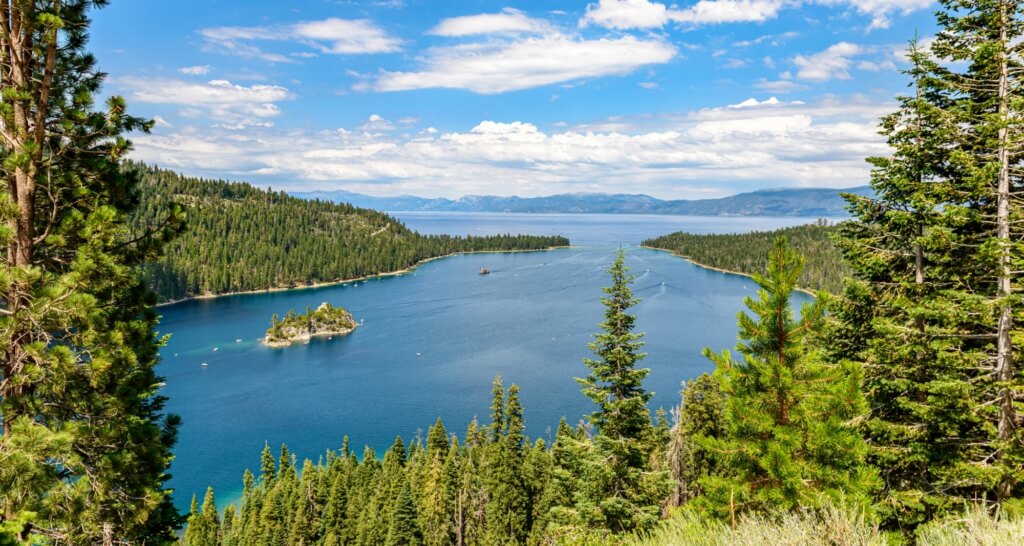 This is a great day hike for those of you staying near South Lake Tahoe. Emerald Bay State Park offers exquisite views of Emerald Bay, including Lake Tahoe's only island, Fannette Island. The history of this state park is quite intriguing.
Vikingsholm, the residence at the bottom of the trail, was built by Mrs. Lora Josephine Knight in 1929. Mrs. Knight hosted guests at her hidden castle for 15 years before her death in 1945.
The hike descends almost 400 feet for a little over a mile from the parking lot. When at the bottom, you can check out the beach, swim in the crystal clear waters of the bay, and take a tour of the Vikingsholm castle. Information on tour details and times can be found here.
Once you're finished at the bottom of the trail, you can return to the parking area via the same trail you came down. If you're looking for a little more adventure, check out the trail to Lower Eagle Falls, which is typically running at peak capacity from late spring into early summer, depending on the snowfall from the previous winter.
Shirley Canyon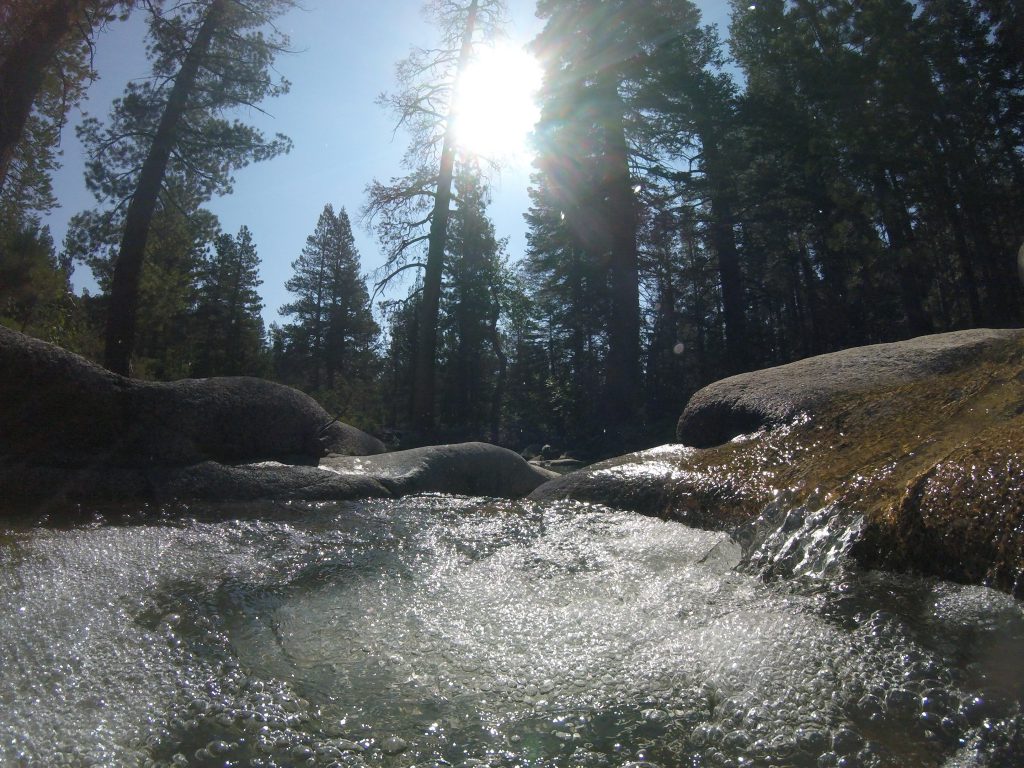 Trailhead Location
1912 Chamonix Pl, Olympic Valley, CA 96146
Hike Distance
5.8 miles one way (depends on how far up you go!)
Level of Difficulty
Moderate to Difficult
Time Needed
3-5 hours
Fun Features
Waterfalls, waterfalls, and more waterfalls! (Oh, and a free Tram ride down!)
Hike Overview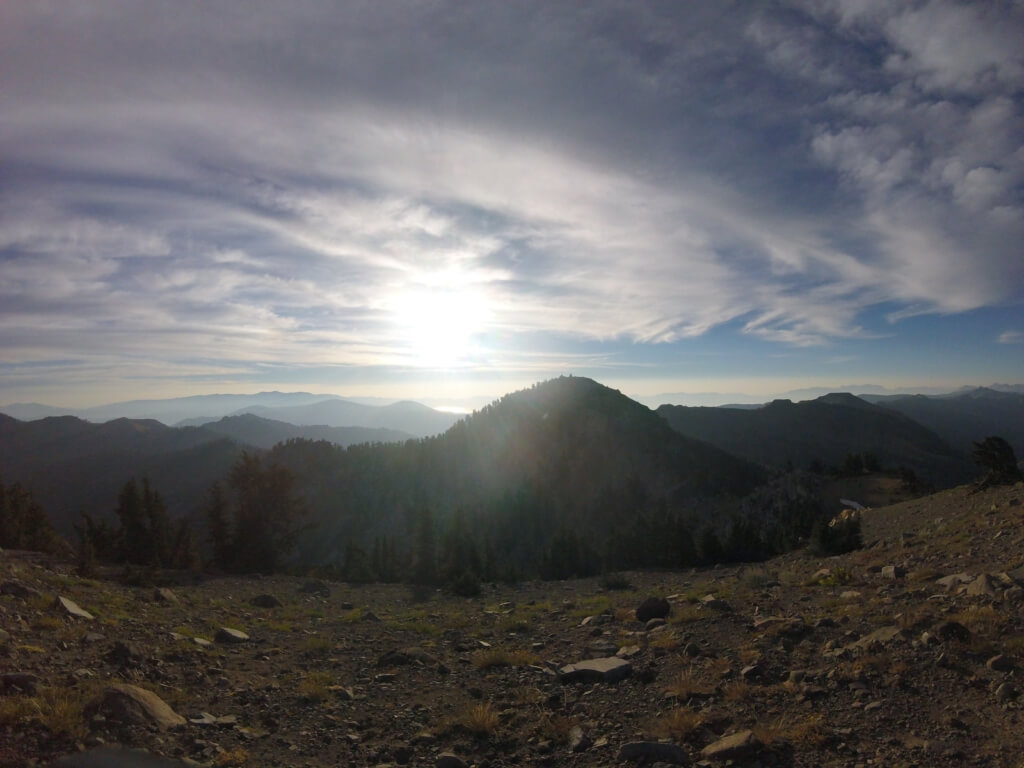 When you're driving into Olympic Valley, it'll be hard to pick your jaw off the floorboards as you take in the sheer scale of this gorgeous glacial valley. Home to the 1960 Olympic Winter Games, Olympic Valley has a unique history and also boasts some area's best skiing in the winter months. Options certainly don't dwindle in the summer though!
The Shirley Canyon Trailhead is located in the northwest corner of the valley behind Olympic Valley Lodge and to the right if you're looking at "Tram Face." The best time to hike this trail is in the spring as there are four or five different waterfalls that are at maximum capacity during this time of year.
The trail does gain almost 2,000 vertical feet if you follow it all the way to Squaw Valley's High Camp. If you don't want to go all the way up the trail, Shirley Lake is a convenient turn-around spot with an opportunity for a brisk dip into glacial waters on the hottest of summer days.
Proceeding all the way to High Camp does have its rewards though. Hikers that complete the full ascent of Shirley Canyon are rewarded with a free ride down the mountain on the tram!
The Mount Tallac Hike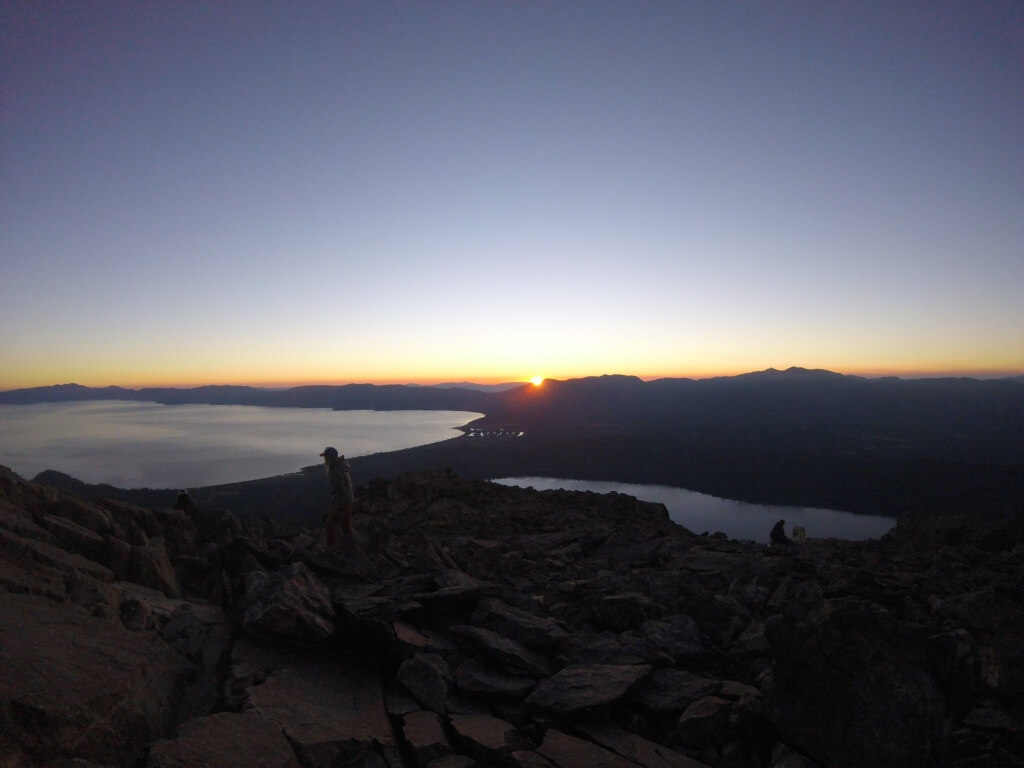 Trailhead Location
Mount Tallac Trail, South Lake Tahoe, CA 96150
Hike Distance
9.5 miles round-trip
Level of Difficulty
Difficult to Expert
Time Needed
5-7 hours
Fun Features
An opportunity to swim in an alpine lake, a butt-kicking climb, and spectacular lake views!
Hike Overview
This hike isn't for the faint of heart or the casual hiker coming from sea level, but the views at the top are arguably the best in the area. The trail gains 3,255 feet over the course of 4.25 miles, culminating at the peak of Mount Tallac, which sits at an elevation of 9,738 feet.
The last time I did this hike we actually started around 3:30 am with the goal of reaching the summit at sunrise. It was summer so the temperature that early wasn't too cold, but it was still quite the early start.
However, we did reach the summit just as the sun peeked over the mountains of the Carson Range to the east and all our struggles were vindicated. If you love sunrise views or you're a photography aficionado, this one is hard to beat!
On the way down, you'll pass by Cathedral Lake and Floating Island Lake. If you're looking for a crisp, refreshing dip in cool mountain waters, I'd opt for Cathedral over Floating Island. It's a great spot to cool down and you'll have enough time to dry off completely before you get back to your car!
The Tahoe Rim Trail to Picnic Rock
Trailhead Location
Brockway Summit, Hwy 267 between Truckee and Kings Beach
Hike Distance
3.1 miles round trip
Level of Difficulty
Easy
Time Needed
2-3 hours
Fun Features
Rim trail traffic, furry friends, and easy to access views of Tahoe!
Hike Overview
Commonly labeled as "The shortest hike with the best views" in Tahoe, Picnic Rock is a great trail for a quick morning or afternoon hike. If you really want to do it right, take food with you and enjoy a picnic lunch with stellar views of Lake Tahoe's north shore.
Starting just off Highway 89 near Brockway Summit, the Picnic Rock Trail climbs almost 800 feet to the viewpoint. The majority of the trail parallels the Tahoe Rim Trail, so expect plenty of mountain biking and thru-hiking traffic.
The full Tahoe Rim Trail extends more than 160 miles around the entire circumference of Lake Tahoe. So if you run into any thru-hikers be sure to ask them about their experience! Picnic Rock is a must-see trail for any newcomers to Tahoe.
It's a great opportunity to get your feet wet hiking in the Sierra Nevada mountains without overly straining yourself and still being rewarded with amazing lake views. Head on down to Truckee or Kings Beach for a beer and a burger after this excellent afternoon hike!
Want to Get Off The Beaten Path in Tahoe?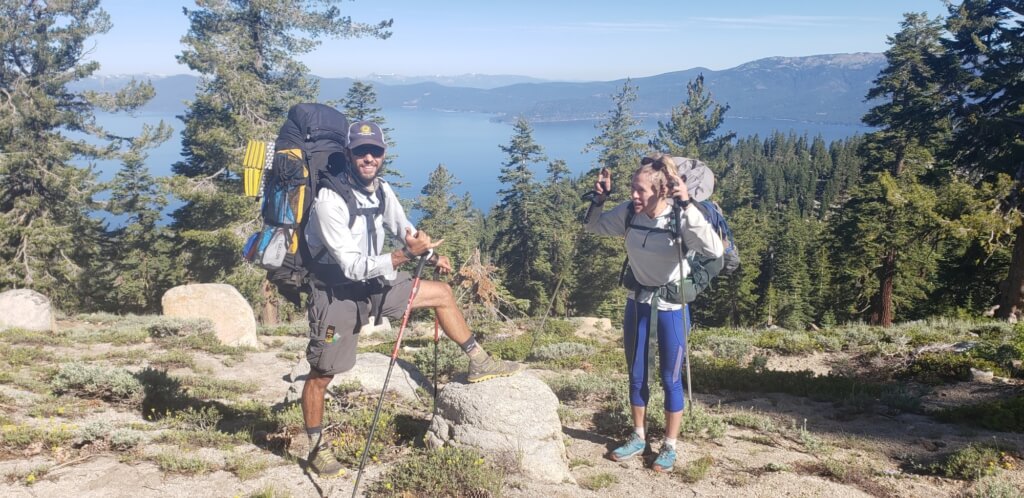 These four trails provide an awesome introduction to the Tahoe wilderness. That said, they are some of the more popular trails in the area. This can be nice if you're concerned about being the only people out there, but if you're looking for a bit more peace and solitude, you might be looking for something different entirely.
If this is the case, I invite you to send me a message about your upcoming trip to Tahoe! Let me know where you're staying, how long you'll be here, and what type of adventure you're looking for. I'll be happy to respond with recommendations in a prompt fashion!
About The Backpack Guide
At The Backpack Guide, I'm always looking for new trails and wildernesses to explore. I'm also excited to see and share photos of our readers with their new backpacks. Please don't hesitate to share your latest adventure or backpack purchase on social media by tagging @thebackpackguide on Instagram and Facebook!
As always, please leave any questions, comments, or concerns below and we hope you enjoyed the information we've presented here for you today!
Take Care of Tahoe!
The Backpack Guide