As you prepare for summer camping trips, a reliable sleeping pad is essential. There's nothing better than falling asleep comfortably after a long day outdoors, and the best sleeping pads for summer camping will help you do just that. 
At the same time, there is nothing worse than tossing and turning all night knowing you will wake up tired, lethargic, and unprepared to tackle the great outdoors.
Why Do You Need One of the Best Sleeping Pads?
Even if you have the best tent, sleeping bag, and pillow, you will struggle to sleep if your sleeping pad is not adequate for your situation. A sleeping pad is a foundation for a comfortable night's rest in the backcountry.
But there are important variables to consider when purchasing a sleeping pad. We've put together a collection of the best sleeping pads for summer camping in one place.   
The Best Sleeping Pads For Summer Camping
Without further delay, here are my sleeping pad choices: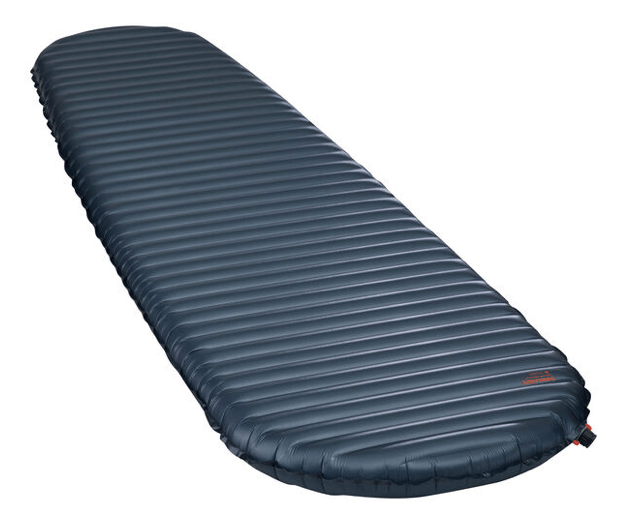 The Therm-a-Rest NeoAir UberLite sleeping pad is an optimal air pad for those looking for a lightweight sleeping pad. This product stands out because it totals just under half a pound, and has the ability to shrink down smaller than any other NeoAir product. 
It also has a reliable "one-way" air-valve that maximizes airflow into the pad for an easier inflation experience. This valve also works to ensure that the pad doesn't slowly deflate throughout the night. 
Pros 
Lightweight
Compact
Pump sack, stuff sack, and repair kit included
Two-year warranty
Cons
Higher price
Narrow design may be uncomfortable for some
---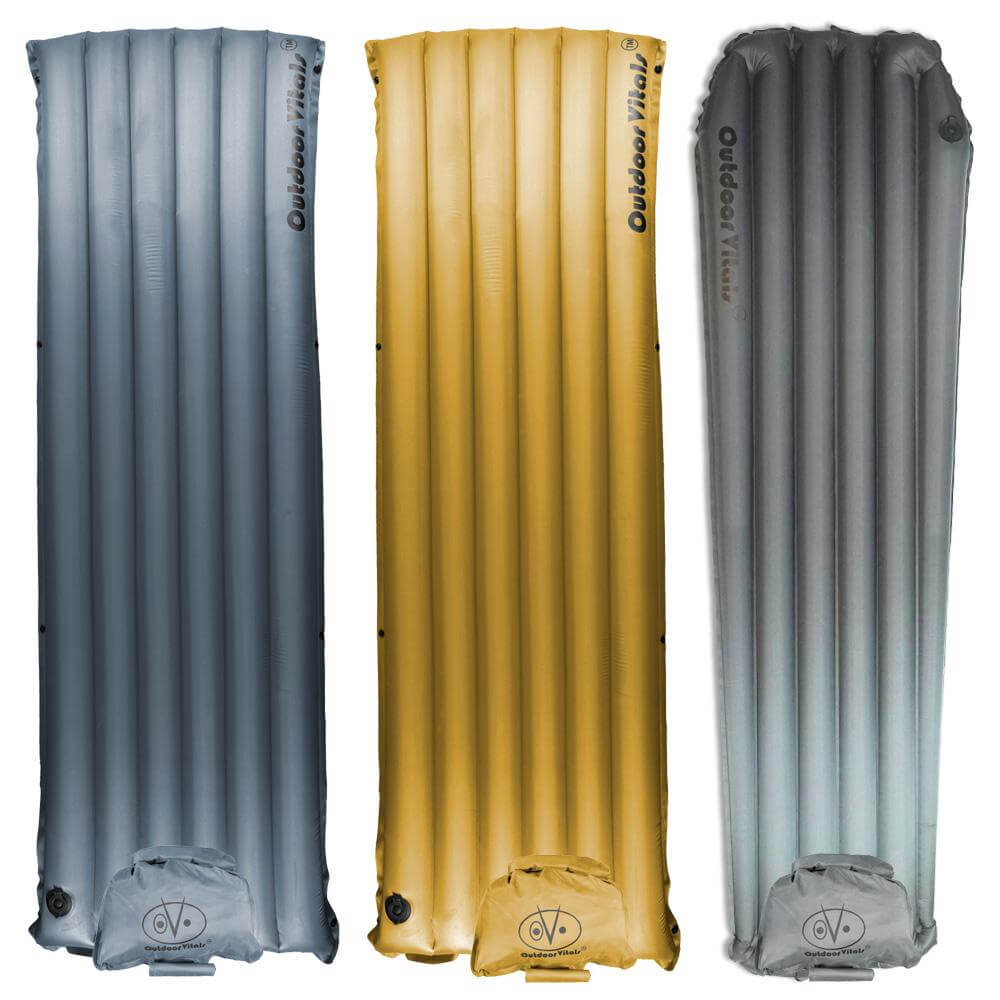 These sleeping pads made by Outdoor Vitals are truly "ultralight". The pads break down with ease and fit into any standard backpack used in the outdoors. When inflated, they give you a three-inch lift, which ensures that no part of your body is in contact with the ground. 
They come with a high R-value of 4 so that you'll have ample insulation to keep using this pad during the colder months. These pads also boast oversized side rails that keep you on the pad all night, especially if you tend to roll over a lot while you sleep. 
Pros
Lightweight
Compact
Free Pump Sack
Quick Inflate Valve
Reasonable Price
Cons
Thickness of pad can be problematic
Nylon material can be noisy
---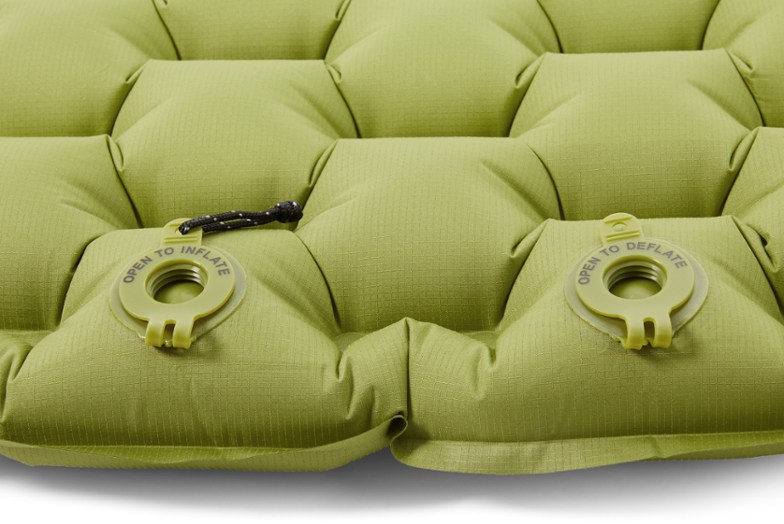 Another air pad that is extremely light-weight and compact is the REI Co-Op Flash Thermal. With an R-value of 4.7, it will work well during the winter and summer months. This pad is made from a durable laminated ripstop polyester material that you'll be able to trust for multiple camping seasons.
Regardless of size, this pad offers a thickness of two inches. It actually uses a design that includes two valves, with one made for inflation and the other for deflation. This pad uses a tapered mummy shape to reduce pack weight and make it compact when rolled up to its 5″ x 9″ packed size. 
Pros
Lightweight
Durable
Stuff Sack Included
Lower Price
Cons
Limited color availability
Provides less comfort than a larger pad 
---
The MondoKing 3D pad by Therm-a-Rest is truly fit for a king. Its incredibly cushioned design is coupled with a 7.0 R-value to provide a restful night of sleep for anyone and true four-season versatility.
Although it looks intimidating to inflate, the two-valve system (one for inflation; one for deflation) streamlines the process. If you're looking for optimal comfort and are willing to take on the weight of a heavier and larger pad, look no further than the MondoKing 3D.
Pros
Optimal Comfort and Insulation
Pump Sack/Stuff Sack Included
Two-year warranty
Cons
Higher Price
Heavy pad
Not as compact
---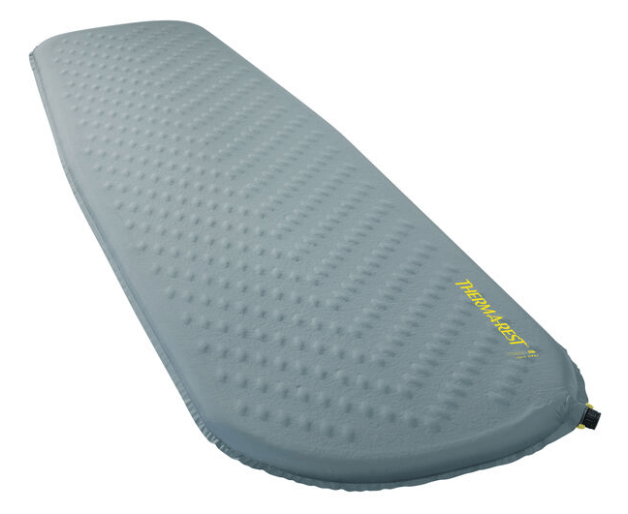 The Therm-a-Rest Trail Lite pad comes with an easy-to-use, self-inflating foam core that eliminates the need to pump or blow the pad up before you can use it. It boasts a 3.2 R-value for reliable insulation and three-season versatility. 
When inflated, the pad has a thickness of 1.5 inches. It's available in standard and large versions, but the standard pad deflates and rolls up to packed dimensions of 11 inches long by 7.8 inches wide. It's also available at a reasonable price if you don't want to overspend on a pad right now.
Pros
Quick inflation procedure
Compact
Lightweight
Lower price
Two-year warranty
Cons
Repair kit not included
Slightly heavier than NeoAir UberLite model
---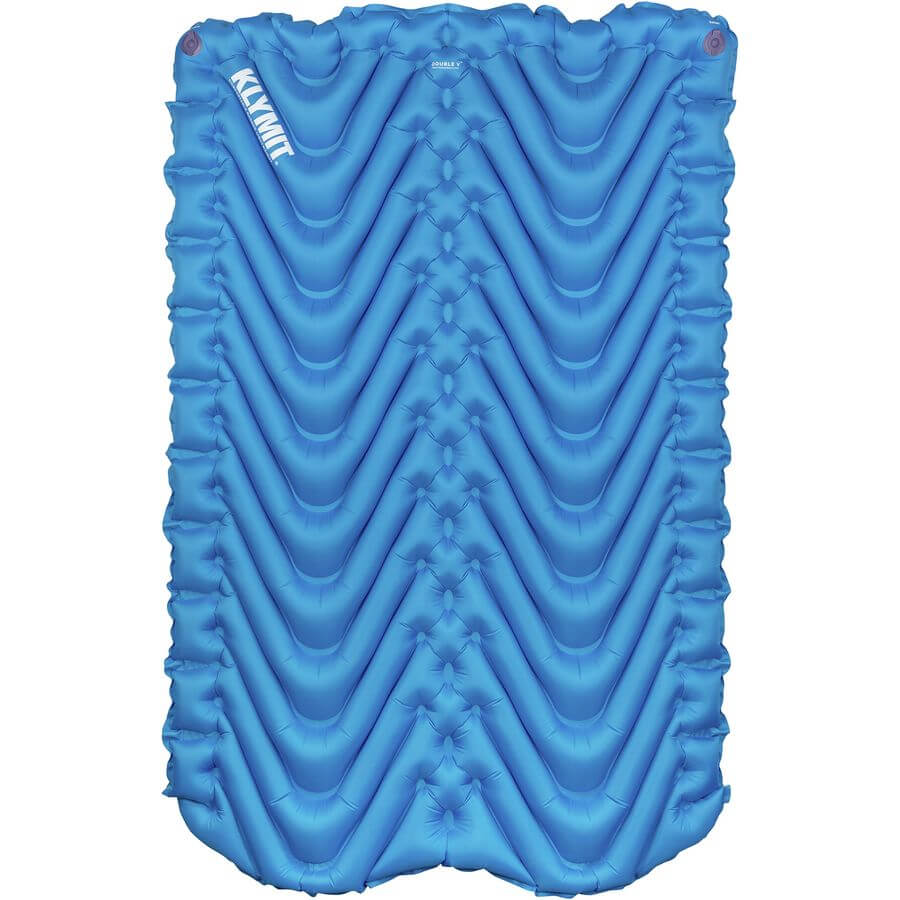 This pad is unique in its ability to comfortably sleep two people at a time. This makes it the best choice for couples that like to zip their sleeping bags together or camp using a thick camping quilt. It also boasts anti-odor properties sleeping directly on it when it's really hot out. 
The double-wide, air-inflated pad, has an R-value of 1.6, which means it is best used during the summer months. Raised side rails will help you stay on the pad throughout the night and a total thickness of three inches keeps you (and your tent buddy) comfortably off the ground. 
Pros
Double-wide size ideal for couples
Stuff sack included
Ideal for hot weather 
Cons
Poor insulation in colder months
Bulkier than a single-wide model
Polyester fabric can get noisy at night
---
The REI Trailbreak is a well-insulated pad with an R-value of 5.1. This makes it adaptable to cold weather conditions, as it provides impressive insulation from ground temperatures. Four-season use is definitely possible with this sleeping pad, but it's also great to keep you warm on chillier summer evenings. 
This is a self-inflating pad that comes with both a stuff sack and compression straps to improve its compactness. When inflated, it has a thickness of 1.75 inches and the regular design offers dimensions of 72 inches long by 20 inches wide. This is the kind of pad that rolls and attaches to the outside of your pack, with packed dimensions of 6.5 inches by 20 inches. 
Pros
High R-Value
Self-inflation procedure
Low price
Cons
Doesn't pack down as well as most air pads
Heavier material
---
As extremely lightweight closed-cell foam pads, the Z Lite Sol and Original Z Lite are great options for summer camping. With an R-value of 2.0, they provide plenty of insulation for the summer months in a sturdy, reliable design that can withstand being placed on rocks and stumps.
Unlike many foam pads, the Z-Lite Sol and OG Z-Lite fold up instead of needing to be rolled. This makes them easier to strap on the outside of your pack. It also makes them adaptable to be used as a camp chair because you can fold and unfold them into a variety of configurations. 
Pros
Low price
No inflation needed
Lightweight
Useful as a chair or sit pad
Two year warranty
Durable material
Cons
Not as compact when broken down
Lower R-Value
---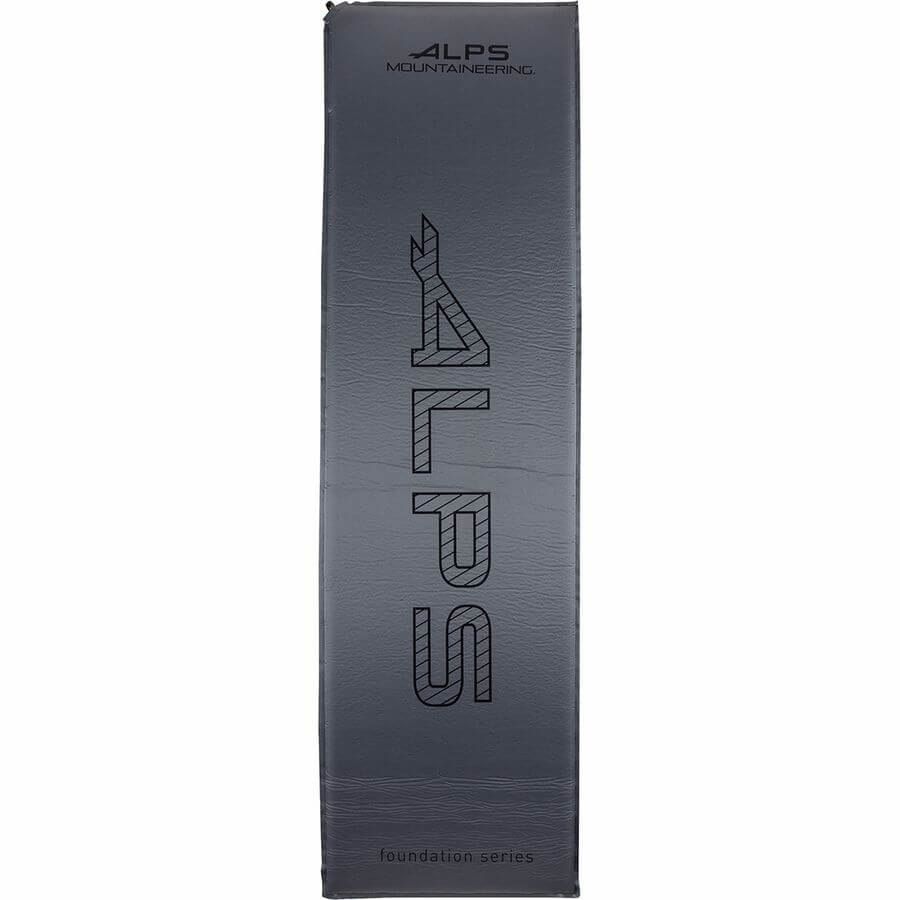 The ALPS Mountaineering Foundation pad is a great option for those looking for a reliable self-inflating pad. The self-inflating design streamlines set-up time when you reach camp and provides impressive comfort throughout the night.
This pad utilizes Jet Stream foam, which is designed to provide more cushion than other air pads. It also utilizes non-corrosive brass valves for rust protection in wetter climates. The thickness of this pad ranges from 1.5 to 3 inches depending on your choice of the regular, long, or XL size.  
Pros
Self-inflating
Low price
Stuff sack included
One-year warranty
Cons
---
This pad is the epitome of lightweight and is a reliable option for ultralight backpacking. The unique design of this pad slashes the total weight down to a mere 9.1 ounces. When deflated completely, it compacts down to dimensions of three inches by six inches.
Using body mapping technology, Klymit extensively researched the body's primary pressure points in order to design a pad that only provides cushion and support where your body needs it. In doing so, they've been able to produce one of the most lightweight (but still reasonably comfortable) sleeping pads on the market today.  
Pros
Extremely lightweight
Compact
Low price
Stuff sack, pump, and patch kit included
Cons
Lacks standard comfort
Minimal insulation for colder nights
---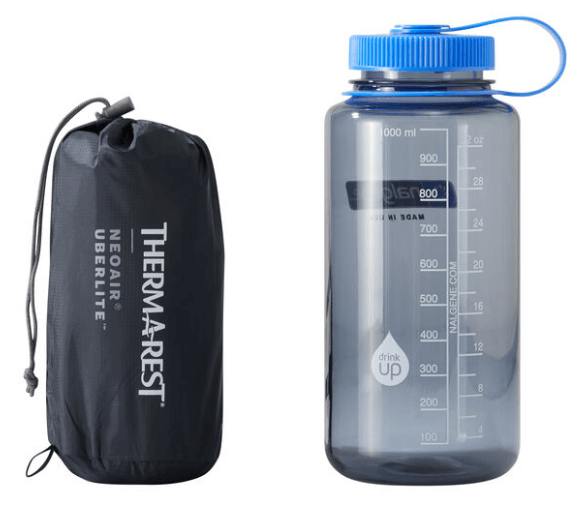 If you are looking for a great all-around sleeping pad, my top pick is the Therm-a-Rest NeoAir UberLite pad. This pad offers an exceptional balance between being lightweight and comfortable while also being available at a reasonable price. 
Therm-a-Rest is a reliable company that makes high-quality products and they provide a two-year warranty with any of their sleeping pads. With the NeoAir UberLite, it is guaranteed that your sleeping pad will be one of the most reliable aspects of your camping trips.
---
Buying Guide for the Best Sleeping Pads
Now that we've discussed the pros and cons of top-rated sleeping pads from brands like REI, Thermarest, and OutdoorVitals, let's dive into buying considerations and ways to maximize the lifespan of your sleeping pad.
Sleeping pads come in different shapes, sizes, and are made with different materials. Different pads are also tailored for different camping situations. This buying guide covers the most critical parameters to help you choose the right sleeping pad for summer camping.
Sleeping Pad Types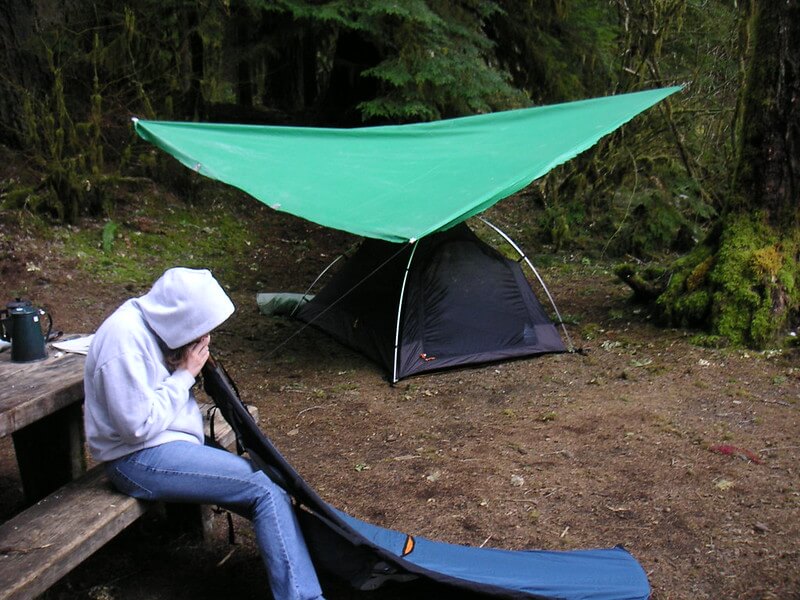 Not every sleeping pad uses the same design to achieve optimal comfort. Some need to be inflated by air, others self-inflate, and then there are closed-cell foam pads. Knowing which type of sleeping pad you want from these three options will be critical before making a purchase. 
Air Pads
Air pads are a great option if you want to minimize the amount of pack space your pad requires. These pads deflate completely so they are very compact when you go to store them. However, some air pads can lack the support needed for a truly restful night of sleep. 
If you are a particularly restless sleeper, inflatable pads can be quite noisy when you toss and turn throughout the night. Overall, air pads are generally more expensive, but they excel in breakdown ability and provide reasonable comfort for sleeping in the backcountry.
Self-Inflating Sleeping Pads
Self-inflating pads use a combination of foam and air. They are less of a hassle to inflate than air pads because you simply open their valve and the pads expand automatically. 
But since they have a small layer of foam within them, they don't break down as well as most air pads. Self-inflating pads are a good option for car camping or less technical backpacking excursions. Some self-inflating pads actually do get quite compact, however, and are fit for ultralight backpacking.
Closed-Cell Foam Sleeping Pads
Closed-cell foam pads are basic, reliable, and usually inexpensive. Some foam pads are quite lightweight, but these pads tend to be bulkier in general.
A foam pad is more reliable than air pads or self-inflating pads because it maintains its structure if ripped, torn, or slit during your camping trip. 
If you have a little extra space in your backpack or are looking to not break the bank, then a closed-cell pad may be the right choice for you. Many of these pads can be folded or rolled and strapped to the outside of your pack to save internal space.
Weight vs. Comfort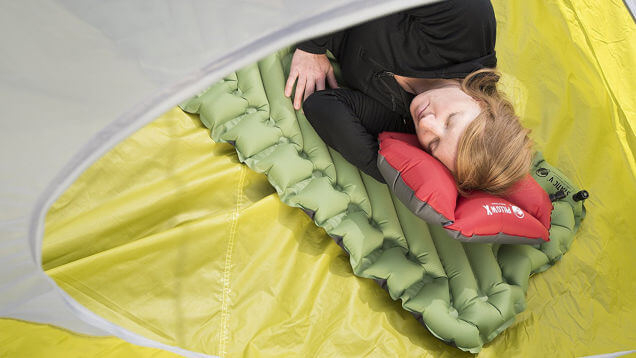 As a pad gets heavier, it usually gets thicker and, subsequently, more comfortable. A large and bulky self-inflating pad can provide a luxurious night of sleep, but you have to be able to haul it to your campsite. 
For leisurely summer camping, it is best to prioritize a comfortable pad over a lightweight option. But if multi-day backpacking is your intention, a lightweight air pad is the way to go.
Ability to Break Down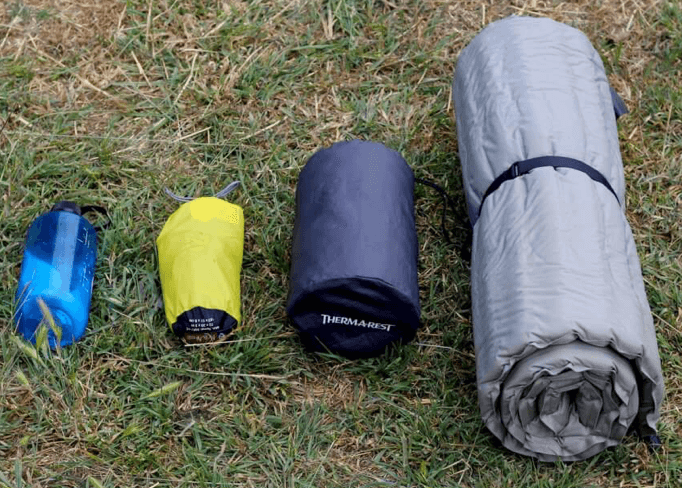 Before buying a sleeping pad, it is important to understand how it will fit in your backpack, car, or garage while being stored. Some pads fold or roll into very compact dimensions, which allows you to fit them inside your pack no matter how crammed it already is.
Others will never get small enough to fit inside your pack and can only be strapped to the outside. If your pad is being stored in your car or garage, maybe breakdown ability isn't a big deal for you and you can choose a larger, bulkier pad that fits your comfort needs.
Material/Warmth Rating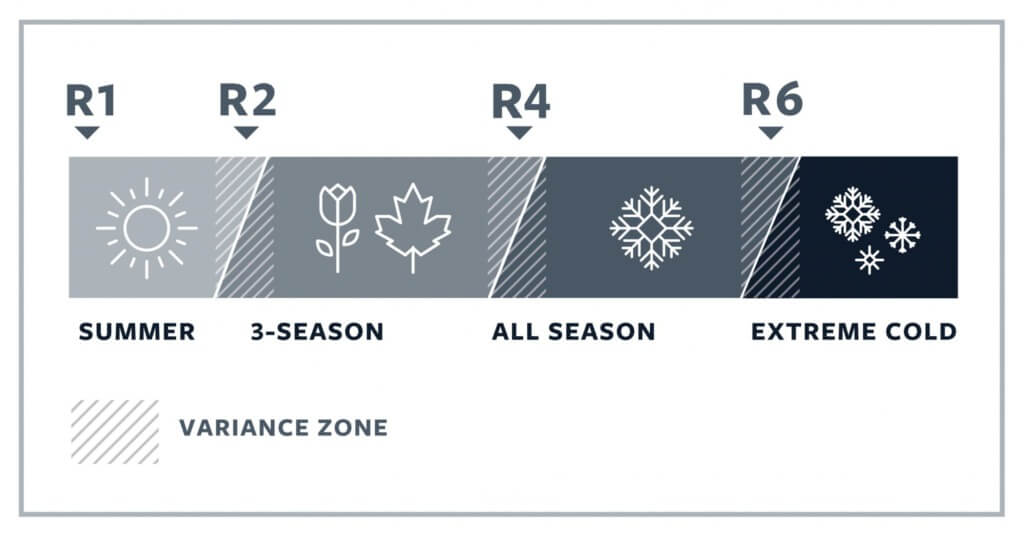 Every pad has an "R-Value" related to its ability to resist heat flow. R-values usually range between 2 and 5.5, and a higher number signifies more insulation, which makes the pad more resistant to heat flow. 
In the summer months, a lower R-value ensures you won't overheat during the night. A lower R-value might also be more comfortable if you tend to run hot or you already have a 0-degree sleeping bag. 
R-values change as a result of material changes, so it is always important to make sure you like the R-value and material of the pad you are buying. The wrong material can lead to a noisy night of sleep, especially if you are a restless sleeper.  
Price
Perhaps the most important variable for everyone when choosing a sleeping pad is price. High-end, extremely comfortable pads can get expensive, but the comfort they provide is often worth the price. 
As you should expect, higher-priced pads provide better quality and more long-term reliability. At the same time, there are plenty of sleeping pads at affordable prices that still check the boxes for reasonable comfort, ample warmth, compact design, and more.
How To Make The Best Sleeping Pads Last
Now let's talk about some ways you can make your sleeping pad last once you get a new one.
Maintenance Best Practices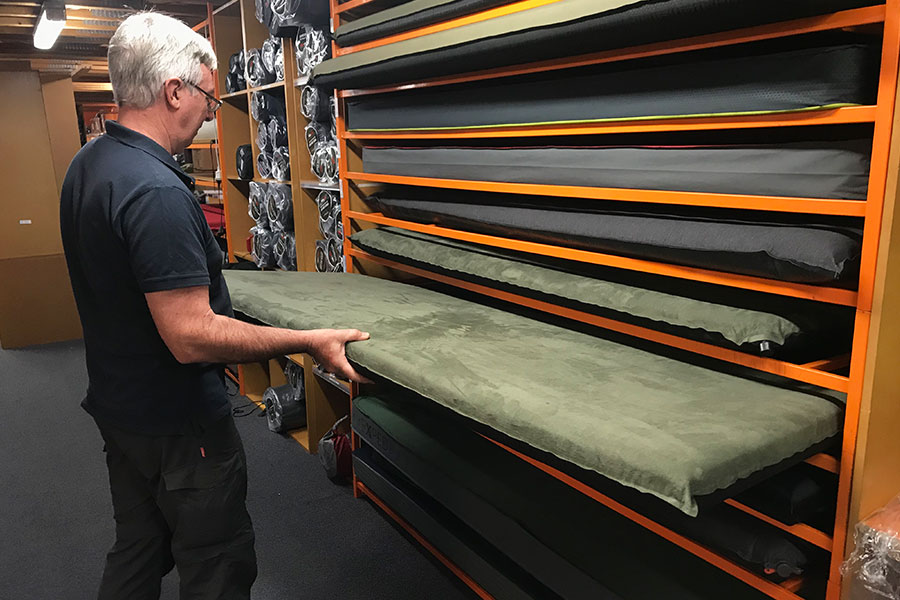 To get the most from your sleeping pad, it is essential to practice proper maintenance. For an air pad, this means fully draining it of air before storing. Maintaining a fully pumped air pad in storage places unnecessary pressure on the valves which can lead to malfunctions down the line. 
For all types of sleeping pads, it is vital to store them in a clean, dry area to maintain the quality of their material. Before storing, it is recommended to spread your sleeping pad out to dry for a few hours. If it is a particularly sunny day, lay the pad in direct sunlight to ensure it is fully dried. 
Storing a wet or damp sleeping pad can lead to molding and general weathering of the material. As the material of your pad wears, there will be a greater chance of your pad experiencing a rip or tear, which is likely to ruin your summer camping trip. 
Furthermore, the fabric of your pad can become stiff, which makes it more difficult to roll or fold properly so that it fits inside (or straps on the outside) of your backpack.
Cleaning Best Practices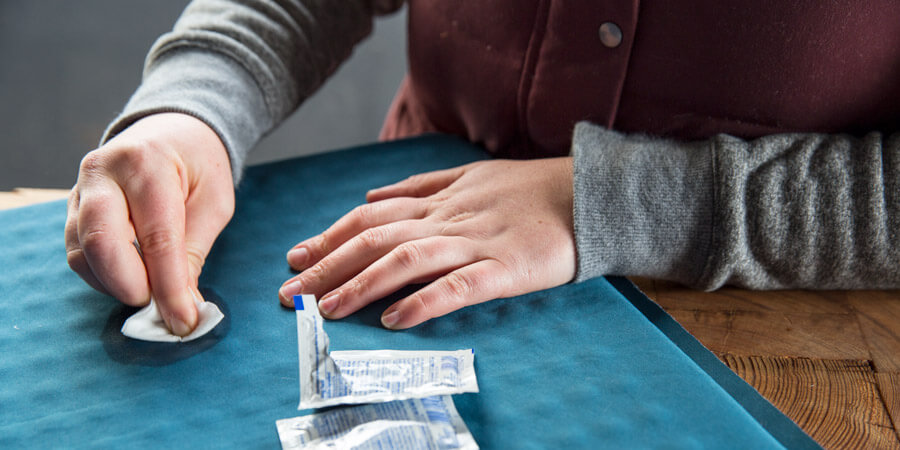 The last thing anyone wants is to unroll their sleeping pad to see it covered in dirt and sweat. A smelly sleeping pad can prove detrimental to a good night's sleep and leave you tired the next morning.
Some sleeping pads are machine washable, but this depends on the fabric and type of pad. It's important to check if your pad is machine washable before placing it in the wash, as it could ruin the valves in an air pad or the overall comfort of a foam one.  
Almost every pad can be cleaned using a sponge or rag with a mild cleaning agent. You can make a quick and easy homemade cleaning solution using witch hazel (or rubbing alcohol), water, and essential oils. If you prefer to buy a store-bought spray, most all-purpose cleaners will do the trick. 
Spray your mat with your preferred cleaner one section at a time. Then wipe with a soft towel or sponge until it is free of all muck, grime, and sweat left over from your last trip.
If you don't enjoy the smell of your cleaner, wipe your pad with warm water at the end. When finished, leave it out to dry for a few hours before breaking it down for storage!
Repairing Best Practices
Repairing your sleeping pad is most important if you are using an air pad or a self-inflating model. If either of these sleeping pads experiences a rip or tear, they may not be able to inflate adequately to support your weight. 
Luckily, many sleeping pads come with repair kits. But if your pad doesn't, it's a good idea to buy one separately before embarking on your next outdoor adventure. These kits are affordable, easy to use, and extremely compact. Check out this one from Therm-a-rest.
The general process of repair will be gluing a patch of synthetic material over the rip or tear which is affecting your pad's inflation ability. Always make sure to clean the area surrounding the rip or tear before applying adhesive and repair materials. 
Warranty Best Practices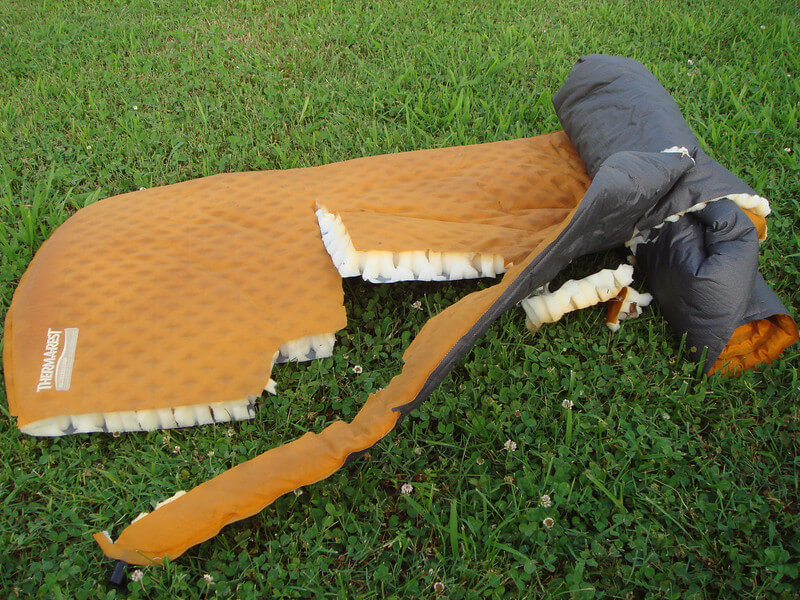 Most sleeping pad providers offer a basic warranty. Depending on the company, the warranty will range from a period of a few months to a few years. If a valve breaks or your pad experiences a manufacturing malfunction, they will replace it free of charge. 
Before buying a sleeping pad, research the warranty program offered by the manufacturer. Some companies will make you fill out a short application for the warranty. If you fail to do so, you won't be entitled to a free replacement or repair if it malfunctions. 
Take the time to sign up for any warranty program that comes with your pad! You never know when you might need to use it and it's always better to be safe than sorry. Fortunately, the best sleeping pad manufacturers almost always stand behind their products with a useful warranty. 
---
Have You Tried Any of the Best Sleeping Pads for Summer Camping?
The right sleeping pad can make all the difference in how well you sleep in the backcountry. If you have any experience with the sleeping pads mentioned in this article (or others that you'd like to mention), please drop a comment below so we can all benefit from your knowledge and experience! 
---
About The Author
My name is Zeke McDermott and I love being outdoors, reading, and writing in my free time. I currently reside in Charlottesville, Virginia where I am an avid runner, climber, and fly-fisherman.