For experienced backpackers, knowing how to put your backpack on properly is second nature. If you're new to backpacking, learning proper backpack alignment and adjustments is essential to your comfort on the trail. And, yes, there is a right (and a wrong) way to do it!
How To Put Your Backpack On Properly
If you enjoy this video, please like it and subscribe to my channel to see future content!
In this article, I'll provide a step-by-step tutorial on how to put your backpack on properly. For this demo, I'm using the Kelty Redwing 50 pack.
Find a Friend
When your pack is fully loaded with food, water, camping gear, and cookware, it's going to be pretty heavy. While it's recommended that your total pack weight never exceed 1/3 of your body weight, I know from experience that it's easy to go over this recommended limit.
When your pack is at its maximum weight, putting it on and taking it off are the two times when you're actually most susceptible to injury. That's why it's always preferable to use the buddy system when putting on and removing your backpack.
Putting your backpacks on one by one and assisting each other in the process can eliminate a lot of the strains that can occur from twisting or contorting your body in an unfamiliar fashion to get your pack's weight situated on your back. This tip shouldn't be underestimated. Over the length of a long thru-hike, having a friend help you put your pack on can make a huge difference.
If you're hiking solo or if you can't find a reliable friend to help you lift your pack onto your back, you can always use a convenient table at the trailhead or find a flat rock to support the weight of your pack as you get the hip belt adjusted.
Start with the Hip Belt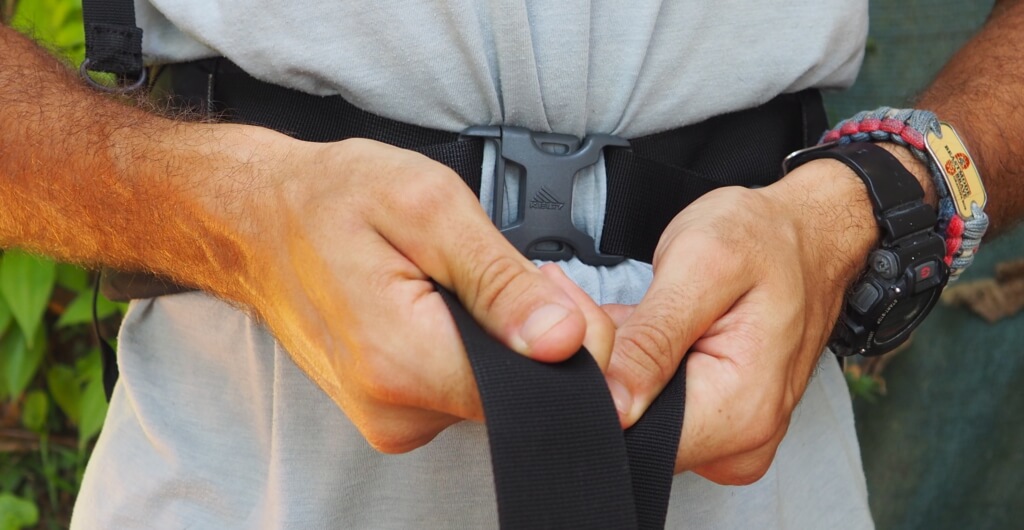 Once you've found a friend, position yourselves so that you're standing on relatively flat ground with your pack standing in between the two of you. Obviously, you should be positioned on the side of your pack with the shoulder straps facing you.
Before you begin lifting your pack, take a second to loosen the shoulder straps so that it's easier to slide your arms through them. Coordinate your count so that you lift at the same time, using your legs to lift the weight instead of placing an unnecessary burden on your back.
Ask your friend (nicely!) to hold the majority of your pack's weight as you slide your arms through the shoulder straps and locate your pack's hip belt. Many people skip over the hip belt and move right to tighten the shoulder straps. In fact, it is the hip belt that should be adjusted first.
Find your Iliac Crest and position the hip belt above this area. Very simply, your Iliac Crest is located at the top of your hip bones. Your pack's hip belt should rest on these large bones, which often results in the belt's buckle resting over your navel. Tighten the belt down so that it doesn't slide down once your friend has stopped supporting the weight of your pack.
Adjust the Shoulder Straps
Once your hip belt is tightened down, it's time to adjust your shoulder straps. Because you loosened them earlier, it might feel like your pack is pulling you over backward at first. When you tighten these straps down, it'll move the weight of your pack closer to the middle of your back and in better alignment with your body's center of gravity.
It's important to find a happy medium between tightening up your shoulder straps too much and allowing them to be too loose. As I mentioned above, straps that are too loose will cause the weight of your pack to sit too far back.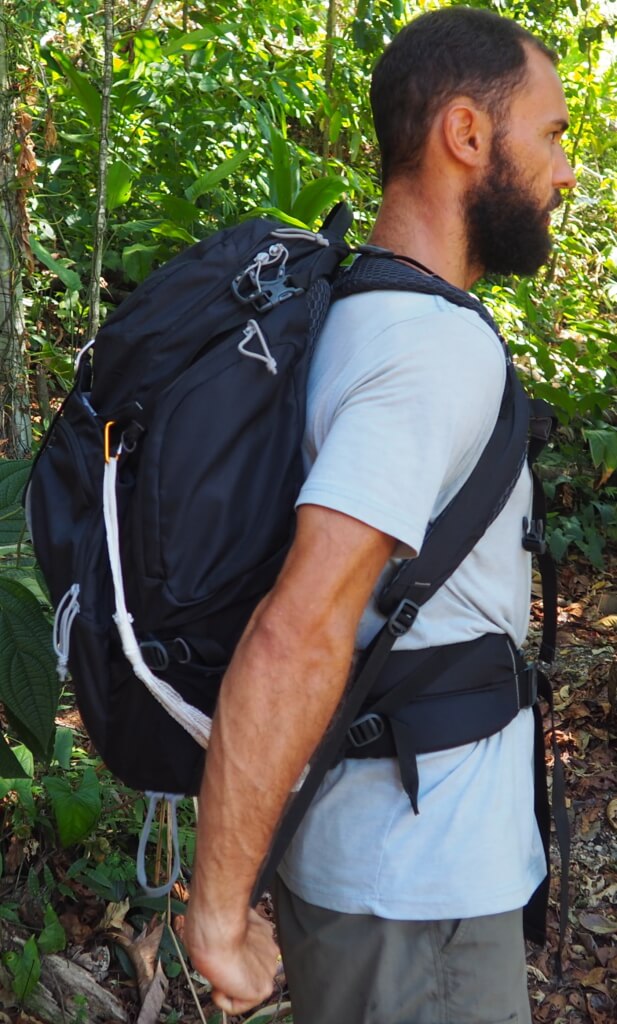 This can throw off your balance and cause your body to work overtime to move inefficiently. But, on the other hand, tightening your shoulder straps too much can result in uncomfortable pressure on your shoulder and pectoral muscles.
Adjust the Lift Loader Straps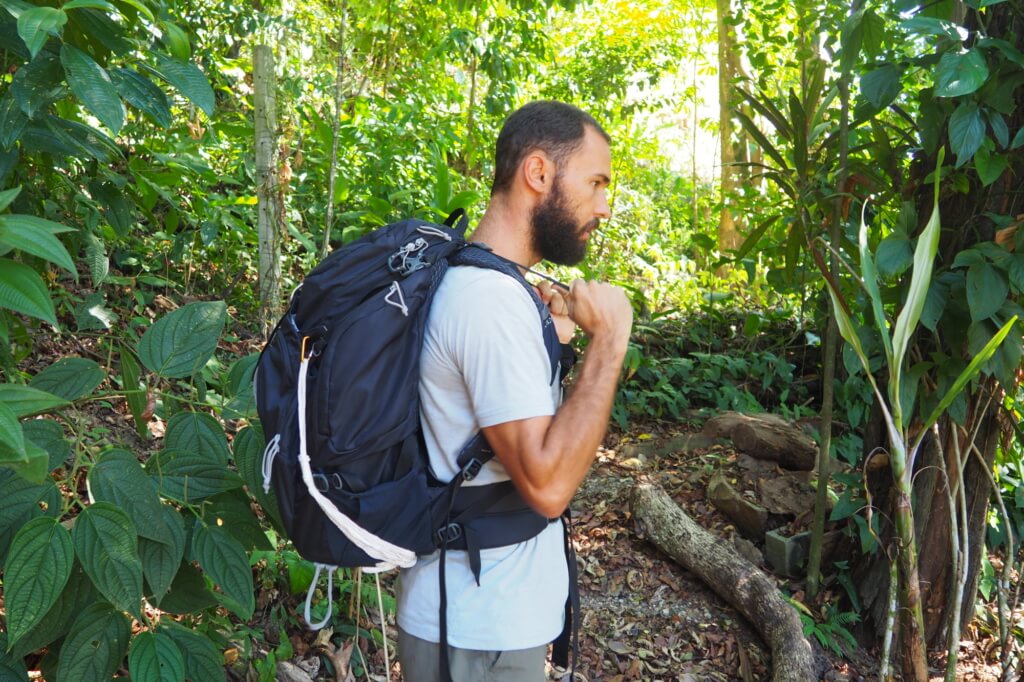 Your pack's load lifter straps will be located above the shoulder straps. In effect, these straps connect the tops of your shoulder straps to the body or brain of your backpack.
When you tighten them, it pulls the body of your backpack upward and helps to align more of your pack's weight over your hips. These straps are a very useful tool for making sure the weight of your pack is carried by your body's largest bones and strongest muscles, which are located in your hips and legs.
Check with the "Two-Finger Rule"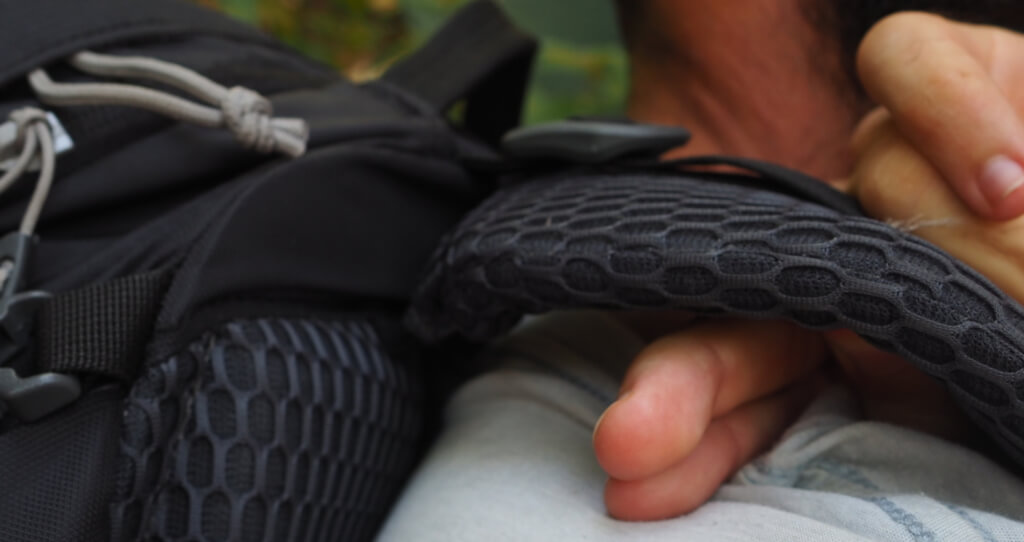 When your shoulder and load lifter straps are adjusted properly, you should be able to slide at least two fingers (positioned horizontally on top of one another, as pictured below) between the top of your shoulders and the straps.
Taking stock of whether this bit of "airspace" exists or not will help you make sure that the bulk of your pack's weight is indeed sitting on your hips, which is where it should be.
Adjust the Sternum Strap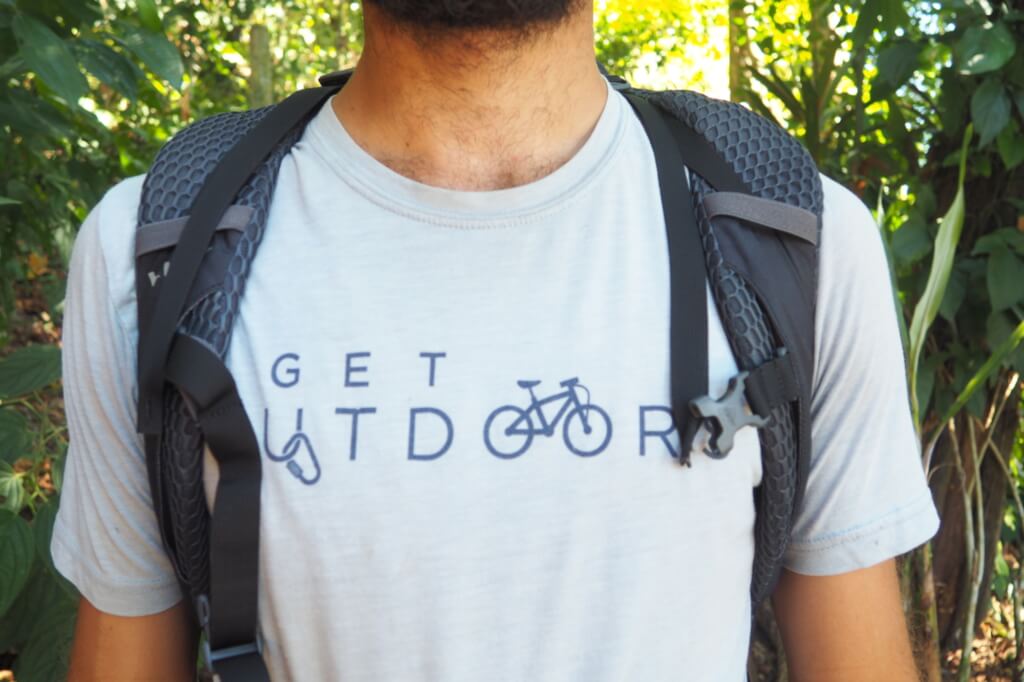 Finally, click the sternum strap together and tighten it down according to your personal comfort level. Ideally, the sternum strap should bring the shoulder straps of your pack slightly closer together.
Doing so takes the pressure off your shoulder muscles and moves it to the exterior portions of your pectoral muscles. One of the benefits of pulling the shoulder straps together is that it allows your arms to move more freely as needed.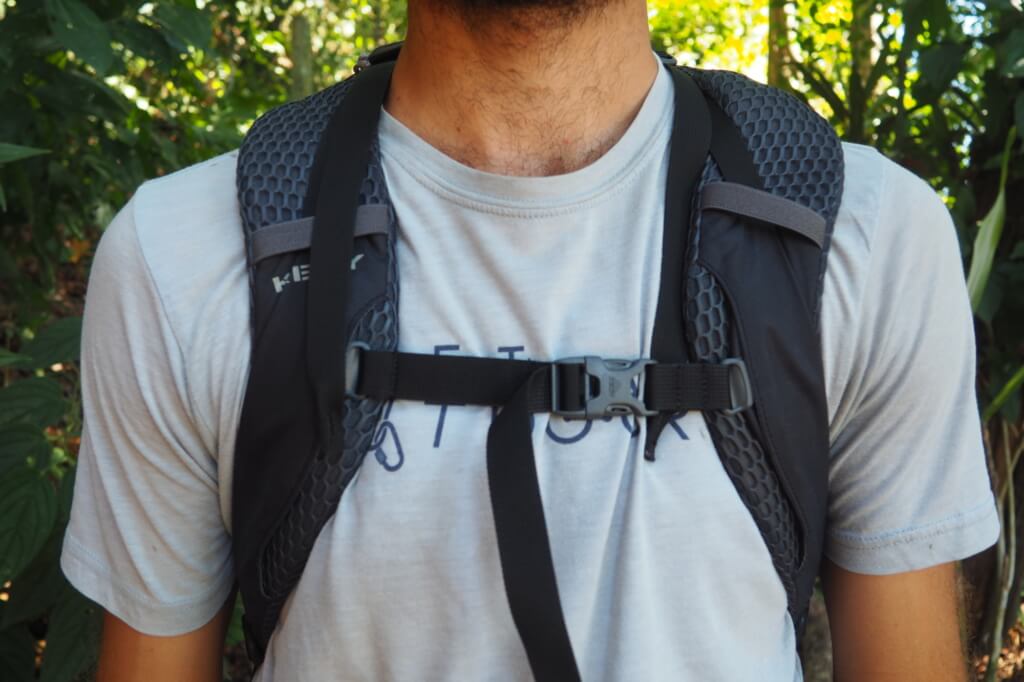 Make Micro-Adjustments for Comfort
While this may seem like a comprehensive process to go through every time you put your backpack on, it's important to run through it so that you find the most comfortable placement possible for you at that moment. It's important to remember that your body will change and adapt as you hike. As such, it can be necessary for the placement and alignment of your backpack to adjust in turn.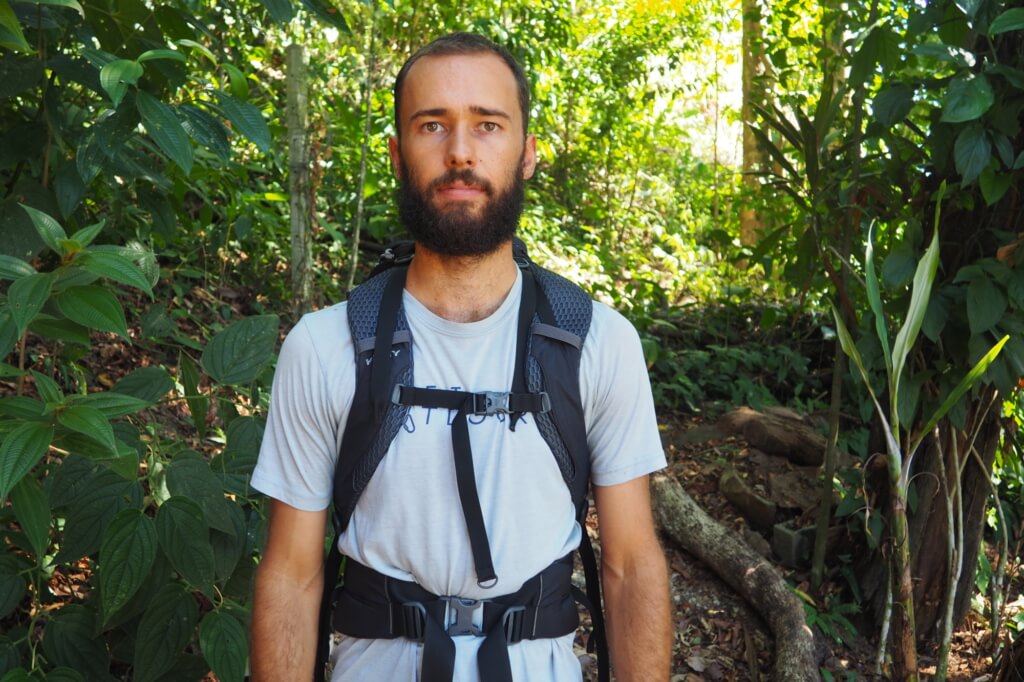 Once you run through this process, starting from the hips and moving up through the shoulders, I recommend that you go back and run through everything once more before you start hiking. In some cases, your hip belt might feel much looser once you've adjusted all the other straps. You'll often need to micro-adjust to make sure the weight of your pack is sitting comfortably on your hip bones.
Learning how to put your backpack on properly is all about comfort. No amount of epic scenery makes up for a pack that just doesn't feel right. Take the time to adjust your pack properly every time you put it on. It goes a long way toward finding a comfortable fit so you CAN enjoy that scenery.
Why You Need To Know How to Put Your Backpack on Properly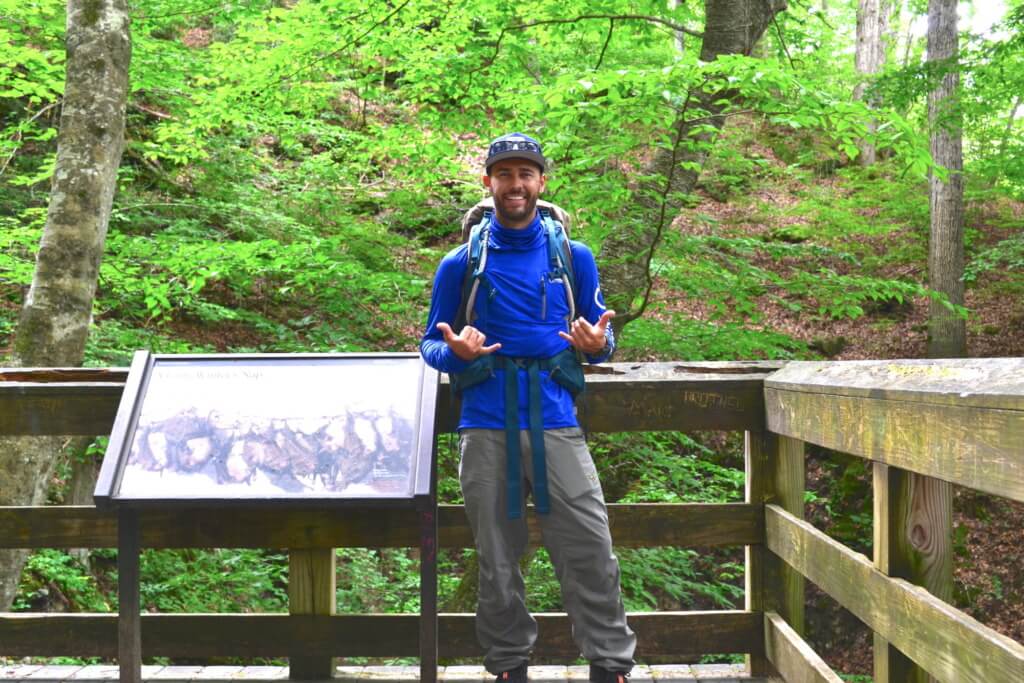 I've seen way too many people neglect proper pack adjustment on the trail. So here are a few reasons why it's so important:
You'll be more comfortable on longer hikes.
Your pack's center of gravity will be closer to your body's center of gravity.
That means less likelihood of your pack toppling you over if you momentarily lose your balance.
It reduces uncomfortable rubbing on your hips.
Your shoulders and neck won't get so stiff because less weight is on your shoulders.
---
Do You Know How to Put Your Backpack On Properly Now?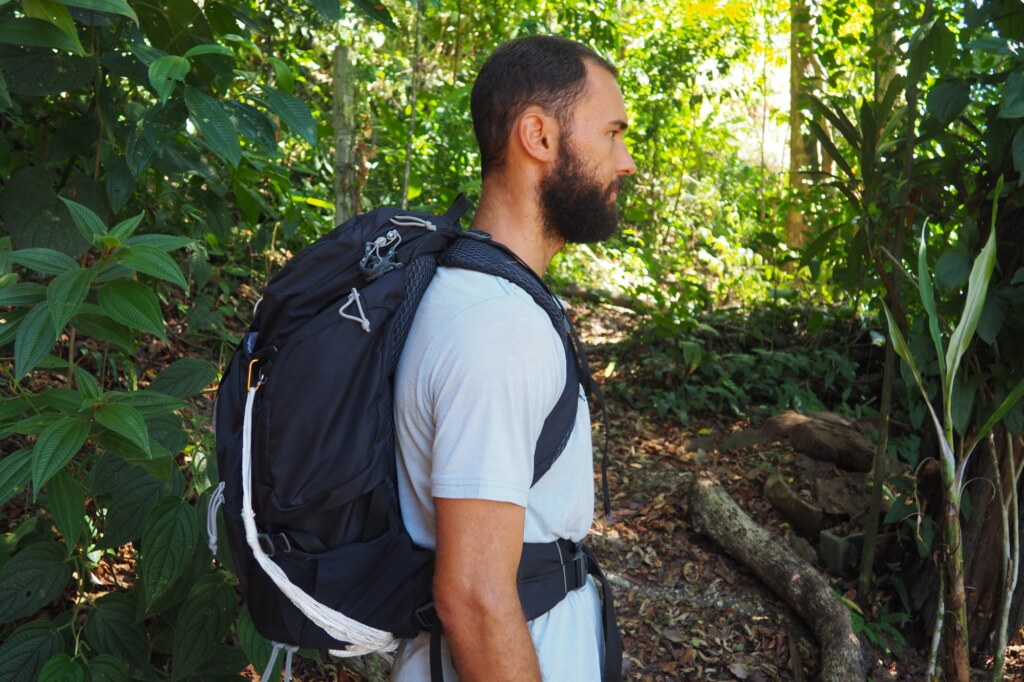 As The Backpack Guide, I'm on a mission to explore the wilderness, create learning opportunities, and connect with nature. These are the objectives that underline all the content I create on this site.
I want to inspire others to recreate in their respective wildernesses and to do so in the safest, most enjoyable manner possible. I'm also very interested in the experiences of others in the wild and I want to create a community of people that share those experiences and the lessons they've learned as a result.
Now that you've read this article, I'd love to know if these tips are new to you and, if so, what you think about putting them into practice to prepare for your next backpacking or hiking trip. If this article brought up any questions, I'd love to hear them!
Feel free to reach out to me directly (email below), or share your adventure by tagging @thebackpackguide on Instagram!
Get Outside More!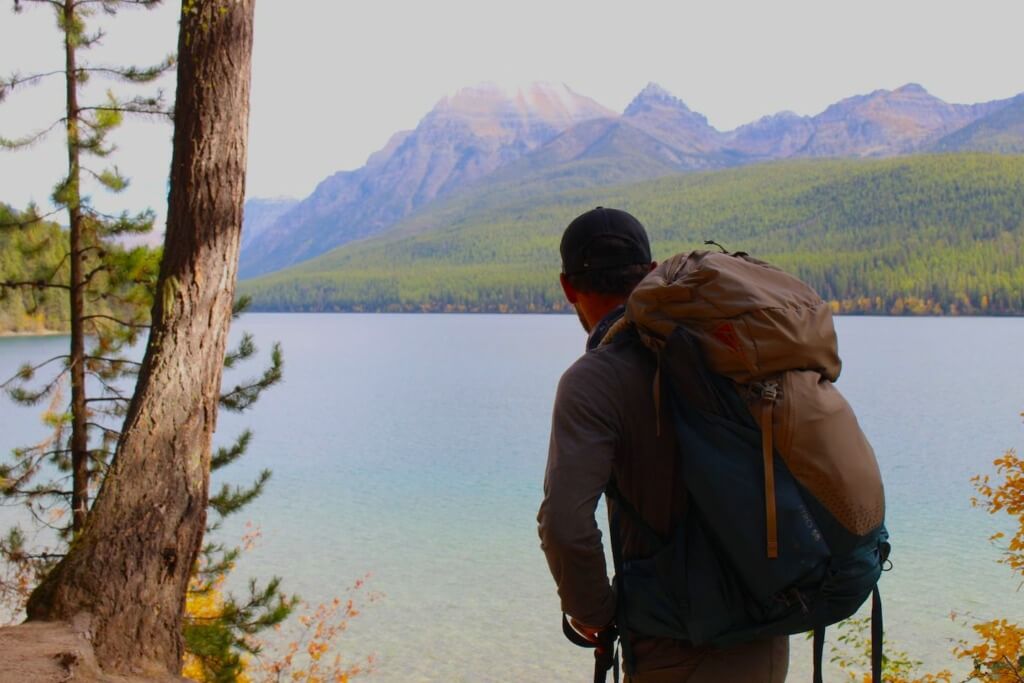 I hope you've enjoyed these recommendations for How to Put Your Backpack on Properly and I'd love to hear your feedback in the comments section below. I'll be quick to reply to any questions, comments, or concerns you feel like sharing!
Furthermore, I want it to be clear that I receive a commission for any product that you purchase by clicking the links I provide on this site. As an affiliate marketer, I have relationships with many of the leading brands in the outdoor industry.
Everything that I earn through this site helps me continue to create more helpful resources, which will one day include guided backpacking trips focused on education, connection, and empowerment.
Side note: Once you've learned how to put your backpack on properly, investigate the articles in my Hiking Tips and Trails section. Check out my Outdoor Gear page for reviews on water filters, tents, hiking shoes, trekking poles, and more. Also, check out my Backpack Reviews, including brands like Kelty, REI, and Gregory, if you're in need of a new pack. Finally, my YouTube Channel is full of informative video content if you're not really into reading!
"All good things are wild and free."
– Henry David Thoreau
The Backpack Guide