Sometimes, a cheap headlamp just won't do the trick. Other times, you need a handheld flashlight that really brightens things up. Whether you're camping, working on an RV or vehicle, or you just need a new flashlight to prepare for the next power outage, the Blackfire rechargeable waterproof flashlight is more than your run-of-the-mill light source. 
Let's review it!
Blackfire Rechargeable Waterproof Flashlight Specs
Let's start with the Blackfire flashlight's metrics: 
Max Lumens: 1,000
Dimensions (H x L x W): 1.4" x 6.3" x 1.3" 
Weight: 8.4 oz.
Battery Life: 4-96 hours (depending on mode)
Battery Type: 2,600 mAh Lithium Ion
Bulb Type: LED
Charging Time: 6 hours
Charge Method: USB-C to standard USB charging cable. 
Drop Resistance: Up to 6'
Temperature Range: 32° to 104°F (0° to 40°C)
IP Rating: IP66
Material: Anodized aluminum
Blackfire Rechargeable Waterproof Flashlight Features
Let's dive into the features of this Blackfire flashlight: 
Multiple Lighting Modes
Once you dive in, you'll find that this is really a 3-in-1 flashlight. It offers three modes: a long-range white spotlight, a wide white floodlight, and a low-intensity red LED light. 
The lumen ratings for these modes differ: 
| | |
| --- | --- |
| Mode | Lumens |
| Spotlight Boost | 1,000 |
| Spotlight High | 800 |
| Spotlight Low | 400 |
| Floodlight High | 650 |
| Floodlight Medium | 450 |
| Floodlight ECO | 35 |
| Strobe | 95 |
| Red Light (Low-intensity and strobe) | 4 |
Long Battery Life
This waterproof LED flashlight only takes a total of six hours to charge with its included charging cable. On a full charge, the flashlight's battery life will vary based on the mode you choose: 
| | |
| --- | --- |
| Mode | Battery Life (Hours) |
| Spotlight Boost | 4 |
| Spotlight High | 7 |
| Spotlight Low | 11 |
| Floodlight High | 6 |
| Floodlight Medium | 11 |
| Floodlight ECO | 25 |
| Strobe | 50 |
| Red Light (Low-intensity) | 48 |
| Red Light (strobe) | 96 |
Multiple Carry Options
The 2-color 1000-lumen flashlight from Blackfire comes with a holster you can attach directly to your belt. That holster is also the perfect place to store the flashlight, as it provides protection whether you're carrying it or storing it away until the next use. 
The flashlight itself also has a belt clip, which means you can keep it on your hip or clip it up anywhere without the holster. That provides excellent versatility in terms of convenient carry and easy fixing for a stationary spotlight.
Rugged Design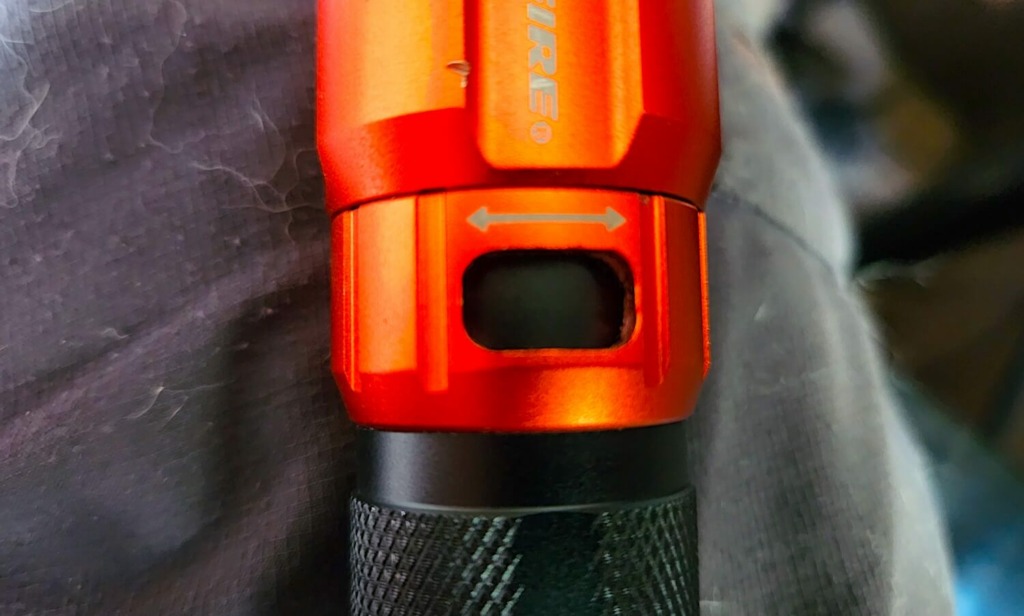 It's resistant to water and dust and boasts an IP66 ingress protection rating. The first number represents the speaker's resistance to ingress by solid materials and the second indicates its resistance to liquids. 
According to the intrusion protection scale, a rating of 6 is the maximum for dust ingress and 9 is the maximum for moisture ingress. Additionally, the flashlight is resistant to drops from heights up to six feet and the end cap is magnetic to facilitate hands-free work or lighting as needed.  
What I Like About The Blackfire Rechargeable Waterproof Flashlight
After testing it to work on my RV's furnace, illuminate multiple campsites, and provide a spotlight for checking the beach after a full moon paddle, here's what I enjoy about the magnetic Blackfire flashlight: 
It's super bright. I've got no trouble illuminating a campsite or using it to see if I left my SUP fin behind after a moonlight paddle.
It's versatile. The mode options allow me to dial in the perfect light source for different situations. 
It's easy to carry. I love the holster, but also love the ability to clip it to my belt or secure it to the outside of a backpack without the holster. 
It's rechargeable. I don't have to worry about carrying extra batteries around. 
It's durable. When you ate too much popcorn earlier, you don't have to worry about dropping it from heights less than six feet.
It has long battery life. I've only recharged it once so far and have used it sporadically over the course of about a month now. 
What I Don't Like About The Blackfire Rechargeable Waterproof Flashlight
There's not much I've noticed about this Blackfire flashlight that I don't like. I will say that you should take the time to understand how to navigate between the various lighting modes when you still have the manual at your disposal. 
Additionally, I recently found myself wishing the direction of the flashlight's pocket clip could be reversed. This would allow me to clip it to the bill of my hat and have the light facing outwards for a headlamp-like application. 
Final Verdict on the Blackfire Rechargeable Waterproof Flashlight
It's a great addition to my Black Diamond headlamp and solar-powered camping lanterns. It has a much higher lumen rating than those other light sources, which really comes in handy when I need to see details when doing work on my RV. 
I really appreciate the light modes and the carry options, as sometimes I've even clipped it to my belt and set it to the strobe function to make myself more visible on late-night walks with my puppy!. 
I also don't worry about dropping it or having my pup shake near it after a swim. This rechargeable waterproof LED flashlight has already been an excellent addition to my RV camping setup!
---
About The Backpack Guide
So where are you off to next? I'm always looking for new trails and wildernesses to explore. I'm also excited to see and share photos of readers enjoying their best outdoor lives. Share your latest adventure or backpack by tagging @thebackpackguide on Instagram.
I hope you've enjoyed this review and I'd love to hear your feedback in the comments section below. I'll reply to any questions, comments, or concerns as promptly as possible!
Wishing You The Best of Travels!
The Backpack Guide
tucker@thebackpackguide.com