When it comes to paddleboarding, kayaking, truck camping, or lakeside lounging, a portable waterproof speaker brings the fun..k. Now, you clearly have the freedom to choose whatever music you want to listen to, but this Blackfire portable waterproof speaker review is going to focus on the features and functions of the speaker itself. 
It's up to you to select the tunes you crank once you're out and about!
Blackfire Portable Waterproof Speaker Specs
Let's start with the Blackfire speaker's metrics: 
Dimensions: 4.2" x 4.1" x 1.6" 
Weight: 9.5 oz.
Battery Life: 10 hours
Battery Type: Lithium Ion (3.65 volts/2,150 milli-amp hours)
Charging Time: 5-6 hours
Charge Method: USB-C to standard USB charging cable. 
Bluetooth Connectivity Range: 32.8'
Drop Resistance: Up to 9.8'
IP Rating: IP54
Material: Polycarbonate/thermoplastic polyurethane
Max Sound Level: Less than 80 dB at 1-2 kHz at a one-meter distance
Blackfire Portable Waterproof Speaker Features
Let's dive into the features of this Blackfire wearable Bluetooth speaker: 
Multiple Attachment Methods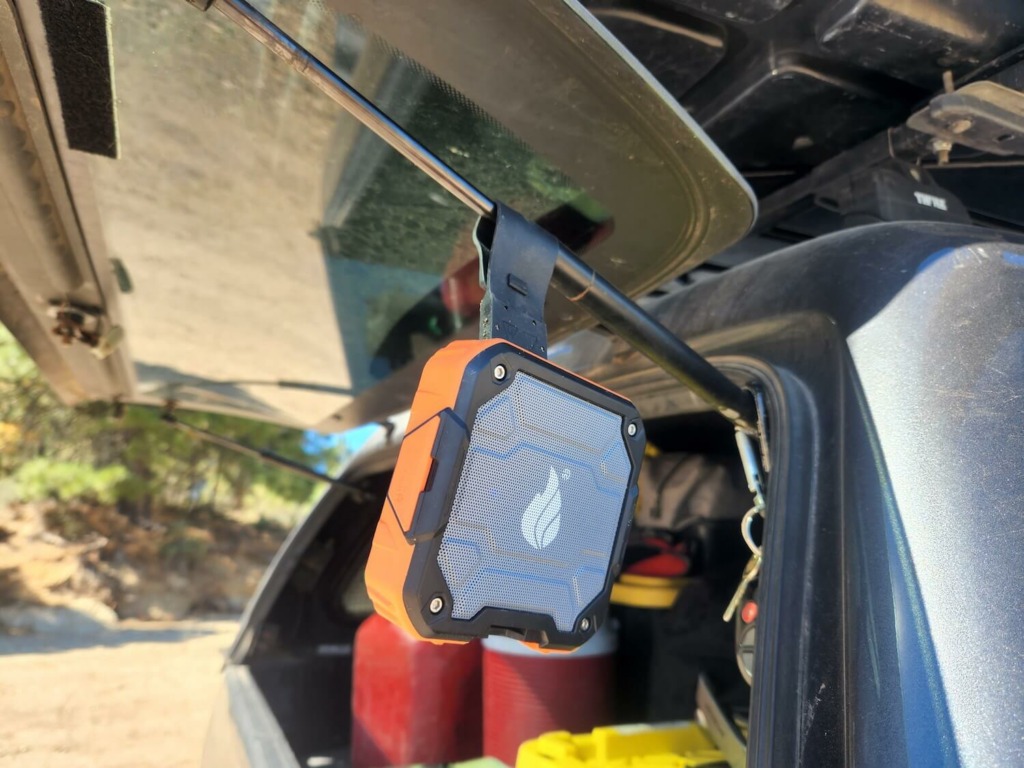 The mounting strap allows you to secure the speaker around an external backpack strap, on the struts for your camper shell's rear window, around your belt, or pretty much anywhere else you can think of (so long as the conduit or pole isn't too thick). 
The strap also has a small teardrop-shaped hole that allows you to hang it from a nail or a thin tree branch once you're in camp. And it also features an integrated magnet, which means it can stick to the side of a metal truck bed or camper. 
Multiple Connectivity Options
It is a Bluetooth speaker, which means you can wirelessly connect your phone, tablet, or any other Bluetooth-compatible device to play your tunes. And it holds that connection if you walk up to 30 feet away. But it also comes with an ⅛" stereo auxiliary cable to provide a wired connection if you're still using that old iPod Shuffle that doesn't feature Bluetooth. 
Long Battery Life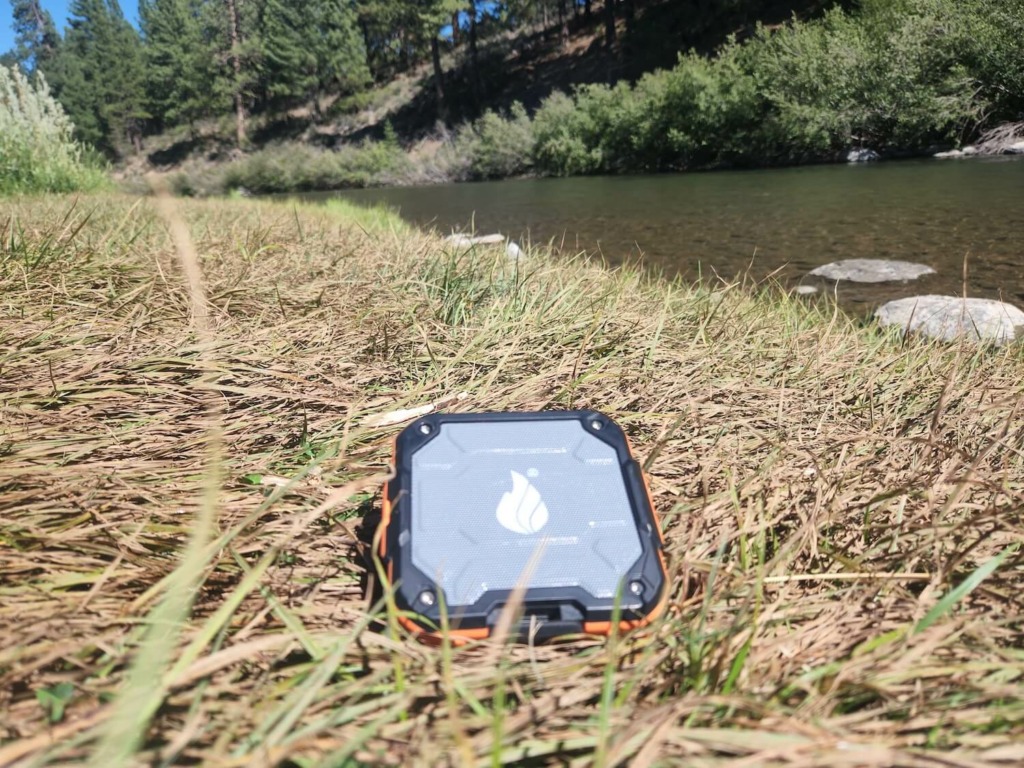 This rechargeable speaker lasts up to 10 hours on a single charge and it has a built-in energy-saving feature that automatically shuts the speaker off after 10 minutes of inactivity, which means it doesn't deplete its battery if you walk away and forget to turn it off. 
To check the battery, you can simply use the speaker's built-in LED light, which also indicates wireless connectivity. 
Phone Call Compatibility
It even includes a built-in speakerphone that allows you to take hands-free calls when someone decides to rudely interrupt your jam session. 
Rugged Design
It's resistant to water and dust and boasts an IP54 ingress protection rating. The first number represents the speaker's resistance to ingress by solid materials and the second indicates its resistance to liquids. 
According to the intrusion protection scale, a rating of 5 indicates that the speaker is "protected against dust limited ingress, no harmful deposits." And on the moisture protection scale, a rating of 4 represents that it's "protected against water splashed from all directions, limited ingress permitted."
For reference, a rating of 6 is the maximum for both of these scales. 
What I Like About The Blackfire Portable Waterproof Speaker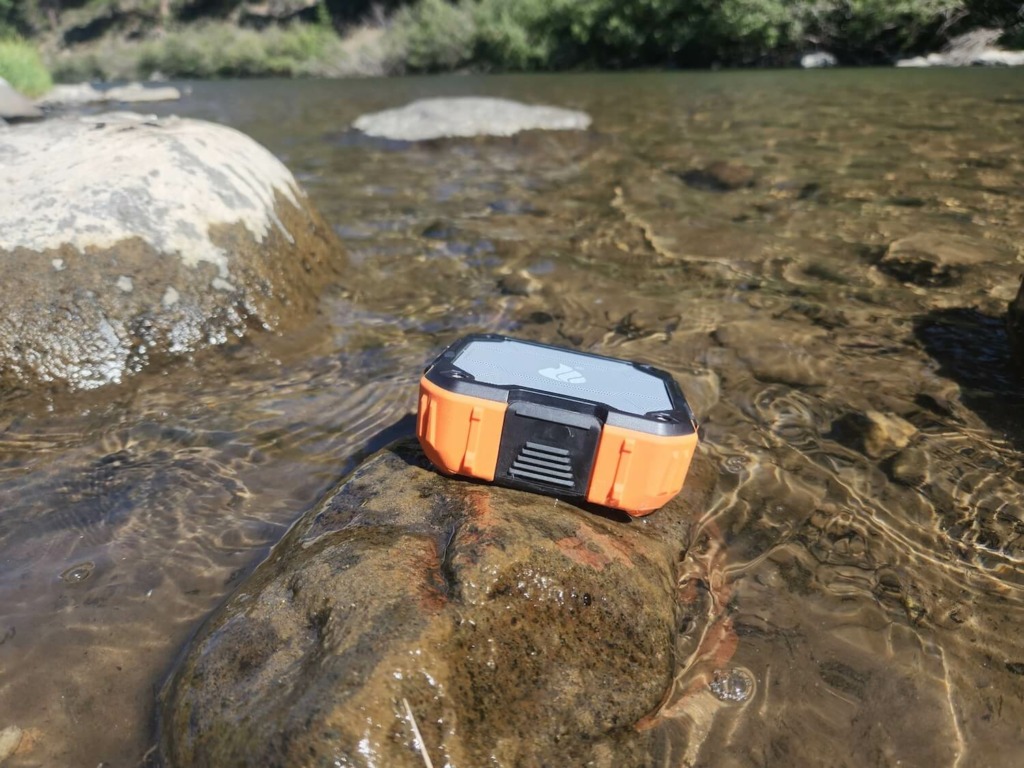 After testing on multiple SUP trips and river hangs, here's what I enjoy about the magnetic Blackfire speaker: 
It's compact. Other than mine being bright orange, it doesn't get in the way and is hardly noticeable…until the tunes start cranking. 
It's loud. At full volume along a river on a windy day, I was able to hear it still at a distance of more than 50 feet. 
It's durable. While I was eventually going to test its waterproofing on purpose, I accidentally dropped it into about three inches of water on my first paddle. It powered on and cranked tunes without issue and has been doing so since. 
It's versatile. It's easy to strap to a pack, stick to the side of my truck or trailer, or even clip to a belt loop so I can bring my music anywhere.
It has long battery life. I'm not constantly having to recharge it after each use. 
What I Don't Like About The Blackfire Portable Waterproof Speaker
The only hiccup I've noticed with this speaker is in the length of the mounting strap. While there are plenty of places where I've been able to secure it easily, it has limitations. I'd wager the maximum circumference you can secure it to is roughly one inch. 
For instance, it works fine strapping it to the thinner struts on the rear window of my camper shell. But it wouldn't secure around the thicker supports for my camp chair. The good news is that it's also magnetic and can simply sit on your camp table if you don't need to secure it. 
Final Verdict on the Blackfire Portable Waterproof Speaker
I love it! I've dropped it in the water, hung it in trees, and used it as a portable boom box (except on my hip instead of my shoulder). I went from listening to muffled tunes coming straight from my phone through my PFD to chilling with clear vibes on the lake. 
I don't have to worry about it getting splashed or spilled on and it can handle being dropped unless I'm standing right on the side of a cliff. This portable, rechargeable, waterproof, magnetic, wearable, Bluetooth speaker will definitely be going with me on all my future adventures!
---
About The Backpack Guide
So where are you off to next? I'm always looking for new trails and wildernesses to explore. I'm also excited to see and share photos of readers enjoying their best outdoor lives. Share your latest adventure or backpack by tagging @thebackpackguide on Instagram.
I hope you've enjoyed this review and I'd love to hear your feedback in the comments section below. I'll reply to any questions, comments, or concerns as promptly as possible!
Wishing You The Best of Travels!
The Backpack Guide
tucker@thebackpackguide.com