In this article, I'm going to be introducing the idea of Custom Chacos and explaining how to create custom sandals. I'll also take through the story of how I created my own custom Chacos for a full summer of guiding on Lake Tahoe! 
About Custom Chacos
Chaco allows you to customize your very own pair of adventure sandals. But that's not all you can customize via this option. In addition to sandals, Chaco gives you options for customizing belts, wrist straps, dog leashes, and dog collars. Because I only have experience designing a pair of custom sandals, that's the area I'll focus on in the rest of this blog. 
When I first signed on, I have to admit I was a little overwhelmed by all the options. I wouldn't call myself a designer (by any stretch of the imagination), so it took me a little while to wrap my head around all the features and options I had to choose from.
The first choice I had to make was the type of sandal I wanted to customize. I've always had Chacos with a toe loop, so I opted for the Men's Z/2 Sandal with a single strap and toe loop. 
How to Customize Your Own Chacos
After I picked the type of sandal I wanted, I was redirected to the next screen, which gave me options to customize each of the specific elements of those sandals. I had never really thought about all of the different parts of Chaco sandals until I arrived on this screen.
You'll have the opportunity to customize the following elements of your Chacos: main strap, heel leash, heel riser, buckle strap, buckle, stitching, footbed, sole, logo badge, and embroidery. 
For the main strap and heel leash, you'll have the option of choosing from the Chaco Design Library or uploading your own image. If you upload your own image for the main strap, Chaco adds $5 to the overall price of your sandals.
You'll also have to make sure the image conforms to Chaco's Terms of Use and Privacy Policy. Images with low resolution may not turn out as bright and crisp as you imagine, so be careful to use only high-quality images when uploading your own. 
In addition to choosing the colors of all the elements of your Chacos, you'll also get to add the Cloud footbed and choose from Chaco's three grip patterns for the sole (Chacogrip, Colorado, Terreno). You'll also have the option to add a custom embroidered message to the heel leashes of your sandals.
You'll be able to place a different message on the left and right heels of your sandals, but that message must be eight characters or less for each foot. In the final step, you'll choose the appropriate length and your preferred width (medium vs. wide). You'll also be able to add any Special Instructions that you think the customization team should keep in mind when producing your custom Chacos. 
As you make changes to the design of your Chacos, the image in the design screen will update to most accurately reflect your choices. You'll also be able to cycle through multiple different views so that you get a better idea of how your custom Chacos will look from every angle.
A fun option that Chaco includes at the bottom of the screen is the 'Surprise Me' button. This will randomize the design of your very own Chacos if you're having trouble coming up with a design that you like. 
My Custom Chacos Experience
Overall, my experience in creating Custom Chacos was easy and seamless. I loved seeing my customized Chacos come into form as I selected my preferred options and I am more than happy with the resulting product now that I have them in-person.
My major concern was how the printed lettering would come out on the main strap of my Chacos. I designed that image in Canva and tried several varieties before ultimately settling on that one.
When my Chacos arrived, I was pleasantly surprised at how sharp and clear the lettering appears on that main strap. I'm really excited to put these new Chacos to use guiding for Tahoe Adventure Company all summer! 
Check Out My Custom Chacos!
Here's where I'll give you the opportunity to check out my Chacos from every angle. Just so you know, I chose the Terreno grip for the sole of my Chacos and went with the Cloud footbed (who doesn't want to feel like they're walking on a cloud?!).
I also chose the wide version over the medium width because I like to have a little extra protection around my feet as I move kayaks and go in and out of rocky beaches quite a bit throughout the summer.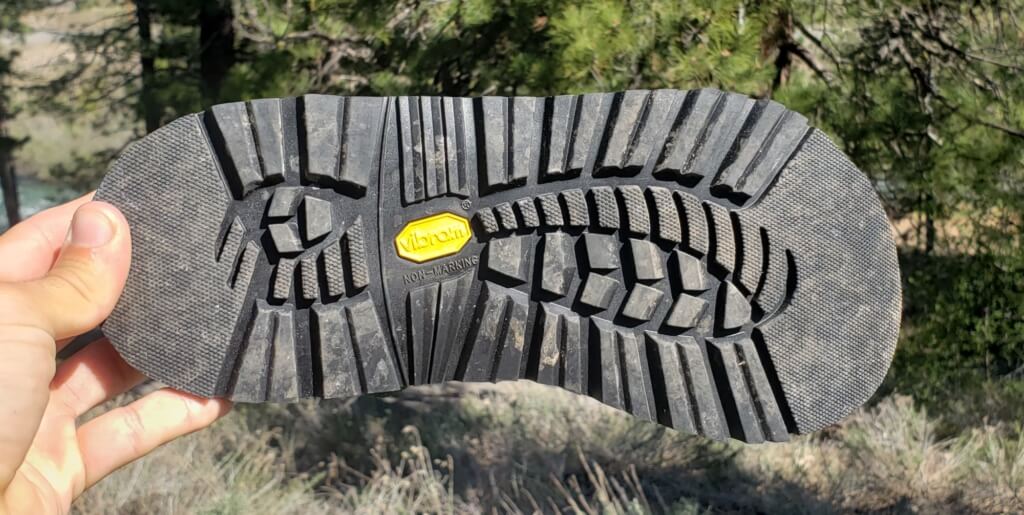 How to Get Chacos! 
Making Custom Chacos only takes a few minutes and you can basically guarantee that you'll be the ONLY one rocking your unique style!
Or…
---
About The Backpack Guide
As The Backpack Guide, I'm on a mission to explore the wilderness, create learning opportunities, and connect with nature. These are the objectives that underline all the content I create on this site.
I want to inspire others to recreate in their respective wildernesses and to do so in the safest, most enjoyable manner possible. I'm also very interested in the experiences of others in the wild and I want to create a community of people that share those experiences and the lessons they've learned as a result.
If my mission resonates with you, you think we may have an awesome opportunity to collaborate, or you simply want to connect, I'd love to hear from you!
Feel free to reach out to me directly (email below), or share your adventure by tagging @thebackpackguide on Instagram, which is where I'm most active. You can also find me on Facebook, Pinterest, Twitter, and LinkedIn.
Side note: Once you've learned how you can make your own Custom Chacos, be sure to investigate the articles in my Hiking Tips and Trails section. Check out my Outdoor Gear page for reviews on water filters, tents, hiking shoes, trekking poles, and more. Also, you might enjoy my Backpack Reviews if you're in need of a new pack, which includes brands like Kelty, REI, and Gregory.
Finally, my YouTube Channel is full of informative video content if you're not really into reading! I do receive a commission on purchases made through the affiliate links on this website. Those earnings go directly back into my efforts to produce more informative content for my readers!
"It's the possibility of having a dream come true that makes life interesting."
– Paulo Coelho
The Backpack Guide
Custom Chacos
Starts at $130