Insulation has become essential for me when choosing new water bottles, but so has the need for something that doesn't expose my body to any unnecessary chemicals. If you're in the market for a new device to store hot or cold beverages this summer, let's take a closer look at three insulated BPA free water bottles.
Hydro Flask Insulated Water Bottle
This 64-ounce behemoth comes with a wide mouth for easy sipping and cleaning. Each of these Hydro Flasks is manufactured with non-toxic, BPA-free plastics and 18/8 food-grade stainless steel. They're also powder-coated, which helps to ensure a slip-free grip.
This can actually come quite in handy when you're talking about a water bottle with 2 liters of capacity. Hydro Flask's powder coating also works seamlessly with their TempShield insulation to ensure condensation doesn't form on the exterior of the bottle.
This is the perfect insulated BPA free water bottle to hold all of your hot or cold liquids for a long hike or extended day out climbing at your favorite wall. It's also a convenient bottle to bring along on backpacking trips because the wide mouth will fit most backcountry water filtration systems.
Hydro Flask's double-walled, vacuum insulation system has been tested and proven to keep hot drinks hot up to 6 hours and cold drinks cold up to 24 hours. Additionally, this Hydro Flask features a cap with Honeycomb insulation, which actually helps to ensure minimal heat loss, regardless of whether you're storing hot or cold liquids.
---
Bear Grylls Insulated Water Bottle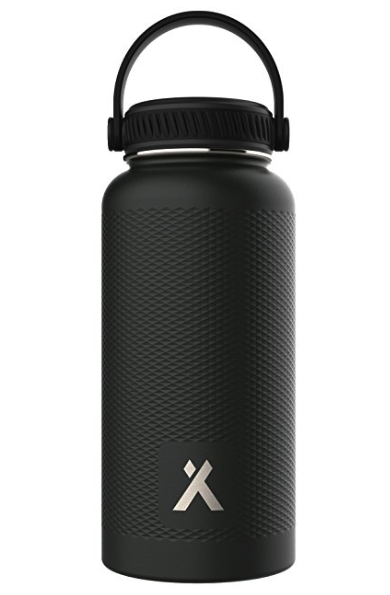 The 32-ounce Bear Grylls water bottle is another great (and healthy) option! With a weight of just 12.7 ounces when empty, this bottle ranks as one of the lightest of its size. It's actually 20% lighter than the leading competitors!
It also features an innovative, triple-walled design that will keep beverages hot for up to 12 hours and cold for up to 24 hours. It also features a no-slip exterior grip to help you keep it firmly in hand when you need it most.
The bottle is manufactured with scratch-resistant, food-grade steel, which means it won't hold odors or flavors. Its powder-coated exterior will also stand up against drops, impacts, and scratches.
The bottle's vacuum insulation and the leak-proof lid will ensure that the valuable liquids you store in it stay where you want them, instead of ending up on the floorboards of your car or the bottom of your backpack.
---
Tree Tribe Stainless Steel Water Bottle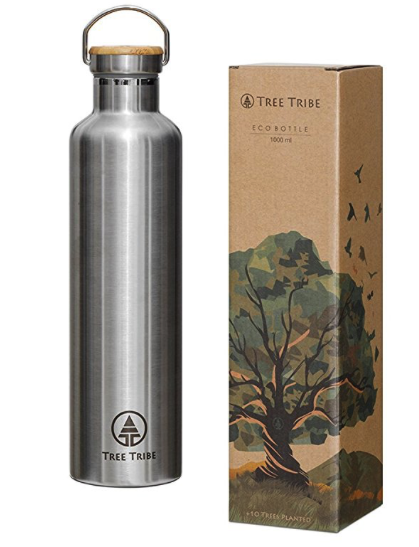 From the brilliant minds at Tree Tribe, I bring you this indestructible, insulated, eco-friendly, 100% leak-proof, BPA free, plastic-free, double-walled, wide-mouth water bottle for your hot and cold liquids. The makers of this water bottle designed it with a durable, 18/10 stainless steel outer shell and food-grade 18/8 stainless steel interior.
The bottle offers a double-wall, vacuum-sealed design keeps hot beverages hot up to 12 hours and cold beverages cold for much longer. The airtight silicone lid gasket in this bottle was included to ensure that it never leaks, which allows you to keep a variety of beverages without concern (think soups, smoothies, coffee, etc.).
Tree Tribe cares about reducing plastic waste, which is why they used zero plastic in the manufacturing of this water bottle (note the bamboo cap!). It is also why they have committed to planting 10 trees for every water bottle that they sell. They believe that keeping water cold and coffee hot is what a water bottle should do, but they also believe in giving back to this wonderful earth that we are going to be enjoying once we have their amazing water bottle at our side.
---
So What's the Difference Between These Water Bottles?
Size
Well, size for one. The Hydro Flask is your 'Grande' size, coming in at 64 ounces. Coming in at half that size is the Bear Grylls bottle at 32 ounces. Tree Tribe lets you choose from three sizes (12, 20, and 34 ounces) depending on your preferences.
Materials
All of these bottles employ stainless steel and vacuum insulation as their primary method of keeping hot things hot and cold things cold. Unlike the Bear Grylls and Hydro Flask bottles that use a BPA-free plastic liner to ensure that your liquids don't take on a metallic taste, the Tree Tribe bottle doesn't use any plastic whatsoever.
Brand Trust
There is also the question of which brand you trust, which might be difficult in this case. Bear Grylls has built a stellar reputation for sharing essential survival knowledge and attempting numerous daring feats on television. Hydro Flask is a very well-recognized brand that produces high-quality products (I speak from experience).
Environmental Responsibility
And then there's Tree Tribe, which (if you're like me) you may have never heard of until now. But when you consider their commitment to environmental sustainability and conservation, it certainly makes paying a little extra for their products worthwhile.
BPA Free Water Bottle Buyer's Guide
Choosing the one that's right for you depends on a number of factors. If you're trying to maximize your carrying capacity, then the 64-ounce Hydro Flask is probably the best choice.
If you just ate two full bags of popcorn and can't seem to hold anything in sight to wash it down with water, then the no-slip grip of the Bear Grylls bottle could come in handy.
And if you care about the environment and want to purchase products from companies that commit to give back, then you'll likely be drawn to Tree Tribe.
Most importantly, all three of these bottles are insulated BPA free water bottles. They'll keep your desired beverages at the temperature you desire and they'll last a long time (no guarantees because it always depends on how you use it). And lastly, they won't result in weird levels of bisphenol-A (BPA) winding up in your body without you realizing it!
Share Your Water Bottle Experience!
Do you have experience with any of these BPA-Free insulated water bottles? If so, I want to know about ones that have, or haven't, worked for you! Also, if you decide to purchase one of these bottles after reading this review, I'd love to know how you like it after you've had a few chances to use it!
I hope you've enjoyed this review of three insulated BPA free water bottles and I'd love to hear your feedback in the comments section below. I'll be quick to reply to any questions, comments, or concerns you feel like sharing!
About The Backpack Guide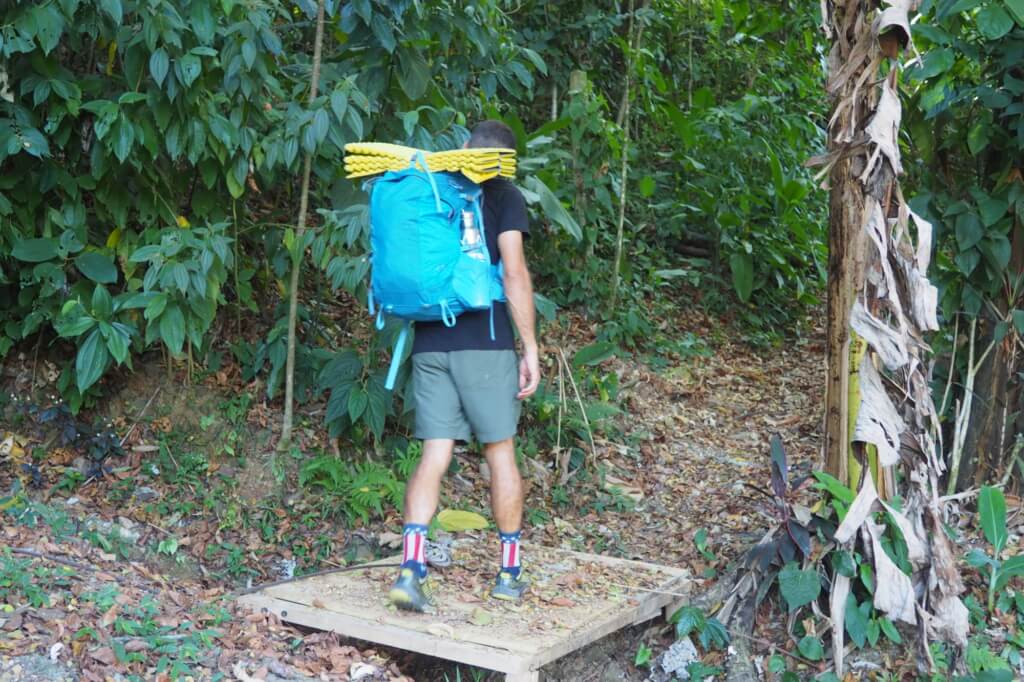 As The Backpack Guide, I'm always looking for new trails and wildernesses to explore and I'm also interested in the experiences of others in the wild. If there is one thing I am sure of it's that we can all spend more time enjoying and connecting with Nature.
Feel free to reach out to me directly (email below), or share your latest adventure or backpack by tagging @thebackpackguide on Instagram, Facebook, or Twitter!
Drink Up Amigos!
The Backpack Guide