As long as the weather's nice and the sun warms those granite faces, there are climbing routes to be conquered. And as long as there are routes to be conquered, there's the need for the Marmot Rock Master Pack, designed specifically for climbers.
The Marmot Rock Master Pack Specifications
Specifications alone won't tell you whether the Rock Master is right for you. But it's important to know how big your pack is, how much it can carry, and what base weight you'll be starting from, among other things. Without further ado, I bring you the specifications for this Marmot pack:
Pack Capacity: 23 liters or 1,404 cubic inches
Dimensions (in inches): 18 x 13 x 8
Base Weight: 1 pound, 12 ounces or 790 grams
Material (Body): 100-Denier Nylon Mini Multi Ripstop
Material (Lining): 135-Denier Polyester
Material (Reinforcement): 600-Denier Polyester
Specs Explained
Interpreting specifications is an important art. If you're an inexperienced buyer, what do 1,404 cubic inches look like? How much gear can you fit in there?
I love quirky references, and I hope this one helps you understand how much space you'll have to work with if you get this pack. For reference, 1,404 cubic inches is roughly equivalent to the cumulative size of 100 baseballs. Hopefully, you'll pack a little more strategically than that though!
So, this pack will give you a decent amount of size, but it'll also fit as a carry-on item for air travel. That's an important factor for many folks. In general, the higher the denier of a fabric, the stronger the fabric.
So while that 600-denier reinforcement polyester is nice and sturdy, it's important to recognize that nylon is typically stronger than polyester. In this case, 420-Denier nylon is widely considered to be a stronger material than 600-Denier polyester.
Marmot Rock Master Features
Features, features, features. They're the glitz and glam of your backpack. What? Your backpack has a removable lid?! Well, mine offers three separate chambers to organize my gear!
Anyway, I don't want to encourage you to get into an argument with your friends over whose pack has better features. But you have to know just what matters most to you and what you're getting with the Marmot Rock Master. So here's a brief list of features:
Top loading with three external zippered pockets for convenient storage of climbing shoes and gear.
Flat bottom allows the bag to stand upright.
Anodized hardware for front compression.
Multiple haul handles for easy carry.
Mounting options for ice axes, picks, and helmet.
Padded, breathable, adjustable, and ergonomic shoulder straps.
Sternum strap with a safety whistle.
Adjustable hip belt.
Suitable for men and women.
Breaking Down The Rock Master Pack
It can sometimes be difficult to break down just what certain features really offer. Terms like 'anodized hardware' are great buzz words, but what are you really getting? And what do they mean when they say it's suitable for men and women?
First of all, the simplest definition of "anodized hardware" I can give is that the metal (in this case most likely aluminum) is coated with a protective film to increase its strength. It also makes the metal more resistant to corrosion over time. Anodized aluminum, for example, is actually utilized in parts of one of the world's tallest buildings – the Sears Tower in Chicago.
More and more, companies are designing packs specifically for men or women. The differences in men's and women's body types have led to efforts to make packs that are uniquely suited to a man or a woman and designed to be most comfortable for a given gender. When they say this pack is 'suitable for men and women' then, they simply mean that it hasn't been specifically designed with one or the other in mind.
What Are People Saying About The Rock Master?
So how have those with experience in the field fared with the Marmot Rock Master? It always helps to hear personal stories of how the gear worked (or didn't work) in real-life applications. In an effort to simplify things for you, I've researched various customer reviews online and come up with a concise list of pros and cons:
Pros
Full-zip design eliminates "yard sale" of gear at bottom of the pack.
Handles allow for easy maneuverability.
A surprising amount of space.
Sturdy enough to protect photography equipment.
Great size for day hikes; enough storage without being "overkill".
Cons
Hipbelt could be thicker.
Shoulder straps not designed for comfort or distance.
It's no longer in production! Only a limited number remain.
Ultimately, you might find an entirely different set of pros and cons if you decide to purchase this pack. That said, it's always helpful to hear about other people's experiences with a product, and I hope you've gained some valuable insight into this collection of the good and the bad!
Down to the Nitty-Gritty
Is The Rock Master for You?
I'm not here to tell you this is the perfect pack for you. You'll make that decision if you're looking for a bargain and you're in need of a solid pack. The Marmot Rock Master is a low-cost, low-capacity pack. It'll come in handy for those hard-to-reach routes that require a bit of bushwhacking to get to the base. But it'll still fit everything you need for a comfortable day of climbing.
The most important questions you can ask yourself when considering this pack are a) where am I primarily going to be using it? and b) how much equipment will I need room for? These two considerations will help you simplify your process and understand whether the Marmot Rock Master is right for you.
Where Can You Find Marmot Backpacks?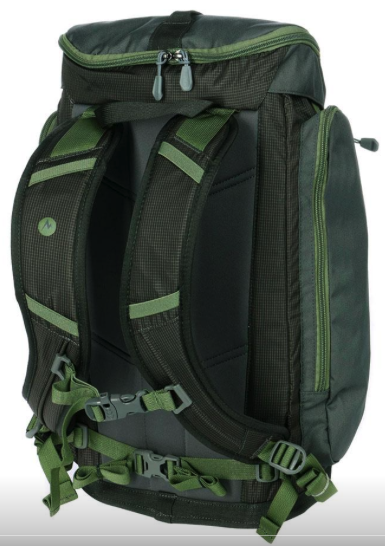 Aside from their website, Marmot is sold at various outdoor retailers online. Some offer better prices than others, but Backcountry is one of my favorites for outdoor gear online.
---
About The Backpack Guide
As The Backpack Guide, I'm always looking for new trails and wildernesses to explore. I'm also excited to see and share photos of readers with their new backpacks. Please don't hesitate to share your latest adventure or backpack purchase on social media by tagging @thebackpackguide on Instagram and Facebook!
I strive to provide honest reviews on a variety of backpacks from industry-leading brands like REI, Patagonia, Osprey, and more. So if you're not sold on the Rock Master, I invite you to peruse some of my other reviews!
I hope you've enjoyed this review and I'd love to hear your feedback in the comments section below. I'll be quick to reply to any questions, comments, or concerns you feel like sharing!
Happy Shopping!
The Backpack Guide