Today, we'll dive into two Mountain House meal reviews of their Turkey Dinner Casserole and Spicy Southwest Breakfast Hash. In all my years of backpacking, I haven't had the chance to try the two meals that the fine folks at Mountain House recently sent my way.
I've relied on Mountain House meals for years on the trail. They're convenient to pack, easy to cook, and light to pack out once you've thoroughly enjoyed them. Let's see how these two Mountain House meals stack up to some of my prior favorites.
Mountain House Turkey Dinner Casserole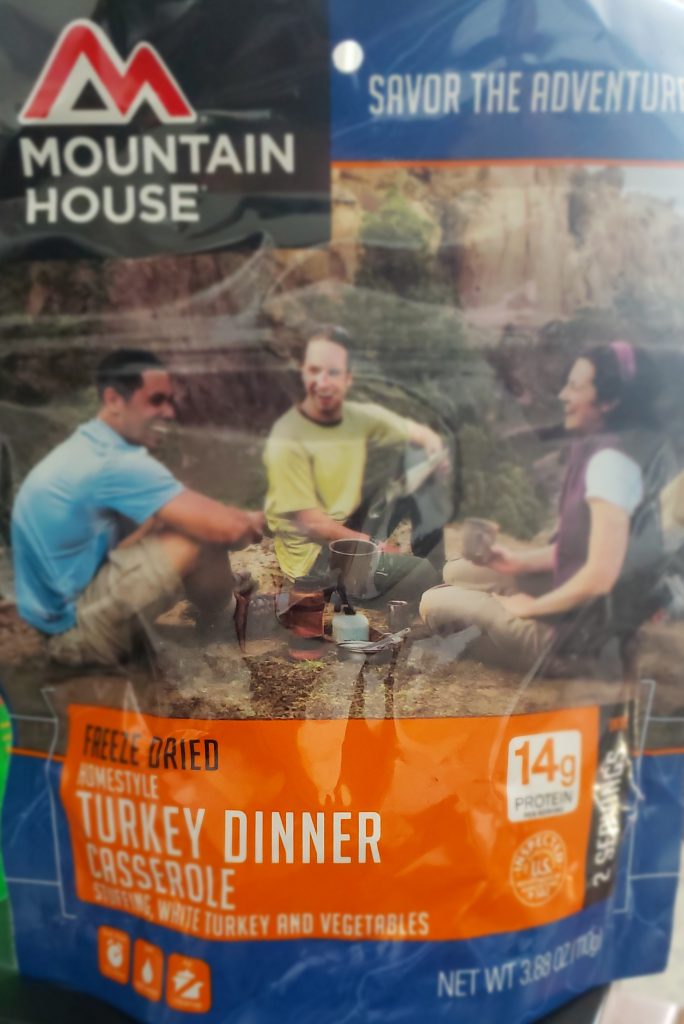 Mmm, mmm, mmm. So, how best to describe the Turkey Dinner Casserole further than what its name already implies? Heavy on stuffing, but full of delicious dried turkey and all the fixings that we're accustomed to when we think of our Thanksgiving turkey dinner.
Mountain House's Turkey Dinner Casserole is sort of like taking all your favorite ingredients from a Thanksgiving dinner and blending them up into one hearty conglomeration of deliciousness.
The 'turkey dinner' portion of this backpacking meal is packed with turkey, green beans, celery, carrots, turkey broth, butter, corn starch, dehydrated onion, and spices. The stuffing contains whole grain wheat flour, enriched wheat flour, sugar, sunflower oil, palm shortening, salt, and yeast.
Even for the inexperienced backcountry chef, I'll leave off with the amazing quote on the bottom of Mountain House's Turkey Dinner Casserole: "I can't cook a Thanksgiving dinner. All I can make is cold cereal and maybe toast." – Charlie Brown.
---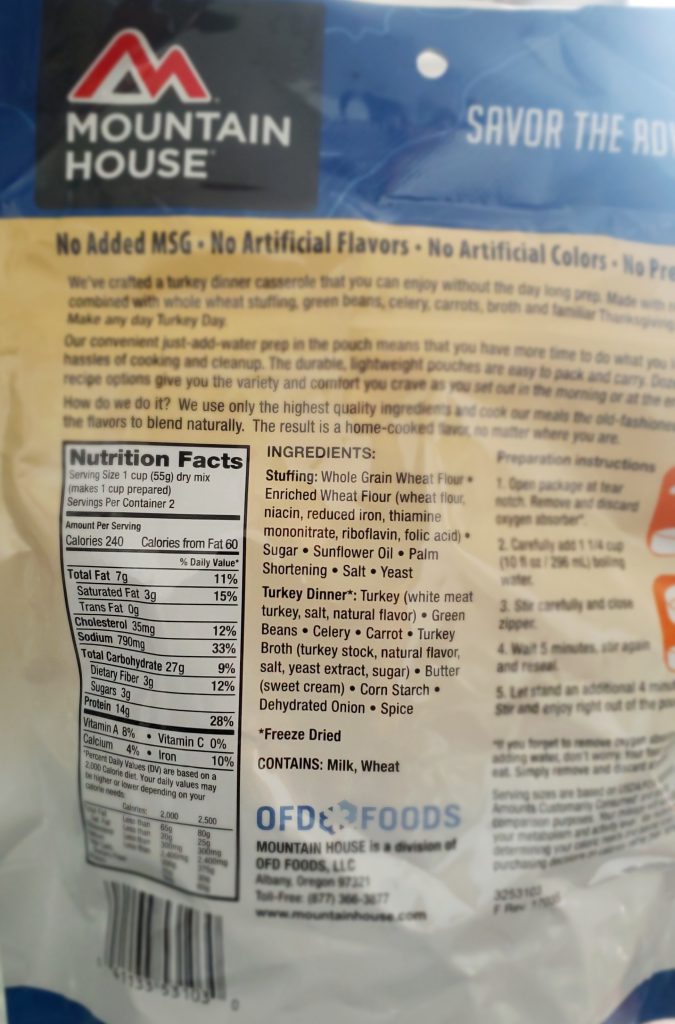 Mountain House Spicy Southwest Breakfast Hash
What a way to start a mellow, zero-day on the river! After a healthy serving of green tea and fruit, it was time to prepare a Spicy Southwest Breakfast Hash for our group. Consensus: yes! That's a tasty, amazing breakfast option.
Pro tip: Add a little fresh avocado for a green supplement. Mountain House's Hash is a great alternative to their breakfast skillet or egg-based breakfast meals. It's hearty but doesn't contain the dried eggs that can sometimes take on an interesting taste and texture when rehydrated.
This gluten-free backpacking meal is packed with green chile peppers, corn, dehydrated hash browns, cooked beef, black beans, red pepper, onion, corn oil with spice extract, hot pepper sauce, potato starch, spice, and salt. It's one of those meals that will truly make you 'Savor The Adventure'.
---
Final Verdict on these Mountain House Meal Reviews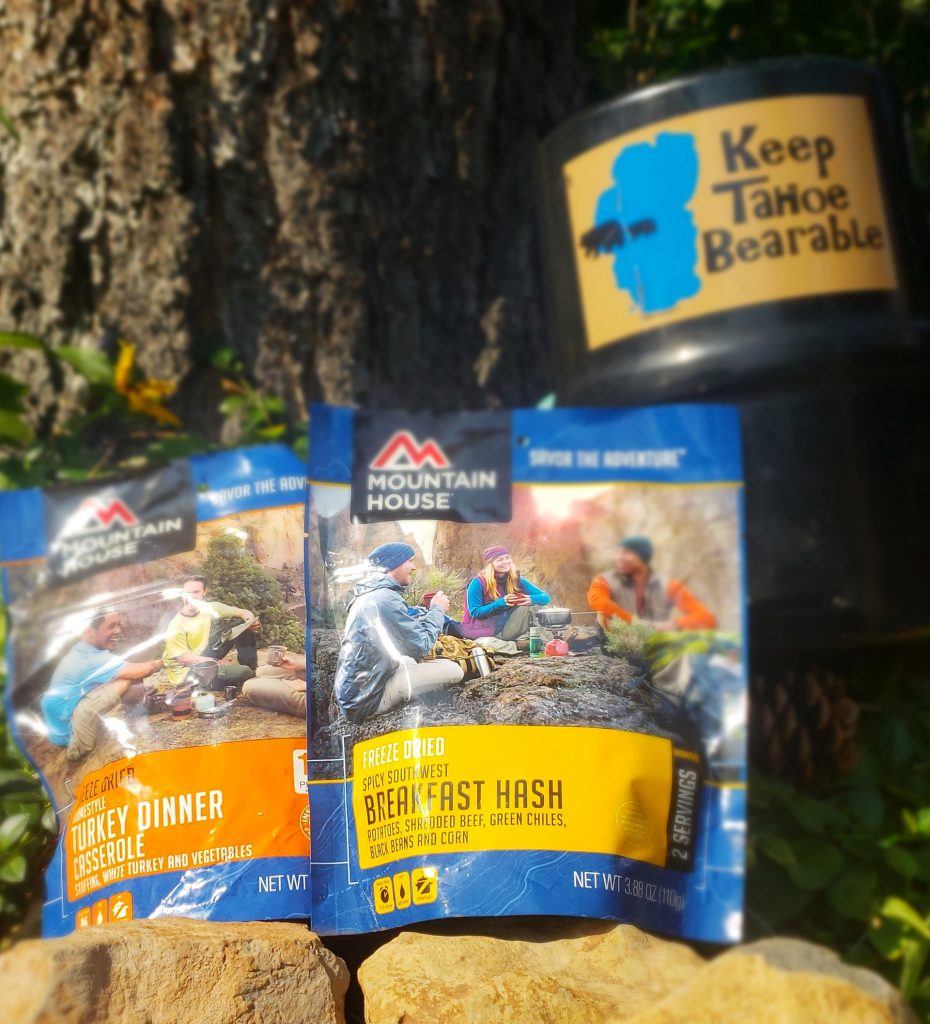 When it comes to ease and convenience, it's really hard to beat Mountain House. If I had to choose between these two meals, I'd have to say that I enjoyed the Spicy Southwest Breakfast Hash a bit more, but both meals are extremely hearty and designed to replenish nutrients that you've used on a long day of hiking, biking, kayaking, or otherwise adventuring.
Sometimes, it's also important to recognize what's on the back of the package in terms of ingredients and nutrition facts. While some might argue that there are healthier options for backpacking meals out there, I believe that, at the end of a long day on the trail, having a meal that you can easily prepare and you know will fill you up beats counting calories, sodium content, or other key factors.
In reality, we often need to replenish considerable amounts of salt that we've lost through sweat throughout our day, regardless of the activity in which we're participating. I also find protein to be one of the key factors in choosing between backpacking meals.
The fact that Mountain House's Turkey Dinner Casserole supplies you with 14 grams of protein was a big selling point for me. The Breakfast Hash, if you're curious, contains 13 grams of protein. When compared with a lot of meals from other backpacking brands, Mountain House always brings a protein punch.
At the end of the day, perhaps my favorite feature of Mountain House meals is that you can prepare them right in the pouch they come in, eat directly out of that pouch (extended spoon recommended!), and then turn that pouch into a garbage bag once you're done. They lend themselves well to minimal impact backpacking and camping and eliminate the need to bring along extra plastic trash bags on the trail.
---
About Mountain House
First, a little about Mountain House as a company! The company was born in Oregon back in 1969. The company's roots go back to some of the first freeze-dried meals they made for members of the United States Special Forces.
Mountain House's parent company (OFD Foods) initially won a military contract to provide better tasting, easy-to-prepare food during the Vietnam Conflict.
After the end of the war, the powers that be realized the great consumer demand for backpacking meals that taste great and are easy to prepare. The company's headquarters is located in the lush Willamette Valley of Oregon, just a little way south of Portland.
In the small town of Albany, Mountain House meals are prepared and packaged to be taken on adventures around the world.
Have Your Own Mountain House Meal Reviews to Share?
Do you have experience with Mountain House meals? If so, I'd love to know what you think about them and what your favorite meal is thus far! Also, if you decide to purchase Mountain House's Turkey Dinner Casserole or Spicy Southwest Breakfast Hash after reading this review, I'd love to know how you like them after you've had a chance to enjoy them!
I hope you've enjoyed these two Mountain House meal reviews and I'd love to hear your feedback in the comments section below. I'll be quick to reply to any questions, comments, or concerns you feel like sharing!
About The Backpack Guide
As The Backpack Guide, I'm always looking for new trails and wildernesses to explore and I'm also interested in the experiences of others in the wild. If there is one thing I am sure of it's that we can all spend more time enjoying and connecting with Nature.
Feel free to reach out to me directly (email below), or share your latest adventure or backpack by tagging @thebackpackguide on Instagram!
Bon Appetit!
The Backpack Guide