Lightweight backpacks are essential for long-distance hiking. Sure, you can carry a 90-liter pack on a month-long trip, but the emphasis on going light and moving fast means you'll probably catch fellow hikers looking sideways at your gargantuan pack. If you're in need of a new, lightweight pack, I've compiled this Osprey Exos 48 review to give you more information about this ultralight gem.
Why Do People Love Osprey?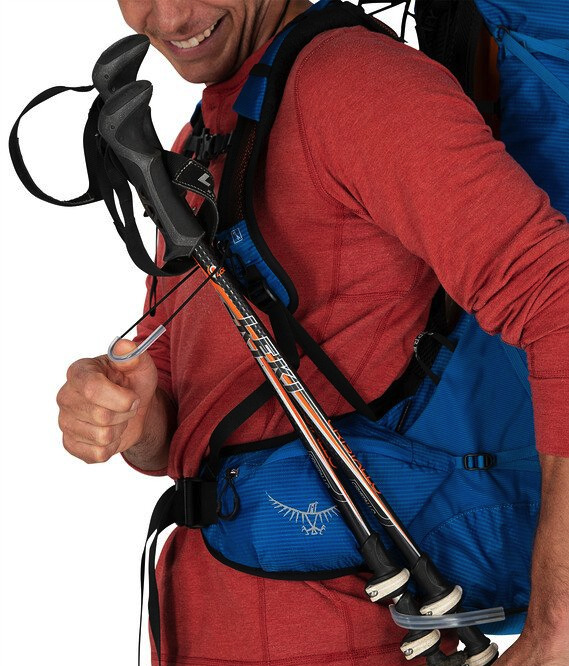 The popularity of Osprey can be attributed to a number of factors. They make a wide variety of packs for all body types and cater to adventurers of all skill and experience levels. However, there's only one reason that really catches my eye and stands out. It's posted right on their website under 'Our Story' and it says:
"We guarantee everything we make, forever. Our products are built to last, but should anything happen we'll make a functional repair or provide a replacement."
A company that stands behind its' product is a company you can trust. If you're like me and you actually plan to make regular use of your new pack, it's reassuring to know that the company you decided to purchase from will repair or replace your pack if you have any trouble. It's always good to know that your best-laid backpacking plans won't have to be scrapped because of a minor pack issue!
Osprey Exos 48 Backpack Overview
The Osprey Exos 48 ultralight backpack is made with ultralight materials. It gives you the option to reduce your base weight by removing compression straps, sleeping pad straps, and the top lid. The Exos 48 splits the difference between the "thru-hiking prowess" of the Exos 58 and the "ninja-like agility" of the Osprey Exos 38.
With the Exos series, Osprey redesigned the pack's hip belt to increase comfort for those that will be wearing it daily for months at a time. One of the biggest issues for thru-hikers is the fact that they may lose considerable weight while on the trail. This can often mean that your pack that fits great at the beginning of your trip begins to rub and cause discomfort in unforeseen places as you lose weight.
Osprey sought to solve this problem with its new hip belt design, making it more adjustable and comfortable than before. They also increased the pack's durability in areas that typically receive the most wear and tear, decreasing the likelihood of significant equipment failure while on the trail.
The benefit of the 48, versus its 58-liter partner, is that you'll really have to pare down your gear to only that which is most essential, which will also make your pack that much lighter.
---
Osprey Exos 48 Backpack Specifications
Capacity: 48-51 liters
Base Weight: 2.7-2.85 pounds
Load Range: 25-30 pounds
Dimensions (in inches): (S/M) 29.53H X 14.17W X 11.81D; (L/XL) 31.5H X 14.17W X 11.81D
The Osprey Exos 48 Features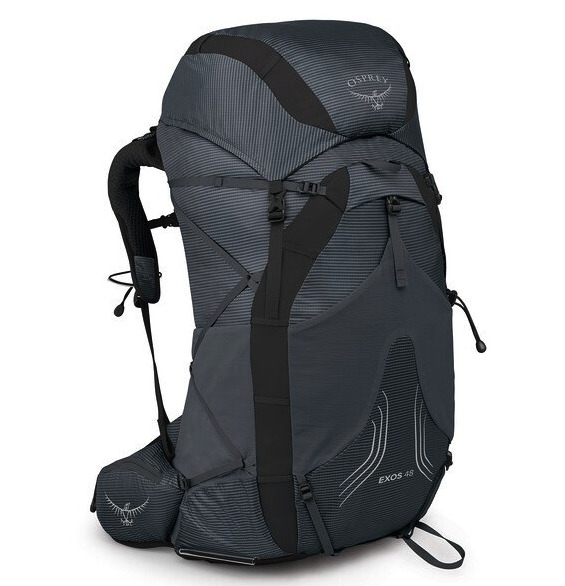 The Exos 48 comes with a series of attachment points for external storage, including on the top pocket, which gives you a place to secure trekking poles, an ice axe, and other accessories.
Mesh side pockets for water bottle storage are easily accessed without removing the pack and the front mesh pocket provides an accessible location to store rain gear or other items you'll want quick access to.
A few of the Osprey Exos 48's additional features include a sternum strap with an integrated safety whistle, dual-zippered hip belt pockets, an integrated FlapJacket cover for lidless use, a 6065 aluminum frame, and a 3D-tensioned breathable mesh back panel with side ventilation.
---
The Ultralight Backpack Competition for the Osprey Exos 48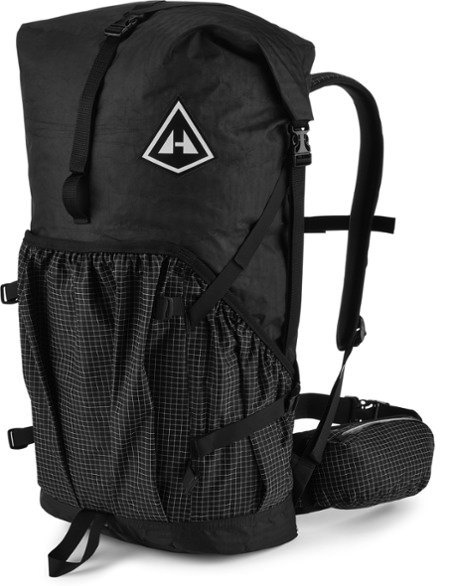 Osprey has gone to great lengths to improve the comfort of this pack. There are many companies competing in the ultralight backpack market, including REI, Hyperlite Mountain Gear, and Outdoor Vitals, but Osprey, owned and founded by Mike Pfotenhauer, is one of the few companies that has been a trusted brand for more than 40 years!
While many of the industry's leading ultralight packs boast comfort, this Osprey pack is not only designed for comfort but it's also manufactured to carry its prescribed load with ease. In other words, the Exos "weighs comparably to other players, carries infinitely better."
In the words of one Osprey Exos owner, "I own a couple [of] packs by Osprey already (Atmos 65 AG & Manta 36 AG) and love the padding and back support these packs have as well as pretty much everything about these packs.
But I've been wanting to get a little bit closer to what's being called ultralight backpacking. The Osprey Exos line of packs are not only very light but offer better back support (in my opinion) than most of the ultralight backpacks on the market and are less expensive on top of that."
---
About The Backpack Guide
At The Backpack Guide, I'm always looking for new trails and wildernesses to explore. I'm also excited to see and share photos of readers with their new backpacks. Share your latest adventure or backpack purchase by tagging @thebackpackguide on Instagram and Facebook!
I hope you've enjoyed this review and I'd love to hear your feedback in the comments section below. I'll be quick to reply to any questions, comments, or concerns you feel like sharing!
Cheers to an Ultralight Adventure!
The Backpack Guide