These are the first pairs of stretchy pants I've ever owned. Admittedly, I've always been a little envious that the ladies seem to get all the fun when it comes to stretchy pants. But I also haven't really been on the lookout for stretchy pants for men. 
Well, when my esteemed friends at Kühl apparel contacted me about updating my wardrobe, I saw a golden opportunity. I'm grateful to them for sending me my choice of the Kühl Chino Resistor pants. So, today I'm going to offer my review of those stretchy pants for men from Kühl! 
About Kühl Pants
The Kühl brand actually got its start as a company called Alfwear. That was back in 1983. Their original focus was on designing and selling the Alf Hat, which was apparently quite the fashionable piece of headwear throughout the 80s. It's still available today if the design pictured above suits you! 
Anyhow, the company owes its existence to four co-founders, John "Alf" Engwall, Conrad Anker, and brothers Jay and Kevin Boyle. Together, they were three badass skiers and a die-hard rock climber. After "Alf's" untimely death in a car accident, Anker and the Boyle brothers nurtured the business along until 1989, when Anker and Jay Boyle set out to pursue their individual endeavors. 
From there, Kevin Boyle took over the company and continued his dream to live in the Rocky Mountains and work for himself. One year later, Boyle introduced the Jacquard jacket, which was the first branch away from the company exclusively producing headwear. The rest, as they say, is history.
Since 1990, Kühl has focused "on the product and only the product." As a result, they've demonstrated "how original ideas lead to creating the best outdoor lifestyle clothing." 
What Do I Look For In a Good Pair of Stretchy Pants for Men?
Let's be honest guys, most of us don't really think about how our butts look in our pants. And if I'm being overly general with that comment, I hope you're not too offended. But for me, it's just not something I'm thinking about when I put on a new pair of pants. What I am thinking about can largely be boiled down into two categories: comfort and functionality. 
Number 1: Are these pants comfortable and could I see myself wearing them all day long? 
Number 2: Will these pants be functional for the various activities I like to participate in?
I don't know about you guys, but it's hard for me to predict everything I'll encounter once I leave the house in the morning. I live in the mountains so the weather can change. I work outdoors so I'm likely to scrape against branches or accidentally step in a puddle. Sometimes I'm a little careless when I've forgotten to drink water for half the day and I wind up spilling some on myself when I start chugging to play catch up. 
All I'm saying is that I search for pants that can suit my all-around needs. I don't want to bring two or three different pairs of pants with me every day and waste time changing every time my external environment changes. Bottom line: I need all-around pants for my all-around active lifestyle. Do the Kühl Chino Resistor pants fit that need? Absolutely!
The Best Stretchy Pants for Men
Kühl Resistor™ Chino Pants
Let's start by getting into the nitty-gritty about these stretchy pants. They're made of a blend of 65% cotton, 26% nylon, and 9% spandex. This blend is what's largely responsible for giving these pants their stretch but also making them very comfortable as you move around. 
These pants have a GSM rating of 253. GSM stands for grams per square meter and is a metric used to measure the weight of a fabric. In general, a higher GSM rating means a denser fabric and most outdoor clothing has a GSM rating above 200. 
In terms of pockets, Kühl has placed two front hip pockets and two rear pockets on the buttocks of these pants. The right-rear pocket features a zip closure and the front right hip pocket also has a smaller coin pocket inside of it. These pants also feature two double-welt cell phone pockets on either side of the pant legs, which also work great for storing a thin wallet. 
Some other features of the Kühl Resistor Chino pants include a tapered fit, twill weave, and high tear strength. Furthermore, they live up to their 'Resistor' name by being both water-repellent and abrasion-resistant. 
Why I Like the Resistor™ Chino Stretchy Pants for Men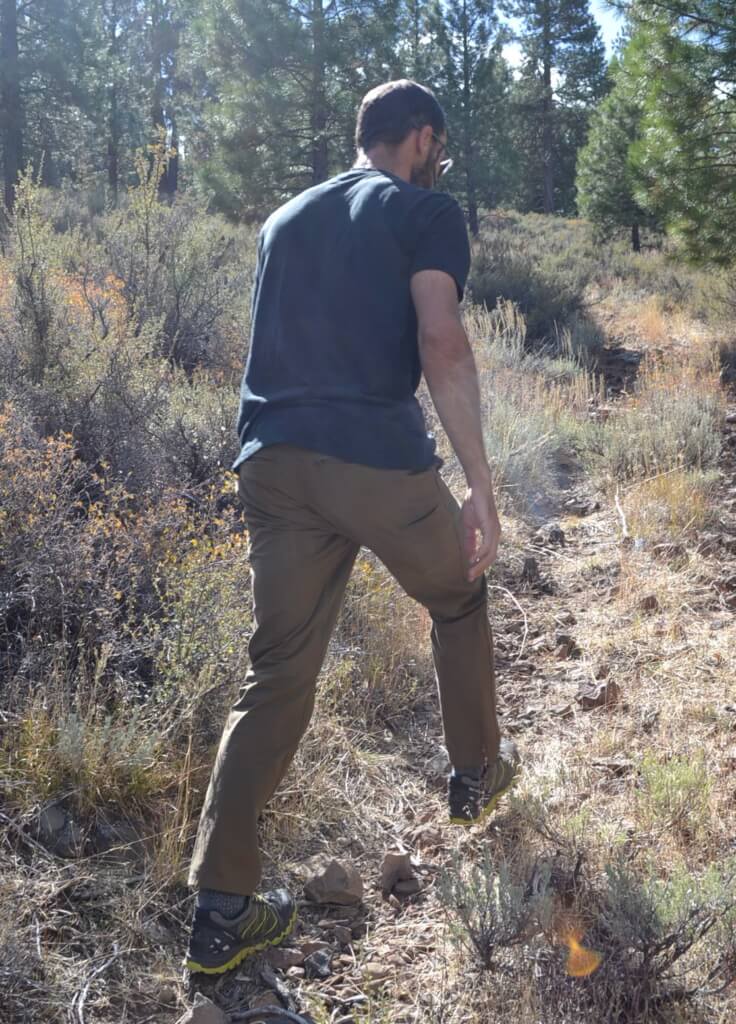 Remember what I said was important to me about pants? Comfort and functionality, right? Well, these pants meet and exceed what I'm looking for on both of those fronts. I love the way they stretch as I hike, even when getting into those deep knee-bends that are sometimes necessary when on-the-hunt for treasure rocks along the trail's edge. 
They also function to suit my lifestyle. The blend of fabrics used in these pants dries quickly if I do get caught in a rainstorm and stand up against the prickly and spiny plant species that are common in the high deserts where I live. I also got them in two different colors (Dark Khaki and Stone Brown) so that it doesn't look like I'm wearing the same pair of Kühl pants every day!
But perhaps my favorite feature of the Resistor Chino pants is the side pockets along the pant legs. Designed for your cell phone, I find myself using them more often for my wallet. And this is a big deal because sometimes I feel like I'm imprinting a small rectangle on my right butt cheek when I'm wearing other pants and keeping my wallet in my back pocket.
With these pants, though, I no don't have to sit on my wallet when I'm getting work done at the coffee shop or sitting down for a beer with friends. In the long term, I think my butt is going to thank me, big time! 
Other Kühl Pants for Men
While I have to say I'm very happy with these stretchy pants for men from Kühl, the fact remains that they are the only pants from Kühl that I've personally tested to date. It's important for me to make that very clear to you, my readers. While I wish I could say I've tested them all and these are my absolute favorites, my focus is simply on sharing my experience with this specific product. 
That being said, while you're here I can also give you a number of other Kühl options to explore. And yes, every time I slide 'Kühl' into a sentence, I'm mostly trying to use it as a pun. It's simply too hard not to and I'd be doing a disservice to my initiative to always have fun while I'm writing if I didn't. But I digress! 
Here are a few other Kühl pants (see!) that you might be interested in! 
Where To Find Kühl Stretchy Pants For Men
The most obvious place to start is on Kühl's website. But we all know that we don't have to go directly to the retailer these days. And you probably also know that you might find a better deal if you're willing to do a little more homework.
My goal is to condense the amount of homework you need to do and give you a few options to choose from right here. So I looked around at various online outlets and found Kühl pants available at REI and Backcountry as well! 
All that being said, here's where I browsed to get my two pairs of Kühl Chino Resistor Pants! 
About The Backpack Guide
As The Backpack Guide, I'm on a mission to explore the wilderness, create learning opportunities, and connect with nature. These are the objectives that underline all the content I create on this site.
I want to inspire others to recreate in their respective wildernesses and to do so in the safest, most enjoyable manner possible. I'm also very interested in the experiences of others in the wild and I want to create a community of people that share those experiences and the lessons they've learned as a result.
If my mission resonates with you, you think we may have an awesome opportunity to collaborate, or you simply want to connect, I'd love to hear from you!
Feel free to reach out to me directly (email below), or share your adventure by tagging @thebackpackguide on Instagram, which is where I'm most active. You can also find me on Facebook, Pinterest, Twitter, and LinkedIn.
Other Backpack Guide Resources
Once you've checked out these 'super-Kühl' pants, feel free to peruse the articles in my Hiking Tips and Trails section. My Outdoor Gear reviews include water filters, tents, hiking shoes, trekking poles, and more. Also, you might enjoy my reviews of packs from brands like Kelty, REI, and Gregory. 
Finally, my YouTube Channel has video reviews of packs and outdoor gear if you're not really into reading! I do receive a commission on purchases made through the affiliate links on this website. Those earnings go directly back into my efforts to produce more informative content for my readers!
"The passion remains to get outdoors and have fun."
– Kühl
The Backpack Guide