There is perhaps no more sickening feeling than hearing your tent pole snap when you're out on a multi-day hike. Your tent is your shelter and when you're miles from "civilization," that means…EVERYTHING! So in the interest of tents everywhere, I've put together this quick list of five tent maintenance tips. I hope you enjoy and find them useful!
Tent Maintenance Tip #1
Pole Care
Poles are the skeleton of your tent. Without them, the structure will suffer and you, as the inhabitant of the structure, will also suffer. Proper pole care starts with making sure you slowly put poles together section-by-section every time you go to set up your tent.
Trying to snap poles together with a "magic" flick of the wrist will severely increase the risk of breaking a pole. Make sure you adhere to this section-by-section method when you're taking down your tent as well.
Tent Maintenance Tip #2
Ultraviolet Protection
Tents that are exposed to excessive sunlight can suffer ultraviolet (UV) damage. UV damage can cause nylon or polyester to become brittle and more susceptible to tearing. Once your tent is damaged by UV rays, it can't be repaired. However, damage can be avoided by carefully selecting where you set your tent up and considering how the sun will move throughout the day. It's also helpful to use your rain fly as sun protection for the body of your tent (even on clear days), as it is easier and cheaper to replace a rain fly than it is to replace your entire tent.
Tent Maintenance Tip #3
Cleaning Tip
Your tent is going to get dirty. There's really no way around it, but there are ways to minimize damage from dirt and there are proper methods for cleaning a tent. For starters, utilizing a footprint or tarp below your tent every time you set it up will reduce the amount of dirt on the bottom of your tent. It will also reduce the likelihood of the bottom of your tent being ripped or torn by that lone rock you missed when clearing your site.
When it comes to cleaning your tent, I recommend setting it up first. Tents can be hosed down, but make sure to be gentle when doing so. You can use a mild soap and sponge to clean the bottom and interior of the tent before rinsing thoroughly. You should NEVER put your tent in the washing machine or dryer and you should avoid washing with detergent.
Tent poles can be cleaned with a soft cloth and water. And don't forget the zippers! These can easily be dipped in water and rinsed. Lastly, make sure you allow your tent to dry completely before storing it. Storing your tent slightly wet can invite mold or mildew.
Tent Maintenance Tip #4
Seam Sealing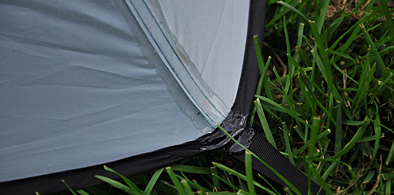 Another area that is likely to see the most wear and tear over the years is the seams. These are holding different panels of fabric together against high winds, rain, and other elements.
Seams are the most likely place that your tent will leak water in a large rainstorm, so knowing how to seal the seams of your tent is important. There are a number of seam sealers on the market, but some brands to check out include Kenyon and McNett Outdoor.
First, set your tent up in a fully ventilated area. Taut seams allow for easier application of sealer. Generally, floor and fly seams, as well as reinforcements, are the most common seams in need of sealing. Apply sealant to both inside and outside of exposed seams. Using a brush, spread sealant evenly over all needle holes.
Don't be afraid to be quite liberal with the application of sealer here, but keep in mind that several thin layers typically function better than one thick layer. Finally, follow the directions on the sealer package for the amount of time the sealer will need to dry. This can range from just 30 minutes up to 12 hours.
Tent Maintenance Tip #5
General Care
There are also a number of general care tips that will increase the longevity of your tent. One of the biggest tips I can give you is to avoid wearing your shoes inside your tent. You may also consider bringing a rug or mat to place inside your tent door to wipe dirt or sand off shoes and feet before entering.
Another general best practice for maintaining the life of your tent is to never bring or store food inside your tent. Critters in the wilderness have very powerful noses. Some of them are quite small and others are very large. Many can smell that candy bar you brought into your tent for a midnight snack, even if it's still in the wrapper.
Bonus Tent Maintenance Tip!
Tent Storage
If your tent goes several months throughout the year without being used, it's best to store it loosely rolled out of its stuff sack. You'll want to find a completely dry area to store it and cover it with a cloth to protect against dust settling on it throughout this period of non-use.
When it comes to tent poles, the best way to store them is fully assembled because this reduces the tension on the shock cord (that piece of string that connects all the poles) and prolongs its life. Your tent's stuff sack should really only be used as a carry sack, and not for storage, so when your tent isn't in use, it's good to turn the stuff sack inside out so that it stays dry and doesn't grow any mold or mildew.
Have You Gotten Creative With Tent Repairs?
I hope you've enjoyed these Tent Maintenance Tips and I'd love to hear your feedback in the comments section below. I'll be quick to reply to any questions, comments, or concerns you feel like sharing!
About The Backpack Guide
At The Backpack Guide, I'm always looking for new trails and wildernesses to explore and I'm also interested in the experiences of others in the wild. I'd love to know if you've ever had any 'MacGyver' moments fixing a tent on the trail and, if so, how you went about it!
Feel free to reach out to me directly (email below), or share your latest adventure or backpack by tagging @thebackpackguide on Instagram and Facebook!
Cheers To Your Tents!
The Backpack Guide