Few brands out there today rival Osprey. Their backpacks are sleek, useful, and comfortable. They have options for nearly every level of adventurer, but if you're hopping on a plane for your next trip, you'll need to know how to find the right Osprey travel backpack.
Let's talk about some criteria that will help you do that.
Where Are You Traveling?
All backpacks aren't created equal. Some of us need a light-duty pack for everyday use. Others might be looking for an all-weather option for backpacking in unpredictable climates.
But honestly, most of us are looking for something in the middle. Osprey travel backpacks come in many shapes and sizes. Their features vary according to their best use. So the first question to consider is where you plan on traveling.
The highest mountains? Hottest of deserts? Most tropical beaches? Where you're traveling matters!
If you're bushwhacking into the heart of the Amazon, you're not going to hoof a 70-liter pack through the humid jungle. Likewise, most of us aren't bringing our 25-liter school backpack out for a 28-day excursion on the John Muir Trail.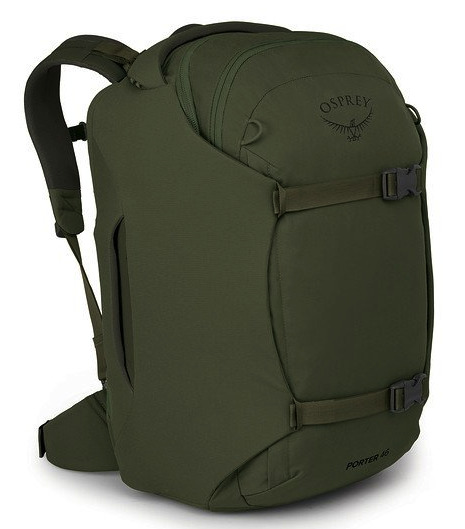 For the always-on-the-go traveler, the Porter 46 Osprey Travel Backpack is the perfect balance between annoying duffel bags and cumbersome backpacking packs. Constructed from 420-denier Nylon Wave Ripstop fabric, this pack provides 46-liters or 2807 cubic inches of packing space.
New to this model, Osprey has relocated the zippered laptop and/or tablet pocket and loads of functional storage that can be accessed from multiple points around the pack.
The main pocket of the Porter 46 is accessed with a single lockable zipper designed to make it easy to find anything in your pack at a minute's notice, but also to provide ample security for the avid globetrotter.
Another cool feature of the Porter 46 is a vertical zippered pocket on the front panel. This panel provides safe storage for guidebooks, pleasure reading materials, and other important travel documents.
With dimensions of 22 x 14 x 11 inches, the Porter 46 fits most carry-on luggage requirements for air travel! Finally, the structured sidewalls of this Osprey travel backpack hold the pack open even when it's empty, making packing, unpacking, and organizing simpler than ever!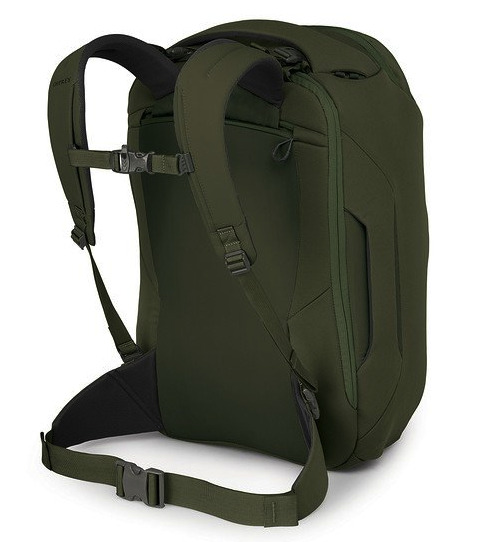 ---
How Much Gear Will You Bring?
Seriously. Take stock! Use equivalent measurements to help you determine how large of a pack you'll need. For example, a 70-liter Osprey travel backpack will hold more than 18 gallons of "stuff." Home Depot practically gives away 5-gallon buckets, or if you've got some lying around the house, start filling them up!
If you fill three with ease, you'll at least need a 70-liter pack. If you only fill two, you'll be great with a 40 or 45-liter pack. Minimalists that can fit their essentials into a single bucket will probably be alright with a 30-liter pack or smaller.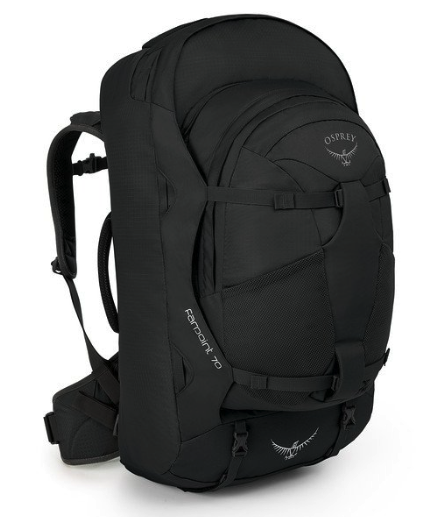 For the weekend warrior, the Farpoint 70 will give you plenty of space to bring along everything you need for your next outing, and then some! The Farpoint 70 is available in two sizes: Small/Medium with a total capacity of 67 liters (4,089 cubic inches) and Medium/Large with a capacity of 70 liters (4,272 cubic inches).
When you're the kind of weekend warrior that brings an extra camera or a six-pack of your favorite beer, those extra three liters can be handy!
The main body of the Farpoint 70 boasts 210-denier Mini Hex Diamond Ripstop fabric while the accent and bottom are manufactured using a 600-denier packcloth. The Small/Medium size boasts dimensions of 24 x 13 x 13 inches and the Medium/Large option is just slightly taller with dimensions of 26 x 14 x 13 inches.
While you might worry about carrying such a large pack, Osprey has intentionally designed their LightWire™ frame suspension system to transfer weight from the shoulder harness to the hip belt. This helps to displace the weight from your shoulders and back to your hips and legs, which can handle a larger load.
Best of all, the whole suspension system stows under a zippered panel for safety in transit. From experience, there's nothing worse than finding the straps of your backpack broken in baggage claim after a long flight to a new country. With the Farpoint 70, this is no longer a problem!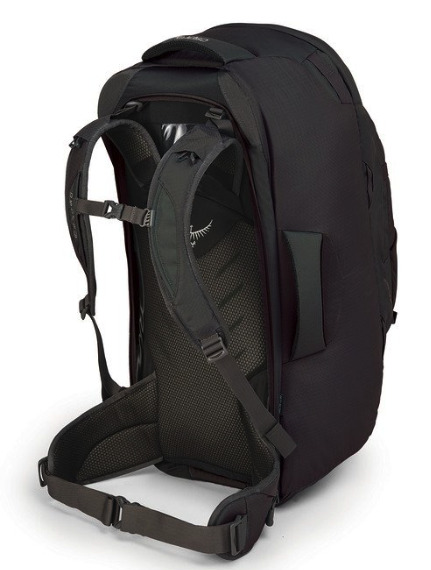 ---
What Are Your 'Must-Have' Features?
Are accessible water bottle holders your thing? What about space for a built-in hydration system? Maybe you're into a single-zippered design for easy access to your belongings?
With so many features out there today, it's hard to stay focused on the items that you really need. Take your time and contemplate the features you've always loved, those you'd kinda like, and those you can't live without.
If you go with a larger Osprey travel backpack, a detachable daypack is essential. This way, you don't have to carry a separate smaller pack for day trips once you set up a basecamp at your destination.
For smaller packs, the organization will be vital. Because all your essentials are in a compact backpack, it should have plenty of ways to keep belongings organized. That way you can quickly get right to what you need and stay on the move.
For those ultra-lightweight travelers that love two-for-one features, the Daylite Travel Backpack is a great option! With a 44 liter (2,685 cubic inch) capacity, you'll have space for the essentials, but you won't be lugging around any extra gear.
This Osprey travel backpack is perfect for international travelers who hate checking luggage on long flights. For remote workers, slip your computer into the pack's discrete padded sleeve (fits 16-inch laptops).
The Daylite 44 boasts a full-zip main compartment and two stretch side pockets for water bottle storage. Tuckaway backpack straps streamline this pack when passing through security and reduce the chances of a broken strap in transit.
Perhaps best of all, the Daylite is manufactured with recycled materials. BluesignⓇ approved polyester of varying thicknesses is utilized on all main, accent, and bottom sections of this pack, which means you can get a great new travel backpack while doing your part to reduce industry waste at the same time.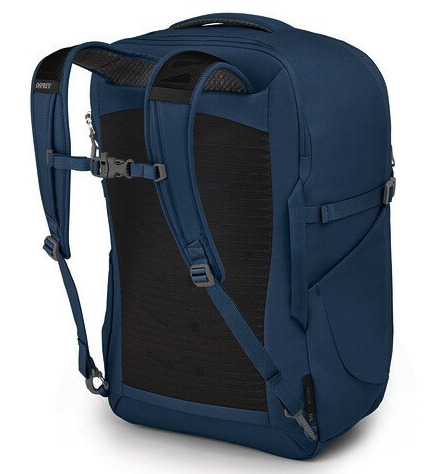 ---
Have You Had An Osprey Travel Backpack Before?
If so, then hold on just a minute before you go on purchasing a new pack. Osprey has one of the best warranty policies in the outdoor industry, if not THE Best! Their products are built-to-last and their warranty policy backs up the hard work that goes into making each and every top-of-the-line Osprey pack. Read on to learn more about the Osprey ALL MIGHTY GUARANTEE!!
What Sets Osprey Travel Backpacks Apart
Osprey has long been one of the premier brands in reliable outdoor backpacks. Since their establishment in 1974, they've been dedicated to developing high-quality packs that will help you go further and stay out longer. But what sets Osprey apart is its warranty service. If you send in a broken or ripped Osprey backpack and they can't repair it, they'll replace it, for life!
If you're one of those stubborn gear guys, like me, that holds onto packs until they bust, and your particular model is no longer in production, they'll contact you directly to discuss your replacement options. That's pretty awesome! A company that stands behind their product so much that they're willing to completely replace it if it breaks is one that's worth investing in!
About The Backpack Guide
We're always looking for new trails and wildernesses to explore. We'd also love to see and share photos of our readers with their new backpacks. Share your latest adventure or backpack purchase with us on social media by tagging @thebackpackguide on Instagram and Facebook!
As always, please leave any questions, comments, or concerns below and we hope you enjoyed the information we've presented here for you today!
Other Resources From The Backpack Guide
I'd also like to kindly invite you to check out our other content. That includes Hiking Tips and Trails and Outdoor Gear reviews of water filters, tents, hiking shoes, trekking poles, etc. Also, you might enjoy my Backpack Reviews, which includes brands like Kelty, REI, and Gregory. 
Finally, my YouTube Channel is full of informative video content if you're not really into reading! I do receive a commission on purchases made through affiliate links on this website. Those earnings go towards producing more informative content for my readers!
Happy Trails!
The Backpack Guide