Fortunately, some fine folks have toiled to design packs for your comfort and hydration. Let's take a look at four Camelbak hydration packs that'll keep you functioning at optimal levels on your next adventure.
Hydration is critical to your well-being on any outdoor adventure. According to MindBodyGreen, even a 1.5 percent dip in water levels in the body can lead to reduced cognitive function, headaches, and fatigue.
Camelbak Snoblast
Designed to withstand the rigors of winter, the Snoblast hydration pack offers 23-liters of storage capacity and an additional 2 liters of hydration capacity. With a variety of cold weather focused features, this pack is great for snowboarding, snowshoeing, skiing, and any other winter sports of your choice.
The Snoblast offers both snowboard and snowshoe carry options, as well as various helmet carry attachment points. It also boasts a Crux™ hydration reservoir and an expansion panel that adds 6 liters of storage capacity when needed.
This pack's unique tri-zip access makes it easy to reveal the entire contents of your pack and four compression points make load stabilizing quick and efficient. With dimensions of 21 x 10 x 6.5 inches, the Snoblast also boasts an essentials pocket with key clip, a secure inside pocket, and a fleece-lined goggle pocket.
Reviewers of the Snoblast hydration pack have spoken highly of this pack's capacity, stating it capable of "storing everything from goggles to gloves to one or two base layers and beanies." Most importantly, reviewers noted that the hydration bladder in this pack is insulated enough "to not freeze up in the cold alpine weather."
---
Camelbak Ultra Pro Vest
An ideal hydration pack for runners, the Camelbak Ultra Pro Vest offers a liquid capacity of 34 fluid ounces and the liquid storage is BPA free. This pack is available in three sizes, which fit different chest measurements: Small fits chests from 28 to 34 inches. Medium fits chests from 32 to 40 inches. Large fits chests from 38 to 46 inches.
Instead of a traditional hydration bladder, this vest features two 17-ounce Quick Stow flasks that store on the front of the straps. These flasks are lightweight, collapsible, and included one-piece silicone bite valves for rapid hydration.
The Ultra Pro Vest also boasts four external pockets, including a secure phone pocket with zipper closure and a stretch overflow pocket for a rain shell or extra gear. In addition, this vest comes with dual adjustable sternum straps, a 3D ventilated mesh back, and reflectivity on the front and back for early morning or late evening runs.
Reviewers have praised the Ultra Pro Vest for its "well-thought-out layout" and said that "the side access to the big overflow pocket on the back is genius!"
One common recommendation for chests that fall in between sizes is to go with the smaller pack. For example, someone with a chest size of 32 inches will most likely be more comfortable with a small vest rather than a medium.
---
Camelbak Solstice LR 10
Designed specifically for women, this hydration pack is perfect for avid mountain bikers and cyclists. It offers a 10-liter storage capacity in addition to a hydration capacity ranging from 50 to 100 ounces. Fit for torso ranges from 15 to 19 inches, this pack is manufactured with 100-Denier Robic Nylon Dobby and reinforced with 210-Denier Nylon Oxford.
The pack features armor carry, a zippered essentials pocket, stabilizing shoulder yoke, and blinker tab. It also comes in handy with a bike tool organizer roll, fleece-lined media pocket, magnetic tube trail, helmet hook, stretch overflow storage, lumbar compression, and dual waist belt pockets.
Reviewers have boasted about the comfort of this pack when hiking in addition to mountain biking or cycling, and they've also pointed out the pack's low-rider design, which moves most of the weight closer to your waist for better stability and less strain on your back.
---
Camelbak Areté 22
I've been using this model as a daypack for nearly two years. I have the 18-liter version, which I feel provides plenty of space, so fitting all your gear shouldn't be an issue with the Areté 22. With a hydration capacity ranging from 50 to 100 ounces, you'll be sure to have all the water you need, in addition to your supplies.
This hydration pack fits a torso range of 15 to 21 inches and is manufactured from 210-Denier Nylon Plain Weave and reinforced with 70-Denier Nylon Diamond Ripstop. It also comes with a secure stash pocket with key clip and removable sternum strap.
My only caveat regarding this pack is the fact that the shoulder straps can be a bit uncomfortable. However, the 22-liter version comes with a hip belt to take some weight off your shoulders, which my version of this pack doesn't offer.
All in all, this is a great hydration pack for daily commuting, travel, and day hiking, and it's held up great to all the abuse I've put it through over the last couple of years!
---
A Pack to Fit Your Needs
Whatever your primary activity may be, Camelbak has designed a hydration pack to suit nearly any purpose. And at the end of the day, the primary purpose of these packs is to keep you hydrated and store essential gear. I hope you've found a pack here that suits you!
About The Backpack Guide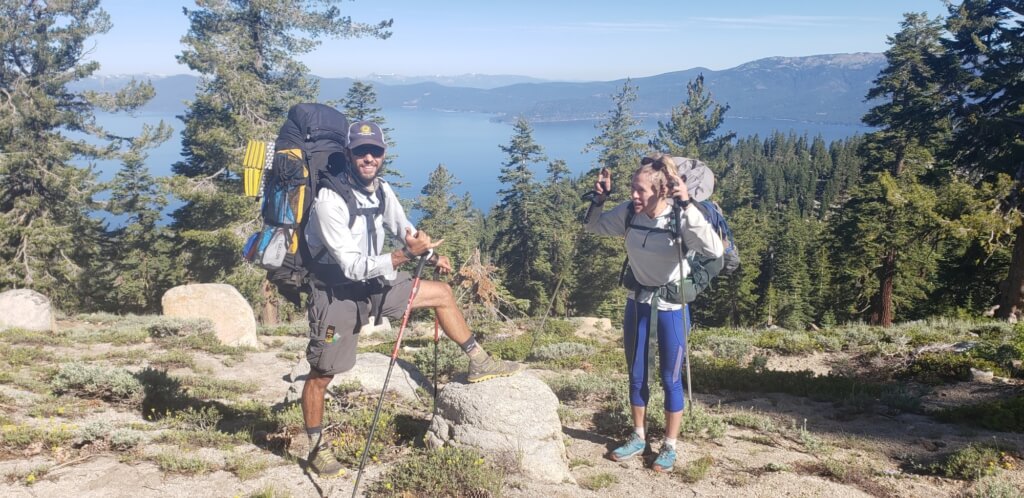 As The Backpack Guide, I'm always looking for new trails and wildernesses to explore. And I'm always on the lookout for new products to test out! If you have feedback on this pack, or any other I've reviewed, I'd love to hear from you! Also, let me know if you'd like to write your own review!
Drop me a line here or find me on social media @thebackpackguide on Instagram and Facebook. Tag me in your photos with your newest pack or from your most recent adventure!
I hope you've enjoyed these tips and I'd love to hear your feedback in the comments section below. I'll be quick to reply to any questions, comments, or concerns you feel like sharing!
Happy Hunting!
The Backpack Guide