Hello again, Happy Campers! Now that we have a list of delicious and healthy camping recipes for our next trip into the wild, let's mix up some wholesome drinks to go along with them! When it's time for an adult beverage, keep this list of healthy and easy camping cocktails handy.
There are many reasons to be conscious of your drinking habits while on a camping trip. First of all, you want to make sure you are being healthy and taking care of your body so you can perform fun and strenuous activities. That ten-mile hike isn't going to hike itself people!
Adding a few ingredients that are packed with nourishing antioxidants and vitamins will ensure that the drinks you make are nutritious and delicious until the very last sip! Great satisfaction comes from sipping a fancy, and yet healthy cocktail while you are in the middle of the woods. 
Preparing And Packing For These Healthy Cocktails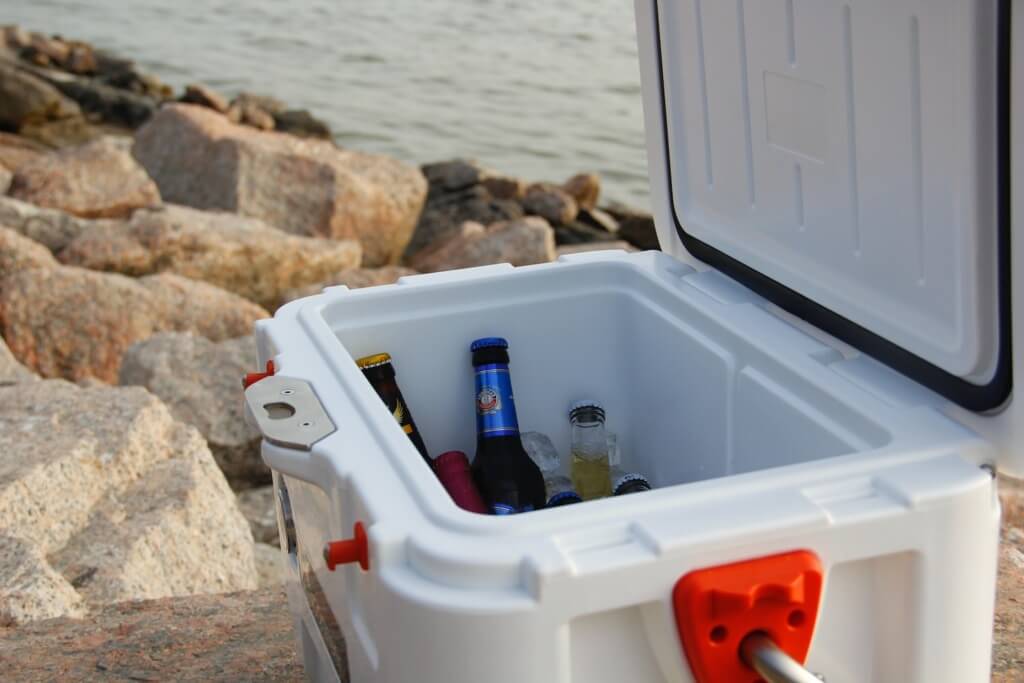 Drinking healthier alcoholic drinks in the great outdoors requires a little planning. Before you leave for your camping trip, make sure to grab the drink-making essentials. This includes things like a wine opener, a frother, a whisk, a stirring stick, drinking cups and glasses, mugs, a pot, metal straws, and plenty of ice. 
When you go food shopping for your camping trip, make sure to grab some of these drink ingredients to make your cocktails extra special. The ingredients in these drinks are simple and versatile, and some can even be used in your dinner recipes. If you are able, add local flair by harvesting fresh, and edible ingredients around you. Gather a handful of wild blackberries for the sangria, or a few mint leaves for the green tea gin refresher.
As a precaution, only drink alcohol if you are over 21 years of age, and do not over-consume the alcoholic beverages listed below. Excess alcohol consumption can lead to dehydration, which will negatively affect your mental and physical well-being. Please do not let a hangover interfere with your adventurous camping activities!
A great way to reduce your likelihood of a hangover is to drink at least one glass of water in between alcoholic beverages. Additionally, each one of the healthy drinks listed below can be made without alcohol, and will still taste wonderful.
10 Healthy and Easy Camping Cocktails
Camping is meant to be simple and serene. While you're enjoying a peaceful nature setting, a quality beverage will sure make you grateful. The recipes listed below are perfect for making top-notch cocktails while you are off the grid because they are simple to make!
These drinks not only taste fantastic, but they have a handful of nutritious ingredients that are added to ensure we are staying healthy. It's best to avoid sugar-sweetened beverages that can lead to health issues such as weight gain, heart disease, and diabetes.
Since we are camping outside in nature, we do not need to measure out each ingredient exactly. I like to test out different amounts until I find the perfect match for my taste buds. This creative liberty will make you feel alive!
1. Water Elixir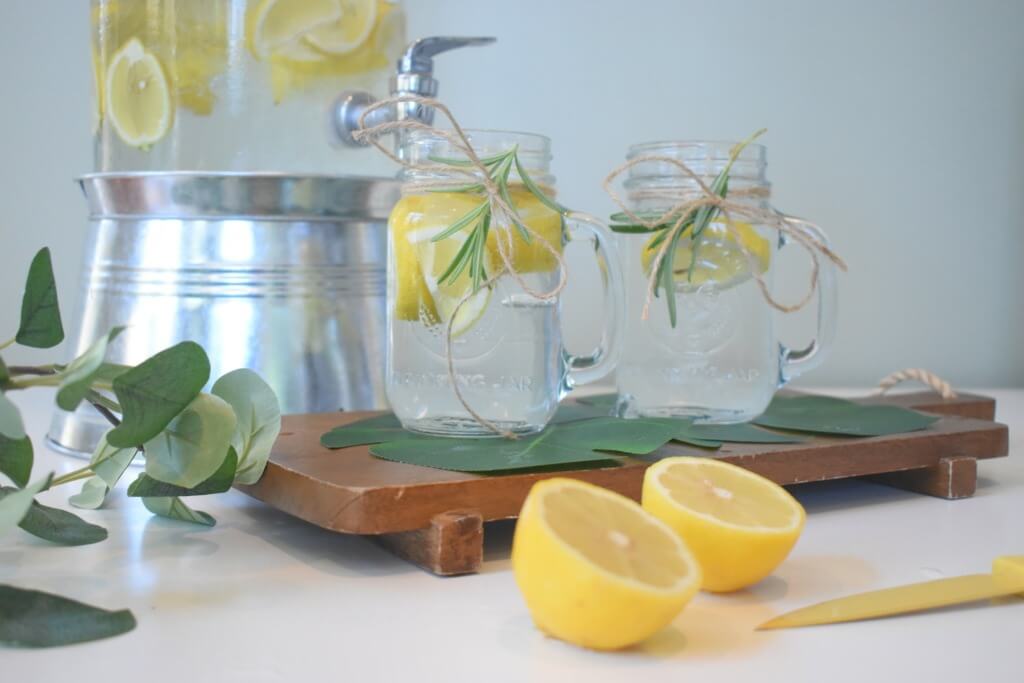 Ingredients:
Water, H20, agua, electrolyte tablets, fruits, and vegetables
Recipe:
In order to function properly, your body needs water! Each person should be drinking at least half their body weight in ounces of water per day. If you are feeling a bit dehydrated, add an electrolyte tablet to your water. 
Fruit and mint are also great water additives for boosted flavor. Let's get creative with our water sources! About 20% of our water intake comes from food. Fruits and vegetables are high in water, so eating more of these types of foods will add to your hydration. 
Drinking water also makes the minerals and nutrients in food more accessible for your body to use. Make sure to always have your reusable water bottle and water bladder filled. It helps to have a springhead nearby, or a fountain to refill with potable water when needed.
Health Benefits
Drinking water is essential to living a healthy lifestyle. The human body is made up of about 60% water, which is why we must make an effort to replenish this resource. 
Drinking water can boost your performance and motivate you during exercise. When you are being very active, you need to make sure that your water intake keeps up with your output so you do not become dehydrated.
There are many other benefits of drinking adequate amounts of water. Blood is made up almost entirely of water, which delivers oxygen to our bodies. Water also regulates body temperature, which is essential while you are camping and exercising. 
Long-term benefits include healthy skin and weight maintenance. Your kidneys and digestive system will also thank you for drinking plenty of water.
---
2. Coffee and Mud\Wtr Latte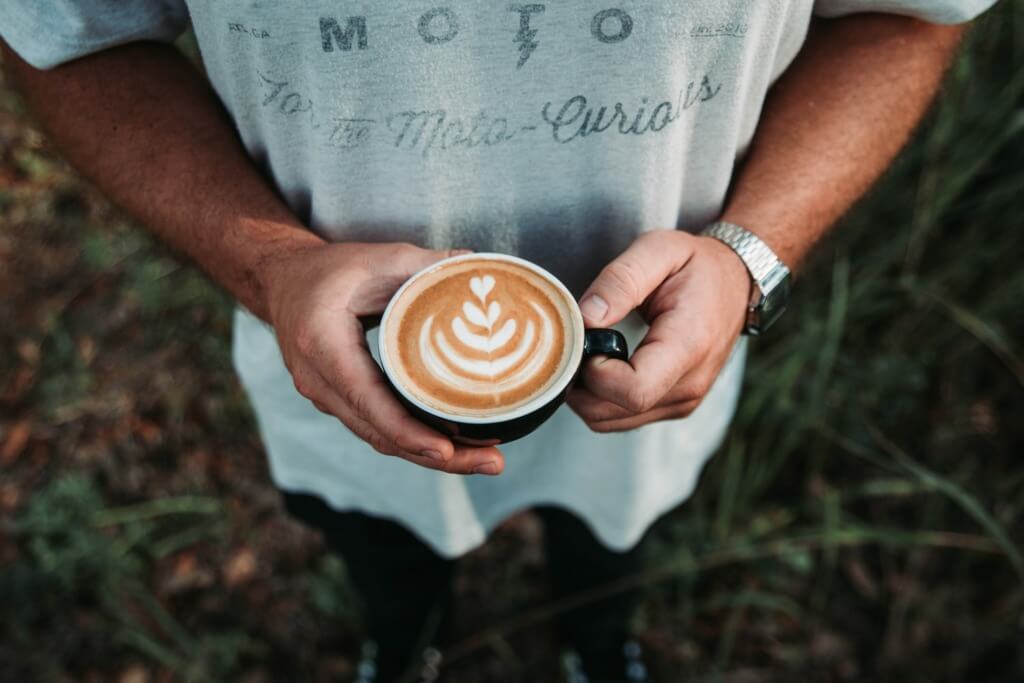 Ingredients:
Four Sigmatic coffee grounds, Mud\Wtr powder, choice of almond, coconut, or rice milk, and bourbon optional
Recipe:
Once you try this camping hack, it will become your forever morning ritual. Whether you make coffee on the fire, or you bring a coffee machine with you, all you need to do is add Mud\Wtr as half of what you would normally use for grounds. 
Four Sigmatic is a fantastic option for coffee grounds. Make sure to pack a frother, so you can make it fancy in just a few seconds once you add your almond, coconut, or rice milk. The result is a smooth, healthy, and energy-packed morning ritual. If you are looking to add alcohol, simply add a splash of bourbon.
Health Benefits
Mud\Wtr is meant to be a coffee alternative and has much less caffeine than coffee. I like to mix half and half in my cup. The company uses all organic and healthy ingredients, such as cacao, cinnamon, turmeric, sea salt, and a blend of mushrooms including Lion's Mane and Chaga. Get ready for a new tasty and healthy way to get your energy in the morning!
---
3. Vitamin C Mimosa
Ingredients:
Emergen-C daily immune support powder, choice of sparkling water, champagne, or a sparkling white wine
Recipe:
This recipe is a healthy alternative for your common sugar-filled mimosa! First, empty one Emergen-C powder packet into a cup filled with ice. Slowly add the sparkling water or a sparkling alcoholic drink to the glass, being careful not to let the mixture fizz over the top. 
You can use Champagne, Prosecco, or white wine if you are looking for an adult beverage, or simply stick to sparkling water for a refreshing mocktail.
Health Benefits
Emergen-C powder packets support your immune system with high amounts of vitamins C, B, and electrolytes. These nutrients help increase energy and metabolism. Probiotics are also found in this powder which ensures that your body receives the good bacteria it needs to keep you well. 
Champagne and other sparkling wines may also improve your heart health. They contain the same antioxidants that prevent damage to your blood vessels.
---
4. Green Tea Gin Refresher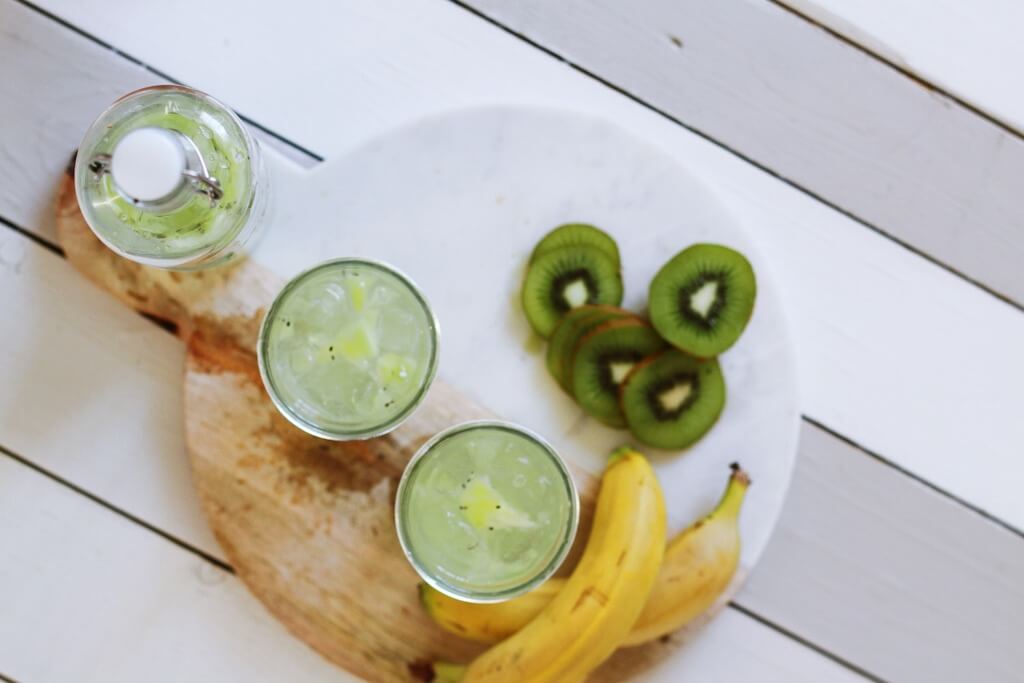 Ingredients:
Unsweetened green tea, lemon juice, honey, mint, cucumbers, and gin optional
Recipe:
This drink is tasty, refreshing, and even loaded with healthy ingredients! Start by brewing unsweetened green tea and pouring it into a pitcher. Add about a cup of lemon juice and a half cup of honey. 
Mix the ingredients until they are combined. If you are looking to add alcohol to this refresher, add about a shot of gin. Garnish your beverage with mint and sliced cucumbers, eating them after the last sip!
Health Benefits
Green tea contains many compounds that can improve health and brain function. It also helps to improve physical activity! Cucumbers are high in fiber and made up of mostly water, which we know is a great way to hydrate ourselves while camping. 
Honey contains bioactive plant compounds and antioxidants, making it a healthier option for a sweetener than added sugar. Mint and lemon juice are also very rich in healthy nutrients.
---
5. Melissa's Not-A-Secret-Anymore Sangria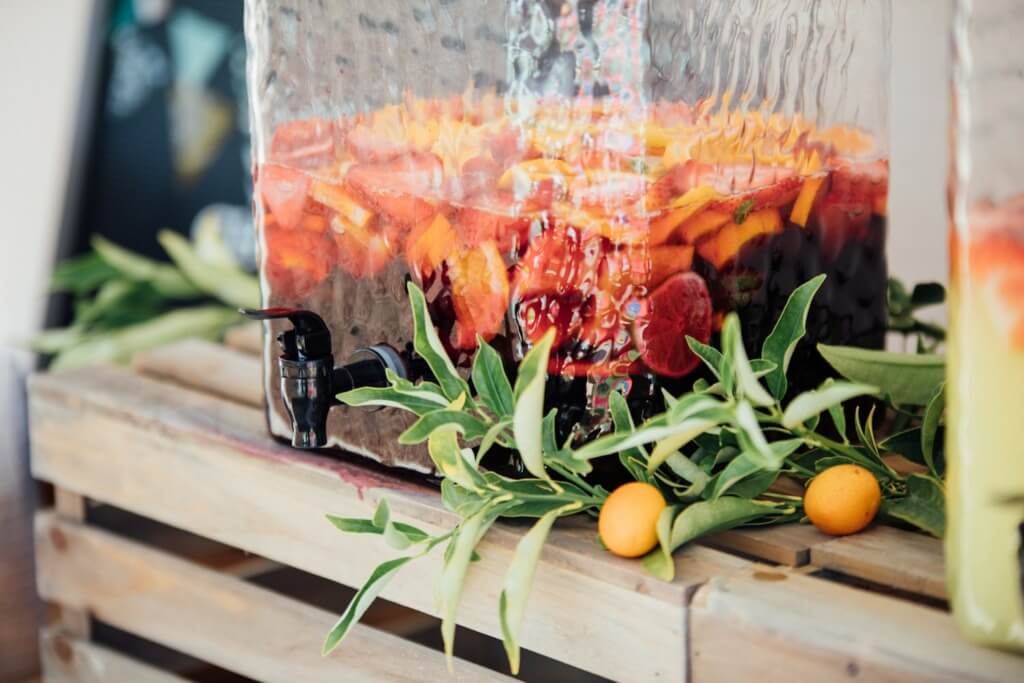 Ingredients:
Kombucha, sparkling water, an electrolyte tablet, berries, and dry red or white wine optional
Recipe:
This is my favorite camping mixed drink by far, and I am happy to share it with you. I start by grabbing a large mason jar and filling it up equally with kombucha, sparkling water, and a dry red or white wine in that order. 
Next, drop in an electrolyte tablet half at a time to ensure it does not fizz over. Finally, add plenty of ice and a handful of fresh berries. Boom! Now you have the best-kept secret for a delicious and healthy camping drink. 
To make this a non-alcoholic refresher, simply do not add the wine. Sometimes, I add unsweetened green tea if it's handy.
Health Benefits
Kombucha helps improve digestion and rid your body of toxins. This magic fermented drink can even boost your energy and immune system! Electrolytes can be lost during physical activity, and if you are not drinking enough water. 
We need to supplement electrolytes into our diets so they can regulate muscle function and hydrate the body. I like to add electrolyte tablets to my water at least once a day to produce energy and help balance fluids. 
---
6. Mountain Margarita
Ingredients:
Lemon-lime Powerade, fresh snow, and choice of tequila or sparkling water
Recipe:
Hopefully, for this recipe, you are somewhere with freshly fallen snow that can be used to make yourself a healthier version of a margarita. Simply fill up a cup with white powdery snow, and add the lemon-lime Powerade and a shot of tequila. 
Who would have thought you could be sipping a mountain margarita in the middle of nowhere! If you do not want alcohol in your drink, replace the tequila with sparkling water for a mountain snow refresher.
Health Benefits
Sports drinks like Powerade are good to drink when you are being very active because they replenish the electrolytes that are lost during exercise. The sugar in these sports drinks is meant to give you a boost of energy to get you through a workout. 
If you would prefer a drink with less sugar, I recommend using any flavor Bai antioxidant-infused drink. Tequila in small amounts is even shown to have some beneficial properties, such as aiding in digestion and sleep.
---
7. Heated Turmeric Tonic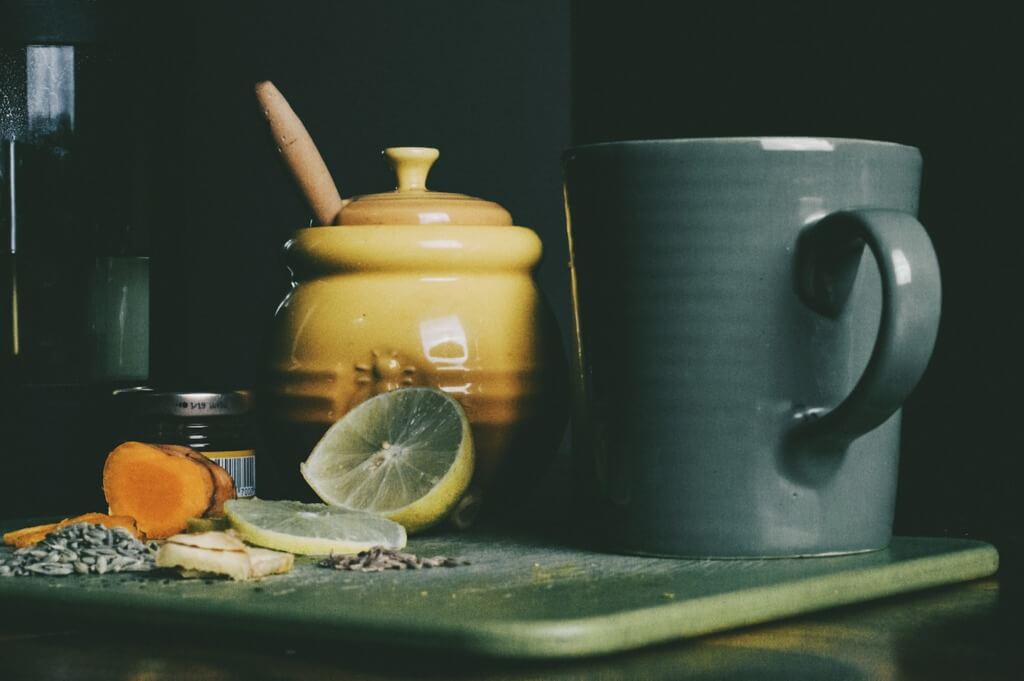 Ingredients:
Lemon juice, turmeric, ground or chopped ginger, cayenne pepper, and optional bourbon
Recipe:
This cozy drink is the perfect way to keep warm or unwind by the campfire. Add a few cups of water, one whole lemon's juice, turmeric powder, and ginger into a saucepan over the fire. You can use about a spoonful of both turmeric and ginger. 
A dash of cayenne pepper and honey are optional to add here, based on your sweet or spicy preferences. Bring this concoction to a simmer for about four minutes, then take it off the fire. Serve this cozy drink in your favorite camping mug and add a shot of bourbon if you would like!
Health Benefits
This drink is called a "tonic" because of the medicinal ingredients that are meant to increase your well-being. Turmeric is anti-inflammatory by nature, which will help those bones after a long day's mountain bike ride! 
Ginger is packed with antioxidants and even helps relieve stomach issues. Lemon has Vitamin C which will help to boost your immune system. Cayenne pepper is known to help reduce pain, which will also help recover from your daily nature activities. It quickly becomes clear why this drink can be considered a natural detox.
---
8. Healthy Hot Chocolate
Ingredients:
Raw cacao powder, almond milk, maple syrup, salt, and optional red wine
Recipe:
This wholesome dairy-free hot chocolate is much lower in sugar than the powdery mix that is typically used for camping trips. Although it's a healthier alternative, I can assure you that this cacao beverage will still satisfy a sweet tooth craving! 
Combine a spoonful of raw cacao powder, one cup of almond milk, a few squeezes of maple syrup, and a pinch of salt into a saucepan over high heat. Whisk together the ingredients to break up any clumps and stir until it's hot and smooth. Simple as that, this healthy hot chocolate is ready to serve!
Health Benefits
The cacao and natural sweeteners in this recipe are what makes it healthier than using the powdered mix that is loaded with sugar. Raw cacao has many natural health benefits, including an extremely high amount of calcium, iron, magnesium, and antioxidants. Raw cacao is known to help keep your heart, mind, and blood pressure healthy.
---
9. Chamomile-Honey Hot Toddy
Ingredients:
Water, chamomile tea, honey, lemon juice, and whiskey optional
Recipe:
This warm drink is ideal right before you are heading to bed. First, combine half of a lemon's juice, a spoonful of honey, and an optional shot of whiskey into a mug. Boil a cup or two of water in a pot over the fire, and then add it to your mug. Stir this mixture until the honey fully dissolves. 
Finally, add the chamomile tea bag into your mug and steep for about two minutes, depending on how strong you would like the tea. Taste your cozy drink and add more honey for sweetness and lemon for sour. Sleep tight!
Health Benefits
Hot Toddy's are light and hydrating while also having a handful of immune-boosting ingredients that we already know the health benefits of. The honey, lemon, and hot water mixture can even help you feel better if you have a cold. 
Honey is great for helping a sore throat feel better. Chamomile tea may improve sleep quality and digestive health. Whiskey in small amounts is even known to lower stress and your risk of heart diseases.
---
10. Mulled Campfire Wine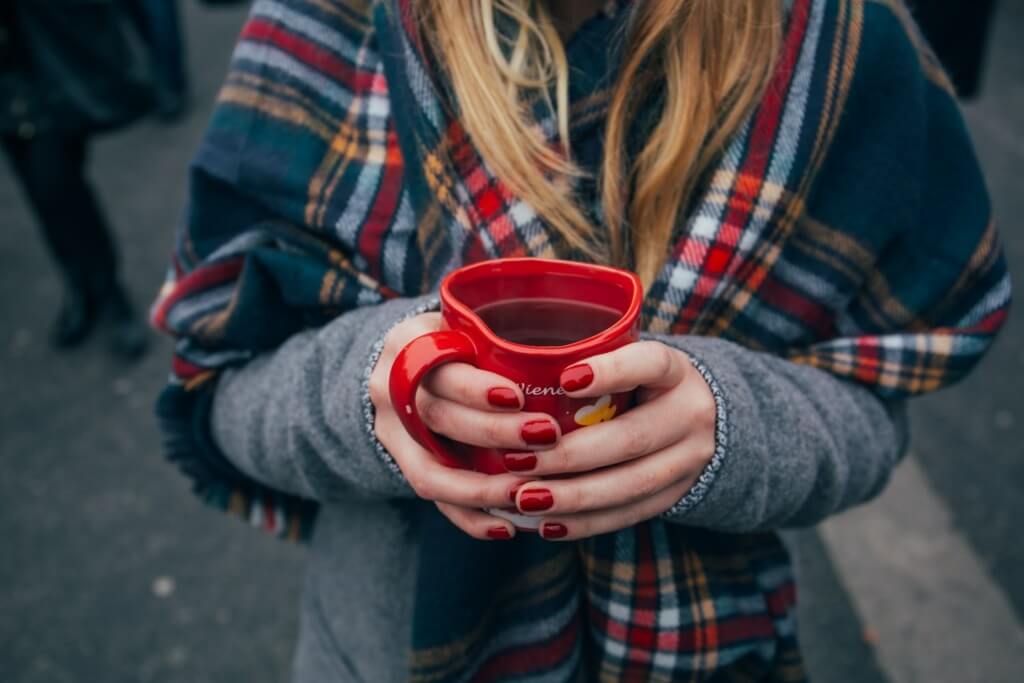 Ingredients:
Maple syrup, cinnamon sticks, ginger, cloves, oranges, and one bottle of red wine
Recipe:
If you want to heat and spice up your typical glass of red wine, this drink is the perfect one to make over the campfire! It's also great to make for a large group of people. Grab the largest pot that you have, and combine the wine, a few squeezes of maple syrup, and the spices. 
I like to use about three cinnamon sticks, a handful of sliced ginger, and about a spoonful of whole cloves. Next, squeeze the juice from two oranges into the wine mixture and add the peels into the pot if you would like. 
Simmer the liquid over the fire for about 30 minutes, making sure not to let the liquid boil. Enjoy this mulled campfire wine by the fire once it's cooled down a bit.
Health Benefits
The antioxidants in red wine can help reduce inflammation, as well as your risk of cardiovascular diseases such as heart attacks and strokes. These same antioxidants can even help boost your body's immunity and fight infections. 
In the long-run, red wine is also said to slow the aging process, and help protect against bone loss. Adding immune-supporting spices into this beverage also leads to increased health benefits. 
Cinnamon is anti-inflammatory and can reduce swelling which is helpful if you had a long day on your feet. Cloves are known to have antiviral and antioxidant properties, and can also improve your body's digestion.
About The Author
Howdy campers! My name is Melissa and I currently live at 6,900 feet in the gorgeous town of Flagstaff, Arizona. I absolutely love enjoying all that nature has to offer, while also fueling my body with healthy foods. 
In my spare time, I like to hike, play volleyball, snowboard, and watch my man race motorcycles. I am also passionate about taking care of the Earth we live on. Feel free to follow me @MelissaWagz on Instagram to check out my fun adventures. Cheers!