Hello and welcome to the first installment of Tuck's Travels about my Texas to Florida road trip.
Hopefully this is just the start of a summer full of adventure updates.
After a little more than a week on the road, I have one major takeaway:
No amount of mental preparation or physical acquisition of material possessions could have prepared me for this.
But I have seen some pretty cool places since I left Austin!
The Week's Route – Texas to Florida
It seems reasonable to begin with a quick screenshot of where the heck I've been driving over the last week-plus.
Check it out!

Campsite Chronicles – Texas to Florida Road Trip
In honor of the main resource I am using to find campsites during my travels, I'll be reviewing all of these locations on The Dyrt App as I go.
If you want to check out a free 7-day trial of the app for your next road trip, please use this custom link!
Here's a quick chronicle of the campsites I've stayed in since leaving Austin:
Surprisingly, I happened to overhear quite a few arguments during my nights at Fontainebleau and Shepard. I guess that is somewhat the territory that comes with developed campgrounds versus true boondocking.
Nevertheless, as a solo traveler, I must admit that I kind of like having neighbors. You never know whom you are going to meet. And the folks I met at Fontainebleau and Shepard provided me with some cool recommendations for stops here in Florida.
Videos From The Week
To be quite honest, I am still getting comfortable behind the camera. So I can't guarantee that I will have new videos for you to check out every week.
But here are a few I was able to capture and upload last week:
Top Pics From The Week
I thought it would be cool to challenge myself to pick just five photos from the week that stood out to me. So here are my choices:
---
---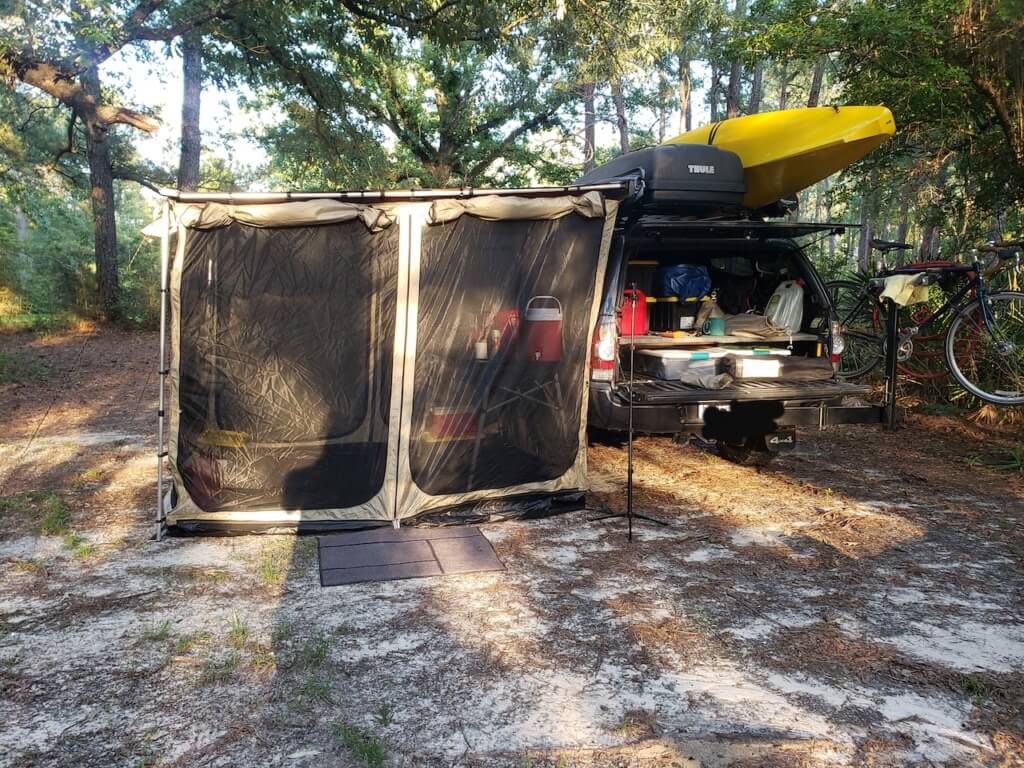 ---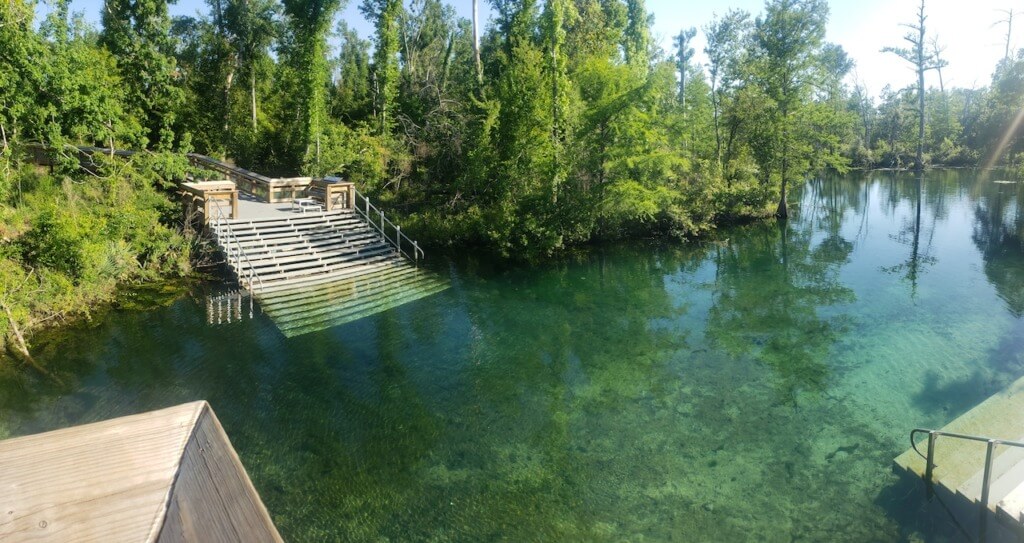 ---

---
Gear, Camping, and Truck Setup Insights From The Week
So far, I have felt pretty darn happy with my truck setup. It is, however, always a work in progress and there is a lingering thought in the back of my mind that it would be really nice to tow one of those smaller popup or teardrop trailers behind my truck.
If you know of anyone selling one on the cheap, I'd be at least intrigued by kicking the tires (ha!) on it!
That said, I have been doing my best to take down daily bullet points in my journal.
So here are the points I've mentioned a few times in my journal regarding my gear/truck setup choices:
Kayak hatch covers don't always stay closed at 60mph (lost nice locking kayak straps Day 2)
Camper vans look nice
Get to camp earlier (so I can cook delicious, healthy camping meals!)
Always consider awning placement when choosing campsites.
Need to plan weekend campsites further in advance as we get into summer.
Personal Insights From The Week
Immediately upon leaving Texas, I felt a profound sense of loneliness. Most of all, I've realized that I am desperately out of touch with my intuition (my wise inner guide).
I have been failing to practice harnessing the energy of the world to keep my vibrations high. And, thus, I am highly susceptible to the energy of others (positive and negative energy).
Recent events, and deciding to re-listen to The Celestine Prophecy on audiobook, have brought this realization to light. As will most likely always be the case, I am a work in progress.
In many ways, I think I am just barely scratching the surface in terms of what this trip will mean for my personal development. But I feel compelled to share some of that with you in this form (because, quite honestly, it is easier for me than speaking into a camera).
So, here are some of the personal ideas I've written in my journal over the past week:
Trust yourself and have fun.
Embrace the solitude.
Be more decisive.
Earlier starts = more relaxed afternoons (and more time for napping in a hammock).
Live in love and don't be afraid of losing love.
What's Next After This Texas to Florida Road Trip?
I will be in Florida for the next week or two before turning to head north. Some of my planned stops include Everglades National Park, the Keys, and Fort Lauderdale. There will undoubtedly be a few unplanned stops in there as well.
From Florida, I will be making my way through Georgia and up into Tennessee to spend some quality time with family. If you have any recommendations for free dispersed camping on Florida's east coast or anywhere in Georgia, drop a comment below or shoot an email to tucker@thebackpackguide.com.
Final Thoughts
What do you guys think about this update? What do you want to know more about?
Do you want to see more stuff about my setup and the gear I'm using?
Would you be more interested in local flora and fauna for all the places I'm stopping?
I would love to get your feedback so that I can actively seek out cool facts about all the places I'm traveling this summer or make sure I set aside time to give you insights into my setup and how I'm keeping myself comfortable on the road.
Please don't be shy about leaving a comment to let me know what you'd like to learn more about. There are seriously no wrong answers!
Thank you guys for taking a few minutes out of your busy lives to check out this update.
I'll see you in the next one!
Yours In The Spirit of Adventure,
Tuck