Let's face it, sometimes we overlook quality and settle for sustenance and ease when camping. Even so, no one ever said that camping food should be bland and ordinary. After many camping trips, I have compiled a list of healthy camping food recipes that are not only tasty but also easy to make! 
Take a second to think back to your most recent car camping trip. What types of meals were you eating? Were they healthy? Did they even taste good?
These recipes can be prepared and enjoyed by the campfire, using a portable camp stove, or even when you're just camping in your backyard! But there's arguably nothing better than enjoying a quality, camp-cooked meal in a secluded natural setting. 
When you make dinner on an open fire and in the fresh mountain air, you'll already have a camping recipe for mouthwatering meals. They somehow seem to simply taste better there. Let's also ensure they are nutritious and hardy!
Prepping And Packing For These Healthy Camping Food Recipes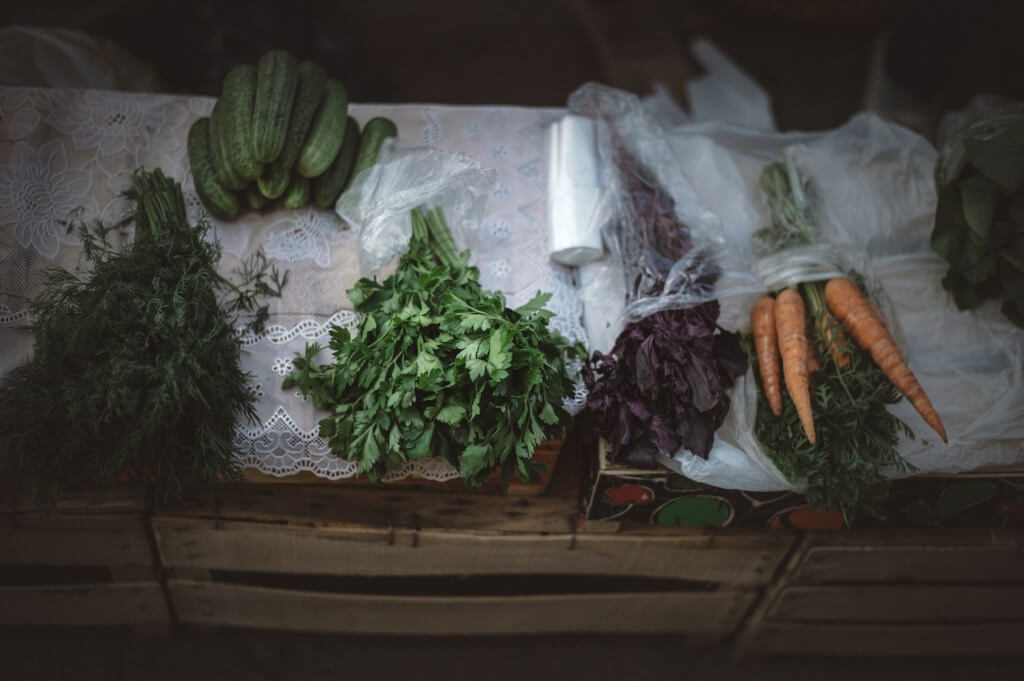 The simplicity of camping makes us realize how little we need to live comfortably. Once you fill your car with your essential outdoor gear, you should have everything you'll need for the entirety of your adventure. That is why the packing process is extremely important. 
Before you leave for your trip, make sure to pack some household items that you will need for camp-style cooking. Grab your favorite spices (if you need spice recommendations, check out this article), olive oil, and healthy sauces! Items such as aluminum foil, skewers, napkins, and reusable plates and utensils are also a must. 
You will need a grill for the campsite if they do not provide one, as well as a large bowl, pots, pans, and a dutch oven to use over the fire. Do not forget a high-quality cooler that will keep your nutritious groceries cold for days, and tons of ice, ice baby! 
When you go grocery shopping for your trip, think smart with your purchases. Buy the ingredients that you need for your healthy meals and nothing you do not.
It is best to keep things simple when camping since you do not have the same space and equipment as you normally would in a kitchen. There are a handful of ingredients in these meals that can be used in more than one recipe. 
You can also easily replace meat with a meatless option if you would prefer. To make things a little easier for a camping scenario, these recipes generally do not require much measuring or exact timeframes. Most of the meals will be made with good judgment, experience, and a little love. 
Once you have these yummy and healthy camping food recipes in your back pocket, it is time to get out into the wild and put them to use! If you are in a wilderness area that has bear neighbors, please make sure to leave no trace and put all your food in the bear box. 
Finally, it is a wonderful practice to "waste not, want not" folks. Be mindful to reuse and eat all of your leftovers, and not let any food go to waste. Bon appetit.
---
Reasons To Eat Healthy Camping Food Recipes
Fuel your body for activities!
The recipes in this article are meant to fuel your body with nutritious foods, which will provide you with the tools you need for being active. The only way that you will be able to hike to the very top of that mountain, or swim across that serine lake, is to have the energy to do so! 
Camping meals should be high in protein and carbohydrates to ensure optimal performance for activities such as hiking, swimming, and mountain biking while you are on your camping trip. Eating the right foods will give you more energy to explore the great outdoors! 
Health foods also improve brain function and even promote a better night's sleep, which will aid in your body's optimal performance. It is also super important to snack healthy between meals when active.
Well-balanced diets are beneficial for your body!
Camping meals should include most, if not all, of the five major food groups. The U.S. Department of Agriculture (USDA) created a helpful tool called MyPlate that helps you with this goal. The colorful plate diagram encourages people to eat meals with at least one item from each of the following sections: proteins, dairy, grain, fruit, and vegetables. 
Whichever food group does not make it to the main meal can easily be supplemented as a snack throughout the day, or even as a healthy dessert. A well-balanced diet helps provide essential vitamins and nutrients for your body to stay healthy and avoid illnesses. 
It is also quite beneficial for your health to consume fewer foods that are high in sodium, added sugars, and saturated fats. The use of MyPlate simplifies the process of making dinner so you can make sure that your meal is well-balanced.
Eating healthy food has long-term benefits!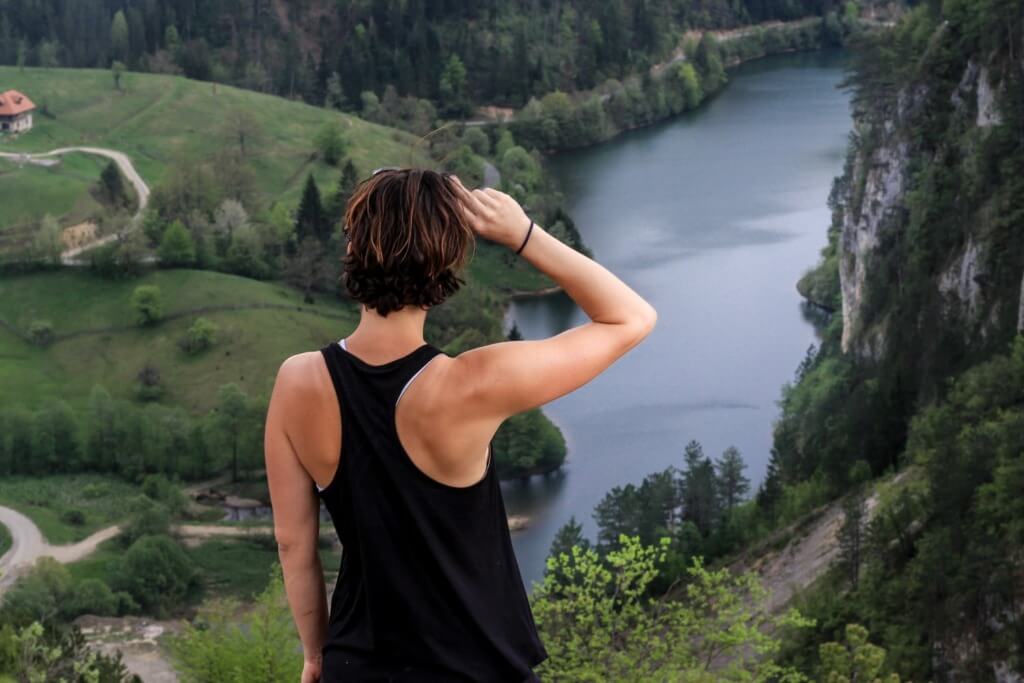 There is no doubt that one's well-being is increased with a healthy diet. The risk of chronic diseases, like cancer, stroke, and heart attacks, is reduced when people are more mindful of their eating habits. Diabetes can even be better managed simply by incorporating a more nutritious diet. 
Also, as we know, healthy weight should be maintained for proper body function, and eating healthy helps you do just that. In the long-term, eating the wholesome food options will promote strong bones and teeth, and even delay the signs of aging. 
Healthy eating even positively affects your mood, and improves memory and gut health! Although sometimes it is not the easiest or cheapest option, you can see that eating better will help improve your lifestyle in the long-run. You will even notice that your focus becomes sharper in the process!
---
10 Healthy Camping Food Recipes
Meals on the grill or over the open wood-burning fire do not need to be complex in order for them to taste good and be healthy. The camping recipes listed here are simple, using only a few ingredients, and packing a punch of flavor! 
I have also made sure to use most of the ingredients in multiple recipes since your space is likely limited for a camping trip. A few of the sides, like rice and quinoa, are easiest to prepare at home before you leave. 
First thing's first, put some wood on that fire or start up the grill so we can get to cooking a healthy and hardy camping meal.
Disclaimer: The photos in this section aren't perfect representations of the associated recipe. 
1. Banana Protein Pancakes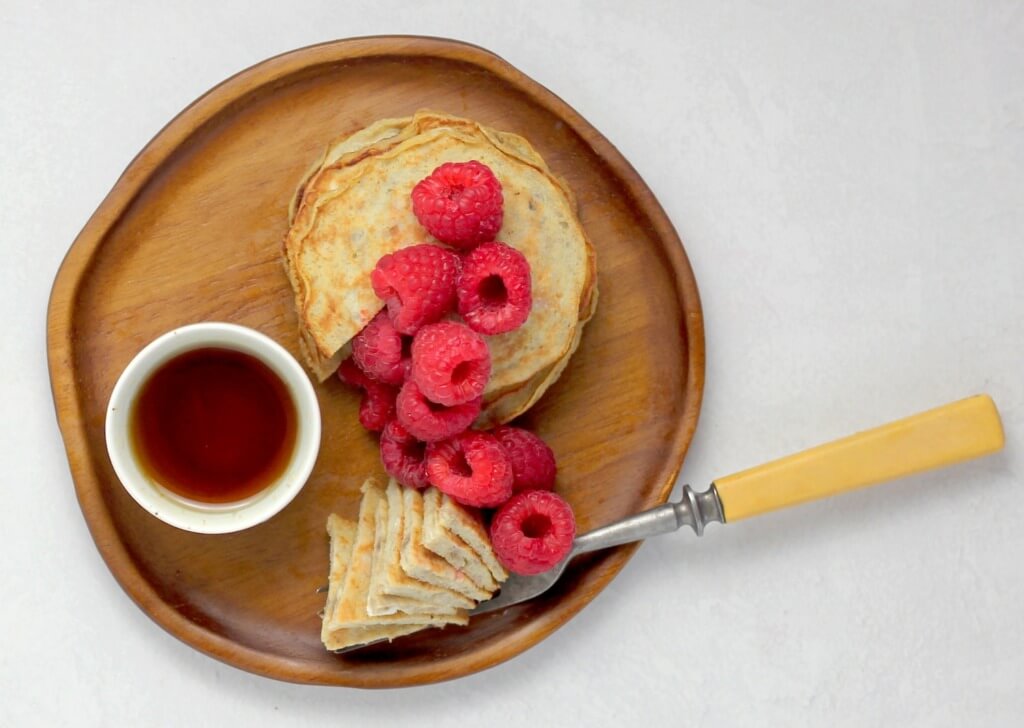 Ingredients: 
Protein powder, eggs, water, almond milk, blueberries, dark chocolate chips, and baking powder
Recipe: 
This sweet breakfast meal is packed with protein to fuel your day's adventure, and they are also super tasty! Blend together all the ingredients, with only about a teaspoon of baking powder, until you reach a pancake batter consistency. 
Bananas also work well for a fruit option. Add wet or dry ingredients as necessary to reach that perfect pancake texture. Heat up your olive oil in a pan either on the grill or the fire, and cook the batter into pancakes! 
Add some honey on the top when they are done. These pancakes store very well, so you can certainly make extra and eat them as a snack or dessert later, just make sure to keep them cold on ice.
2. Veggie Frittata
Ingredients: 
Olive oil, eggs, vegetables of your choice, cheese, salt and pepper, garlic powder
Recipe: 
Good morning campers! Let's start the day with a healthy frittata sure to keep you full and give you energy well into the early afternoon. Blend together your eggs and vegetables. Asparagus, bell peppers, mushrooms, and olives, are great for this recipe. 
Sautee them a bit beforehand if you have time. Add cheese and spices, then let the mixture cook over the open fire until it turns into a perfect camp frittata! Let it cool for a little and add some hot sauce.
3. Rainbow Trout Tacos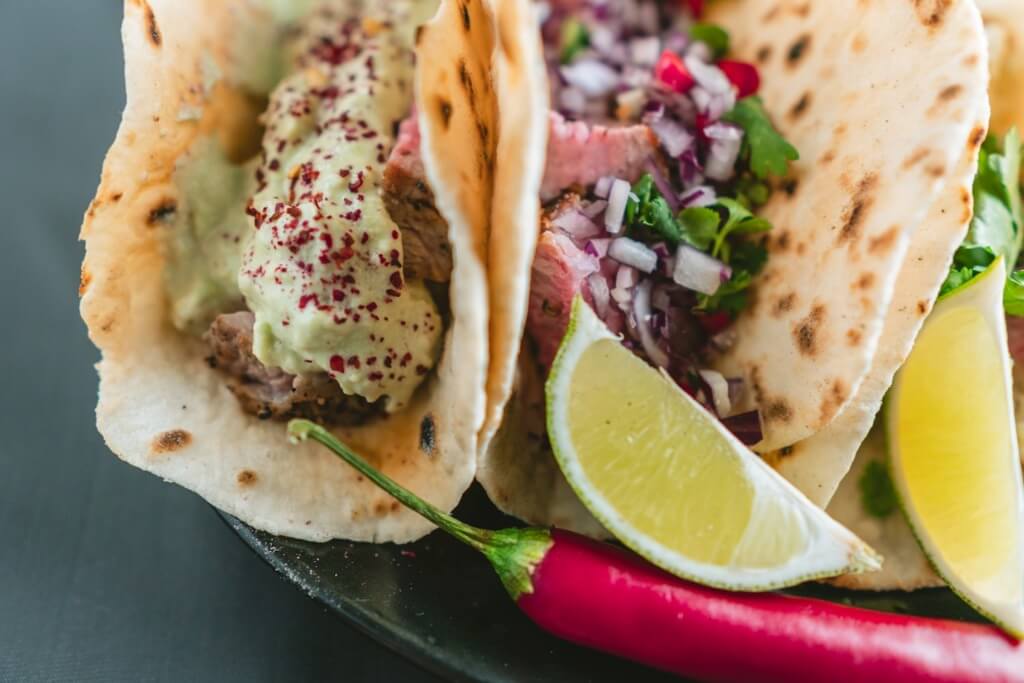 Ingredients: 
Fresh caught or store-bought rainbow trout (you can probably guess which we'd prefer!), taco shells, wild rice, black beans, avocado, bell peppers, cheese, lemon, garlic, rosemary, thyme, salt and pepper
Recipe: 
Let's hope you were lucky while fishing at the river today, and you caught a huge trout to cook for dinner! Grill the trout to your liking after seasoning it with your favorite spices and rubbing on some olive oil and garlic. 
Heat and stuff your taco shells with the fish, rice, black beans, avocado, bell peppers, and cheese. Squeeze some lemon and hot sauce onto the top.
4. Plant-Based Burgers
Ingredients: 
Plant-based burger, spinach, bread, zucchini, quinoa, avocado, tomatoes
Recipe: 
This is a simple, but to the point recipe for a well-rounded and wholesome meal. Start by grilling the plant-based burgers to your liking. You can use turkey burgers instead if you would prefer. Cut the zucchini long-ways into strips, add some olive oil, and grill them to perfection. 
Make an open face sandwich with the burger, complete with one slice of bread, cheese, and a layer of spinach. Add diced avocado and tomatoes to your quinoa for texture!
5. Bear or Bison Stew
Ingredients: 
Bear or bison meat, flour, olive oil, mushrooms, carrots, potatoes, salt and pepper, your favorite spices, garlic
Recipe: 
This cozy dinner will take a bit longer than the others, so make sure to set aside at least two hours for cook time. First, you will coat the meat in flour and spices. Heat up olive oil in your lidded pot or dutch oven, and begin cooking the bear or bison meat. 
Once the meat is fully cooked, fill your dutch oven with about three quarts of water. Add in the chopped vegetables and garlic. Let the stew cook for two to three hours, and then enjoy it! Add water as needed.
6. Veggie Stir-Fry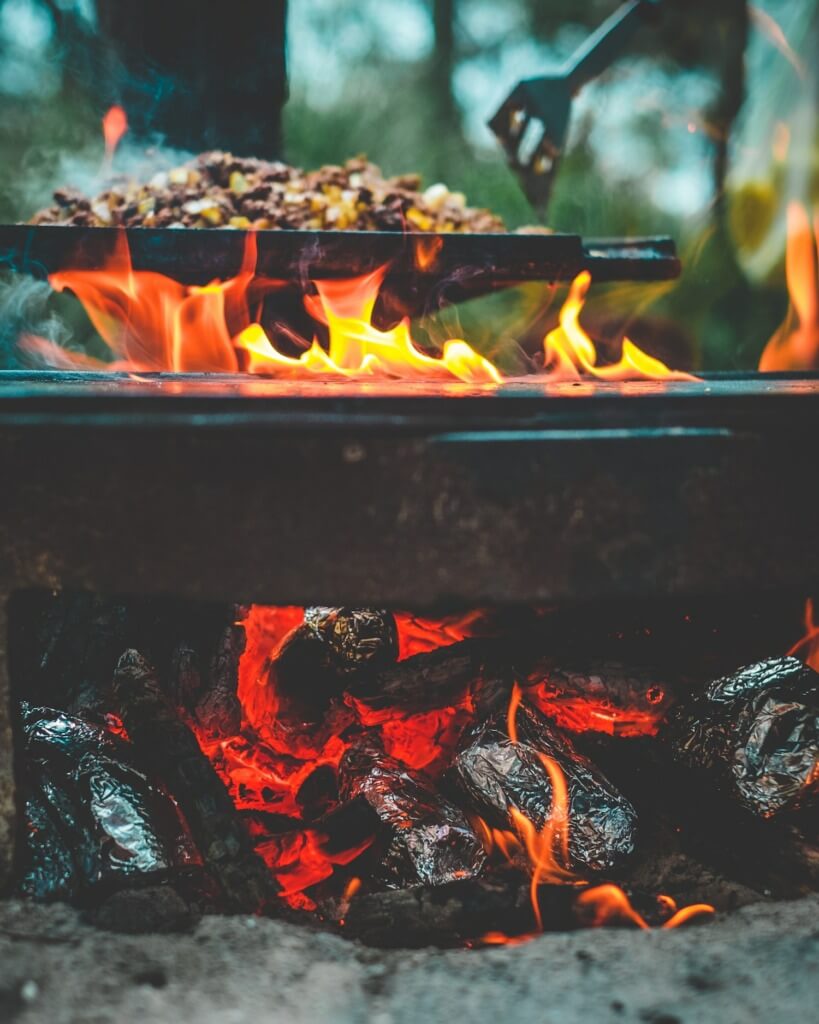 Ingredients: 
Olive oil, stir-fry sauce, baby corn, Brussels sprouts, carrots, mushrooms, salt and pepper, garlic, baked tofu, brown rice
Recipe: 
For this recipe, I have chosen vegetables that are very high in protein. The tofu also serves as another source of protein. First, you will heat up the olive oil in a pan, and cook the diced tofu until it is golden. 
Add the veggies and cook them until they are crisp-tender. Next, pour your stir-fry sauce over the vegetables, and cook for a few minutes until it thickens to your liking. Make sure to enjoy this meal on top of a pile of brown rice to get efficient grain intake!
7. Camp Skewers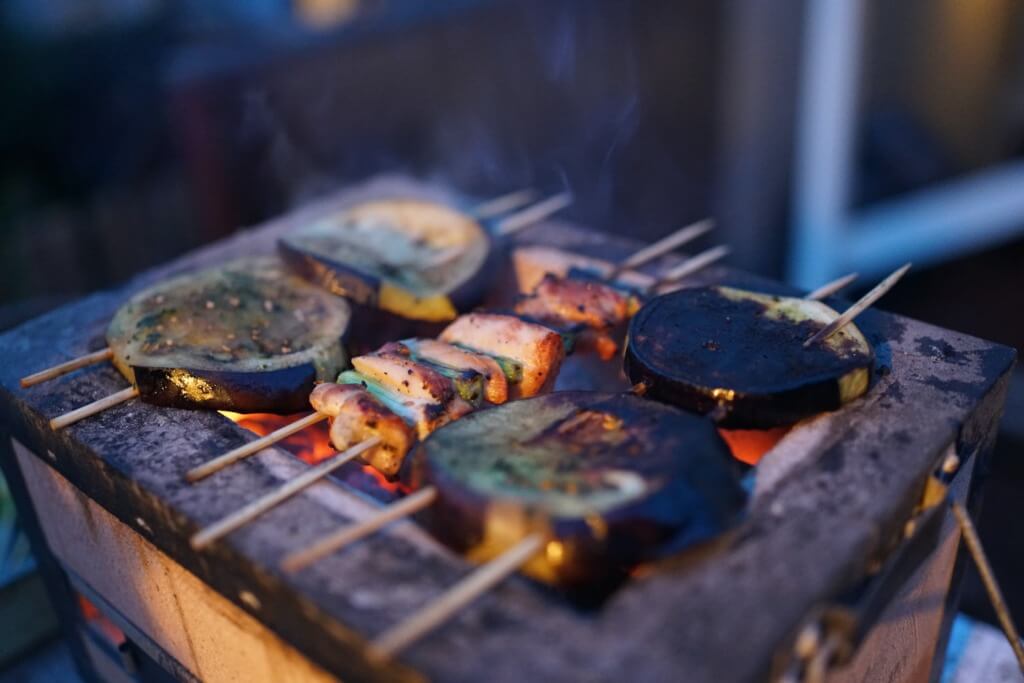 Ingredients: 
A protein of choice, zucchini, bell peppers, mushrooms, onions, potatoes, glaze
Recipe: 
These are simple, healthy, and yummy! Make sure to soak wooden skewers in water before using so they do not catch fire. You can start by choosing a healthy protein such as chicken, shrimp, or tofu. 
Next, you will marinate all your ingredients in the glaze. You can whip up a glaze using oil, vinegar, garlic, soy sauce, brown mustard, salt, and pepper. Healthy salad dressings also work great. 
Once everything is done soaking, stick the protein and vegetables on the skewers however you would like. Grill them for 10 to 15 minutes until the meat is fully cooked. Make sure to flip the skewers once or twice, and add more glaze once finished. Yum!
8. Stuffed Grilled Avocados
Ingredients: 
Olive oil, avocados, shrimp, bell peppers, garlic
Recipe: 
I saved the best for last here. This recipe will have your mouth watering from start to finish! Pit and halve the avocados, then coat the inside of them with a hefty amount of olive oil. Season your shrimp with the same glaze you used for the skewers, such as a homemade marinade or salad dressing. 
Grill the avocados face-down, and the shrimp until they are perfectly cooked. Saute chopped bell peppers, corn, and garlic on the side for stuffing. Once everything has heat and grill marks, stuff the avocados with the veggies and shrimp. Enjoy!
---
Two Healthy Camping Dessert Recipes
Keeping in mind that we are eating healthy on this camping trip, there will be no traditional S' mores or butter-drenched popcorn on the list. Eating an excessive amount of added sugar isn't the best choice for our bodies when camping anyway.
Instead, the camping desserts below will either fulfill your daily fruit food group or add some protein to your meal. They also make wonderful snacks! The nutrients from these desserts are certainly much more beneficial for your body than a normal sugar-filled camping dessert. Plus, there will be no sugar crash an hour or two after eating them!
1. Healthy S'mores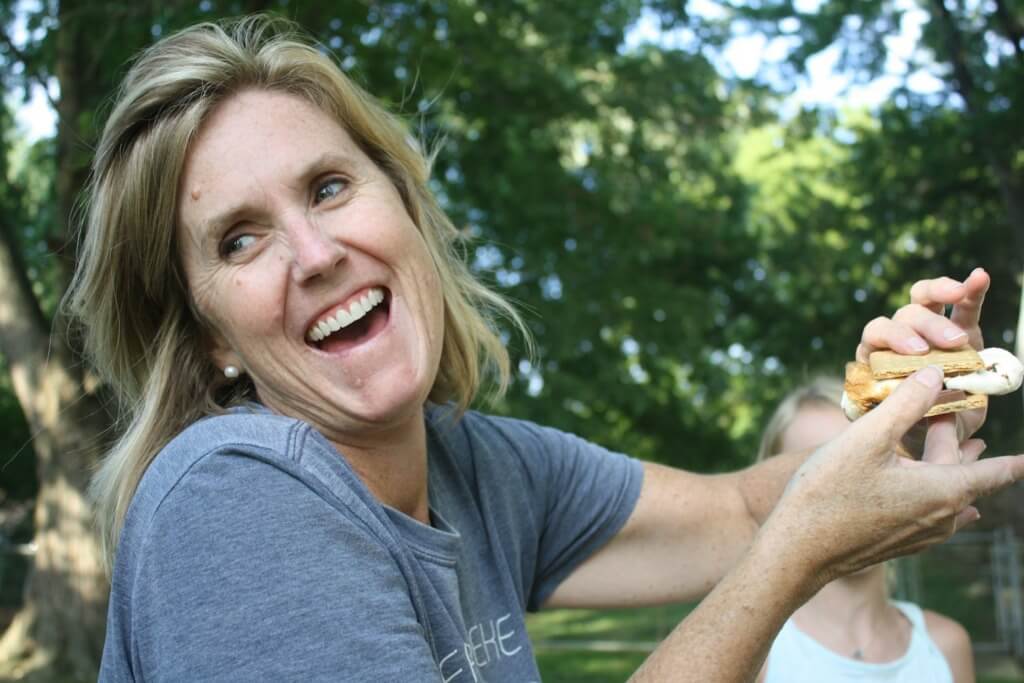 Ingredients: 
Graham cracker (gluten-free if you prefer!), peanuts, peanut butter, dark chocolate chips, apple, honey
Recipe: 
Here we can turn a classic but not so healthy camping dessert into a wholesome, protein-packed one. Break apart the graham crackers and spread a decent amount of peanut butter on them. 
Then thinly slice the apple and lay pieces of it on top. Add peanuts, dark chocolate chips, and honey to your liking and enjoy! These are perfect for a snack as well.
2. Energy Bites
Ingredients: 
peanut butter, oats, honey, dark chocolate chips, ground flaxseed, olive oil
Recipe: 
Talk about packing a protein punch into a camping dessert recipe! Combine all these ingredients into a bowl, and mix them together. The texture should be similar to that of cookie dough. 
Chill the batter in the cooler for 1-2 hours, then roll the mixture into balls and enjoy. Keep them cold for more enjoyment later. You can make these ahead of time too if that is easier.
About The Author
Howdy campers! My name is Melissa and I currently live at 6,900 feet in the gorgeous town of Flagstaff, Arizona. I absolutely love enjoying all that nature has to offer, while also fueling my body with healthy foods. 
In my spare time, I like to hike, play volleyball, snowboard, and watch my man race motorcycles. I am also passionate about taking care of the Earth we live on. Feel free to follow me @MelissaWagz on Instagram to check out my fun adventures. Cheers!