Full time truck camping around the entire US has been a dream of mine since I started freelance writing in grad school back in 2014. During the summer of 2020, my stars finally aligned and it was time to go truck camping as a full-time writer. 
Preparing for Full Time Truck Camping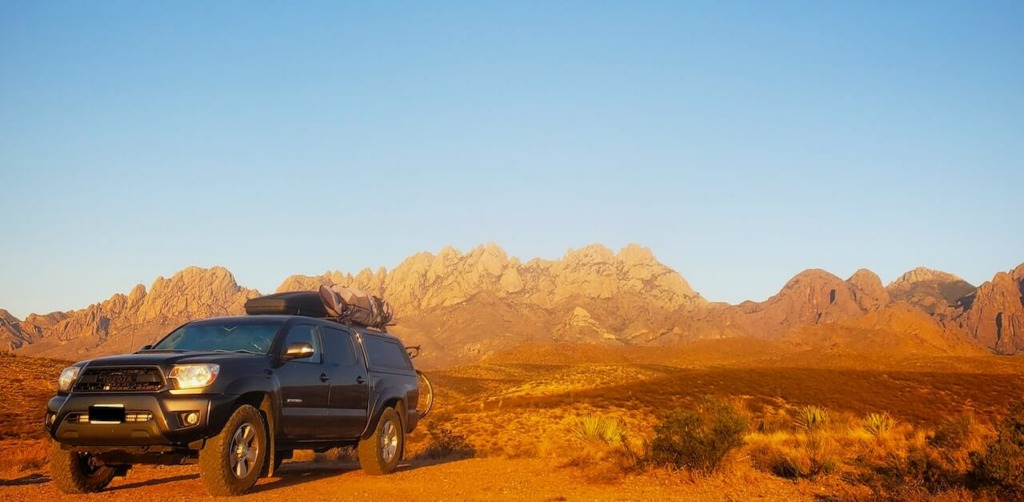 I'd been on many cross-country road trips with friends, family, partners, and even my then-85-year-old grandfather. But stepping into the unknown–on my own–felt scary. I'd played a supporting role before, but this was truly accepting the lead in my own story. 
As a long-time backpacker, it honestly took some time for me to adjust to all the extra space in my truck. As a result, I definitely set out with more than I needed.   
I bought my Tacoma in the spring and the previous owner had already installed a camper shell and built a sleeping platform in the bed. I added roof racks, a Thule Cargo Carrier, and a swinging Thule bike rack. In October, I headed south to get a closer look at the eastern Sierras.
During my winter stop in central Texas, I added a seven-gallon Yakima RoadShower, an ARB Awning (2000mm x 2500mm) with the accompanying screen room, a Wilderness Systems Tsunami 125 kayak, and a Milwaukee portable Jobsite fan and wet/dry vacuum to my truck throughout that winter in Austin.
Here's a quick overview of my setup after I left Texas: 
Full disclosure: I spent the majority of my nights in a tent (with my hammock tarp strung over top) and I needed a brief pit-stop in Pennsylvania to send two large boxes of unnecessary gear home. After that, I set up a semi-permanent bed in the back of my truck for rainy evenings. 
Underneath the sleeping platform, I stored a camping table, chair, camp tools (aka hatchet), and three large bins for clothing, footwear, and kitchen accessories. In Tennessee, I added a 45-quart RTIC Cooler that dramatically improved my perishable food storage capacity.
Trip Overview
Setting out, I had four main goals: visit family, figure out how to live and work on the road, see new parts of the country, and get comfortable being uncomfortable. In a year, I circumnavigated the country on the route you see above.
I spent a month in the fall helping my cousin with home renovations in San Diego, the winter working part-time at my brother's mechanic shop in South Austin (and yes, got caught in that 'Big Texas Freeze' of 2021), and another two weeks assisting with more home renovations at a different cousin's new property in Tennessee.  
For the remainder of the time, I traveled solo (aside from the friends I met along the way). Here are a few quick statistics from the entire trip: 
Total Mileage Driven: ~19,200 miles
Average Fuel Economy: ~16.8 mpg
National Parks Visited: 19
Tire Blowouts, Breakdowns, or Mechanical Issues: 0
---
For more detailed recaps of my travels broken down by region, check out the blogs in my Tuck's Travels collection.
How I Funded The Trip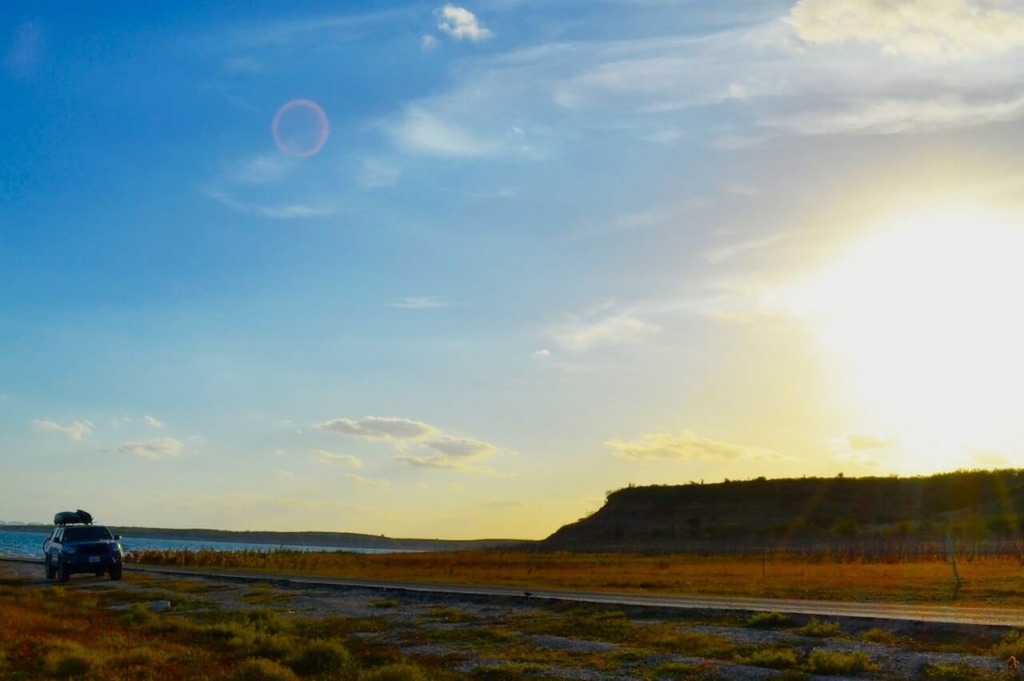 I didn't save up for this trip in advance and I didn't have a sudden windfall of cash that allowed me to fund it. I worked as I went–in coffee shops, libraries, breweries, and, occasionally, just on my hotspot at campgrounds. 
Libraries wound up being my favorite place to work because they're quiet…and free! I first realized this was a decent idea on a rainy day in Maine. Some of my favorite public libraries were in Marquette, Michigan, Missoula, Montana, and Bend, Oregon.
I work with a variety of clients, but their blogs are mainly in the hiking, kayaking, and RV living spaces. I also did my best to update this blog with regular content and post travel videos on my YouTube channel. 
It took me nearly seven years to get to a place where I felt comfortable enough with the consistency of my freelance income to attempt this trip. But I'm far from the only one out there working remotely while traveling the country. 
The Challenges of Full Time Truck Camping as a Freelance Writer
I found writing while I was in grad school. It was the perfect gig because I could work neatly around my class schedule and, by graduation day, I was comfortable enough to make it my full-time income source.
One of the hard parts about freelance writing is the need to constantly market yourself and look for new jobs. That requires unpaid time on task, which was hard to commit to when I was constantly wanting to explore new places. 
In many cases, the last place I wanted to go upon arriving in a new town was right to the library. The need to keep gas in the tank and money in my pocket for adventures was a reality of this journey. 
Finding that balance between working enough to fund my wanderlust and actually embracing that wanderlust was the biggest challenge of truck camping as a freelance writer. 
Fortunately, I had put in a lot of work during the summer of 2020 to bring consistency to my writing schedule. I had three regular clients that required weekly content and three others that required monthly assignments. 
That was enough to keep me rocking and rolling (literally) along my way. If you're interested in learning more about freelance writing, I'd be happy to help in any way that I can. Feel free to email me at tucker@thebackpackguide.com with your questions!
What Was a Typical Week Like?
At first, I was driving every day. I'd wake up, find a place to work for a few hours, and then drive to find a new campsite for the evening. Two weeks later, I felt burned out on the while daily driving thing. 
So, I switched things up. I found campsites closer to urban locations for the week so I could work more easily and explore the surrounding area. I would then adventure and relocate from Friday through Sunday.
For full-time truck camping, there's value in establishing a regular basecamp. You get to spend more time in each location and learn what the community is like while you're there. You can also alleviate some of the daily stress of finding your next campsite while being more productive with work.
Finally, staying in campsites for a minimum of two or three nights each week creates opportunities to meet fellow campers. This comes with recommendations for places to see and things to do that you wouldn't otherwise stumble upon. 
Did Everything Go According to Plan?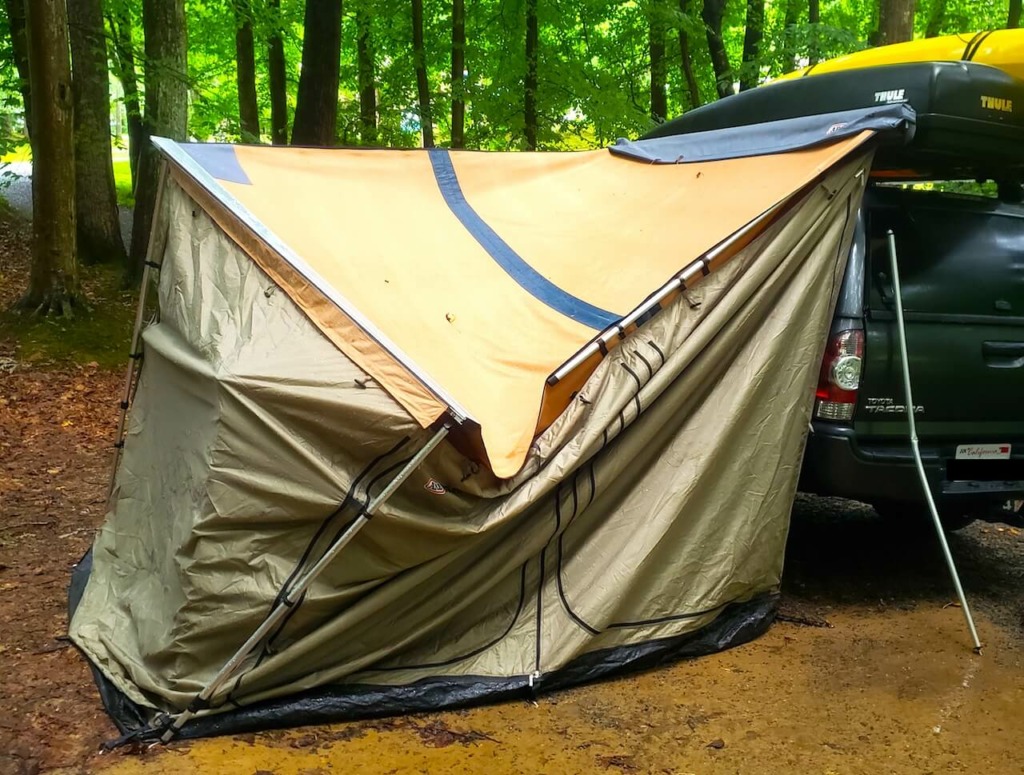 As you'd imagine, my timeline for this trip was extremely optimistic at the outset. Initially, I envisioned returning to my hometown by mid-August to enjoy my favorite part of summer in the Sierras. What is it they say about best-laid plans? 
If I'm truly being honest, one of my primary goals for this adventure was to get comfortable without a firm plan. Resources like The Dyrt, FreeCampsites.net, and iOverlander were immensely helpful when seeking campsites on the fly. 
I stayed at more private campgrounds than I originally intended because they offered more socialization than boondocking spots. I found that certain states offer a larger selection of free, off-grid campsites than others.
Dispersed camping was extremely limited throughout much of the Northeast and even in several states in the southern part of the country, for example.
I also slowed down or sped up my plan according to people I met and invitations I received along the way. These deviations created some of the best and most lasting memories from my adventure, such as meeting up with an old friend and a new friend to hike in upstate New York.  
What Was The Most Unexpected Surprise?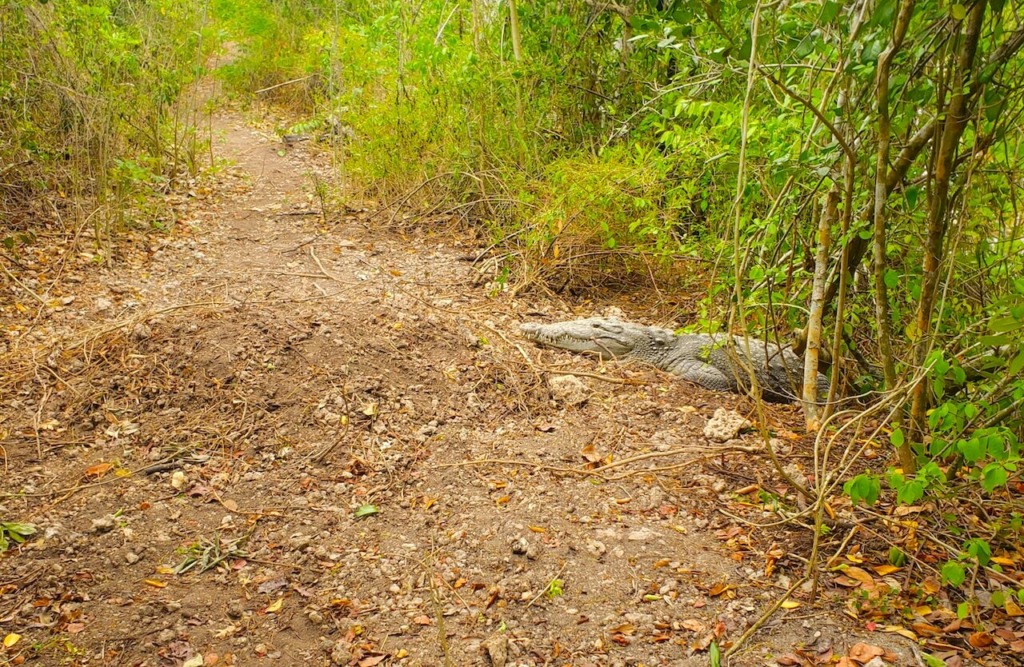 It's a toss-up between nearly being eaten by a crocodile in the Everglades and rescuing a dog off the coast of Port Austin in Michigan! Both were exhilarating in their own right–one because I felt the bleak reality of mortality and the other because I felt like a real-life hero. 
You can check out the links to the full blogs above to learn more about these unexpected surprises, but I will say that embracing surprise and the unknown was a big part of why I set out on this trip. 
I would categorize myself as a planner. Other than having the goal of seeing more of the country, I didn't have an exact route I was hoping to follow before I set out. Not going in with a plan left the door open for surprise and, as a result, wonder. 
There are obviously clear benefits to planning your road trip. But I think we all need spontaneous adventures every now and then! 
What Did I Learn Full Time Truck Camping?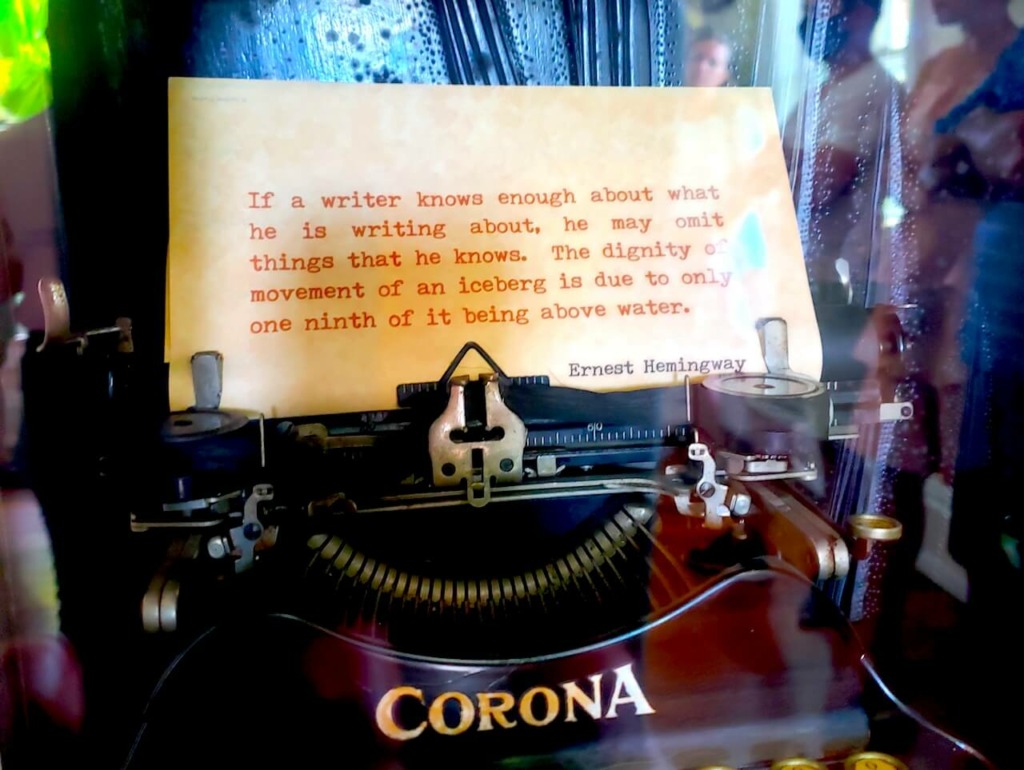 I kept a journal to record insights on my camping setup, campground choices, life lessons, and anything else I felt worthy of recording. Here are 10 insights from full-time truck camping as a freelance writer: 
1. Kayak hatch covers don't always stay closed at 65 mph. Lost a good set of locking tie-downs to learn that lesson. 
2. It never hurts to ask the camp host about changing sites if you're not happy with your initial selection.
3. Staying longer in locations provides more opportunities to make personal connections.
4. Earlier starts = more relaxed afternoons.
5. Minimal phone service provides a forced disconnect and it's easy to forget how healthy those disconnects can be.
6. It's okay to take a chill day. You don't have to pack as many things as possible into each day.
7. Don't leave the ARB Awning and ARB Screen Room up overnight (especially if there is any chance of wind or rain). Or at least make sure it is angled to shed water properly!
8. Booking a campsite for a minimum of two nights every few weeks is essential for cleaning, purging, and re-organizing my truck.
9. Don't waste opportunities to be helpful to strangers…you never know what you might receive in return.
10. Always pack a backup pair of hiking socks…even for a day hike.
---
Final Thoughts on Full Time Truck Camping as a Freelance Writer
My final thought on this journey is that it was much lonelier than I ever imagined. I set out craving alone time and freedom to go wherever and do whatever with minimal external influence. 
Quickly, I realized I'm much more extroverted than I thought. Much of my energy and excitement for life comes from interactions with others. Still, it wouldn't have been the same experience if I hadn't taken the chance to go alone. 
I learned about finding community while traveling and taking chances on speaking with strangers. I can't count how many recommendations from locals or fellow campers led me to unexpected and amazing experiences.
If you're considering embarking on a solo road trip or camping adventure, here's my final piece of advice: 
Yes, planning and preparation are essential. But, eventually, you need to rip off the Band-aid and set your tires rolling down the road. Once you build some momentum, there's no telling where you may be swept off to!