RTIC Outdoors has been on my radar for quite some time as the closest competitor to YETI coolers. Their coolers are more affordable, but I wondered whether the RTIC 45 quart hard cooler would really perform when put to the test. 
When I first set out on this road trip, I was storing perishables in an older soft-side Kelty cooler. It required refilling ice daily (sometimes multiple times). So you can imagine how excited I was when I was able to add the RTIC 45 quart hard cooler to my setup.
After about two months of testing, here are my findings. 
RTIC 45 Quart Hard Cooler Specs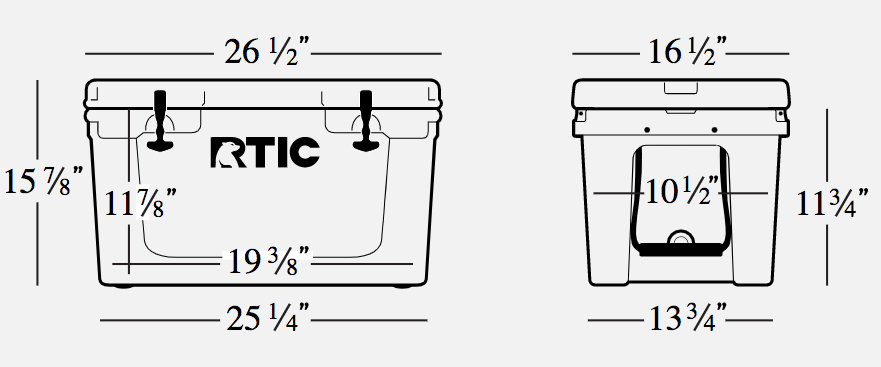 Let's begin with some basic specs. So…you can see the dimensions above.
Here's the rest: 
Size: 45 quarts or 11.25 gallons (duh, it's in the title)
Capacity: Up to 36 cans (you pick the beverage, but these are 12-ouncers)

Capacity will change for Tall Boys, Crowlers, and other sorts of beverage-carrying devices. 

Ice Box Ability: Holds up to 40 pounds of ice
Weight: 29 pounds
---
RTIC 45 Quart Hard Cooler Features
Specs are great for making sure it will fit in your car and you won't break your back lifting it. But features are more important for how this cooler will actually perform. 
Here's a quick rundown: 
Heavy-Duty Rope Handles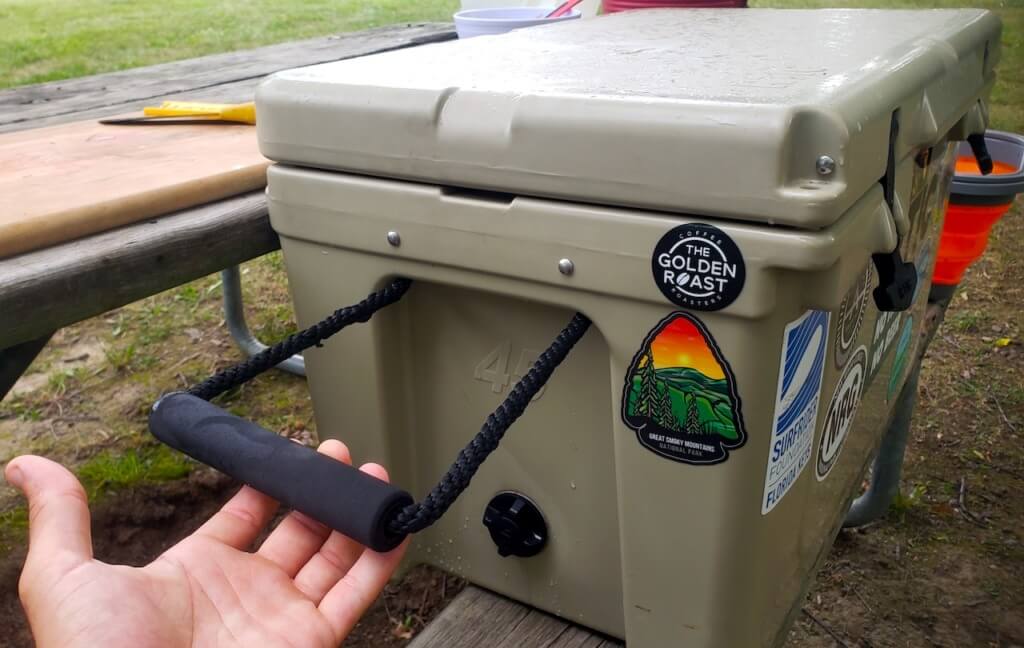 I love these when the cooler is particularly loaded down and I don't want to bend down quite so far to pick it up. They have also been quite useful when carrying the cooler over a longer distance with a helper. 
Molded Side Handles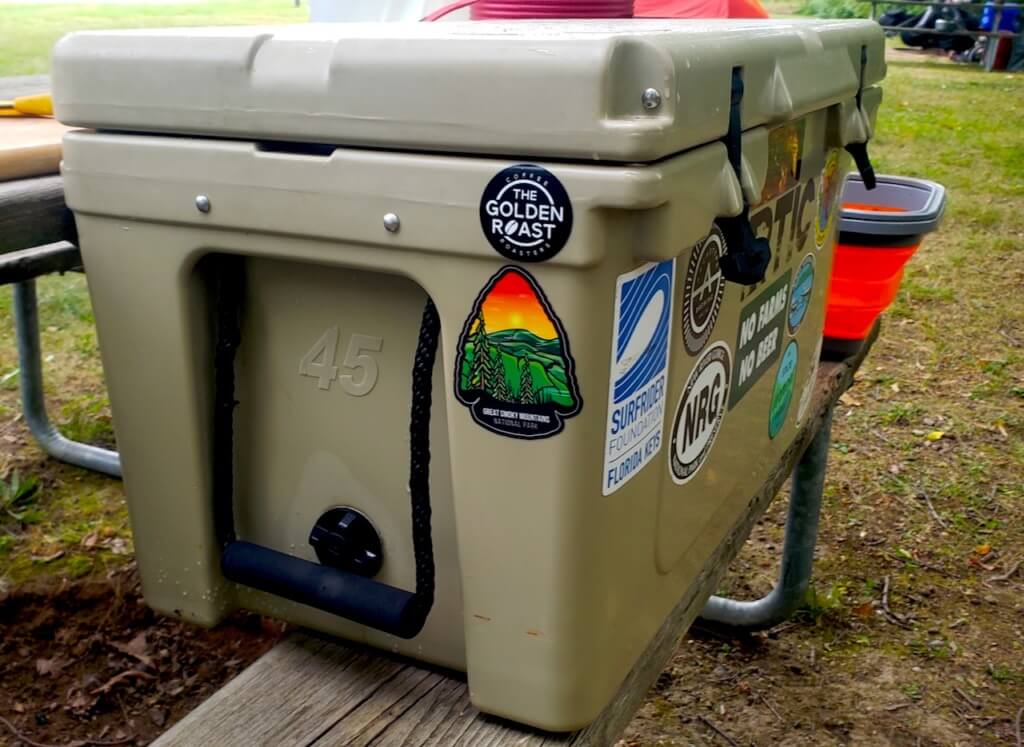 I use the side handles to move the cooler around 9 times out of 10. That is mostly because I am lifting it from chest height to get it out of my truck and then down onto a picnic table or the tailgate. 
They are super comfortable for what it is worth and I do enjoy having two options for easier 'SSCC' (Strategic Situation Cooler Carrying). 
Non-Slip Feet
These feet would be great if you were keeping your cooler on a boat or transporting it in an empty truck bed. Because I am mostly sliding my cooler in and out of my sleeping platform, which is finished with marine-grade carpet, they cause the cooler to stick a little bit. 
They say beggars can't be choosers, however, and so far they haven't done any damage to that carpet or caused me too much of a headache. 
Molded Tie-Down Slots
This is another feature that I haven't yet made use of because of the way I am currently traveling. My truck bed is so packed that there is no room for the cooler to go anywhere even if it wanted to. 
But I can see how these slots would make it a cinch to use cam straps to secure the cooler into place in a more open truck bed or on the deck of a fishing boat. 
Traction Lid
Thank goodness for this lid or I would have lost a few more veggies to the squirrels at this point! 
In all seriousness though, I do use the lid to set veggies, drinks, dishes, and all sorts of other stuff as I am food prepping and making camp. Even if the cooler isn't quite set on a level surface, I have rarely had anything slide off so far. 
Freezer Style Lid Gasket
This actually threw me for a loop the first time I realized it was there. It works just like the gasket in your home freezer to seal the contents inside. And it will also help with Dad's encouragement to "have a plan" before you open the cooler. 
Side note: I don't know if your Dad was like mine, but we were always politely encouraged ("Hey, are you born in a barn?) to know what we were getting BEFORE we opened the refrigerator as kids. 
If you shut the cooler and immediately realize that you forgot something, you may find that the cooler deity prevents you from opening the lid right away. I haven't pondered the exact physics behind this yet, but it definitely made me question my strength the first time. 
Easy Flow Drain Spouts
There are two different-sized drain spouts on the ends of the cooler. They allow you to open one on the "drain" side and then open the other to create more airflow and drain water more quickly. 
With the coolers, you usually have to open the lid in order to achieve this effect. That is fine and dandy if you are just emptying the cooler to store it away. But it's inefficient if you are only draining water to keep the contents dry while they are still on ice. 
Heavy-Duty Rubber Latches
Super easy to use and highly effective. What else is there to say?!
Integrated Locking System
There are holes in the front corners of the lid and the top rim of the cooler. The openings are large enough for a locking carabiner or even a combination Master Lock to be threaded through to lock the contents. 
If you are going to go the Master Lock route, I would recommend something with a slightly longer shackle like this 3DLF Laminated Padlock. 
No Sweat Exterior
I have never personally been too bothered by a sweaty cooler. I suppose it could be more of a nuisance if your cooler didn't have nice handles as this one does. 
For the record, however, I have seen the outside of this cooler sweat. 
Bear-Resistant
For some of my journey, I have been more worried about crocodiles in the Everglades than bears in my campground. But I have left the RTIC 45 quart hard cooler outside overnight a few times now without issue. 
Because I grew up in Tahoe and we saw lots of bear activity, I probably won't do this very often as I get back into bear country. That said, it is nice to know that I can call RTIC Outdoors and say, "Well, you said it was bear-resistant…" if something happens. 
RTIC 45 Quart Hard Cooler Test Environment
The RTIC 45 quart hard cooler came into my life right about two months ago. Since then, I have put it to the test journeying from Tennessee through North Carolina and on to my adventures in New England. 
So Where Have I Been Storing It?
In the back of my truck on my elevated sleeping platform. It is right next to a window that I have yet to insulate. The camper shell itself is not insulated either. 
I have done my best to always park so that the side of my truck the cooler is on is facing away from the sun. But it does receive direct sun exposure back there sometimes. 
And What Have I Been Storing In It?
Mainly veggies. I am currently only eating meat once or twice a week and will load the occasional six-pack in there when I come across a brewery that I like. All of my veggies are kept in sealed Tupperware containers or reusable Smelly Proof bags. 
The most surprising case of vegetable longevity thus far was a head of cabbage that I picked up somewhere around Asheville. It lasted two or three weeks before I consumed the entire head without any major signs of spoiling. 
And What Have The Temperatures Been Like?
That has varied quite a bit from full days in the mid-60s when I was sitting in the rain up in Maine to daily temperatures in the upper 80s and lower 90s throughout Vermont and now New York. 
The evening temperatures have also been mild with them rarely dropping below the mid-50s. Although we did get one 40(ish) degree night when camping outside of Lake Placid. 
Well, How Long Does the RTIC 45 Quart Hard Cooler Keep Ice?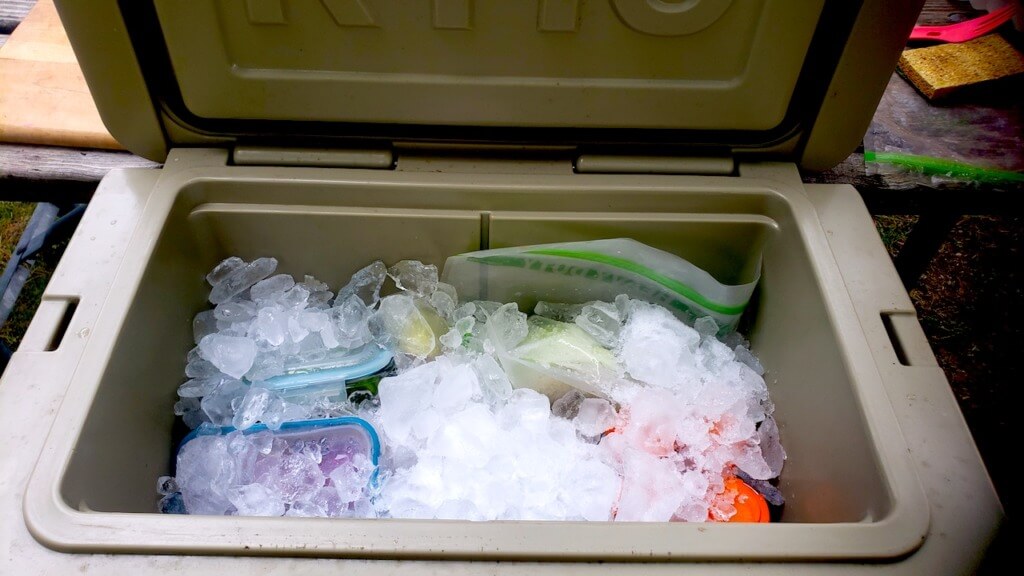 I went from getting 1-2 bags of ice every day with my old cooler to picking up a bag of ice every 3-4 days. After about 48 hours, half the ice I have loaded will be melted, but the contents will still be quite cold. 
Keep in mind that I am traveling alone so I rarely fill the cooler completely. It is my understanding that less air space inside a cooler is helpful to keeping ice and contents cold longer. 
So this could be why I am seeing faster ice melt than the prescribed 10 days that RTIC advertises. 
Where To Buy The RTIC 45 Quart Hard Cooler
Go straight to the RTIC Outdoors website! Sure, you may find it on Amazon or another third-party retailer. 
But let's support the fine folks that worked so hard to build this great cooler instead of taking money out of their pockets by supporting a middle man! 
---
Final Thoughts on the RTIC 45 Quart Hard Cooler
Food safety is not something I honestly thought much about when I was preparing for this trip. Neither was how much I should budget for ice on a weekly basis. Now that I have this RTIC cooler, I feel much better about storing food and I've got more cash in my pocket to keep the adventure going!