There is no satisfaction for the gearheads among us. We're always looking for that new piece of gear to test out. If you're anything like me, the best outdoor monthly subscription boxes are a great way to get and sample new gear.
If you're a gear-junkie like me, a subscription box is a great way to give yourself the gift of gear every month. But there are so many boxes to choose from these days.
So I've taken some time to highlight several of the best outdoor monthly subscription boxes to simplify your choices! 
The Best Outdoor Monthly Subscription Boxes
When you're new to the outdoors, it can be hard to separate quality gear from the cheap stuff. Subscription boxes are a great way to sample gear from many outdoor brands to find what really works for you. So check out these outdoor subscription boxes to get a cool delivery of useful gear right to your door each month.
---
Nomadik Outdoor Monthly Subscription Boxes
If you follow hiking or backpacking-related content on IG, you've probably seen their ads. Their boxes contain new and innovative products for hiking, camping, kayaking, and other outdoor activities. They value each box at more than $60 worth of gear and they customize the gear they include based on your preferences. 
They also have monthly challenges that are designed to give you a little extra motivation to get out for a new adventure. Nomadik allows you to skip any month if the box isn't in your budget at that time and simply pay for what ships. You can also cancel anytime. 
Previous boxes have included a wide variety of gear for staying organized, including utility pouches, compression sacks, and even small backpacks. Other examples of gear included in Nomadik boxes include hammocks, water bottles, multi-tools, snacks, and hydration mixes. 

---
Bespoke Post Outdoor Monthly Subscription Boxes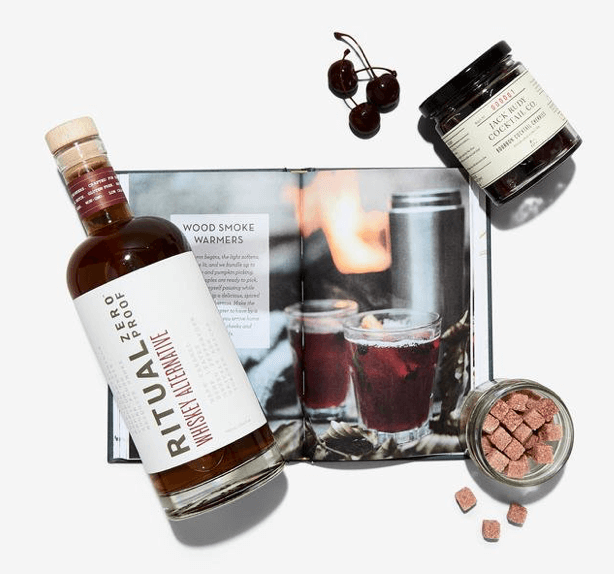 Bespoke Post has been around for over six years and currently has more than 100,000 members. Their subscriptions work a little differently. It's free to join and become a member. You start by taking a quiz that tells them more about your product interests. 
Then you get access to new boxes each month and each box costs $45. If there's nothing you like that month, you don't have to purchase a box. You can skip boxes or switch boxes at any point and you can also cancel anytime. Members (remember it's free to become a member) also receive discounted prices in their Shop. 
If you sign up, you'll begin receiving emails on the 1st of the month. This email will have all the details of your box for that month. You'll have five days to review those details. You can decide if you want to receive the box for that month, skip it, or switch to a different box. Boxes ship in the middle of the month.  
The boxes from Bespoke Post are centered around themes. For example, their "Aged" box includes a cocktail aging kit and two cocktail tumblers. Their "Forge" box includes a Mini Hunter Damascus Steel Knife with Leather Sheath and their "Cooldown" box includes Athletix Premium Hemp CBD Oil, a set of three Rounds from Rad Roller, a Deep Tissue Roller Stick, and a Fit Probiotic Blend from Jetson.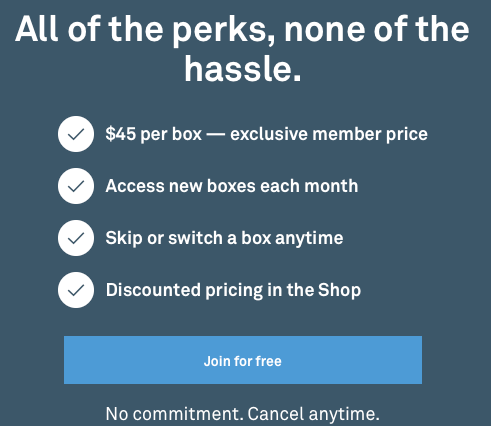 ---
Cairn Outdoor Monthly Subscription Boxes

Cairn is another subscription box that strives to deliver best-in-class outdoor products. You can subscribe and pay monthly, quarterly, twice a year, or annually. Each monthly box is valued at around $50 and you'll enjoy free shipping if you're located in the US. 
You can also receive larger boxes on a quarterly basis. Each of those larger boxes is valued at $350. The boxes are curated for you by gear experts, based on your selections and feedback. You can also earn rewards points by reviewing gear. Those points can be redeemed in the Cairn shop for apparel, free boxes, or holiday gifts for friends. 
They have many sample collections to peruse on their site, but their exact boxes are always changing. Typical boxes include apparel, skincare items, and/or emergency supplies such as fire starters, navigation tools, and first aid kits. Other examples of gear you might receive include energy bars, cookware, and hydration systems. 
They also have an awesome "Gear Up Give Back" program. They'll send you a bag to fill with pre-loved gear that you no longer use. Their partner Gear Fix will then repair any gear and equipment that needs it and sell it in their shop. Proceeds from those sales are then matched by Cairn and Gear Fix before they are donated to the Outdoors For All Foundation for adaptive recreation. 
---
Battlbox Outdoor Monthly Subscription Boxes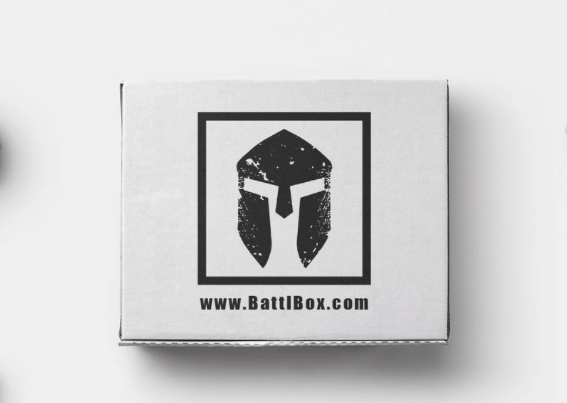 This subscription box fits the survival niche. Each box gets a unique "Mission" name and includes hand-picked outdoor, EDC, and survival gear. When you sign up, you start by choosing the box size that fits your needs. You can choose from Basic, Advanced, Pro, and Pro Plus subscription packages. 
Your boxes will begin to arrive at the start of each month and you'll immediately be able to start putting your new gear to use. Each "mission" will send you a box that includes different gear depending on the subscription package you've chosen. 
The Basic package for Mission 59, for example, included Quick Seal Wound Care Spray Powder, a Rats Gen 2 Tourniquet, a Hydro Kit from Survival Metrics, and the book Black Autumn by Jeff Kirkham and Jason Ross. The Advanced box for that mission included all of the above items, plus a survival bivy from Atomic Bear and a pair of Ironclad Protection Gloves. 
One feature that really caught my eye about Battlbox is that each mission comes with a unique mission card. On that mission card, you'll be able to see the exact breakdown of the value of the products that came in that box. That'll help you make sure you're getting the value you're looking for!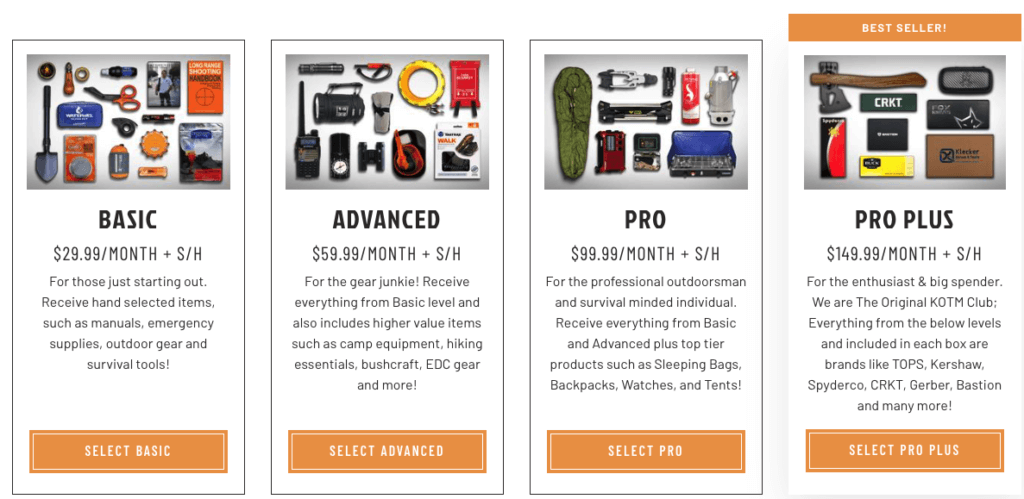 ---
Alpha Outpost Outdoor Monthly Subscription Boxes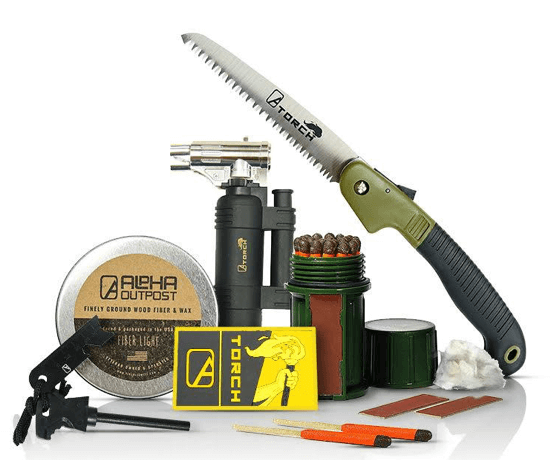 This subscription box focuses on providing members with gear to help them explore new places, learn new skills, and chart their own paths. To get started, you pick a membership plan and pick your first box. New members receive a t-shirt and a free knife in addition to your first box. 
Each month you'll receive new gear and your membership payment will always be processed on the 3rd of the month. You can skip boxes at any time, but you must remain a member for at least three months with this box. If you cancel before your three-month mark, a cancellation fee may apply. 
Alpha Outpost has a lot of boxes to choose from. The Trail box includes trekking poles with multiple attachments for snow, dirt, and rock use. It also comes with a waist pack, water bottle, and 'Take A Hike' trail patch. Another past box that caught my eye is the Hideout box. This box comes with a roll-up portable blanket, inflatable camp pillow, pop-up A-frame tent, a Hideout patch, and Hideout top card. 
In addition to receiving monthly boxes full of new gear, members can also enjoy exclusive pricing on items from the Alpha Outpost store. For example, the Hideout box (which is valued at $54.95) is available to members at a deep discount of just $15!
---
SCOUTbox Outdoor Monthly Subscription Boxes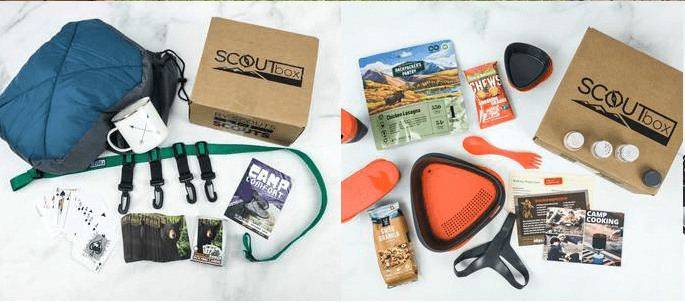 "By scouts, for scouts!" Yup, you guessed it! The monthly boxes that come with this subscription are curated by scouts. The company was founded by two Eagle scouts who understand the need for the right gear, whether you're camping once a year or you're out every weekend. 
Typical boxes include hiking and camping accessories, outdoor equipment, trail snacks, educational guides, and other gear/resources from reputable brands. When starting out, you can choose from one-month, three-month, and six-month membership plans. 
The founders of Scoutbox, who are formerly part of Troop #888 in Enfield, Connecticut, are brothers who want to give back to scouts of all ages and genders. That's why their boxes are chock full of useful items.
For example, one of their first boxes included a multi-tool, sharpening stone, camp-ready wallet, waterproof matches and a carrying case, first aid kit, camp mug, and an educational card. Examples of topics covered on these cards include flora and fauna identification and knot-tying guides. 
---
Hiker Crate Outdoor Monthly Subscription Boxes
Hiker Crate is all about hiking food, hiking gear, and hiking accessories. It's a great subscription box for the casual day hiker and is designed to give you extra motivation to hit the trails in your free time. They offer a month-to-month subscription plan, but you can also enjoy deeper savings with their three, six, and twelve-month prepaid plans. 
With each plan, you still receive a monthly box shipped to an address of your choice and you are able to cancel anytime. Boxes ship between the 15th and 17th of every month. Each box is valued upwards of $65 and each includes 2-3 unique gear items, 3-4 trail snacks, and a selection of premium hiking meals. 
Once you choose the subscription plan that suits you, you'll take a brief survey so that Hiker Crate can personalize your boxes. Some examples of survey questions include shoe size, gender, and shirt size. If you're a beginner hiker, check out these hiking tips and trail recommendations.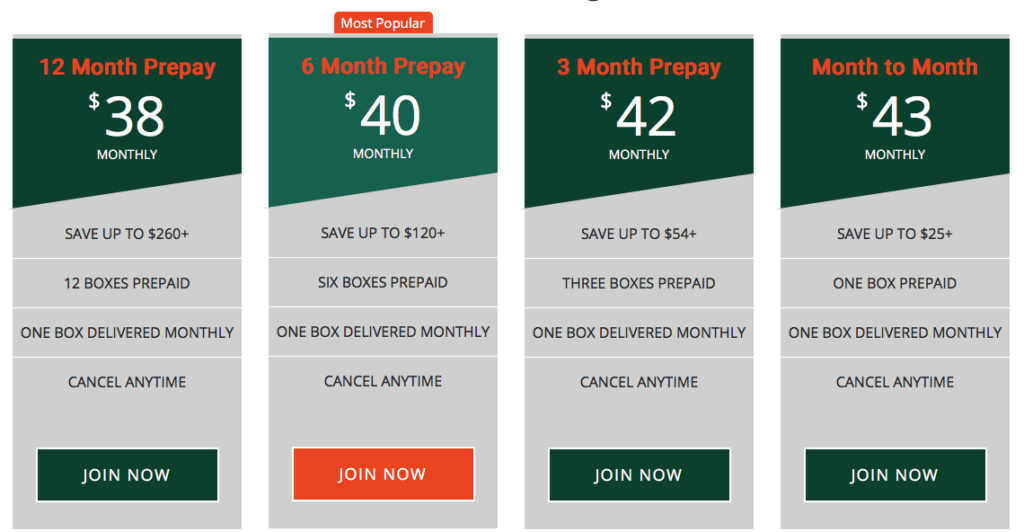 ---
Barrel & Blade Outdoor Monthly Subscription Boxes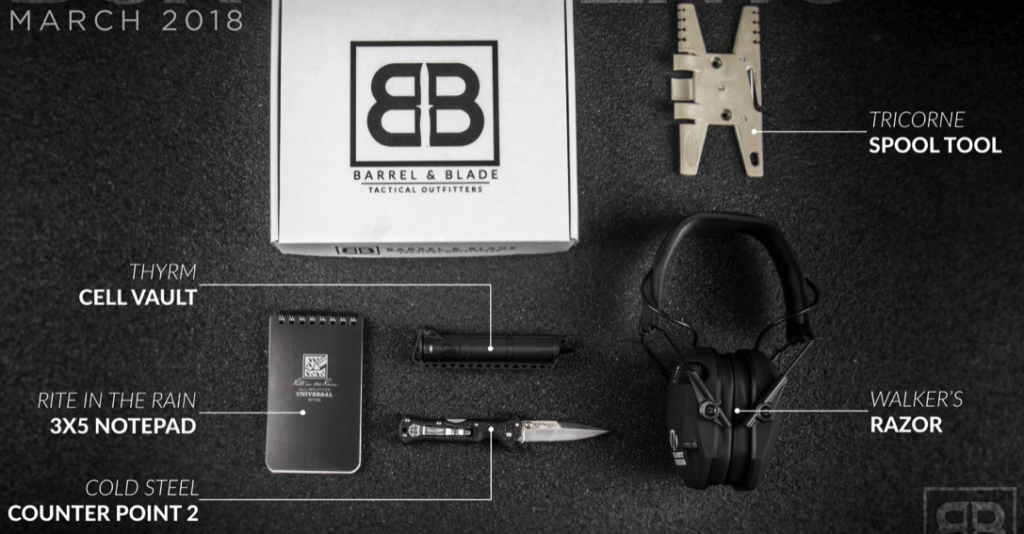 Barrel & Blade is unique from the other subscription box companies because they focus on providing tactical gear. This is a great subscription box for hunters, trappers, and ex-military personnel. That is Barrel & Blade's ideal target audience because you are the ones that can really tell whether or not specific gear items pass the test. 
When you sign up, you'll choose from a Level 1 or Level 2 membership. Boxes for the Level 1 Membership are valued at more than $85 and include tactical, survival, and EDC gear. Level 2 membership boxes are valued at more than $110 and include more gear and higher-quality items. 
One of their past boxes (Operation EDC 2.0) included an Outdoor Edge Slidewinder, 5hive monkey ball keychain, B&B Limited Edition Zippo Lighter, MIE EDC tray, and EXOtac free key slim system. All boxes ship during the first week of the month (as long as you sign up by the 15th) and you're able to cancel anytime!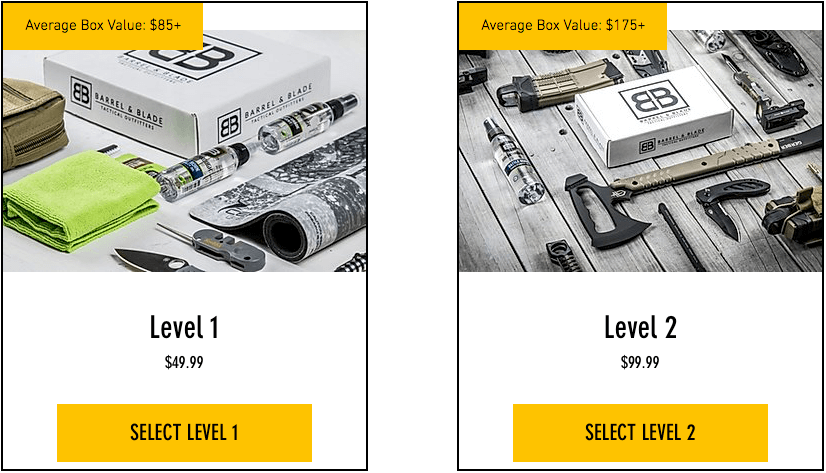 ---
Little Hiker Outdoor Monthly Subscription Boxes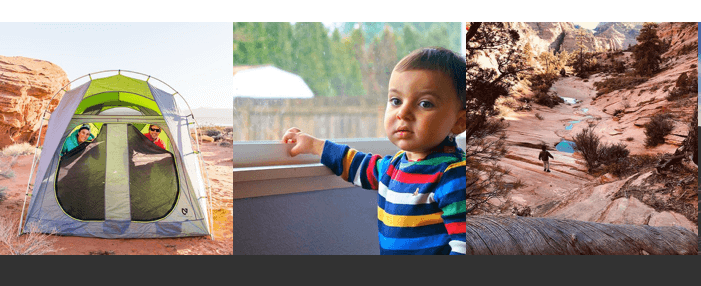 This is the perfect subscription box for young fathers! Each box includes something for you and something for your little one as you instill your love of the outdoors in them. It's also a great subscription box for the active and outdoorsy family! 
Once you subscribe, you'll receive a monthly box with more than $30 worth of outdoor gear, snacks, apparel, stickers, and more. When starting out, you can choose from monthly, quarterly, or annual membership plans. If you opt for the annual plan, you'll also receive a free membership to the Hike it Baby community so you can connect with other hiking families in your area. 
For a quick example, the "Little Hiker" box (which can also be given as a one-time gift) includes items like small trail journals, tree bark pencils, a microfiber 'monkey mat', a small magnifying glass, two trail mix bars, a bag of Annie's Cheddar Bunnies, a 'Hike It Baby' sticker, and an information card with '30 Things To Do With Your Kids Outside'. 
One of the best parts of subscribing to this monthly box is that Little Hiker gives back! Each box sold automatically triggers a $1 donation to Hike it Baby, an organization dedicated to connecting "families with babies and young children to the outdoors and each other!"
---
The Kinderbox Outdoor Monthly Subscription Boxes
The Kinderbox is an excellent way to get your "monthly dose of manliness." Their boxes include everyday carry items and gear for outdoor adventures. But they'll also keep you looking fresh and handsome while you recreate, as certain boxes also include men's grooming products. 
Each box contains more than $50 worth of new products and they ship to your address of choice for free! New members can choose from month-to-month, three-month, and six-month membership plans. You can also purchase a one-time gift box for a friend or if you just want to try The Kinderbox before you commit to a monthly membership. 
The Kinderbox is veteran-owned and operated. This means they offer a military discount to use at checkout. You simply need to email them with proof of service and they'll send you back a coupon code to use on your first purchase. 
The boxes from The Kinderbox are tailored to men between ages 21 and 35. Once you subscribe, boxes are shipped in the middle of each month. Canceling is easy if you need to do so and The Kinderbox posts about the products you receive on their social accounts every month. This gives you an opportunity to learn more about the products and interact with the awesome companies that make them! 

---
Honorable Mentions for Outdoor Monthly Subscription Boxes
Try as I might, I just couldn't stop at ten monthly subscription boxes. So here are two more "honorable mentions" that you might be interested in!
Hikewize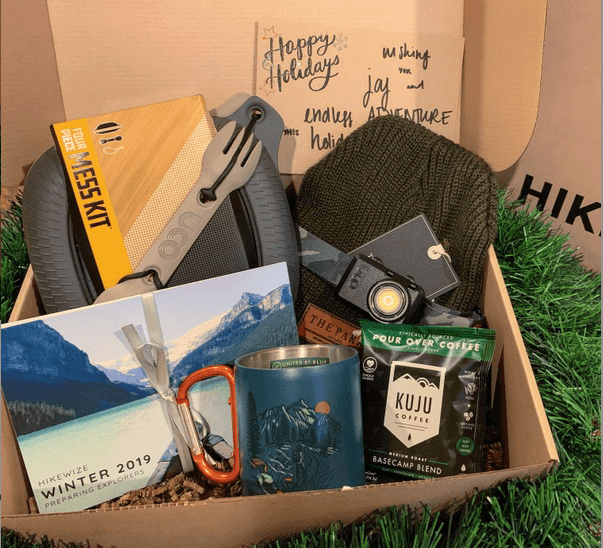 Hikewize does things a little differently than the companies mentioned above. They only send out boxes every three months, which means you'll receive four boxes in a calendar year. Each box, however, is valued between $100 and $200. So you'll get more gear or higher quality gear in each box, despite the fact that you'll only be adding to your arsenal every four months. 
Boxes from Hikewize include "carefully selected hiking gear, information on various National Parks, and tips to keep in mind on the trails." This box is an excellent selection if increasing your hiking knowledge is just as important to you as trying out new outdoor gear. 
Hikewize offers two membership plans that either allow you to pay annually or once per quarter (every three months). Once you choose your plan, you'll create a Hikewize Explorer Profile, which includes information on your name, age, gender, birth date, favorite color(s), color pallet preferences, shoe size, t-shirt size, level of outdoor experience, and more. 
Hikewize offers great value at the price points you can see below. Some examples of items sent in past boxes include headlamps, mess kits, camp mugs, instant coffee packets, trail snacks, park maps, and other informational resources for hikers!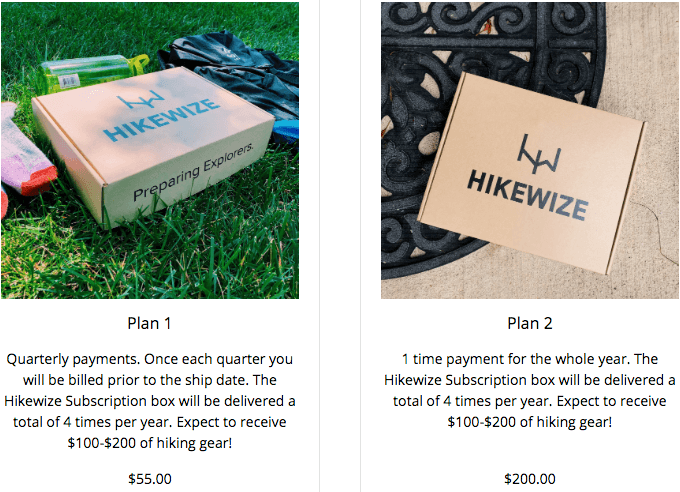 ---
Isle Box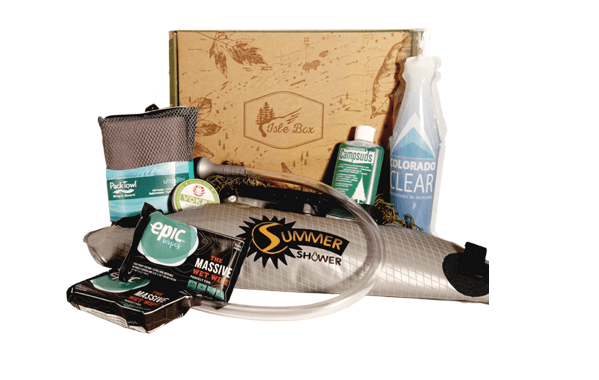 Isle Box was co-founded by outdoorsmen Travis Tamez and Kolin Karchon. What are the odds that they'd both have first and last names that start with the same letter? Anyhow, these two gentlemen combined forces to send friends, family members, and now YOU monthly boxes full of useful gear. 
They named their company after one of the closest national parks (Isle Royale) to their home base in Detroit, Michigan. In staying true to their namesake, many of their boxes include reference materials to make it easier to find (and recreate in) your choice of national parks. 
Their 'National Parks Box', for example, includes a Mountainsmith Day Pack, a two-liter water reservoir, a headlamp, a National Geographic Road Atlas, and a National Geographic National Parks Guide Book. So not only do they include reference materials to help you get to your next national park but there's also the gear to help you get out and enjoy the park once you get there. 
When starting out, you can choose from a Seasonal Pass, Seasonal Box, or the aforementioned National Parks Box. The latter two choices are one-time purchases, but signing up for the Seasonal Pass means you'll receive a new box full of cool products every three months. You can also pay in advance for six months or one year's worth of boxes. 
In general, each box will include a "big-ticket" item, two "auxiliary items you probably haven't seen before," and two food items. Some of Isle Box's most trusted partners include Thermarest, Smartwool, MSR, Klymit, and, of course, National Geographic! 

---
Which Monthly Subscription Box Suits You?
I'd like to know which of these subscription boxes piques your curiosity. Is there one that stands out to you most? And if so, why? Please drop a comment below and let me know your favorite monthly subscription box! 
---
Benefits of Outdoor Monthly Subscription Boxes
Before we get into a breakdown of more than ten great monthly subscription boxes for men, I wanted to briefly discuss the benefits of getting a monthly subscription for gear, snacks, and more.
In other words, why should you sign up for a monthly subscription rather than just heading down to your local outdoor gear store and shopping in person? 
Outdoor Gear Delivered To Your Door
Not all of us have time to add to our gear arsenal every month. If your goal is actually to spend more time outdoors, heading to the gear shop is directly opposed to that goal. Instead of spending time shopping, you can get gear delivered directly to your door, unpack it, repack it in your pack, and head out on the trail or your next hunting trip. 
Opportunity To Test New Camping Products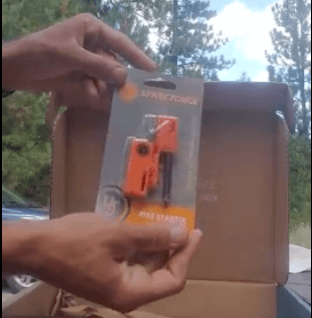 I recently received a gift card from a local gear shop. I was really tempted to spend it that first day and I even went into the shop and walked around aimlessly for 20 minutes before buying nothing and leaving. The point is, we don't always know what gear we're missing until it's right under our nose. 
Signing up for a monthly subscription box is a great way to test new products and refine your gear checklist. You'll learn exactly which items you'd include on your next adventure and you might get some ideas for new items that you've never used before! 
Exposure to New Outdoor Brands
Being entrenched in it, I personally feel like the outdoor gear industry is growing in terms of the number of gear retailers. Trusted brands have been doing it for a long time, but there's always room for a new brand to disrupt the market and offer a product that performs better and sells at a lower price. 
Many subscription boxes include gear from brands that might be new to you. A lot of these brands are doing great work and getting a monthly serving of new gear will help you broaden your horizons. It will also help you hone in on the specific brands that you like for certain gear items. 
---
About The Backpack Guide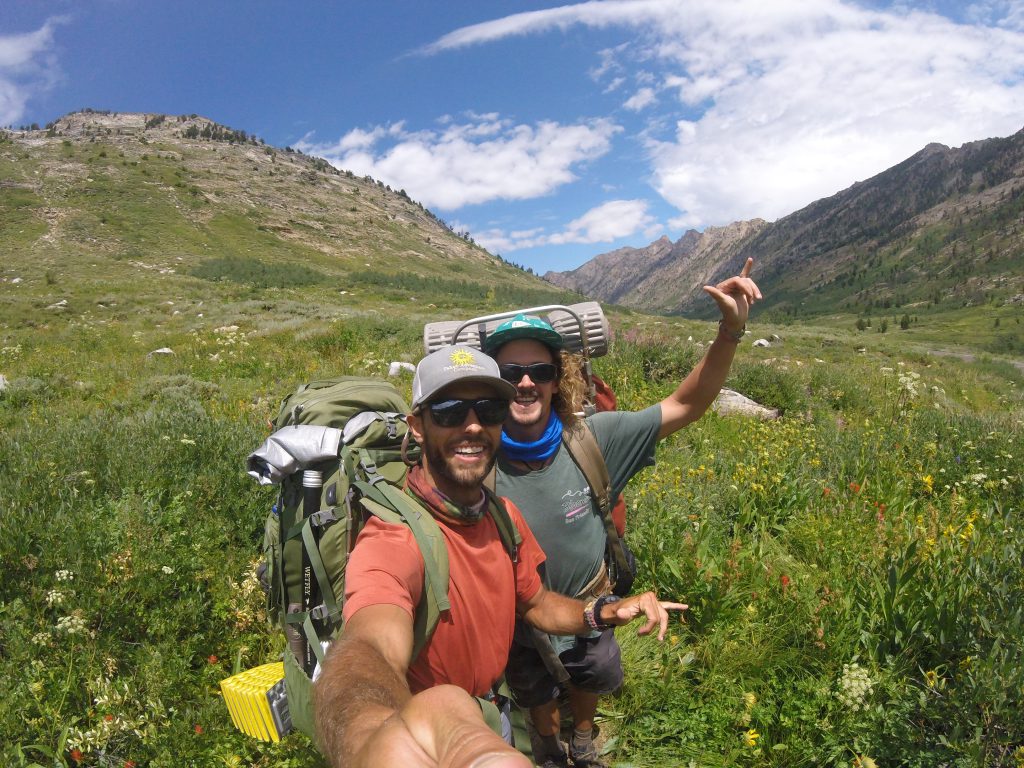 As The Backpack Guide, I'm on a mission to explore the wilderness, create learning opportunities, and connect with nature. These are the objectives that underline all the content I create on this site. I want to inspire others to recreate in their respective wildernesses and to do so in the safest, most enjoyable manner possible. 
I'm also very interested in the experiences of others in the wild and I want to create a community of people that share those experiences and the lessons they've learned as a result.
If my mission resonates with you, you think we may have an awesome opportunity to collaborate, or you simply want to connect, I'd love to hear from you!
Feel free to reach out to me directly (email below), or share your adventure by tagging @thebackpackguide on Instagram, which is where I'm most active. You can also find me on Facebook, Pinterest, Twitter, and LinkedIn.
More Resources From The Backpack Guide
I'd also like to kindly invite you to check out the other content on my site. That includes Hiking Tips and Trails and my Outdoor Gear page with reviews on water filters, tents, hiking shoes, trekking poles, and more. Also, you might enjoy my Backpack Reviews if you're in need of a new pack, which includes brands like Kelty, REI, and Gregory. 
Finally, my YouTube Channel is full of informative video content if you're not really into reading! I do receive a commission on purchases made through the affiliate links on this website. Those earnings go directly back into my efforts to produce more informative content for my readers!
"Do not follow where the path may lead. Go instead where there is no path and leave a trail."
– Ralph Waldo Emerson
The Backpack Guide