One of the beauties of backpacking is the chance to clear your mind from the stresses of work or daily life. Once you're out on the trail with a full pack on your back, there really isn't too much you need to think about. That said, the one decision you will have to make on a daily basis is where to pitch your tent. So let's take a few minutes to discuss how to choose a campsite that meets your needs and doesn't damage the environment.
Proximity to Water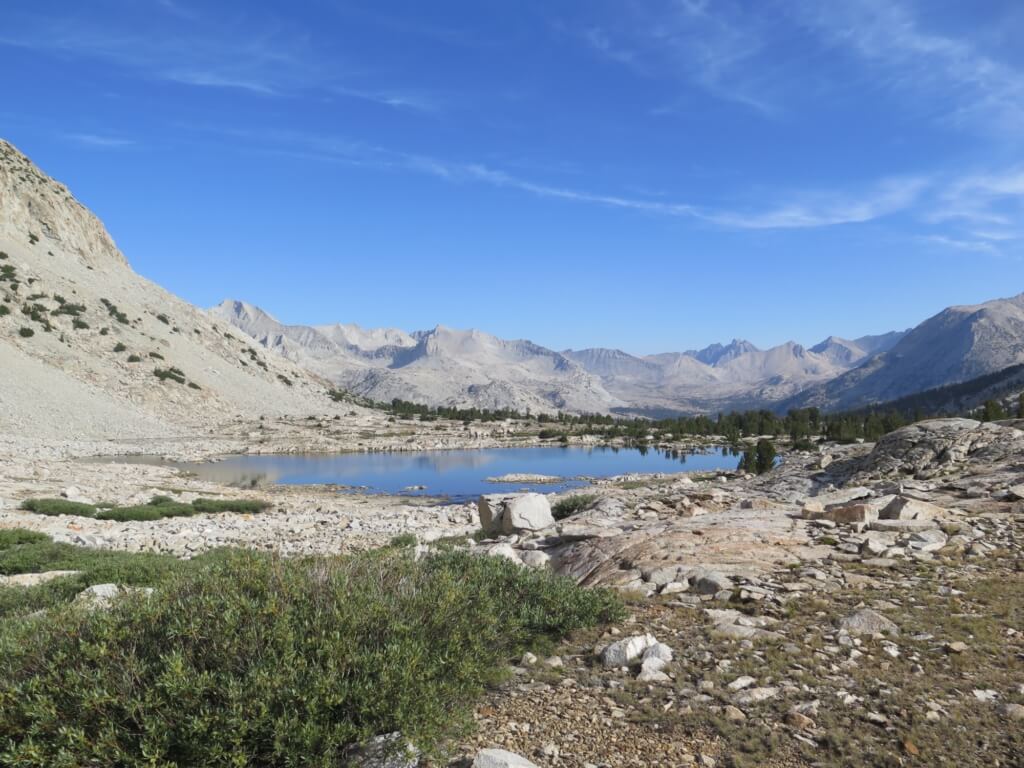 Most backpacking meals require a good amount of water. You'll also need to resupply your drinking water cache before hitting the trail again in the morning, so choosing a campsite with good access to water is important.
That said, the Leave No Trace Center for Outdoor Ethics (LNT) recommends camping at least 200 feet from a water source (this goes for where you choose to dig a cat hole and do your business in the woods as well).
When considering the proximity to water you should also think about the fact that water sources are typically home to more flying insects that can be a nuisance, especially in the spring. Slow-moving or stagnant water provides an excellent breeding ground for mosquitoes.
So not only will camping near a faster-moving stream provide an opportunity to bathe and wash those dirty hiking socks, but it will also support less insect life to bother you while you're cooking dinner.
A 'Durable Surface'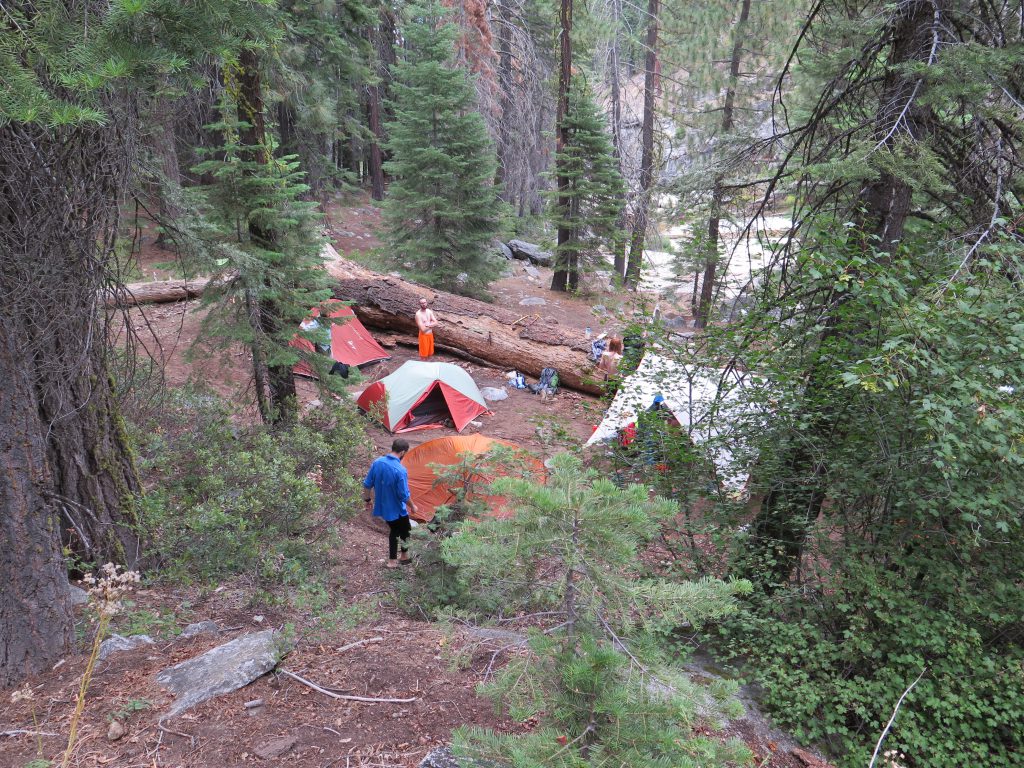 LNT principles also recommend that you "camp only on durable surfaces." A durable surface is defined as one that is resistant and resilient to people camping on it.
In other words, your presence on these surfaces isn't going to noticeably alter their appearance permanently. Examples of durable surfaces include established campsites, dirt, rock, gravel, dry grasses, or (in the case of winter backpacking) snow.
Meadows are always inviting because they typically have a creek or river flowing through them and beautiful sunset views. But camping in young, high grasses will leave a noticeable impact.
Your tent footprint will push down and damage grasses that some animals use for habitat or a food source. Choosing a durable surface over that gorgeous mountain meadow also ensures that the next people after you will get to enjoy that meadow just as you experienced it.
Safe Space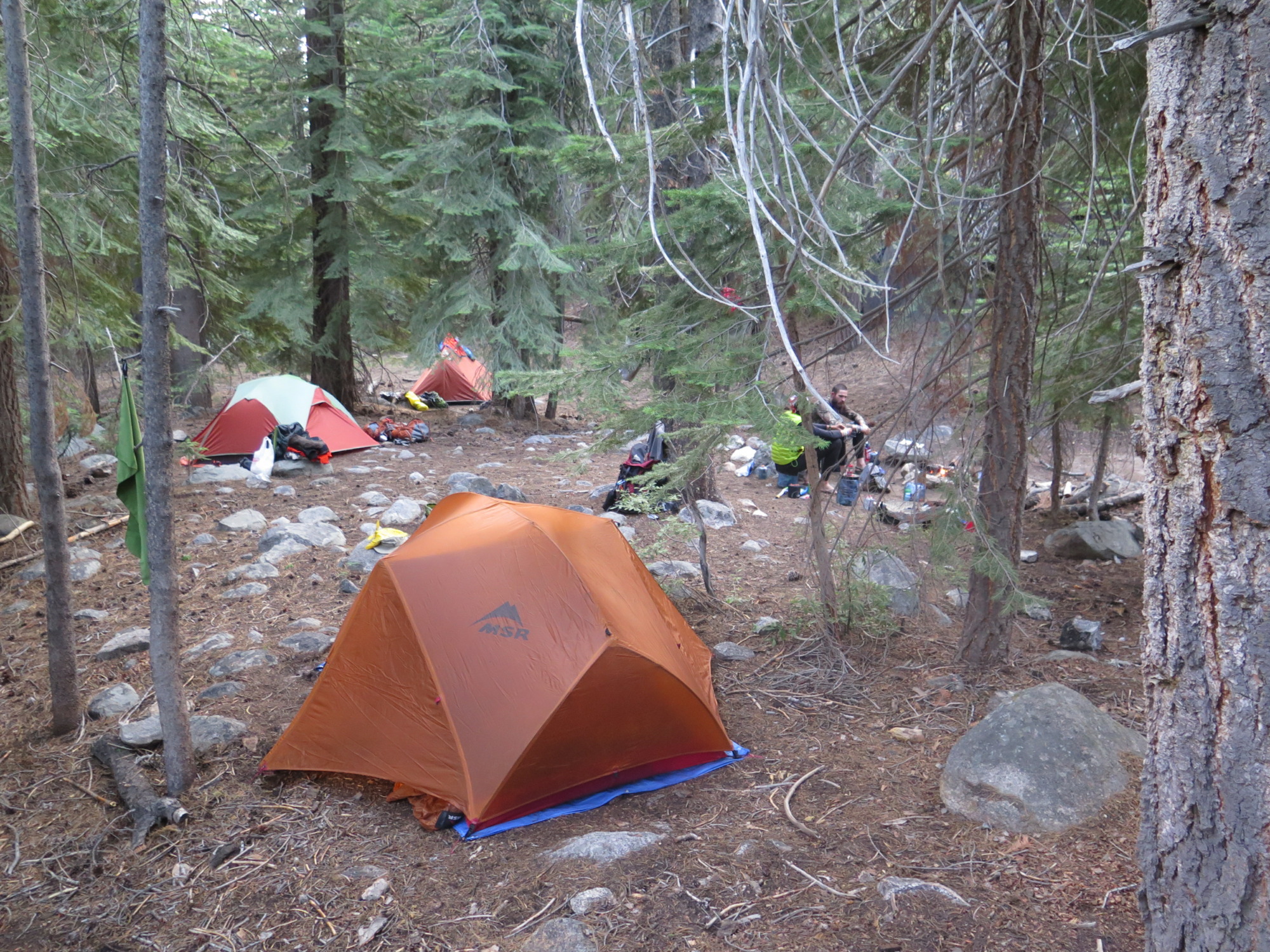 Safety could arguably be higher up on this list, but it's an important consideration nonetheless. There are many factors to selecting a safe campsite, and it can be difficult to plan for every possible scenario, but the point I'd like to share is to think (at least briefly) about whether your site will keep you and your hiking buddies safe if weather changes dramatically overnight.
I'll use beach camping to give you an example. Scenario: You and your friends decide it will be awesome to camp on the beach and have a bonfire. You arrive at the beach shortly before sunset and, unbeknownst to you, it happens to be low tide when you arrive. You set up tents, get a raging fire going, drink a few beers, eat a few hot dogs, and pass out happily as the embers of the fire smolder.
Somewhere around 2 am you feel a surprising floating feeling and wake up to realize that the comfortable air mattress you're sleeping on is being carried out to sea. When camping on the beach, be sure to choose a spot well above the high tide mark.
Canyon camping is also a place to consider what might happen if a big rainstorm moves in overnight. In many areas of the American Southwest, for example, it may be raining many miles away up in the mountains and that water can move down into lower-lying canyons quite rapidly in the form of flash floods. This is certainly something to be mindful of when bedding down under that beautiful (but only seasonally dry) waterfall overhang.
Seasonal Selection
Different seasons obviously present different challenges in choosing a campsite. Spring is wildflower season and, therefore, the importance of camping on a durable surface is heightened.
The heat of summer necessitates ample shade surrounding your campsite. The variability of weather in the fall means that some sites may be closed in anticipation of the coming winter. And, of course, winter comes with its own unique challenges.
Winter camping is nice because camping on snow reduces your environmental impact to nearly zero. That said, snow also means greater chances for avalanches, especially when conditions are right. Winter also means colder air and wind.
Because of this, I recommend camping higher than lower during winter months (colder air tends to settle in valleys), but also to notice wind direction and find a section of trees that can serve as a wind-break for your tent and campsite.
Another consideration during the winter months (and it could also be considered year-round) is the direction from which the sunlight will arrive in the morning (usually east, of course). Positioning your tent so that it receives maximum sunlight first thing in the morning will go a long way toward helping you wriggle out of your comfy cocoon in those chilly morning hours.
About The Backpack Guide
At The Backpack Guide, I'm always looking for new trails and wildernesses to explore and I'm also interested in the experiences of others in the wild. I'd love to know where you recently camped and why you chose the site you chose. I'd also love to hear if you have any other recommendations for how to choose a campsite that I didn't mention here!
Feel free to reach out to me directly (email below), or share your latest adventure or backpack by tagging @thebackpackguide on Instagram, Facebook, or Twitter!
I hope you've enjoyed this Backpacker's Guide to Water Filtration and I'd love to hear your feedback in the comments section below. I'll be quick to reply to any questions, comments, or concerns you feel like sharing!
Careful Camping Compadres!
The Backpack Guide