Water is arguably your most critical resource on any backpacking or remote camping trip. For long-distance hiking, specifically, the ability to get clean water quickly and keep moving is vital, which is where the MSR TrailShot Water Filter comes in.
I've recently written about finding clean water in the wild, a gravity filtration system from Sawyer Products, and the best dry bags for traveling. But today, we're taking a deep dive into the features and tech specs of the MSR TrailShot Water Filter.
Overview of the MSR TrailShot Water Filter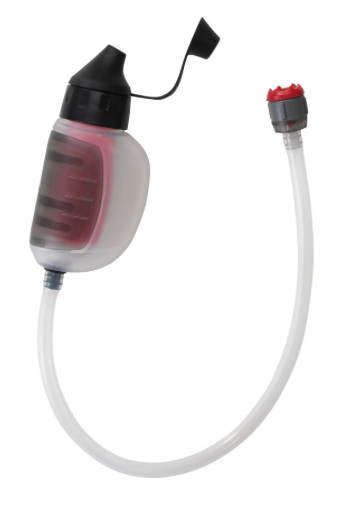 The MSR TrailShot Water Filter is a pocket-sized microfilter that can be stored within easy reach while hiking and deployed easily to drink directly from streams, lakes, and rivers.
MSR has met the need for a filter that doesn't take the "pump time" that's so common with some of its other models. The Trail Shot provides "instant hydration" and is capable of filling one-liter water bottles in just 60 seconds.
The MSR TrailShot weighs a total of just 5 ounces (142 grams), which makes it a great water filter option for trail runners, mountain bikers, and other fast-paced adventures.
It requires absolutely zero setup and can be operated with just one hand. Perhaps best of all, you won't have to lie in the dirt to drink directly from that pure, cold mountain stream.
The MSR TrailShot Water Filter
The cartridge on the MSR TrailShot Water Filter has been tested to meet U.S. EPA drinking water standards according to Proposition 65 and NSF Protocol P231, which you can read more about here.
This means that the filtration component removes 99.9999% of all potentially harmful bacteria and 99.9% of protozoa and other particulates. In other words, it's a highly effective mechanism for filtering water to acceptable drinking standards.
The MSR TrailShot Water Filter Technical Specifications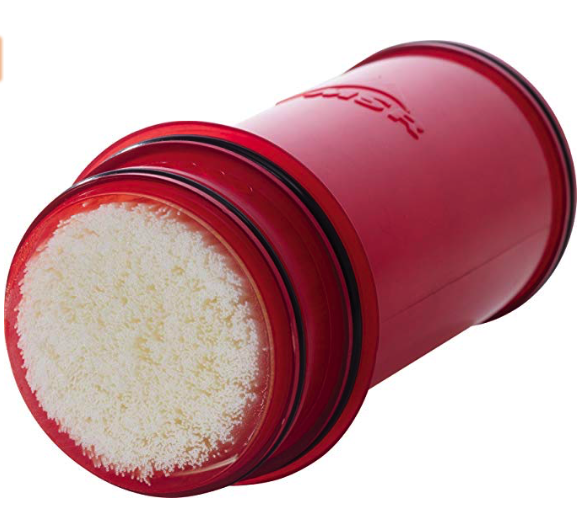 One of the best ways to evaluate a water filter is by a side-by-side comparison of its technical specifications, against those of its competitors. To aid in your ability to do so, I've listed several key technical specifications below for your reference:
Dimensions (Height x Length x Width): 6″ x 6″ x 2.4″
Filter Pore Size (in microns): 0.2
Flow (liters per minute): 1
Filter media: Hollow Fiber
Cartridge Life: 2000 liters
Other Important Considerations about the MSR TrailShot Water Filter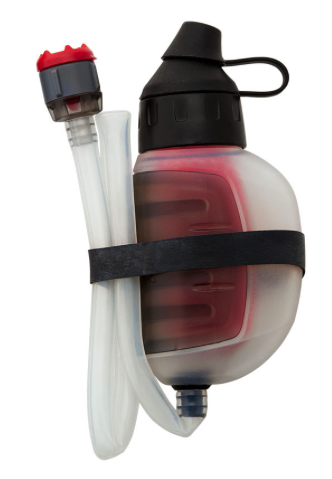 The aforementioned specifications aren't the only information you should know about the MSR TrailShot Water Filter. When comparing it to other water filtration systems, you should know that it 'checks all the boxes'. In other words, it is effective against protozoa, bacteria, and particulates (the three main things that will make you sick).
It is also incredibly easy to clean and maintain in the field. Just a few shakes will restore flow rate to optimal levels and you won't need any additional tools to make this happen.
Finally, the MSR TrailShot also possesses a cartridge replacement indicator, which lets you know (in advance) when it is time to buy a replacement cartridge.
MSR TrailShot Water Filter Reviews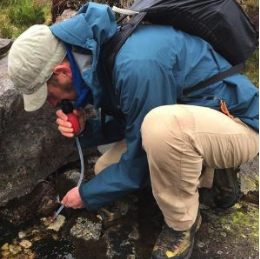 So how do previous users like the MSR TrailShot Water Filter? Well, for starters, it receives a 4.3-star rating on MSR's website. The average rating on Moosejaw is 4.5 stars and on Amazon, it received an average rating of 4.4 stars.
There's ample evidence there to suggest this is a worthwhile water filter. That said, let's dive a little deeper into some tangible pros and cons that reviewers have pointed out.
Pro #1: Fast Flow Rate
As one user exclaimed, it's "amazing how much water you can pump out of this thing into a container in less than a minute."
Con #1: Single-Hand Operation Can Be Tiring
One user suggested that the single-hand operation may not be so easy when they said that "the squeeze action is tiring . . . And it aggravates my trigger finger syndrome."
Con #2: Gives Water an Unusual Smell and Taste
One reviewer bluntly stated that the "filter contaminates the water with a foul-smelling and tasting unidentified chemical(s)…"
Pro #2: Can Pull From Small Sources
A challenge in particularly arid climates can be finding large sources, which doesn't appear to be a problem with this filter, which "can pull water from small streamlets where a Sawyer type container couldn't," according to one reviewer.
Pro #3: Great 'Ultralight' Option
The MSR TrailShot is designed for ultralight users. One reviewer said that it "is a great filter for 1-2 people . . . It worked great and is super lightweight and compact, perfect for going on longer backpacking trips."
My MSR TrailShot Water Filter Bottom Line
As you can see, there are definitive pros and cons to the MSR TrailShot Water Filter (as with almost any product on the market today). It's rare to find a product that works for every single need imaginable, but that doesn't seem to have been MSR's goal in developing this filter.
After investigating the filter's capabilities, specifications, and reviews, here's my bottom line: The MSR TrailShot Water Filter is a great option for ultralight backpackers, trail runners, and anyone that wants to move fast, carry less weight and be able to filter out of water sources of any size.
---
How Do You Purify Your Water?
At The Backpack Guide, I'm always looking for new trails and wildernesses to explore and I'm also interested in the experiences of others in the wild. I'd love to know if the MSR TrailShot Water Filter appeals to you. If it does, why would you consider adding it to your hiking and/or backpacking arsenal?
Furthermore, if you decide to purchase an MSR TrailShot Water Filter after reading this review, I'd love to know how you like it after you've had the chance to use it a few times!
Feel free to reach out to me directly (email below), or share your latest adventure or backpack by tagging @thebackpackguide on Instagram!
I hope you've enjoyed this review and I'd love to hear your feedback in the comments section below. I'll be quick to reply to any questions, comments, or concerns you feel like sharing!
Keep It Pure!
The Backpack Guide