Coming from someone who has sampled his fair share of jerky options, I'm going to use this Perky Jerky review to tell you why I believe it truly is the best-tasting jerky on earth! If you think the title of this article is an exaggerated claim, then you haven't tasted Perky Jerky yet.
I relied heavily on their jerky options for my summer adventures. Everywhere I went, a bag of Perky Jerky was sure to go. My friends, coworkers, and clients raved about the tiny samples that I gave them. It was hard for me to part with even the tiniest nugget.
About Perky Jerky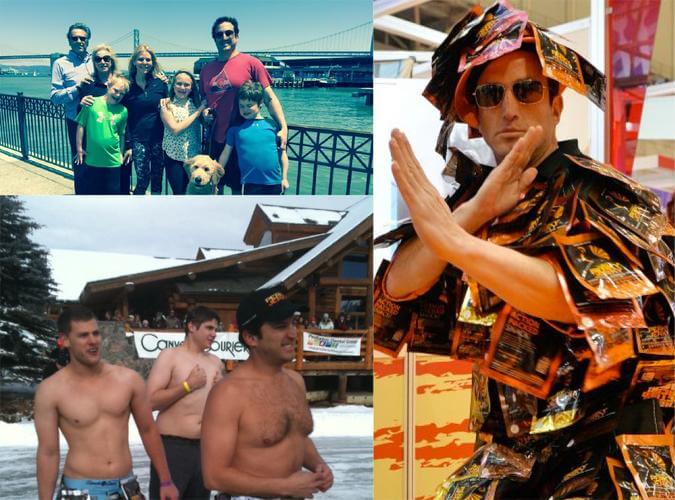 The name gives away a lot of the mystery, but Perky Jerky is dedicated to guaranteeing their customers the Best Tasting Jerky on Earth. The company was founded by Brian Levin, who is known in jerky circles as "an innovator, instigator, father of triplets, supporter of charities and mad scientist rolled into one." As part of their efforts to support charities, a percentage of their proceeds go towards Duchenne Muscular Dystrophy and Down Syndrome research. 
When the company was in its infancy, their goal was to disrupt the proverbial apple cart and create a jerky that wasn't dry and boring. They were going for the exact opposite: jerky that was insanely tender and highly flavorful. Moreover, they wanted to create an all-natural product that would provide adventurers of all types with a low-calorie, low-fat protein source. 
So, I said Perky Jerky is "all-natural." Let's unpack that a bit further. What I'm really saying is that this jerky is gluten-free and contains no nitrites, preservatives, or added MSG (monosodium glutamate). What is really telling about this company is that they guarantee their product. If you're not satisfied, they'll replace your purchase, refund it, or make a donation to causes near and dear to their hearts. 
Perky Jerky Review of their Varieties
Now that you know a little about the company, let's get into the meats (mmm, healthy pun)! When you think of jerky, what comes to mind? For me, it's BEEF jerky. And I suppose that's because that is primarily what I had tried and sampled before Perky Jerky. But oh how my perspective has changed this summer! 
Perky Jerky offers a wide variety of jerky options made with different protein sources. There are, of course, various beef jerky flavors to choose from, including Tasty Teriyaki, Sweet & Snappy, Sea Salt & Pepper, and their Original Recipe (you gotta try the OG!). But they also offer multiple flavors of vegan jerky, wagyu beef jerky, turkey jerky, and pork jerky. 
Some of my personal favorites include their Chimichurri Wagyu Beef Jerky, Jammin' Jamaican Turkey Jerky, and Mountain Maple Pork Jerky. You really have to see all of the options to believe it, so you can click this link (RIGHT HERE!) to shop all of their Perky Jerky varieties!
"How Does It Stay So Tender?"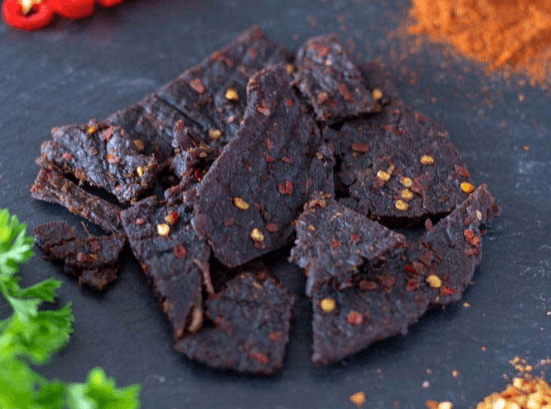 This was the question that my parents, coworkers, friends, and clients asked when they sampled Perky Jerky. Indeed, I found myself asking that very question more and more, especially after some of my original samples had been sitting around my pantry for a few months. It all starts with the cuts of meat that Perky Jerky chooses.
If you're not aware, not all meats are created equal. And I'm no meat expert. But most of us (with a healthy acknowledgment of and respect for those out there whose bodies don't prefer to ingest meat products) know a chewy cut of meat from a tender one (if you don't, I apologize for making a generalization here!). 
Anyway, Perky Jerky takes the time to make sure they are selecting the most tender cuts of meat (whether that's turkey, beef, pork, or wagyu beef) for their jerky. Then, they marinate all of their meats overnight to ensure a quality blend of their all-natural ingredients!
My Favorite Recipe from my Perky Jerky Review
To be honest, I haven't really found a Perky Jerky recipe that I didn't like. I've already mentioned a few of the recipes that stood out, but one that I haven't touched on is there Truffle & Thyme Wagyu Beef Jerky.
Something about truffle means it has to be good, right? The recipe includes granulated onion, ground thyme, black pepper, and sunflower oil. The whole strips of wagyu beef are then marinated overnight in coconut aminos and coconut sugar to create the truffley goodness!  
How To Get Your Perky Jerky!
Fortunately, you don't have to choose just one of their many varieties for your first sample of Perky Jerky. They offer several different varieties and sampler packs so that you can try out a bunch of recipes before you decide which is YOUR favorite.
Below, I've highlighted a few of their samplers so you can get a better idea of what they offer. If one of them interests you, simply click on the photo and you'll be redirected to Perky Jerky's website! 
About The Backpack Guide
As The Backpack Guide, I'm on a mission to explore the wilderness, create learning opportunities, and connect with nature. These are the objectives that underline all the content I create on this site.
I want to inspire others to recreate in their respective wildernesses and to do so in the safest, most enjoyable manner possible. I'm also very interested in the experiences of others in the wild and I want to create a community of people that share those experiences and the lessons they've learned as a result.
If my mission resonates with you, you think we may have an awesome opportunity to collaborate, or you simply want to connect, I'd love to hear from you!
Feel free to reach out to me directly (email below), or share your adventure by tagging @thebackpackguide on Instagram, which is where I'm most active. You can also find me on Facebook, Pinterest, Twitter, and LinkedIn.
Side note(s):
Once you've gotten your hands on The Best Tasting Jerky On Earth, be sure to investigate the articles in my Hiking Tips and Trails section. My Outdoor Gear reviews include water filters, tents, hiking shoes, trekking poles, and more. Also, you might enjoy my reviews of packs from brands like Kelty, REI, and Gregory.
Finally, my YouTube Channel has video reviews of packs and outdoor gear if you're not really into reading! I do receive a commission on purchases made through the affiliate links on this website. Those earnings go directly back into my efforts to produce more informative content for my readers!
"Perky Jerky is the ultimate snack to help you get up the mountain, down the slope, or conquer whatever adventure you decide."
– Perky Jerky
The Backpack Guide