Sometimes it's hard for me to imagine paying for a guide when I can pop online to research trails, weather, and anything else I feel like I need to know before I go (which is one of the first rules of Leave No Trace ethics!). But when does hiring an adventure guide make sense?
There are many great reasons why you should hire a guide for your next adventure, even if you're a seasoned pro at whatever that adventure's primary activity might be. Here are some reasons to consider hiring an adventure guide for your next trip: 
It's Less Work For You!
Regardless of the exact activity you're embarking on, adventures require work. If you're opting for the self-guided route, you'll have to organize an itinerary, secure the required equipment, purchase or arrange for food, and do your best to hope and pray that the weather cooperates. And these are just some examples of the preparation that goes into self-guided adventures. 
If you're traveling for your next adventure, you'll also need to organize airfare, accommodations, transportation, and more. But when you hire a guide for at least a portion of your next adventure, you're essentially paying to do less work! For example, when someone hires me as a kayak guide here in Lake Tahoe, I take care of the food buying, equipment setup and breakdown, route planning, and keeping an eye on the weather so that route can adapt as needed. 
All of this boils down to less work for you, as the adventurer. And when you have to do less work, you free yourself up for a more enjoyable experience!
Their Expertise Puts You At Ease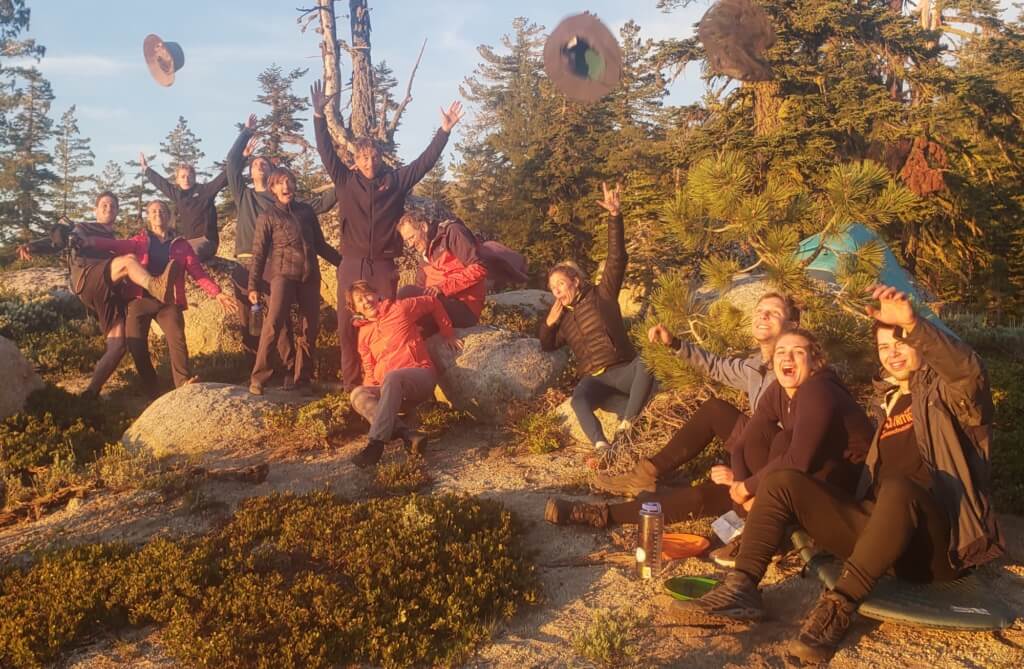 This point is especially true if you're relatively new to any of the activities you'll try on your next adventure. If you haven't done much mountain biking before you sign up for a trip, for example, your guide will help to put you at ease by reviewing the mechanics of the bike you'll be using, offering recommendations for safe riding (including proper following distance), and preview the route you'll be taking so that you don't have too many unexpected turns. 
Guides (good ones at least!) get their jobs because they sincerely enjoy those outdoor activities on their own time. Most hiking guides, for example, probably spend a good amount of their own free time hiking. And you'll find this to be true for most guides that you meet on your guided experiences. 
What does this mean? For me, it means that your guides are active experts in the activities that you're doing. And this expertise goes a long way to put you at ease, especially if you're a relative newcomer to that activity. Even if you're not, every new place will have some new variables to consider that can impact your experience. Kayaking is not the same regardless of location, for example. And your guide's familiarity with the location will also help to put you at ease. 
There's No Substitute for 'Local Knowledge'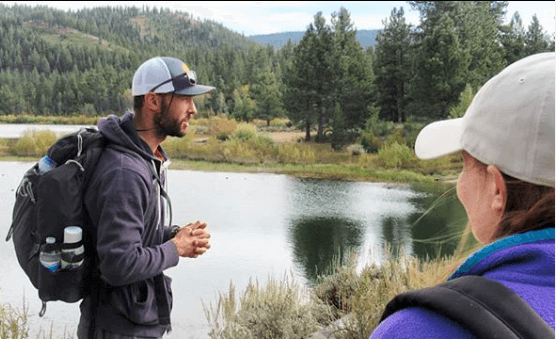 If you travel to a new place for your guided adventure, I'm guessing you'll have at least some level of interest in learning about that place! Even if your guided adventure only takes up a small portion of your time in that place, it can provide invaluable opportunities to mine for local knowledge. Keep in mind that your guides (most likely) live in that place or have traveled there several times over. 
Despite the fact that more and more information is available about destinations online, there are always going to be "local secrets" that you won't find online. And there's really no guarantee that your guide will give them up that easily. But most guides are willing to help you maximize your experience in any given destination. Your respect for the place that they call home is imperative if you really want "local tips." 
For me, I like to get off the beaten path when I travel. In my opinion, getting off the beaten path is where we find the gems of our experience. One of the most memorable experiences I had last winter in Costa Rica was a very "unofficial" tour of the jungle with a local college professor. We picked up more knowledge from him about Costa Rica's history and biodiversity than we probably did in the entire remainder of our time down there! 
Use your guided adventure as an opportunity to pick your guide's brain on the best places to eat, the best coffee shops to visit, the best bars or breweries to grab a drink in, or about other worthwhile adventures in the area. I can almost guarantee that your guide will know more than what you can find on TripAdvisor! 
Opportunities for 'Value-Added' Exchanges
As a guide, I love to share my local knowledge with guests. But one of my favorite parts of doing this job is the fact that I get to meet new people every day. I can appreciate that "networking" might not be tops on the priority list for your next adventure, but some level of networking will undoubtedly occur, whether you're actively searching for it or not. 
I have many stories of 'value-added' exchanges as a guide. I've been able to steer guests towards free or discounted experiences they probably wouldn't find if they hadn't asked. I've also made personal connections with guests that have facilitated new opportunities for friends and family members, both from an adventure standpoint and in terms of careers, relationships, and creative endeavors. 
I have to tell this brief story because it's the most recent example of this type of exchange. I guided a group of two couples on a kayaking trip with lunch on Lake Tahoe this summer. It ended up coming out throughout the trip that all of the folks worked for a television broadcasting company and it just so happens that my father is highly involved (in his "retirement") with our local television and radio stations here in Truckee. 
I explained to my guests that my father was helping with a project to restart the television and radio broadcasting elective courses at our local high school, in conjunction with the local stations. Upon this explanation, one of the guests told me that their company frequently donates used technology to these types of efforts.
At the end of the tour, we exchanged contact information and I wound up connecting my father with my guest to pursue the lead. A few months later, my Dad called me to thank me for making this connection. My guest wound up facilitating the donation of a piece of equipment worth more than $13,000. This was a piece of equipment that the local stations might never have been able to purchase on their own. 
I tell you this because you never know where the new connections you make will lead. You never know how a new friend might make a huge impact on your life. And when you hire a guide for your next adventure, you'll have more opportunities to make these types of connections, whether it's with the guide himself (or herself) or with other guests on your adventure!
Recommendations for Guided Adventures
There are just a few adventures that I've been on (or guided) recently that I'd like to recommend here. In the next section, there are a few cool upcoming trips from REI Adventures that you might be interested in as well! 
Caño Island Snorkeling Tour
The first is a guided snorkeling tour in Costa Rica. We went on a trip with them last spring out of Bahia Ballena. They took us on about an hour and a half boat ride out to Caño Island, where we hopped in the water and saw turtles, dolphins, a reef shark, multiple species of super colorful reef fish, and even a couple of mermaids!
You can check out our video of the experience on my YouTube channel and learn more about Bahia Aventuras (the company that took us out there) if this sounds like something you're interested in! 
Snowshoeing with Tahoe Adventure Company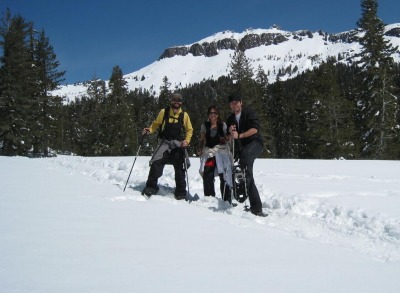 Tahoe Adventure Company is the premier outdoor guide company in the Tahoe-Truckee area. There are few other companies that can compete with the breadth of guided adventures that they offer.
You'll find that many guide companies up here are seasonal, but TAC (as it's known in some circles) offers year-round adventure opportunities in the mountains and on the lakes in this area. Their snowshoeing tours will teach you about winter ecology and local history while getting you out and about in a winter wonderland. 
If you're visiting Tahoe during the spring, summer, or fall, TAC also offers guided adventures hiking, mountain biking, kayaking, paddleboarding, backpacking, and more. You can check out their full offerings before your next trip to the Tahoe-Truckee area! 
REI Adventures
Looking for a warm place to go where you can ideally enjoy beach time and multisport recreation opportunities? The following suggestions are skewed towards those goals, just so you know in advance! 
*This section will be updated when all of the adventures mentioned below are no longer available!*
Date Options: May 2020 through September 2020
Trip Length: 7 days
Group Size: 4 to 16
You'll hike, you'll swim, you'll explore ruins, and you'll feast in style. This trip starts in Athens and then you'll hop on a ferry to explore the Greek Islands, including Paros, Antiparos, Amorgos, and Santorini. Highlights include hiking the Byzantine Road, cliff-jumping at Mastichari Cave, and exploring ancient seaside ruins on the island of Amorgos. Learn more about this trip if Greece seems like your spring vacation destination! 
Date Options: November 2019 through December 2020
Trip Length: 8 days
Group Size: 4 to 16
I'll always have a soft spot in my heart for Costa Rica because I spent a full winter living down there, but this multisport adventure will expose you to the wondrous diversity of this eco-friendly paradise. This trip starts and finishes in the capital city of San Jose. In between, you'll hike in Arenal Volcano National Park, rappel down waterfalls in La Fortuna, zipline through rainforests, and raft through the jungle on the Rio Pacuare.
Other highlights include hot springs, a visit to learn about local farming techniques, and mountain biking to the small town of Tucurrique for lunch with a local family or at a small restaurant. Check out Costa Rica's Ultimate Adventure if you've never been down to one of the most beautiful and biodiverse countries in the world! 
Date Options: December 2019 through December 2020
Trip Length: 9 days
Group Size: 4 to 16
This trip to Thailand will keep you moving, that's for sure! The trip begins with your arrival in Chiang Mai. Over the course of nine days, you'll make your way through rugged mountains and lush nature, hitting stops at the Elephant Rescue Park in Mae Taeng Valley, Lahu Village, Sri Lanna National Park, and the interconnected cave system in Chiang Dao Valley.
Other highlights include biking through orchards and rice paddies, a visit to Chiang Mai's acclaimed night bazaar, and mouth-watering Thai cuisine. Find out more about the Thailand Multisport if you're looking to head in that direction this spring. By the way, you can also currently get 20% off 2020 departures to Thailand if you book by November 25th. But no pressure! 
About The Backpack Guide
As The Backpack Guide, I'm on a mission to explore the wilderness, create learning opportunities, and connect with nature. These are the objectives that underline all the content I create on this site.
I want to inspire others to recreate in their respective wildernesses and to do so in the safest, most enjoyable manner possible. I'm also very interested in the experiences of others in the wild and I want to create a community of people that share those experiences and the lessons they've learned as a result.
If my mission resonates with you, you think we may have an awesome opportunity to collaborate, or you simply want to connect, I'd love to hear from you! Feel free to reach out to me directly (email below), or share your adventure by tagging @thebackpackguide on Instagram, which is where I'm most active. You can also find me on Facebook, Pinterest, Twitter, and LinkedIn.
Other Backpack Guide Resources
I'd also like to kindly invite you to check out the other content on my site. That includes Hiking Tips and Trails and my Outdoor Gear page with reviews on water filters, tents, hiking shoes, trekking poles, and more. Also, you might enjoy my Backpack Reviews if you're in need of a new pack, which includes brands like Kelty, REI, and Gregory. 
Finally, my YouTube Channel is full of informative video content if you're not really into reading! I do receive a commission on purchases made through the affiliate links on this website. Those earnings go directly back into my efforts to produce more informative content for my readers!
"Adventure travel is, by definition, unpredictable."
– Tom Robbins
The Backpack Guide