We love REI! They have an awesome selection. They carry high-quality products. Their customer service staff is always extremely friendly and knowledgeable. Whether you're looking for boots, bike helmets, or a new balaclava, they'll help you find a product you enjoy. Today though, we're going to be highlighting four REI backpacks that are sure to turn heads on your next outing.
Before we get started, we'd like to add a little disclaimer. As you read through these four reviews, keep in mind what purpose you intend to use your new backpack for. Also, consider the gear you'll be carrying. These are ALWAYS two of the most important factors when considering which backpack is right for you!
The REI Co-op Ruckpack 40 Pack
Men's and Women's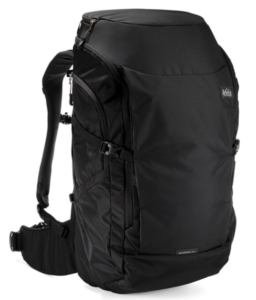 This first REI backpack we're going to talk about is the Ruckpack 40. Why 40? Because it will hold 40 liters of gear! This is an awesome pack for the on-the-go adventure traveler. With dimensions of 24 x 13 x 10 (in inches), it's small enough to come aboard your next airline flight as a carry-on and still big enough to carry a 15-inch laptop and all the other supplies you'll need for your travels.
The total gear capacity of this pack is 2,440 cubic inches. For a little perspective, 2,440 cubic inches is roughly equivalent to three-and-a-half NBA Men's standard-sized basketballs or, for our backpacking beer drinkers out there, about 2/3 of a standard-sized keg. So, you'll either be able to pack three and a half basketballs or 2/3 of a keg of your favorite beer!
This REI backpack is engineered with a spring steel internal frame and boasts exterior material of 210-denier nylon ripstop fabric. Just a quick aside, "denier" is a measurement that tells us the fiber thickness of individual threads used in the creation of fabrics. In general, fabrics with a higher denier count tend to be more durable.
Now on to the fancy features of this REI backpack. Two exterior pockets make accessing your travel essentials easier than ever when you're on the go. The Ruckpack's full-zippered design also allows for easy packing and convenient access to your laptop in the airport or that extra layer when the clouds roll in on the mountainside.
But here are the kickers! A stowable rain cover makes for easy deployment in inclement weather, the zippered back panel protects your backpack's straps while in transit, and lockable zippers keep your belongings secure wherever you roam!
---
The REI Co-op Flash 45 Pack
Men's and Women's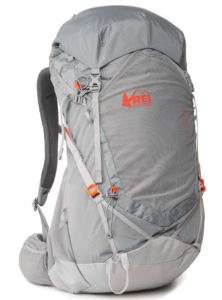 The second pack we're going to detail today is the Flash 45. With a gear capacity of 45-47 liters, the Flash 45 is a little larger than the Ruckpack above. It's also manufactured from 420-denier ripstop nylon, so it's designed for a bit more rugged adventures. The Flash 45's dimensions are 13 x 26 x 9 (in inches), so it'll have to stow under the plane if that's your designated travel method.
The Flash 45 REI backpack is designed for the weekend warrior hoping to make his or her excursion just a bit more comfortable. REI's patented Uplift™ Compression technology brings the pack load closer to your center of gravity. This helps to improve balance and stability. The adjustable, 3D-contoured hip belt is also designed with your comfort in mind.
For those of you who always tend to overpack, the Flash 45 is a great option. The removable top lid allows for some freedom in determining pack volume. Hipbelt pockets give you a chance to store chapstick, lighters, lozenges, or those sugary candies you can't live without while backpacking. The large mesh pocket and various attachment loops on the front of the pack also allows for easy storage and security of the items you need frequent access to while adventuring!
---
The REI Co-op Trail 70 Pack
Men's
The third REI backpack we'll cover is the Co-op Trail 70. This pack is designed for long-term backpacking trips, but it's also a great option to use as that extra checked bag on your next extended vacation. With a total gear capacity of 4,271 cubic inches, our enthusiastic drinkers could fit an entire keg of their favorite brew into this one and still have room leftover!
With an internal frame engineered of aluminum, the Trail 70 weighs only 5 lbs., 2 oz. when empty. Its top-loading design allows for easy organization and storage of your backpacking gear. The Trail 70 also boasts a bottom-access compartment designed specifically for quick and easy access to your sleeping bag.
Like the Flash 45, the Trail 70 REI backpack is manufactured with 420-denier ripstop nylon. One feature the Trail 70 boasts that the Flash 45 does not, however, is its stowable rain cover, which is stored in a zipper pocket just above the sleeping bag compartment.
With its adjustable 3D-contoured hip belt, removable lumbar pad, and ventilated back panel, the Trail 70 is great for many torso sizes. Perhaps most importantly, the Trail 70 will accommodate your exterior hydration pouch through a quick-snap closure located on the back panel!
---
The REI Co-op Tarn 12 Pack
Kid's
The last REI backpack we'll discuss today is the Tarn 12. We can't go home for the day without doing one for the kids! The REI Tarn is perfect for ages 5 to 8 and it was designed with kid comfort in mind. The idea behind the Tarn 12 is simple: if your kids are comfortable when they're hiking, then they're having fun and they're likely to do it again!
With a 12-liter capacity and 13 x 9 x 5 dimensions (in inches), it's the perfect size for your kiddo! Water bottle pockets that can be accessed without removing the pack make it easy for you to encourage proper hydration on your adventure. The Tarn also boasts a buckled hip belt that helps to distribute weight on longer day hikes and built-in airflow ventilation that'll keep your kids cool on those hot summer days!
---
The REI Co-Op Advantage!
Regardless of the pack you choose, we think shopping at REI is always a great idea! As an REI Co-op member, you'll receive a 10% dividend on every item purchased in a given year. REI will then send you a gift card with your total dividend amount at the end of the year. They usually include a few 10% or 20% off coupons as If you're not already an REI Co-op member, make sure you sign up next time you're in the store or online.
It's like getting free stuff! Or at least getting rewarded for the gear you've already purchased. Brand loyalty can be hard to come by these days, and it's nice to find a company that'll let you know it appreciates your business with more than just a bunch of spam emails mucking up your inbox!
---
About The Backpack Guide
At The Backpack Guide, we're always looking for new trails and wildernesses to explore. We're also excited to see and share photos of our readers with their new backpacks. Please don't hesitate to share your latest adventure or backpack purchase with us on social media by tagging @thebackpackguide on Instagram and Facebook!
As always, please leave any questions, comments, or concerns below and we hope you enjoyed the information we've presented here for you today!
More Resources From The Backpack Guide
I'd also like to kindly invite you to check out the other content on my site. That includes Hiking Tips and Trails and my Outdoor Gear page with reviews on water filters, tents, hiking shoes, trekking poles, and more. Also, you might enjoy my Backpack Reviews if you're in need of a new pack, which includes brands like Kelty, REI, and Gregory. 
Finally, my YouTube Channel is full of informative video content if you're not really into reading! I do receive a commission on purchases made through the affiliate links on this website. Those earnings go directly back into my efforts to produce more informative content for my readers!
See Ya Out There!
The Backpack Guide