Having a side hustle focused on outdoor gear reviews also gives me extra motivation to take a closer look at the gear people bring on trips. My goal for writing this Ariat outdoor apparel review is to highlight several pieces of Ariat gear. 
As a guide, I get to meet people from all over the country. It turns out the Tahoe area is a popular place for people to visit (who knew!). My favorite part about guide work is realizing how much I have in common with people from all over the world, which is a mysterious lead-in to the story of how this review came to be!
Ariat Skyline Summit Gore-Tex Boot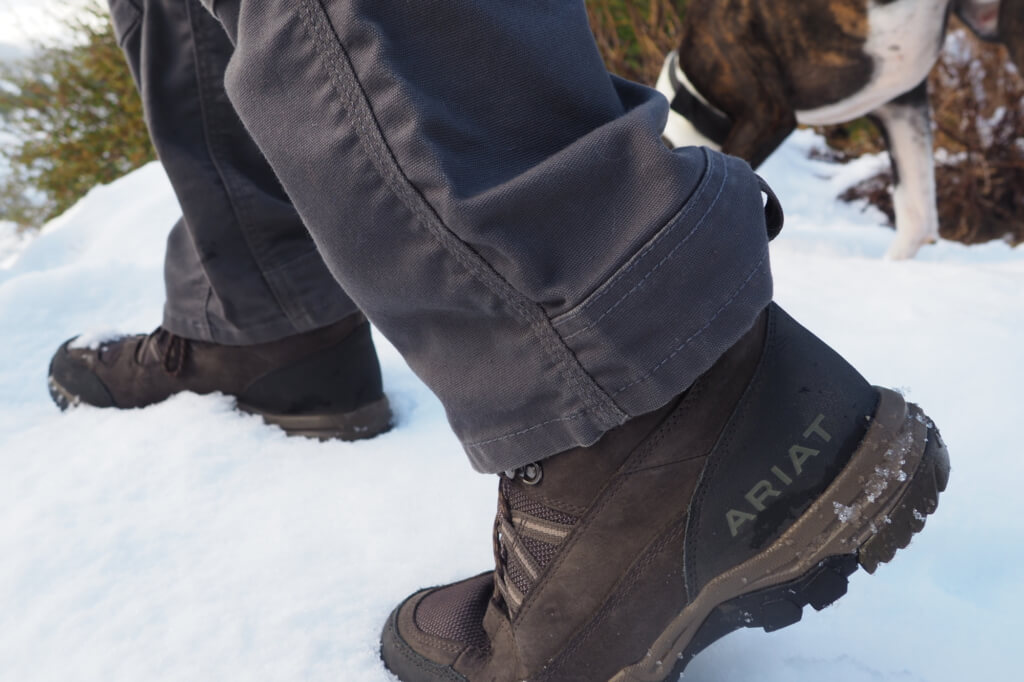 Going into the winter, I really didn't have a great pair of hiking boots. I tend to prefer hiking shoes versus hiking boots during the warmer months of the year. But when temperatures dip into the 30s, my feet just aren't comfortable in your standard hiking shoes. While I have a solid pair of winter boots, I needed a pair of boots for those times when it's not super wet outside but it's still cold. 
Enter the Ariat Skyline Summit Gore-Tex boot! These boots have been a great option for me on cold, dry days. They have a rounded toe with extra wear protection and a shock-absorbing midsole that makes them comfortable for all-day adventures.
These boots also feature Gore-Tex construction to keep your feet warmer. While the exterior of these boots can get (and stay) wet, the Gore-Tex helps to keep your feet warm and the mesh lining allows these boots to breathe on warmer days. 
---
Ariat Rebar M4 Utility Boot Cut Pant
Those 20-dollar work jeans I had lying in the bottom of my closet just weren't cutting it anymore. I found myself sliding around on my back and stomach under our RV. The project goal was to get insulation installed underneath the RV and then frame the entire underbelly of the RV in to keep things warmer through the winter months. All that sliding around on asphalt was taking a toll on those old jeans. 
Enter the Ariat Rebar M4 work pants! I love these pants because they have a little stretch to them. That made it much easier to contort my body as I was installing insulation in hard-to-reach places under the RV. But they were also tough enough to stand up to multiple days sliding and crawling around on the ground. While my other jeans quickly ripped and had to be retired, the Rebar pants held up until the project was finished. 
These pants are boot cut so they fit over your work boots and don't drag in the mud and water. They feature a kneepad housing (known as "Knee Saver"), which served its precise purpose for me over and over. They also have a flat hammer loop and two multi-tool pockets. These multi-tool pockets were great for me so I didn't wind up sitting on tools or having them poke me in the groin if I were to store them in a standard front pocket.
---
Ariat Team Logo 1/4 Zip Top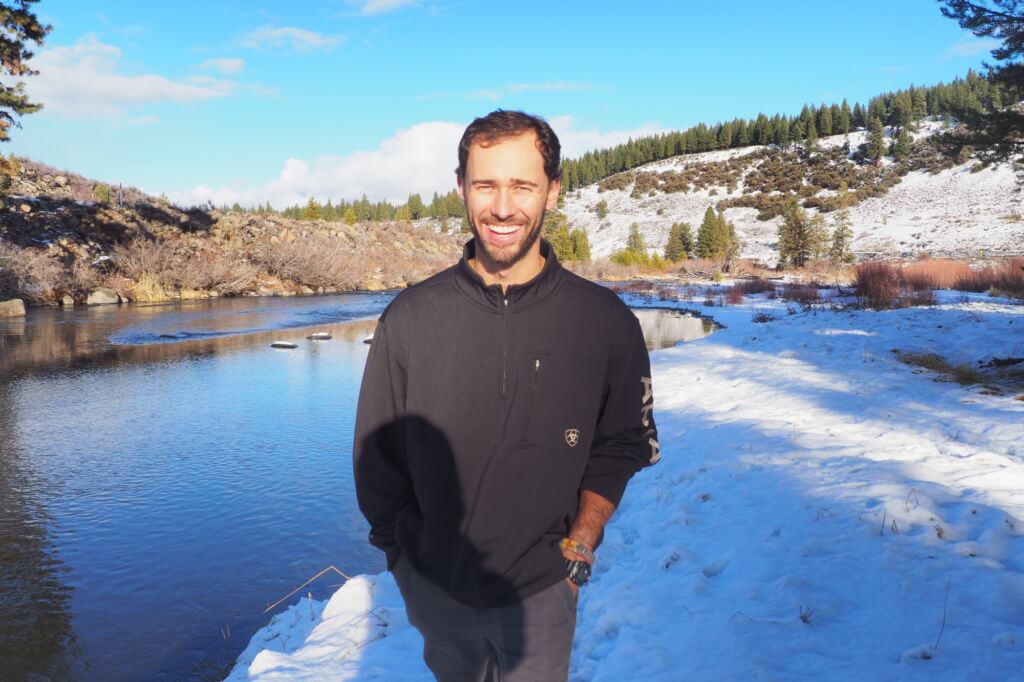 If you've ever lived in a colder climate, you know that a good fleece is essential to your comfort. Depending on the day, it might go over a lighter base layer and act as a fashionable outer layer. On other days, it might be buried under a couple more outer layers as it does your job helping your body retain heat. As I mentioned before, my closet wasn't exactly teeming with useful layers for winter, so adding this fleece was a huge plus. 
As temperatures dropped, I found myself reaching for better and better midlayers. The Team Logo 1/4 zip top is soft and durable. It's water-repellent, wind-resistant, and resistant to flame if you work in hazardous environments.
It also features seamless construction that's designed to give your arms a greater range of motion. My only complaint about this fleece is that its appearance is a bit "boxy" when you don't wear enough layers underneath. I find it best applied over a base layer and maybe even a light sweatshirt. 
---
Ariat Bowdrie Bonded Full-Zip Jacket
The Bowdrie jacket is SUPER comfortable! I reach for mine every morning and sometimes even put it on without anything underneath! But it's also stylish enough to wear out and around town on cold, dry days.
I wouldn't opt for it on a particularly wet or snowy day, except as an under layer with a waterproof coat or jacket on top. I like the fact that it has three pockets to choose from and find the lower two great for keeping my hands warm during my morning meditations!
This jacket is made of stretch wool fleece, which accounts for its supreme comfort. The standing collar is great for fitting underneath outer layers without getting bunched up and sitting uncomfortably.
The nylon panels on the inside of the jacket sleeves help to repel water when you're brushing snow off your car. And the combination of polyester, wool, and spandex gives this jacket a warm, comfortable, and slightly stretchy feel! 
---
Ariat Crius Insulated Vest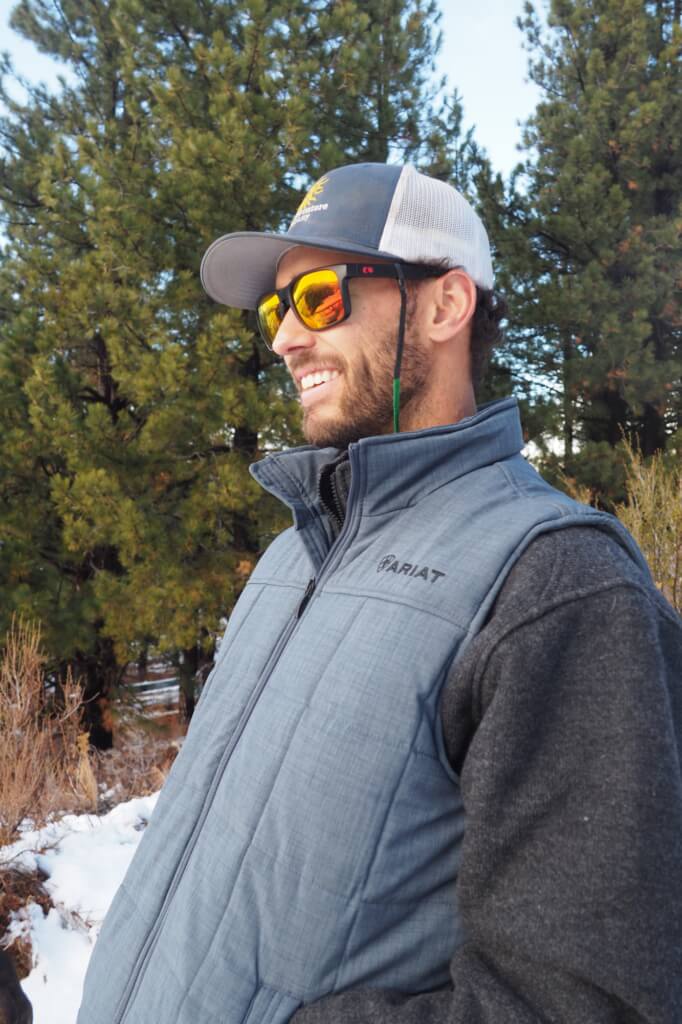 My partner sometimes makes fun of me for being a "vest guy." I have this old, bright red ski vest that I like to wear when we go up to the mountain. I remember the first time I ever pulled it out of the closet. She was surprised that I put it on LAST.
And I was surprised that she expected anything different! I had always worn vests on the outside, but she had always been accustomed to vests worn as a base layer. I can see the merits of both approaches, but I couldn't argue with her that the old red vest was a bit "out-of-date." 
Enter the Ariat Crius Insulated Vest! Now here was a vest that my partner didn't mind me wearing on the OUTSIDE of my layers. And I have to admit it presents a whole heckuva lot better than the old, worn-down red vest (he's still around, but just has been assigned a new purpose!).
I love wearing this vest on my morning walks with our pup because the inside of the pockets are lined with a soft fabric that also keeps my hands warm until I have to remove them for "poop duty." 
The Crius vest has an outer shell that is quilted with Polyfill insulation for both comfort and added warmth. A durable water repellent finish makes this vest resistant to water and wind. And the hand pockets can be zippered shut to keep your keys secure if you have to set the vest down before your next game of Laser Tag! True story, but let's not get into that right now! 
---
A Quick Plug for Patagonia Worn Wear!
The only bummer I've had with the Crius vest so far was 100% self-inflicted. It was a cold night and the pantry was bare. I had just come in from walking the dog and feeding him dinner. My only option for dinner was popcorn. Why I decided to cook the popcorn before taking the vest off remains a mystery to me. But one way or another, I picked up a hot pot and burnt a sizeable hole in the front of the vest. 
I was heartbroken! (Ask my partner. The best is probably my most-worn item of clothing right now!). But not much more than two days later, a local employee of Patagonia posted an ad on Facebook. He was looking for folks that needed patch jobs done and I didn't hesitate to reach out. After some back and forth and a couple of days away from my precious vest, it has been returned to me ready to be worn again! 
The best part is that it is now a custom-vest (check it out below)! You'd be hard-pressed to find another Ariat Crius vest with a Patagonia patch on it. But I wanted to tell this story because it's important to remember that your gear can be salvaged! You don't always need to go out and buy a new piece of gear. Make sure you look into patching and repairing old gear just as much as you research what's new out there! 
---
The Story Behind This Ariat Outdoor Apparel Review
Back in October 2019, I was wrapping up another incredible guide season for Tahoe Adventure Company. As the summer winds down, we always find ourselves working with more corporate groups before the snow starts falling. Sometimes we lead historical tours and sometimes we're contracted to organize a 'Wacky Olympics' as a teambuilding event. 
In this case, we were asked to guide a day hike for a corporate team from Ariat. Squaw Valley was the location and I have to admit I was feeling a tad burnt out at this point in the season. The previous hike we had led in this area had been highlighted by an ill-timed rainstorm and I was not looking forward to another cold, wet hike. As it turns out, the weather held for us on this day and my time with the Ariat crew spawned another opportunity. 
As we were wrapping up the hike, someone asked me what I did during the winter months. I explained that while Tahoe Adventure Company does offer guided snowshoe tours (which I lead from time-to-time), I like to work part-time for them during the winter so that I can focus on other efforts. After a little more prying, I explained that I had my own website dedicated to outdoor gear reviews. 
Lo and behold! Ariat was in the midst of looking for more gear reviewers and "influencers" (I don't honestly feel like I align with that word, but I didn't make it up!).
They asked if we could exchange information and keep in contact with promotional opportunities. So after a few emails back and forth, Ariat sent me the items I've reviewed above and I've been testing them out for a little over two months now! 
My Final Thoughts on Ariat Apparel
This is the first winter I've spent in my hometown in almost two years. And I have to admit that I was feeling very unprepared as the first snowflakes began to fall. I wholeheartedly believe in unseen powers that sometimes take care of us, even if we don't quite know what we need. And this relationship with Ariat was a prime example of that happening in my life. 
I have been using at least one piece of Ariat gear on a daily basis since the season has fully shifted to winter. The Crius Insulated Vest is by far the most worn item that I received from them. But I also have to give a big shout out to the Rebar pants for keeping by knees, hips, and butt healthy as I was crawling around under our RV this fall. Preparing the RV for winter was a bigger task than I had previously imagined, and I didn't realize how much I was lacking a great pair of work pants until I started wearing the Rebar pants! 
On a final note, the Bowdrie Full-Zip Jacket is the first thing I reach for when I roll out of bed in the mornings. It keeps my upper body warm while I'm sipping on my first cup of coffee for the day and settling in for 10 minutes of morning meditation. I've also begun using it as an underlayer on rainy or snowy days, as it keeps me much warmer than my standard cotton sweatshirt! 
---
About The Backpack Guide
As The Backpack Guide, I'm on a mission to explore the wilderness, create learning opportunities, and connect with nature. These are the objectives that underline all the content I create on this site. I want to inspire others to recreate in their respective wildernesses and to do so in the safest, most enjoyable manner possible. 
I'm also very interested in the experiences of others in the wild and I want to create a community of people that share those experiences and the lessons they've learned as a result.
If my mission resonates with you, you think we may have an awesome opportunity to collaborate, or you simply want to connect, I'd love to hear from you! Feel free to reach out to me directly (email below), or share your adventure by tagging @thebackpackguide on Instagram, which is where I'm most active. You can also find me on Facebook, Pinterest, Twitter, and LinkedIn.
More Resources From The Backpack Guide
I'd also like to kindly invite you to check out the other content on my site. That includes Hiking Tips and Trails and my Outdoor Gear page with reviews on water filters, tents, hiking shoes, trekking poles, and more. Also, you might enjoy my Backpack Reviews if you're in need of a new pack, which includes brands like Kelty, REI, and Gregory. 
Finally, my YouTube Channel is full of informative video content if you're not really into reading! I do receive a commission on purchases made through the affiliate links on this website. Those earnings go directly back into my efforts to produce more informative content for my readers!
"Tomorrow hopes we have learned something from yesterday."
– John Wayne
The Backpack Guide