For the most intrepid adventurers, a little snow won't stop you from getting your camping fix year-round. Fortunately, with one of winter's best marmot rucksacks, you'll be prepared and comfortable for your next winter backpacking outing!
Quick disclaimer: Camping in the winter is, indeed, possible! Here at The Backpack Guide, however, we do like it when our readers are as prepared as they can be for the elements. So maybe take some time to check out some of Marmot's latest and greatest tents while you're at it!
The Kompressor Star
With a 28-liter capacity, the Marmot Kompressor Star is a great pack for day trips or even a lightweight overnight winter adventure. The main body of the pack is engineered from 100% 70-denier Nylon Ripstop fabric and reinforced with 210-Denier Nylon Double Ripstop while the pack's interior consists of 135-denier polyester.
While the pack can hold up to 1,710 cubic inches of gear, it only weighs a very light 1 pound, 10 ounces when empty, meaning you won't be carrying any extra weight as you hike through even the harshest of winter conditions. The unique combination of fabrics makes the Kompressor Star an excellent option for lightweight durability.
The Kompressor Star boasts a wrap-around zipper that provides simple access to your pack's contents. The external mesh pocket allows you to store items that you'll want to get to without having to dig around inside the pack. Dual trekking pole attachment locations allow you to go hands-free when you most desire.
Side mesh pockets allow for convenient water bottle storage while the pack's removable waist belt makes it fully customizable for your comfort and optimum function. At an outstanding starting price of just $99, the Kompressor Star has led many happy customers to claim it as "the best bang for your buck!"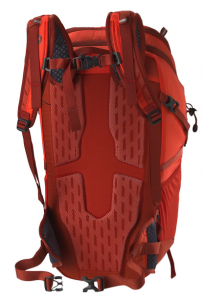 ---
The Ultra Kompressor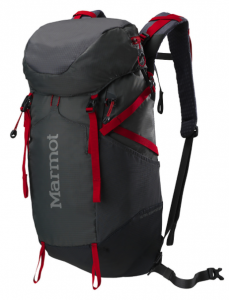 The Kompressor Star's little brother offers a gear capacity of 20-liters or 1,350 cubic inches. So, for our hockey fans out there, you could fit the equivalent of 200 standard-sized hockey pucks inside this pack in preparation for your next pond hockey outing. But seriously, that's still a lot of space for the more relevant gear that you'll actually need!
The lining of the pack is engineered with 135-denier polyester. The main body of the pack is manufactured with 70-denier, 210-thread count Nylon Ripstop and is reinforced using 210-Denier Nylon Double Ripstop. With a base weight of just 1 pound, 2.5 ounces, the Ultra Kompressor is even lighter than its big brother, but you won't sacrifice when it comes to durability.
The Ultra Kompressor boasts many of the same features as the Kompressor Star, including removable waistbelt, zippered lid compartment, and air mesh shoulder straps and back panel for breathability and comfort.
The pack also boasts dual trekking pole attachments and a hydration port and clip compatible with the appropriately sized hanging water reservoir. The Ultra Kompressor is slightly smaller, and also slightly cheaper than its Star brother!
---
The Graviton 38
Get ready to defy gravity with the Graviton 38! This pack offers a capacity of 38-liters or 2,440 cubic inches. To continue our trend of off-the-wall equivalence references, that is roughly equal to the ability to fit a whopping 2,000 regular-sized marshmallows! (No mini-mallows here!) With all that space, the Graviton 38 is a great pack for winter overnight or weekend-long excursions.
Despite ample space for gear storage, the Graviton 38's base weight is only 2 pounds, 6 ounces. Whenever you're searching for a multi-day pack, lighter base weight is a good thing! But you also don't want to sacrifice durability. The main body of the Graviton 38 is crafted from 70-Denier Nylon Two-Tone Ripstop fabric and reinforced with 100-Denier Nylon Triple Ripstop. The lining of the pack is manufactured with 135-Denier polyester. All this means is that, for such a lightweight option, you won't be making a great sacrifice in terms of durability.
One of the Graviton 38's best features is the full wrap-around zipper with multiple sliders that allow access to the main compartment from multiple locations. It also boasts a padded waist belt with dual mesh zippered pockets, airflow suspension to make carrying heavier loads more comfortable, and a removable lid with a zipper pocket and key clip. At a price of just $179, the Graviton 38 is a lightweight, durable multi-day Marmot rucksack that won't break your budget!
---
The Graviton 48
Yes! Get ready to defy gravity…more…with the Graviton 48! The larger version of the Graviton boasts a total capacity of 48-liters or 3,050 cubic inches. For our multi-day adventurers that need far more room than the paltry capacity of 2,000 marshmallows, the Graviton 48 is a sweet upgrade!
This rucksack will allow you to bring along the equivalent of 2,500 marshmallows! If you're anticipating some ravenous S'mores-makers around the campfire on your next winter outing, those extra 500 mallows might make all the difference!
But all jokes aside, with a base weight of just 2 pounds, 9 ounces, the Graviton offers an extra 10-liters of space while only increasing your base weight by a pithy 3 ounces.
Continuing Marmot's trend of lightweight durability, the body of the Graviton 48 is also engineered with 70-Denier Nylon Two-Tone Ripstop fabric and reinforced with 100-Denier Nylon Triple Ripstop. The lining of the pack is also manufactured with 135-Denier polyester.
Some features of the Graviton not already mentioned include a storm collar with top compression strap, multiple clipping points with reflective tape, adjustable side and bottom compression straps, and a hydration port and clip compatible with an appropriately sized hydration reservoir.
The Graviton 48 is a great value among Marmot rucksacks. The only major complaint so far is that consumers wish it was offered in more colors!
---
A Winter Wonderland Awaits!
Don't let the elements stop you from getting your backpacking, hiking, or snowshoeing fix this winter! With an amazing selection of Marmot rucksacks to choose from, you're sure to find a pack that fits your unique needs.
Winter unlocks some of North America's most picturesque settings, and with one of these new packs in hand, you'll be prepared to put yourself right in the middle of the chilly action!
About The Backpack Guide
At The Backpack Guide, we're always looking for new trails and wildernesses to explore. We're also excited to see and share photos of our readers with their new backpacks. Please don't hesitate to share your latest adventure or backpack purchase with us on social media by tagging @thebackpackguide on Instagram and Facebook!
As always, please leave any questions, comments, or concerns below and we hope you enjoyed the information we've presented here for you today!
Other Resources From The Backpack Guide
I'd also like to kindly invite you to check out the other content on my site. That includes Hiking Tips and Trails and my Outdoor Gear page with reviews on water filters, tents, hiking shoes, trekking poles, and more. Also, you might enjoy my Backpack Reviews if you're in need of a new pack, which includes brands like Kelty, REI, and Gregory. 
Finally, my YouTube Channel is full of informative video content if you're not really into reading! I do receive a commission on purchases made through the affiliate links on this website. Those earnings go directly back into my efforts to produce more informative content for my readers!
Into The Snowy Beyond!
The Backpack Guide