Last Updated 2018
The beautiful beaches of Costa Rica are just waiting for your toes to dig into the warm sand. The history of the Inca Trail is dying to be uncovered. Wherever you decide to go this year, you're going to need one of the best backpacks for traveling.
Travel backpacks are a little different than backpacking packs. You're going to want something that can fit in an overhead compartment or under the seat in front of you while you fly. But you also want room for clothes, footwear, travel documents, and the camera or other media you'll use to capture your once-in-a-lifetime journey!
The Patagonia Black Hole Backpack
The Patagonia Black Hole series offers weather resistance and style! This pack offers a total gear capacity of 32 liters or  1,952 cubic inches. For a quick comparison, that's the rough equivalent of being able to stuff half a keg of your favorite brew on your pack, comfortably!
The Black Hole 32L Pack is engineered with 13-ounce, 450-Denier 100% Nylon Polyester Ripstop fabric that has been laminated with the TPU (thermoplastic polyurethane) film and a durable water repellent finish. This fabric is 50% solution-dyed in the manufacturing process and, unlike some companies, Patagonia isn't hiding the steps in its supply chain.
With a base weight of 1 pound, 14 ounces, a heavy-duty molded back panel designed for both comfort and durability, and a reinforced handle mounted on top of the pack for easy hauling, the Black Hole is a great pack for the urban commuter and distance traveler alike.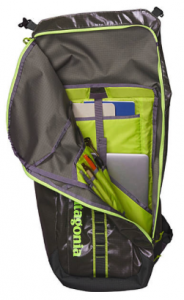 Because so many of us live and work remotely these days, you can't have a travel backpack without laptop carry compatibility. That's why this Black Hole backpack contains a padded sleeve that'll accommodate most 15″ laptops. If you aren't carrying a laptop, however, this sleeve doubles as storage for a hydration reservoir.
Finally, a unique feature of the Patagonia Black Hole Backpack is its "hybrid" access. The integrated folding lid covers the main zipper pocket, providing an extra degree of water resistance. But you'll also be able to access the main compartment using the second zipper down the side of the pack.
A quick word of warning here, though, some users have found that, because the side zipper zips from top to bottom, water does get into the bottom of the pack in the wettest of conditions. So, if you're really sold on this pack, but you're heading off to the jungle for the rainy season, you might also consider a 32L rain cover!
---
The North Face Gnomad
The North Face Gnomad pack was designed specifically for inclement weather. It's a great choice if you're commuting through those brutal Northeast winters or you're planning to travel to the rainy side of the Big Island of Hawaii! In either situation, this pack will carry what you need, and most importantly, keep it safe!
The North Face Gnomad offers 27 liters or 1,648 cubic inches of gear capacity. If you're having trouble visualizing the extent of that space, it's roughly equivalent to the combined size of 650 golf balls! Unless you're going on vacation just to hit the driving range for a week straight, you'll have plenty of space for all your essential gear.
The pack's internal frame gives is structure and rigidity even when empty and the patented FlexVent™ suspension system offers a comfortable mesh back panel and includes custom injection-molded shoulder straps. With a base weight of 2 pounds, 14 ounces, it's a little heavier than the Patagonia Black Hole 32L but offers a little more in the way of durability.
The North Face Gnomad pack is engineered with 420-Denier Nylon with TPE PVC Coating and reinforced with 420-Denier Embossed Nylon with TPE PVC Coating. The pack's roll-top closure with 9-hook latch offers a superior degree of weather resistance and the padded, fleece-lined laptop sleeve in the main compartment is specifically designed to keep your laptop safe from any bumps or drops.
The reflective print on the front of the pack increases your visibility in low-light situations and two secure-zip front pockets allow for easy storage and organization of items you'll need quick access to. Perhaps best of all, this North Face pack is backed up by The North Face's Lifetime Guarantee and Free Return Policy!
---
The Arcteryx Brize Backpack
This pack is great for the most adventurous of world travelers! With a total gear capacity of 32-liters or 1,952 cubic inches, you'll be able to bring plenty of gear along whether you're heading to the tropics or prepping for some peak climbing!
The Arcteryx Brize is designed as a daypack that easily converts to your go-to travel backpack. The main compartment of the pack is most easily accessed from the top but quicker access can be obtained via a zippered front pocket. Side pockets are the perfect size for 1-liter water bottles and can also double as easy storage for your trekking poles.
The bottom panel of this Arcteryx pack is engineered with N630p Nylon fabric with a 6,6 plain weave. The body of the pack consists of N420p-HT Nylon with that same 6,6 plain weave. The pack also boasts two compression straps on either side to assist with weight distribution and dual front daisy chains for additional secure storage.
Overall, the Arcteryx Brize 32L is a great all-around travel backpack for those traveling domestically or internationally. The one drawback I'll point out is the lack of a padded laptop compartment anywhere inside this pack. For the digital nomads out there, that can be a deal-breaker. But if you aren't worried about laptop safety or the need to work while you're traveling this is an awesome pack!
---
The Tortuga Outbreaker Backpack
So, I've tried to save the best for last! The Tortuga Outbreaker was recently voted as the "Best Carry On Travel Bag" by The Wirecutter. And while you might think that's an odd category for a traditional "backpack" to land in, we're all about crossovers and hybrids more than ever these days, and the Tortuga Outbreaker is one of the best on the market for 2018.
Despite its whopping 45-liter capacity, the Outbreaker still fits into the 22 x 14 x 9 inch standard that most airlines use to determine appropriate carry-on size. This is the pack for the dedicated business traveler that's also a die-hard outdoor adventurer!
The Tortuga doubles as a backpack and rolling bag, giving you the freedom to haul your gear when needed and fit into those airport crowds when desired. The Outbreaker is engineered with X-Pac waterproof sailcloth, which consists of four distinct fabric layers (outer to inner): 210-Denier Nylon with a durable water repellent and UV resistant coatings, black polyester "X-Ply," 0.25 mm PET film, and 50-Denier polyester taffeta backing. The back panel is padded with Ariaprene foam for added comfort.
If laptop storage space is your main concern, the Tortuga boasts space for a 17″ laptop and a 13″ tablet. Separate compartments also provide easy organization for chargers, cables, and other accessories. For those of us that never enjoy unpacking our bag to put our laptop in a separate bin through security, the Tortuga has solved our issue by creating the lie-flat zip laptop compartment that allows us to simply open that half of our pack as it goes through security rather than removing our laptop altogether.
While the Tortuga Outbreaker is a bit more expensive than the other travel backpacks I've mentioned above, it allows you to pack like you're bringing a normal suitcase while still retaining the flexibility to go anywhere and do anything once you arrive at your destination!
---
It's All About Functionality!
Whatever your choice, I caution against excess. One of the beauties of traveling, in my mind, is that we learn to survive, and often thrive, with less. We learn to adapt to our new surroundings and we find out more about ourselves than we ever would have if we hadn't set out for unknown lands. The education and growth that occurs when we travel happen within. It's not so much a product of the "stuff" we are able to bring along with us!
That said, I hope that you've found the information on the best backpacks for traveling useful in the quest to find the ultimate travel backpack for your next adventure. Keep in mind, it's not where we end up that matters, it's what we learn along the way that counts!
About The Backpack Guide
At The Backpack Guide, we're always looking for new trails and wildernesses to explore. We're also excited to see and share photos of our readers with their new backpacks. Please don't hesitate to share your latest adventure or backpack purchase with us on social media by tagging @thebackpackguide on Instagram and Facebook!
As always, please leave any questions, comments, or concerns below and we hope you enjoyed the information we've presented here for you today!
Safe Travels in 2018!
The Backpack Guide