From encountering crocodiles in the Everglades and Keys hospitality further south, Florida has welcomed me with open arms and heart-pounding surprises.
There is a lot to cover in this update, so let's get to it!
The Route
From Tallahassee through Everglades National Park, down to the Keys, and then back up the east coast of Florida and then all the way up through Georgia into Tennessee, I have done a lot of driving over the last two weeks.
Check out the route!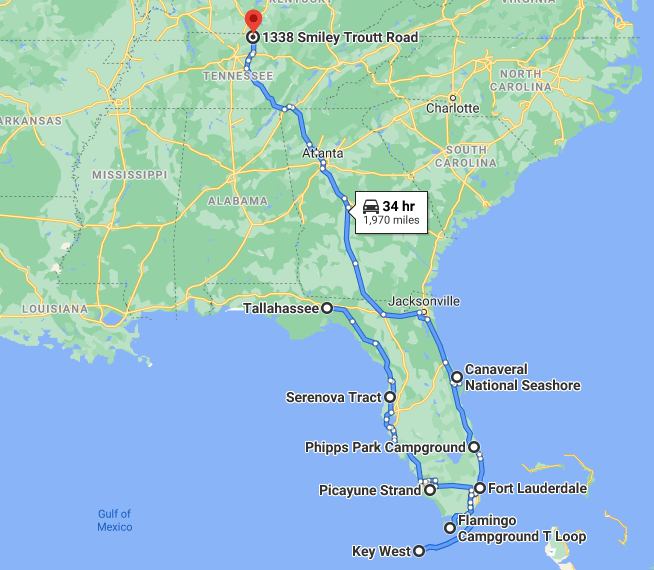 ---
Campsite Chronicles
In honor of the main resource I am using to find campsites during my travels, I'll be reviewing all of these locations on The Dyrt App as I go.
To sign up for a free 7-day trial of the app for your next road trip, please use this custom link!
Here's a quick chronicle of the campsites I've stayed in since the last update:
---
Videos From Crocodiles in the Everglades and Keys Hospitality
I didn't capture any longer videos of the camping setup or product review variety over the last couple of weeks, but here are a couple of quick clips from hiking and hanging out in the Everglades:
---
---
---
Hiking The Bear Lake Trail in the Everglades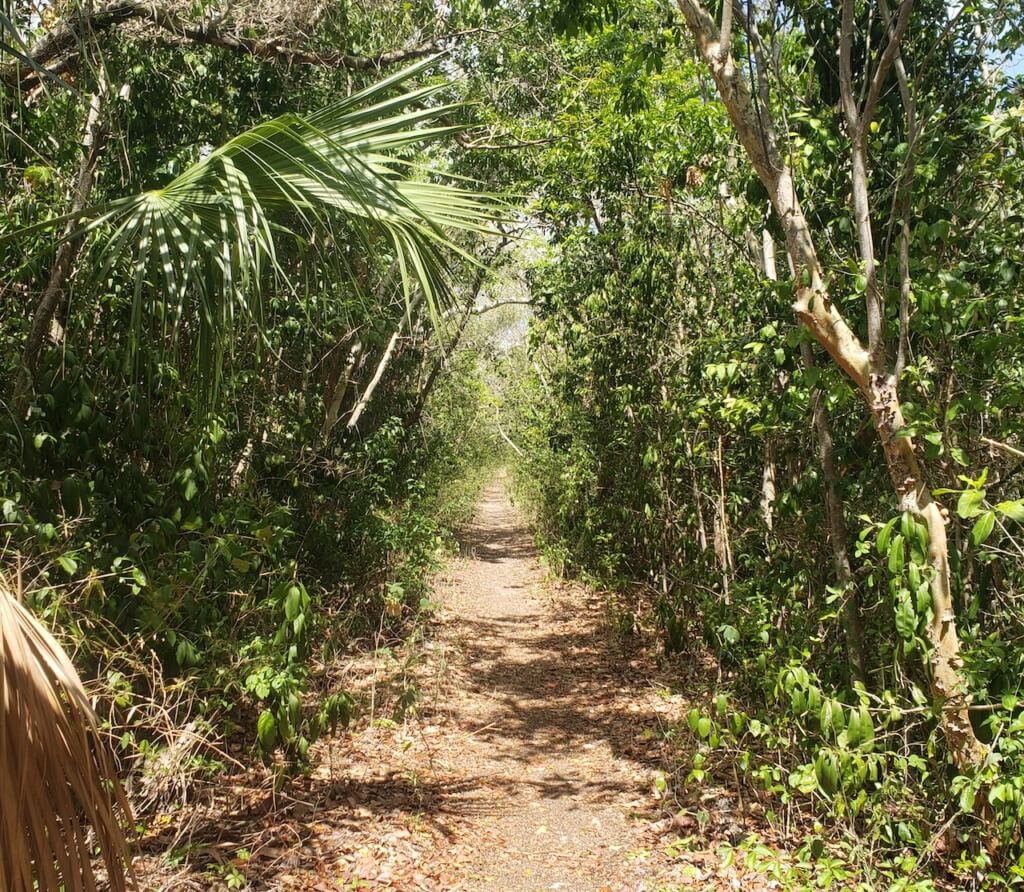 Hiking in the Everglades felt like a foreign experience. It's just walking, right?
Well, not so much when all the roots look like snakes. (Or do the snakes look like the roots? Which begs a whole new addition to the age-old chicken-or-egg conundrum…)
Fortunately, I didn't encounter any snakes during the four days I spent exploring the park. But I did encounter something much larger.
There were plenty of well-marked and healthily advertised hikes in the southern part of the Everglades. Seeking something that few visitors might see, however, I chose the one hike that wasn't on the "tourist map".
Driving To The Bear Lake Trailhead
This hike requires a 10-15 minute drive down a dirt road. The road spurs off the main road in and out of the park and runs along Buttonwood Canal.
At its terminus, there is a parking area with a short dock on the canal. When the water is higher, there is a paddle trail that spurs off the main canal and runs towards Bear Lake.
Running parallel to that paddle trail is Bear Lake Trail. It is about 1.6 miles one way and it is completely flat.
The Uneventful Hike Out
The dense forest on both sides of the trail and plentitude of standing, brackish water off to the right meant plenty of mosquitoes throughout. I stayed covered (mostly) from head to toe.
I proceeded cautiously for the 1.6 miles out to Bear Lake. My eyes remained glued to the trail in hopes of spotting a serpent long before it spotted me.
The trail opened up at the lake and there was actually a nice log for a quick snack break. In the hot sun, the mosquitoes were manageable.
The Eventful Hike Back
On the way back, I began thinking about dinner. My pace hurried and my concentration on the trail in front of me slackened.
I was still looking for snakes, but without the same vigor as I had on the way out.
It was thus that I came across an 8-to-12 foot (hard to tell exact length and I'd hate to embellish…too much) American Crocodile.
Big Momma…
In the very center of the trail was a large mound measuring approximately four feet in diameter. Undoubtedly I had walked right over or around it on the way out without noticing its significance.
Now, its significance was crystal clear.
It was a nest mound. And Momma had returned to protect her babies.
I was within 10 feet of her before I saw her lying there. I quickly backed up.
With my heart doing its best to escape the frustrating constraints of my body, I took a deep breath and surveyed the situation.
Momma was on the left side of the trail with her head resting on the edge of the mound. Roughly four feet of mound spanned vast majority of the trail's width. A thin, 12-inch section passed around the mount at the far right side of the trail.
Behind Momma was the swampy "paddle trail." To the right, dense jungle.
What to do?
It is just past 1 pm, so there is no rush. But when could I reasonably expect her to move?
Crocs do most of their hunting at night (from what I've heard), so theoretically she could just remain at her protective post for the remainder of the afternoon.
I retreated down the trail to collect my thoughts.
After a swig of water and healthy amount of dried mango slices, I returned in hopes she had moved.
No such luck.
I inched closer trying to see if I had missed an opportunity for a better way out. Nothing.
There was no boat traffic back on Bear Lake, so going back to try to flag down a boat ride back to the marina didn't seem likely to be successful.
Plus, what if someone else comes down the trail? Shouldn't I be close enough to warn them?
It was time for a talk with a dinosaur….
"You see," I began, "I have absolutely no intention of harming you or your babies. I simply want to return safely to my truck and be able to tell people how cool (and absolutely terrifying) this encounter has been."
No response. Maybe non-verbal communication will work. Let's try that.
"Okay, blink if you understand that I will not harm you and that it is okay for me to pass."
No blink. In fact, she doesn't move a millimeter.
I retreat back down the trail. More water and more mango slices.
Could this really be how I go out? Surely not.
Surely this crocodile is just here to teach me to remain vigilant when I am hiking alone in her territory.
I gulp.
This is not my time.
I don't go out like this.
Proceeding slowly back to her last-known location, I still have a glimmer of hope that she will be gone.
Alas, she remains at her post like the good Big Momma she is.
I proceed. Slowly and cautiously, without taking my eyes off of her.
I stick as far to the right of the trail as possible. My backpack hangs up on a pesky branch. I slow down to make sure I don't get knocked dangerously off balance.
She stares intently.
I take another slow step. I'm definitely not breathing.
Step…step…step.
Ten steps later, I am safely past the mound and a safe distance down the trail.
I exhale. She didn't move a muscle.
I snap a gracious photo to capture the memory, turn, and put the rest of the trail behind me without incident.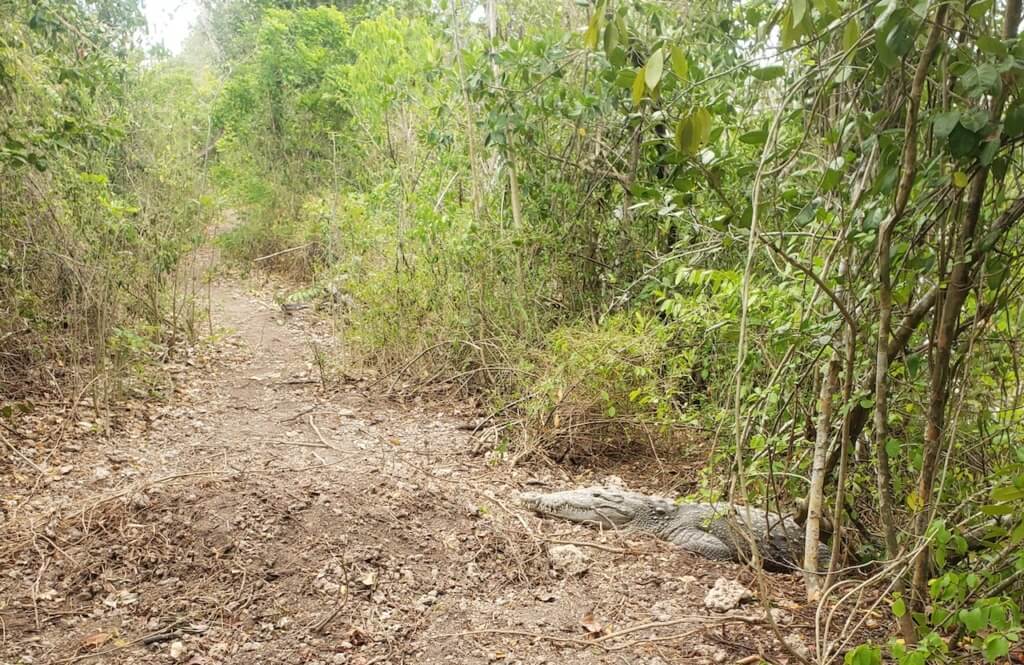 On the drive out, I warn every car I pass that, while the hike is beautiful, there seem to be crocs nesting along the trail.
I wonder if anyone else hiked to Bear Lake that day.
I am later informed that there have been no recorded deaths by crocodile attack since the Everglades became a national park in 1947.
I am sure glad I wasn't the first!
---
After spending four days in the Everglades, I went further south into the Keys.
I paddled, visited the Turtle Hospital, stepped on the southernmost point of the U.S., and toured Ernest Hemingway's old Key West digs.
My favorite fact from the tour was that Hemingway wrote the majority of his books in a relatively short, nine-year span when he was living in Key West.
He would wake up at 6 am everyday and use the catwalk to go straight from his bedroom into his writing studio. After writing 500 to 700 words per day (this blog is over 2,000 words for reference), he would wrap things up by about 12 and go fishing or something else in Key West.
Sounds pretty ideal, right?
Check out some of my favorite pics from the tour!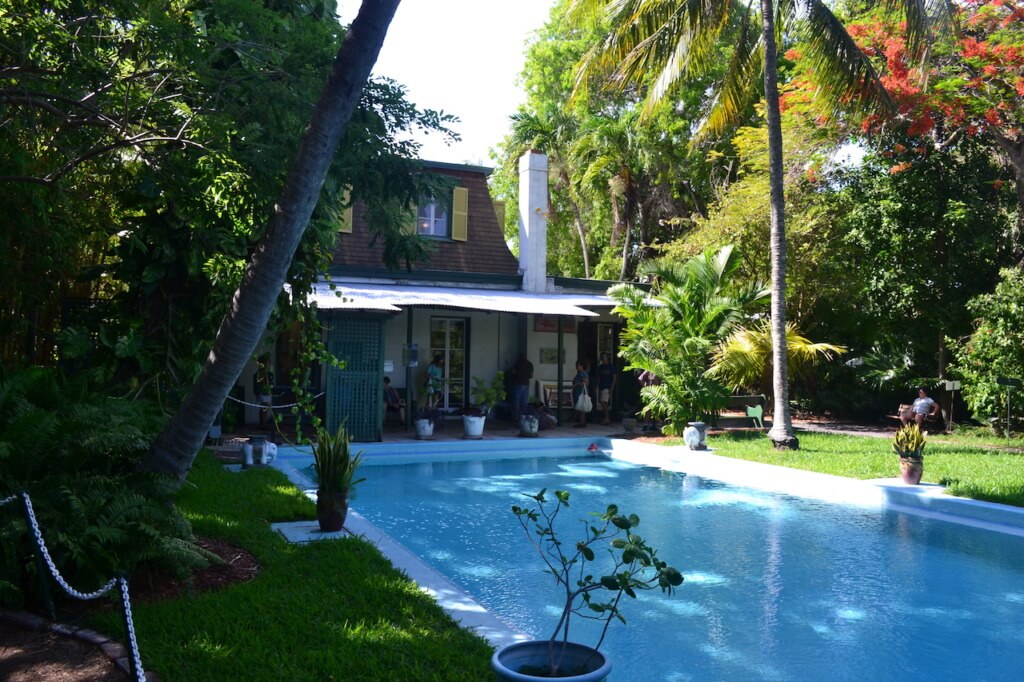 ---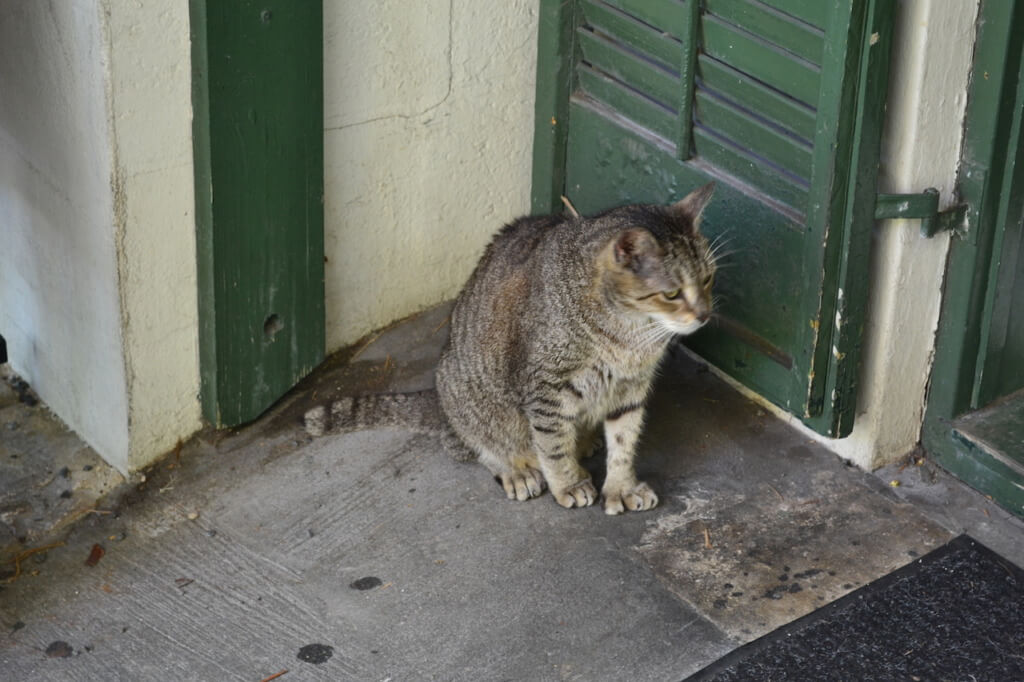 ---
---
---
---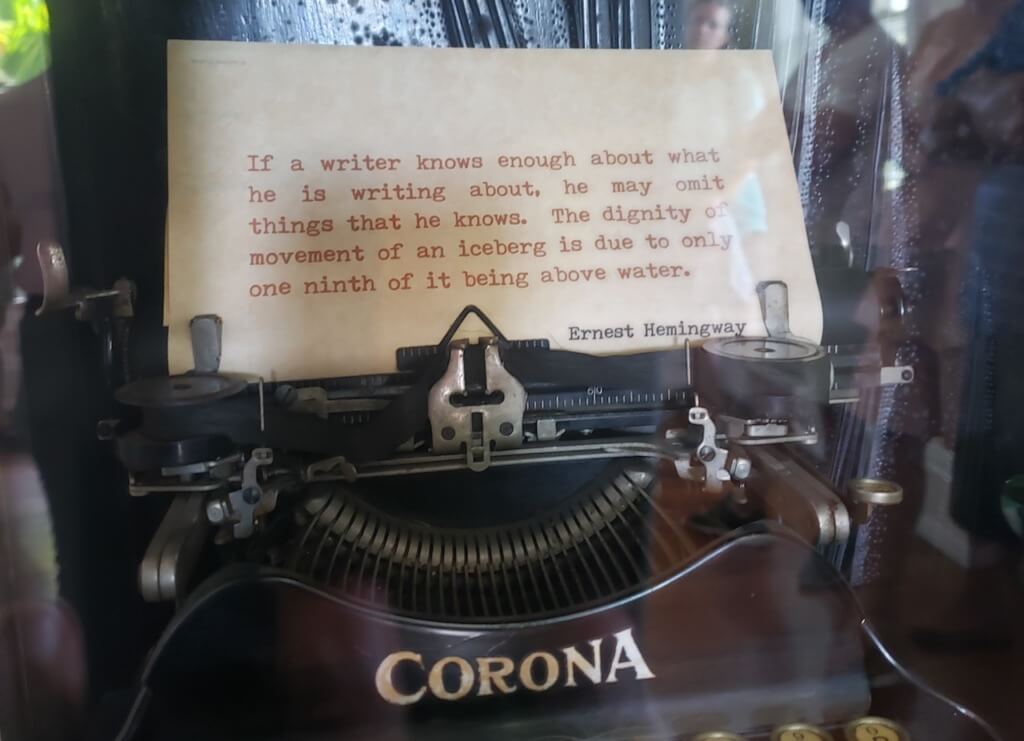 ---
More Pics From Crocodiles in the Everglades and Keys Hospitality
Check out some of my favorite photos I have been lucky to capture since the last update:
---
---
---
---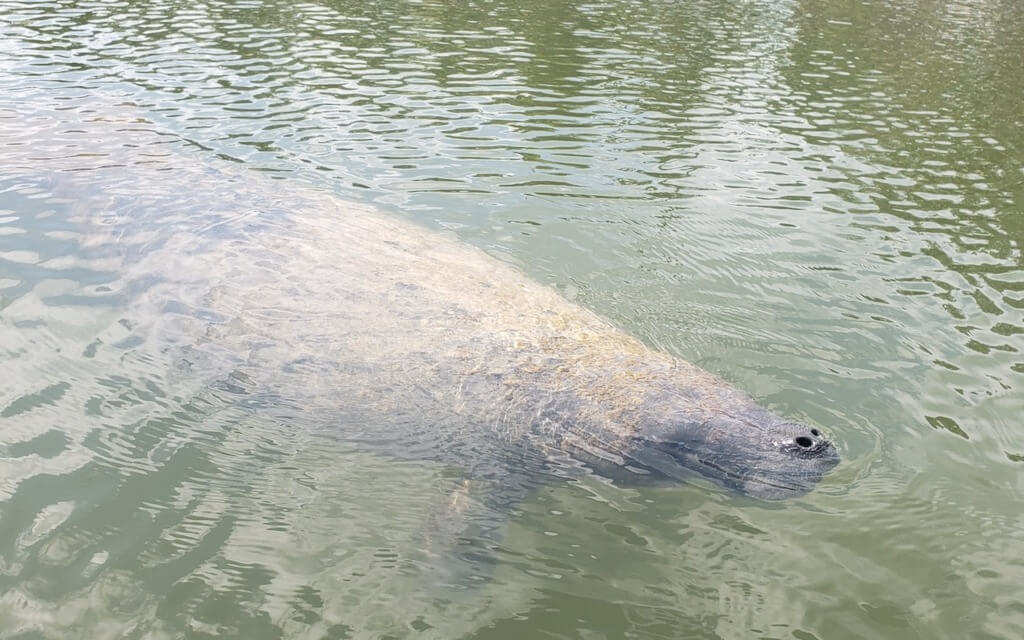 ---
Gear, Camping, and Truck Setup Insights
I am honestly keeping things very simple. When I am only in a place for one or two nights, everything other than my tent goes in and out of my truck only as absolutely needed.
On the full moon I had the pleasure of enjoying in the Keys, I slept out in my hammock to enjoy the ocean breeze It is nice to have sleeping options.
Here are the insights I've learned (or at least written down in my journal) related to my gear, camp life, and truck setup since the last update:
Flipping in my truck mirrors in camp is a good idea. I had a pair of cardinals go crazy pecking at, and pooping on, my mirrors on my first morning in the Everglades.
Shade is a higher priority in campsite choice when it is windy and I don't feel comfortable setting up the ARB awning.
It never hurts to ask to change campsites if I'm not happy with my initial selection.
---
Personal Insights From Crocodiles in the Everglades and Keys Hospitality
Over the course of the last year, I have realized that one of my primary purposes is to become the best-version-of-myself.
To that end, I am looking at all of my experiences (good and bad) through the lens of opportunities for personal growth and development.
These experiences (and the lessons learned through them) are easiest for me to relate in this form.
So, here are some of the personal insights I've written in my journal since the last update:
Must be aware of peaks and valleys in my energy levels and work on cultivating energy when it feels scarce.
It helps to ask the right questions.
Conversations with friends (even if not in person) are always healing.
Stop worrying so much.
Staying longer in locations provides more opportunity to make personal connections.
---
Educational Tidbits From Crocodiles in the Everglades and Keys Hospitality
Over the last few weeks, I have made a more conscious effort to learn about the places that I have visited. So here are a few interesting tidbits I gleaned from traveling through Southern Florida:
Panthers still live in southern Florida, but they are extremely endangered.
Turtles don't recognize micro-trash from nutrient-rich food. So they think they are full when they have bellies full of micro-plastics. Pack it in, pack it out!
There are only a small number of seeds in the world that can float. They wash up on shore and people collect them as 'sea beans'.
Manatees can hold their breath for roughly 20 minutes.
American crocodiles and American alligators co-exist peacefully in the Everglades.
Biggest threat to Everglades and fisheries in the Florida Keys is pesticide and fertilizer pollution from sugarcane farms.
Burmese pythons are invasive species in the Everglades. They reproduce several times a year and females can lay up to 100 eggs in a single reproductive cycle.
Many sections of coral reef in the Florida Keys are considered 'functionally extinct'. Major efforts to 'reforest' reef are underway in order to prevent habitat loss for the many aquatic species that live in this region.
---
What's Next?
As I publish this, I am on family property a bit north of Nashville, Tennessee. My next planned stop will be Mammoth Caves National Park in Kentucky. From there, I hope to proceed back southeast for some exploring in the Carolinas.
If you have any recommendations for places to visit, things to do, or breweries to sample in those areas, please drop a comment below or shoot an email to tucker@thebackpackguide.com.
Final Thoughts
What do you guys think about these updates? What do you want to know more about?
Do you want to see more stuff about my setup and the outdoor gear I'm using?
Would you be more interested in local flora and fauna for all the places I'm stopping?
I would love to get your feedback so that I can actively seek out cool facts about all the places I'm traveling this summer or make sure I set aside time to give you insights into my setup and how I'm keeping myself comfortable on the road.
Please don't be shy about leaving a comment to let me know what you'd like to learn more about. There are seriously no wrong answers!
Thank you guys for taking a few minutes out of your busy lives to check out this update.
I'll see you in the next one!
Yours In The Spirit of Adventure,
Tuck