Where are all the mammoth fossils in Mammoth Cave National Park?
Try as I might, I couldn't find any, but there was plenty of hiking and kayaking to be found here.
Taking a little break from helping my cousin and brother-in-law with home improvement projects down in Tennessee, I headed up to the Mammoth Cave National Park of Kentucky for a little mid-week getaway.
The Week's Route
Boring, right? I didn't do much driving since the last update (which was actually a breath of fresh air and a much-needed break!).
Here's where I did drive:
---
Campsite Chronicles
In honor of the main resource I am using to find campsites during my travels, I'll be reviewing all of these locations on The Dyrt App as I go.
If you're planning an upcoming road trip, sign up for a free 7-day trial of the app to find awesome campsites!
Here's a quick chronicle of the campsites I've visited in since the last update:
---
Adventure Story of the Week – Kayaking on the Green River
Do you want to hear about the laminate flooring I installed in my cousin's house? I didn't think so!
Fortunately, I've got something better for you.
After as much research as I could manage with limited service in the park, I found a kayak/canoe rental company that would shuttle me for a paddle trip.
The cost was minimal ($30) and the folks at Cave Country Canoe couldn't have been nicer.
I was lucky that they agreed to run a shuttle for me because there was one other family that wanted head out that day. Rain was in the forecast; so general interest in paddling was minimal.
This family made it all possible for me, however, and I will preface this story by giving them a shout out!
Shout-Out To Families Everywhere!
The put-in for the river was extremely steep. It actually involved two sets of steps with man-made kayak slides to help you more easily get your kayak down to the water.
Slides is the best word I can think of to describe them, but they were essentially just two elevated parallel two-by-sixes in the middle of a wide set of steps (now I wish I had taken a photo).
Anyhow, I let the family go before me as I was prepping the last of my gear. The shuttle driver prepared their canoe for them and did his best to stabilize it while they climbed in.
The kids, a boy and girl roughly two and five years old, respectively looked nervous.
As soon as she got in the canoe, she started crying and saying she wanted to go home. Of course, once his sister started crying, brother followed suit.
I tried to offer some encouragement (the shuttle driver wasn't offering anything), and they soon set off down the river.
I thanked the shuttle driver, prepared the rest of my gear, took some photos of a cluster of nearby butterflies (none of them came out very good), and climbed in and set out.
My goal was to stay behind the family just in case they needed help. It was an eight-mile stretch between the put-in and the take-out, so I figured a little support might go a long way.
Within 10 minutes, it started drizzling. Five minutes later, it was pouring.
Rain on the River
Fortunately, my PFD has a hood on it and I had my rain jacket handy!
Go ahead and laugh all you want. Drop your comments about how ridiculous I look down below.
But, damnit, my top half was dry!
I also found a little cave on the side of the river to take refuge in for a few minutes while the rain was coming down in buckets.
(insert cave kayak photo)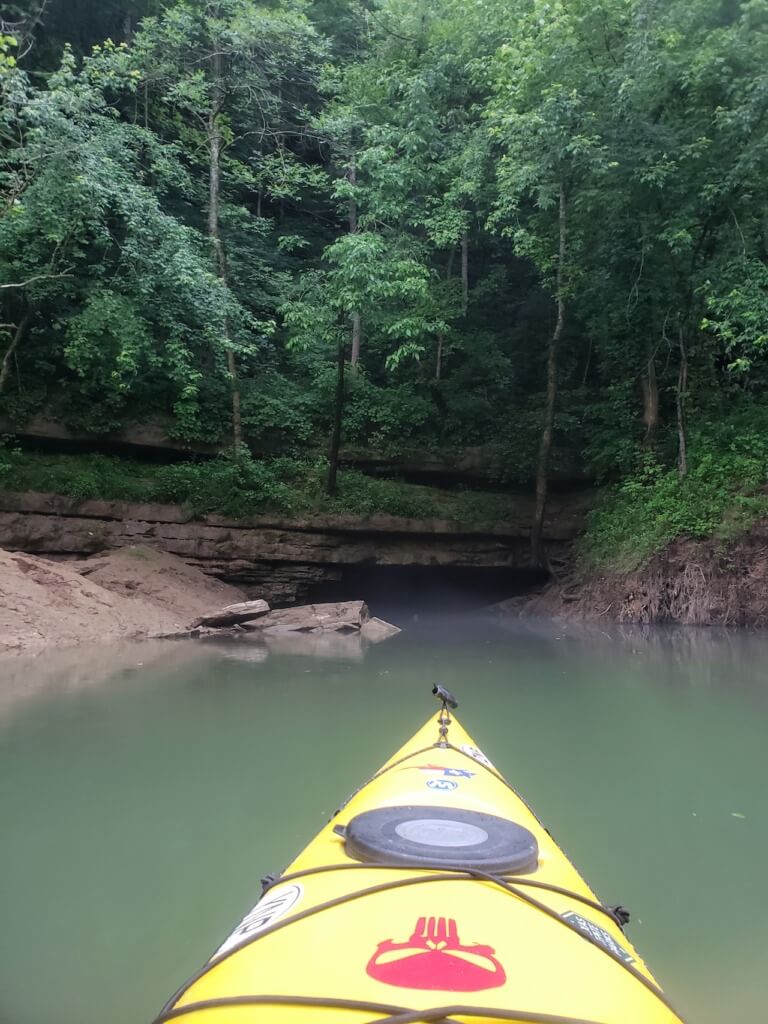 As I was taking refuge in the cave, the family that I started with came paddling back in the direction that we started from.
"I don't know why we thought this was a good idea with a two-year-old," Mom shouted above the din of the rain.
I could only wish them good luck and hope they had service back at the launch to get in touch with the shuttle company (this is why you should hire a guide for your next adventure!).
And Then There Was One!
Now I had the river to myself and a beautiful, relatively uneventful paddle ahead.
I only say one other couple on my journey, but was able to spot a few deer and ducks along the banks.
The most surprising view was a massive cluster of downed logs and sticks in the middle of the river.
As I approached, a funny shape emerged sticking out of the top of the cluster.
Way up near the top, about 20 feet above the current river level, a large gas tank was wedged in the pile of sticks.
It was the kind you see in the back of those trucks on the highway that have 'Flammable Gas' stickers plastered all over them so you speed past because you definitely don't want to be behind that truck if things go sideways.
How it got there, only Mother Nature probable knows!
---
Videos From The Mammoth Cave National Park of Kentucky
Here is a quick clip to prove I actually got rained on while paddling the Green River!
---
Top Pics From The Mammoth Cave National Park of Kentucky
Check out some of my favorite photos since the last update:
---
---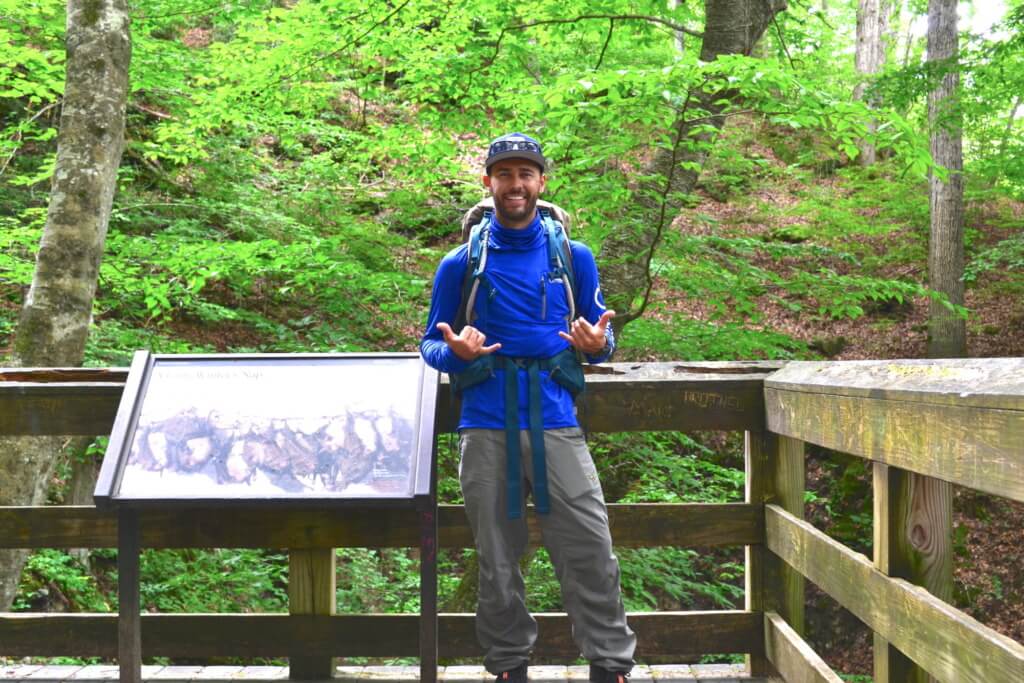 ---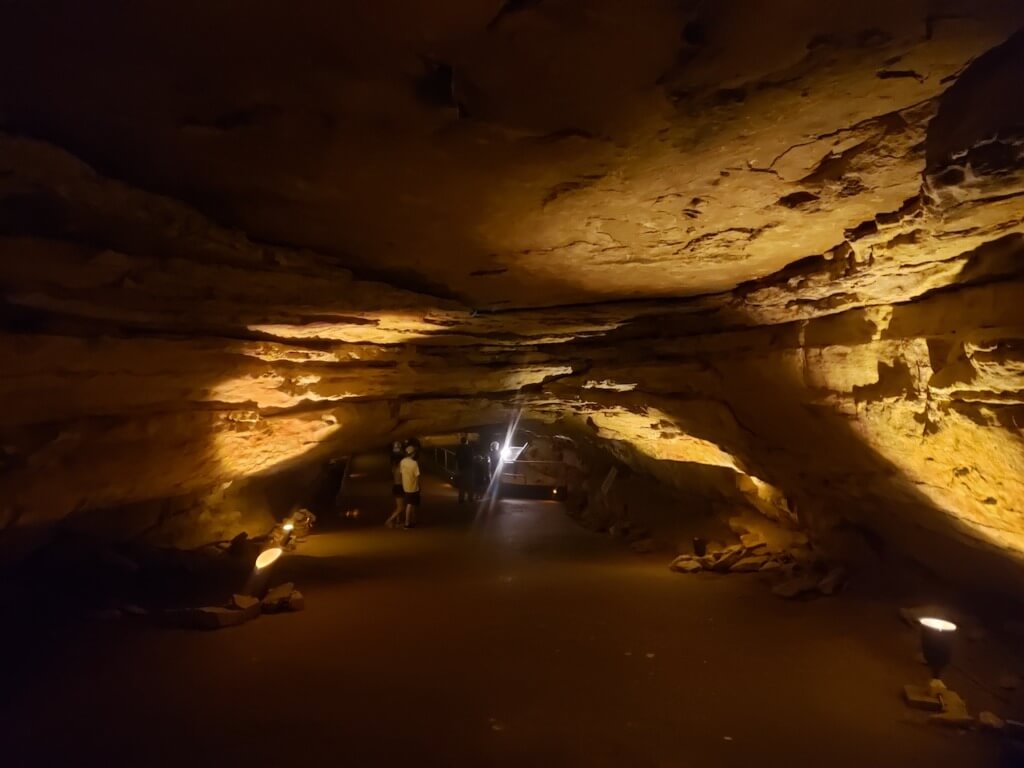 ---
---
Gear, Camping, and Truck Setup Insights From The Week
I just upgraded my perishable food storage to a 45-quart RTIC Hard-Sided Cooler. No offense to my old Kelty cooler (I have several Kelty backpacks that I love!), but this is a major upgrade and I'm excited to share more about why in upcoming posts.
Aside from that, here are the insights I've learned (or at least written down in my journal) related to my gear, camp life, and truck setup since the last update:
Minimal phone service provides a forced disconnect. I forgot how healthy it can be.
My new RTIC cooler also serves as a great bench seat.
There are dry counties in this part of the country! Plan ahead unless you want to take a break.
Bio-Block Firewood is super easy to start and burns for a long time.
---
Personal Insights From The Mammoth Cave National Park of Kentucky
Over the course of the last year, I have realized that one of the primary purposes of my life is to become the best-version-of-myself.
To that end, I am doing my best to look at all of my experiences (good and bad) through the lens of opportunities for personal growth and development.
These experiences (and the lessons learned through them) are easiest for me to relate in this form.
So, here are some of the personal ideas I've written in my journal over the past week:
Do I instantly become less attractive to others if I compromise my vision and/or abandon my purpose?
It's okay to take a chill day. You don't have to pack as many things as possible into each day.
It may be helpful to have a clearer definition of the kind of community and culture that I would like to be part of when I decide to stay in one place for an extended period again.
---
What's Next After Mammoth Cave National Park?
As I am writing this, I am exploring the Great Smoky Mountains and parts of Central North Carolina, including Asheville.
I'm not quite sure how long I will hang out here, but if you have any recommendations in this area, drop a comment below or shoot an email to tucker@thebackpackguide.com.
Final Thoughts
What do you guys think about these updates? What do you want to know more about?
Do you want to see more stuff about my setup and the gear I'm using?
Would you be more interested in local flora and fauna for all the places I'm stopping?
I would love to get your feedback so that I can actively seek out cool facts about all the places I'm traveling this summer or make sure I set aside time to give you insights into my setup and how I'm keeping myself comfortable on the road.
Please don't be shy about leaving a comment to let me know what you'd like to learn more about. There are seriously no wrong answers!
Thank you guys for taking a few minutes out of your busy lives to check out this update.
I'll see you in the next one!
Yours In The Spirit of Adventure,
Tuck