Now that I'm the proud owner of a Sunlite travel trailer, I'm camping a little differently and I needed the Vic Offroad AtemPower folding solar panel to keep my RV's battery charged. I'll cover the specs, features, and my likes and dislikes in this Vic Offroad folding solar panel review.
If you need a portable, folding solar panel for your next camping trip, let's explore if this is the right option for you. If you're looking for an option for backpacking trips, I rely on my Goal Zero power bank to keep my phone charged.
AtemPower Folding Solar Panel Review Specs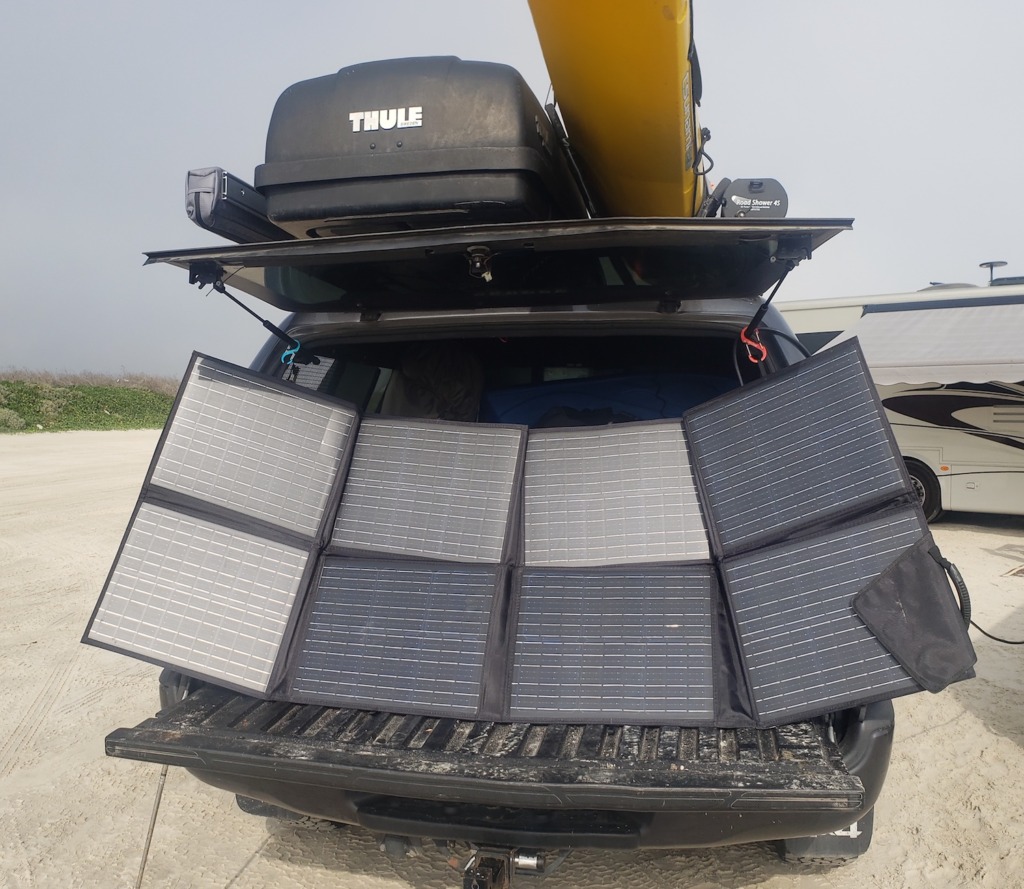 Max Power: 120 watts
Folded Dimensions: 18.31″L x 14.76″W x 4.33″H
Open Dimensions: 50.39″L x 29.13″W x 0.24″H
Gross Weight: 13.23 pounds
Number of Solar Panels: 8
Temperature Range: -40 to 185 ℉ (-40 to 85 ℃)
Solar Charge Controller Specs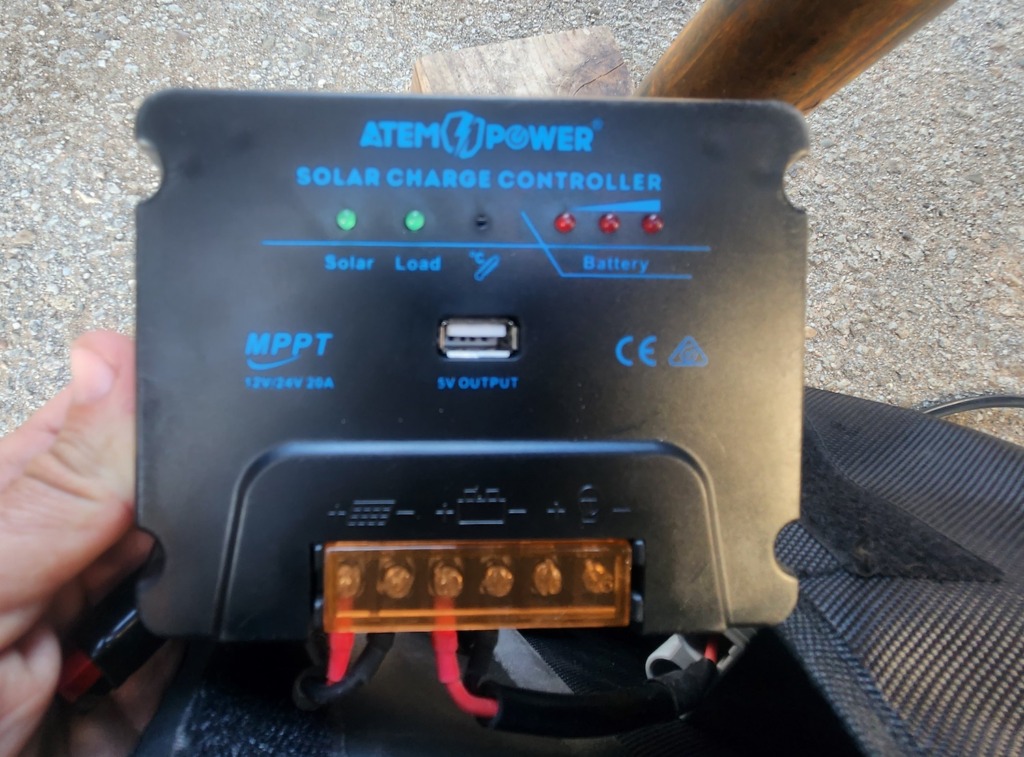 Dimensions: 5.16" L x 3.92" W x 1.16" H
Weight: 0.66 pounds
Rated Charge Current: 20 amps
Working Temperature: -31 to 131 ℉ (-35 to 55 ℃)
---
---
Vic Offroad AtemPower Solar Panel Features
The solar cells themselves are manufactured with A-grade monocrystalline and premium PET films. These materials can allow up to 95% light penetration, giving the cells the ability to achieve a 21% energy conversion efficiency.
In terms of securing the panels, they can sit on the ground or lean up against your truck, trailer, or any natural feature at a campground. They are equipped with eight stitched loops that can be used to hang them, but you'll need to fashion hooks or a hang line to do so. 
It comes with an MPPT controller, which offers safety features like overcharge shut-off, that's capable of harnessing up to 20% more energy than a traditional PWM controller. It can also automatically reconnect after a charging interruption through its auto-optimization function. 
You'll have the freedom to charge lead acid, gel, calcium, AGM, and lithium-ion batteries with these panels, and it's also built with a 5V USB port for charging portable electronics. In addition to the folding solar panels and charge controller, the package comes with a cable with alligator clips, an extension cable with 50-amp Anderson plugs, and a 50-amp to 30-amp Anderson adapter cable. 
Folding Solar Panel Review: What I Like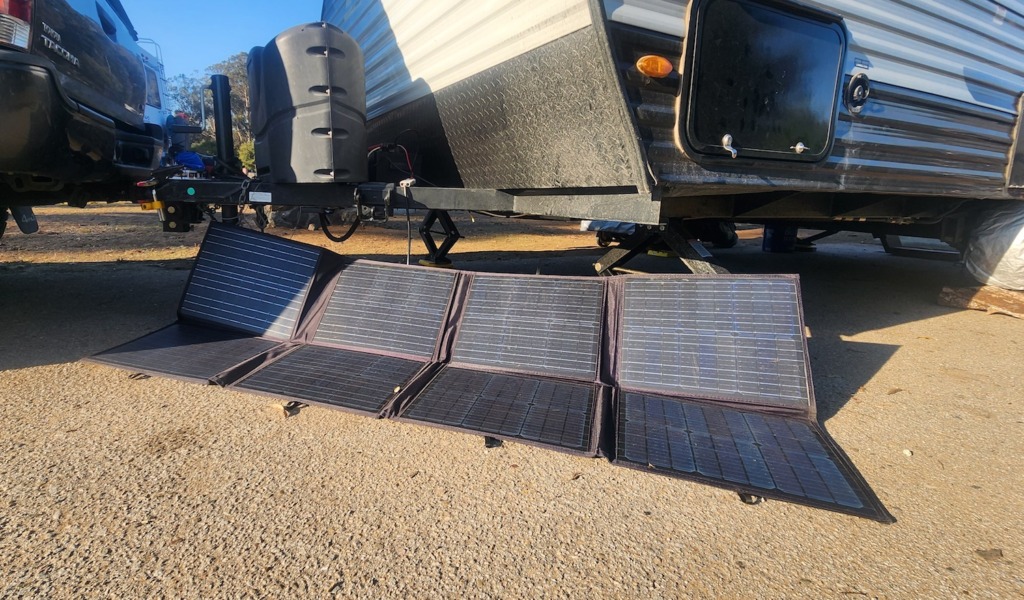 Portability. It folds up to a compact size that easily fits in my trailer's pass-through storage compartment.
Durability. Because it folds up, the panels are naturally protected when it's not in use. 
Easy to connect. Attach the red lead to your battery's positive terminal and the black lead to the negative terminal. DON'T GET IT BACKWARDS!
Battery charge monitoring. Includes a battery charge monitor to help you check that it is charging and monitor the charge. 
What I'd Improve About this Folding Solar Panel
The biggest thing I'd improve is the panel's overall rigidity. Because it's comprised of 10 panels in total and they're organized in two strips, the design tends to fold in on itself if it's not set flat on the ground. 
To be able to set it at an angle for maximum efficiency, there's an opportunity to add short, collapsible poles that can be slid in to maintain the panel's rigidity. I think that would make it easier to lean it against my trailer or Tacoma and modify that angle throughout the day. 
There could also be an opportunity to create a stand for the solar panel instead of having to lean it against something to maintain the desired angle relative to the sun. 
To be fair, they do offer a more rigid folding solar panel that comes with a stand. 
Testing for this Folding Solar Panel Review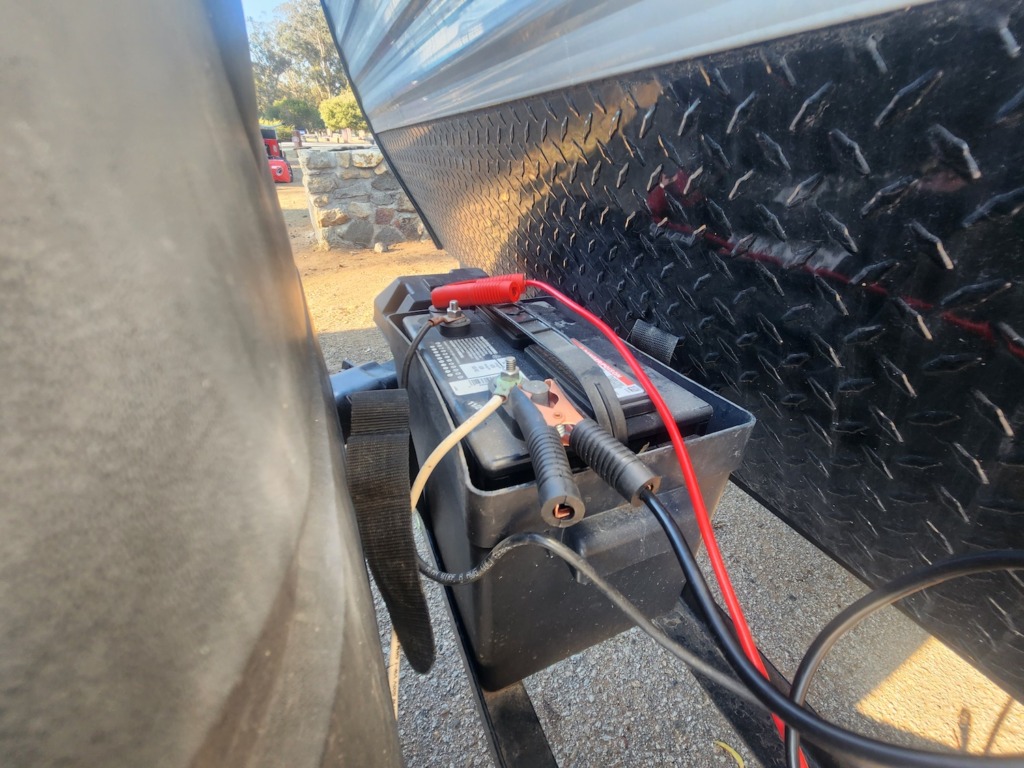 The first time I tried to test the Vic folding solar panel, I waited until my battery was almost completely discharged. It was a recipe for disappointment because that's not the purpose of these panels, so I'll admit to user error there. 
My battery did not recharge in any semblance of a reasonable amount of time. So, it was back to the drawing board. 
My next test involved placing my panels on top of my trailer immediately after stabilizing my trailer and disconnecting my truck. This kept my battery sufficiently charged for roughly a day longer than it would've under my normal usage regimen. 
But that location only received direct sunlight for 4-5 hours in the afternoon and had significant tree coverage that would've impacted the panel's ability to capture sunlight and harness that energy. 
My next location involved absolutely zero tree coverage and the chance for closer to 10-12 hours of direct sunlight per day. Under these conditions, my battery stayed sufficiently charged for nearly two days longer than normal. 
I'd wager, however, that it would be possible to extend that battery life if you commit to repositioning your panels every 2-3 hours. In order to make your panels the most efficient, you will need to adjust the angle manually throughout the day. 
The Best Use for the Vic Offroad AtemPower Solar Panel
To make the best use of this foldable solar panel, you'll need to set it up when you get to camp and adjust it throughout the day. It's best for maintaining your battery's existing charge (like most solar Panels), not necessarily to replenishing a fully discharged battery (which you shouldn't do anyway unless you're working with lithium). 
For recharging, you'll need to plug into a 120 VAC shore power pedestal or hook up a portable generator. 
The foldable panel is best for boondocking, truck camping, or car camping in locations that receive considerable direct sunlight throughout the day. It will extend how long you can camp without plugging your RV into a power pedestal by a day or two, from my testing experience. 
About Me
So where are you off to next? I'm always looking for new trails and wildernesses to explore. I'm also excited to see and share photos of readers enjoying their best outdoor lives. Share your latest adventure or backpack by tagging @thebackpackguide on Instagram.
I hope you've enjoyed this review and I'd love to hear your feedback in the comments section below. I'll reply to any questions, comments, or concerns as promptly as possible!
Wishing You The Best of Travels!
The Backpack Guide
tucker@thebackpackguide.com