Even with recent legislation cutting back on federally-maintained national parklands, there are still so many trails to explore. And having an easy-to-use and easy-to-maintain daypack is one of the best ways to do so. Today, we're going to review the Columbia Outdoor Adventure backpack.
Did you know that the mileage of trails on federal lands has increased from 88,000 miles to more than 193,500 miles since the passing of the National Trails System Act was passed in 1965?
If not, you might also be surprised to know that mileage on state lands has also increased from 15,000 to more than 42,500 miles.
Columbia Outdoor Adventure Backpack Overview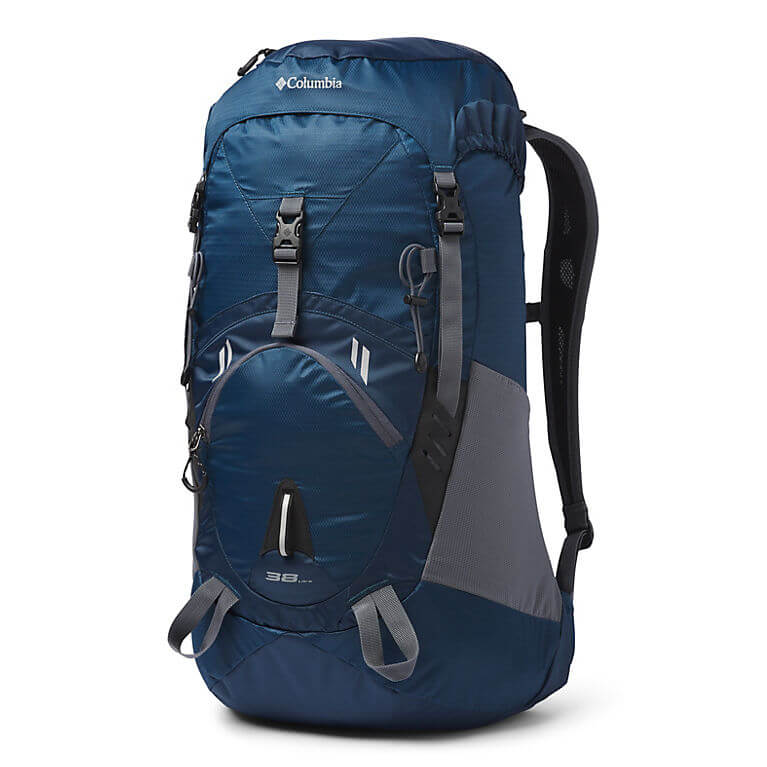 Pack Capacity: 38 liters
Pack Color: Black
Pack Body Fabric: 420-Denier Velocity Twill 100% Nylon
Pack Shell Fabric: 100% Nylon
Pack Dimensions: 20.25 x 12.5 x 7 inches
Columbia Outdoor Adventure Features
This pack offers a variety of cool features, including compatibility with a 3-liter hydration bladder, compression straps, a foam-padded back for comfort and support, reflective safety accents, dual water bottle pockets, and trekking pole attachments.
The shoulder straps of this pack are also one of its best features. Equipped with Techlite™ cushioning, the straps are designed to deliver superior cushioning and higher energy return. Pioneered in many of Columbia's best-selling footwear models, this technology makes backpack straps more durable and lightweight, in addition to providing greater comfort.
Columbia Outdoor Adventure Reviews
What The People Are Saying
For starters, most reviewers rated this pack as true to size, albeit it's hard to determine what that actually equates to since the pack is only available in a "one-size-fits-all" option. Of the reviews I read, I came across several pros and cons, which I'll highlight here:
Cons
Poor placement of compression straps. For one user, this meant the straps simply applied too much pressure on the pack's contents.
No padding on the waist strap. It stabilizes the bottom of the pack but is uncomfortable when used to transfer weight to hips.
No place to secure hose of hydration bladder when used
Pros
High-quality construction.
An abundance of attachment points and pockets.
Lightweight.
Good size.
The included rain cover comes in handy.
Interestingly, many users actually expressed frustration that Columbia hasn't continued production of some older models like the Silver Ridge, Trail Pursuit, or Trail Grinder editions. Sadly, the Trail Grinder is the only one of these still available on Amazon.
Columbia vs. The Field
What do you think of when you hear the brand "Columbia"? In my mind, it is more associated with technical apparel, fishing gear, and the like. In fact, the Columbia brand actually doesn't come up in many searches for terms like 'the best backpack company' or 'best backpack brands'.
While this pack might be perfect for some, I've found that it doesn't hurt to spend a little more on a backpack that you want to last for a number of years.
My recent purchase of the Kelty Redwing 44 has served me quite well on my recent trip to Costa Rica and I couldn't be happier for being willing to spend a little above my initial price range.
Backpack Buyer's Guide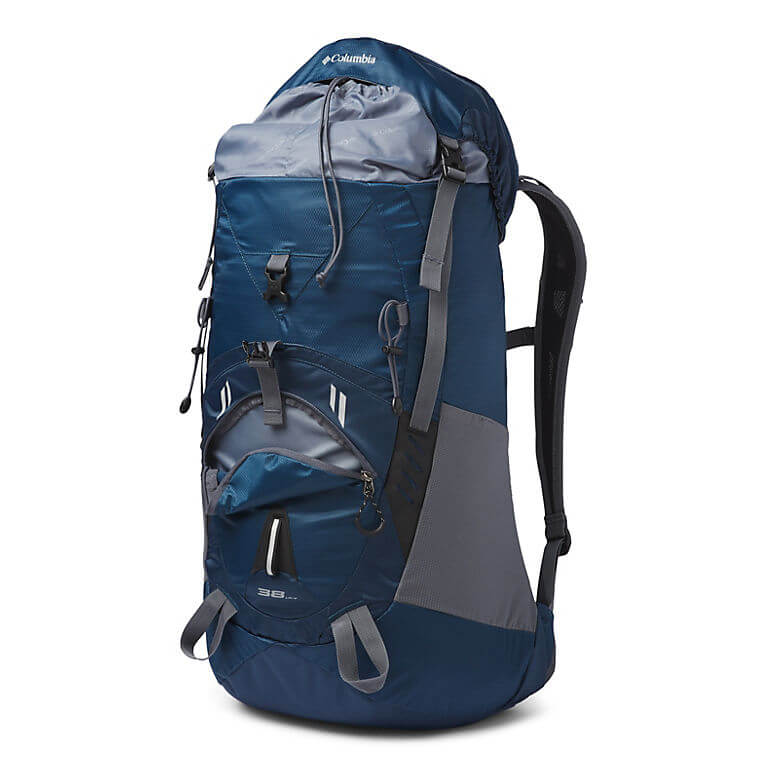 Although you may have arrived on this page today hoping that this would be your next pack, please don't dismay if this review hasn't exactly lived up to expectations. Finding the right pack for your needs takes time and research. I've found that backpacks are often an item most of us like to try on before we buy. But let me offer a few pieces of advice.
Step 1: Make a Checklist
Start by making a list of the features and specifications you're looking for. In my case, I wanted a pack in the 40-50 liter range that wouldn't cost me more than $120-$150. I ended up spending $155, but the pack I bought checked off my other boxes, which included the ability to carry a 15-inch laptop, multiple exterior pockets for storage and organization, and a top pocket that makes it easy to access my belongings at a moment's notice.
Step 2: Shop Around
Get a sense of what's available that meets your needs. Go to your local REI and try on a few different packs that you're interested in. Don't hesitate to ask an employee about their favorite packs and why they like them. In my scenario, I spent nearly two hours searching through the pack's section of REI. I had an idea of two packs that I wanted but within 15 minutes I realized they weren't the right fit.
But I didn't give up! I kept searching, trying, searching, and trying until just before I was about to walk out my new pack caught my eye. But here's the key, once you've found a pack that you really like, resist the temptation to buy it on the spot.
Step 3: Search the Online Marketplace
Like shoes, backpacks are hard to purchase before we try them on. But, once we have tried a few on, it can be useful to go back online and search a number of sites to find the cheapest deal on that particular pack. In some cases, the cheapest price may be right there at REI, and if you're a member and you want the dividends, go for it!
However, you may be able to find sales and deals on a number of online retail sites, including sites like Backcountry, Outdoor Vitals, and, of course…
Amazon Outdoor Recreation
---
About The Backpack Guide
As The Backpack Guide, I'm always looking for new trails and wildernesses to explore. And I'm always on the lookout for new products to test out! If you have feedback on this pack, or any other I've reviewed, I'd love to hear from you! Also, let me know if you'd like to write your own review!
Drop me a line here or find me on social media @thebackpackguide on Instagram and Facebook. Tag me in your photos with your newest pack or from your most recent adventure!
I hope you've enjoyed these tips and I'd love to hear your feedback in the comments section below. I'll be quick to reply to any questions, comments, or concerns you feel like sharing!
Happy Hunting!
The Backpack Guide