Ultralight backpacking seems to be all the rage these days. But sometimes you just need a pack that holds everything, and then some. This Kelty Eagle 128 Backpack review details a mammoth hauler with a tactical/military design.
Brief History of Kelty Backpacks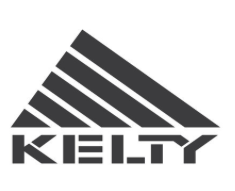 Kelty has been manufacturing backpacks since 1952. They take pride in producing high-quality products that encourage you to get out and play in new, exciting ways.
Exploring new places, opting into spontaneous adventures, and having fun outdoors is super important to the Kelty team, and they've designed this pack in that spirit!
Kelty Eagle 128 Backpack Overview
Capacity (Full): 128.7 liters (7,850 cubic inches)
Capacity (w/o hood & side pockets): 103 liters or 6285 cubic inches
Dimensions (L x W x H): 44 x 29 x 17.5 in or 112 x 74 x 44 cm
Kelty Eagle 128 Backpack Technical Specifications
Base Weight (Full): 11 lbs, 2 oz or 5 kg
Base Weight (w/o hood & side pockets): 9 lbs, 4 oz or 4 kg
Fabric: 500-Denier Nylon Kodra, 1000-Denier Nylon Kodra
Torso Fit Range: 16 to 22 in or 41 to 56 cm
Kelty Eagle 128 Backpack Features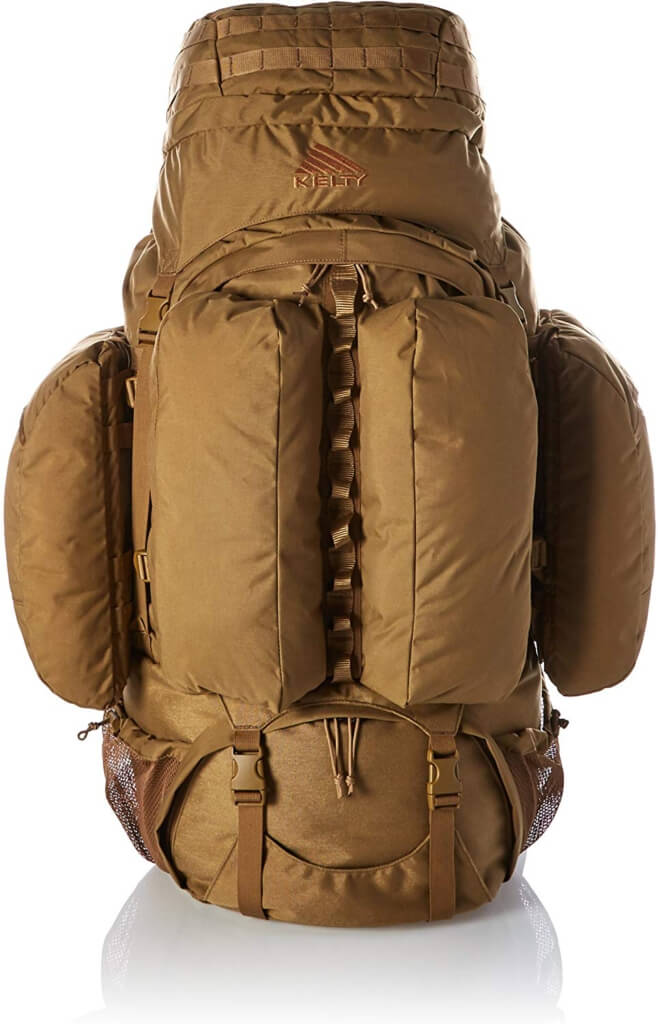 This Kelty pack boasts a host of awesome features. For starters, it offers both top-load and front panel access and an internal divider that can unzip into one main compartment. The removable lid features two U-shaped zippers and a map pocket and converts into a fanny pack or shoulder-strap organizer for day trips.
Internal features include a key clip, zippered stash pocket on the underside of the lid, three zippered internal mesh pockets, zippered mesh retaining wall to hold gear in place, and dual hydration ports and reservoir sleeves for hydration bladders.
The pack's dedicated sleeping bag compartment includes a zippered divider and compression straps. Two large front pockets provide additional storage space and the pack's side pockets are removable for ideal customization.
Along with a number of other features including mesh water bottle pockets and a two-tone rain cover, the Eagle is also compatible with the Kelty Satellite Radio Holder and Battery Holder (although these items are sold separately).
Kelty Eagle 128 Backpack Suspension Features
Carrying a full pack with a 128-liter capacity is no easy task. That's why Kelty has put a lot of hard work into the suspension features of the Eagle backpack. Aluminum stays and an HDPE frame sheet reduces the starting weight of this mammoth pack, despite its size.
Adjustable suspension, a two-layer padded waist belt, adjustable sternum, strap, and a padded, breathable back panel with Spacermesh are included to help you find optimum comfort with a heavy load.
This pack also features padded, quick-release shoulder straps, load lifter straps, belt stabilizers, Scherer Cinch waistbelt adjustment, and Levitator™ belt supports.
What does all this boil down to? It means a lot of flexibility and adjustability to ensure that your pack fits and feels comfortable on your pack when carrying a heavy load. In other words, you'll be able to stuff this pack full and still carry it over a long-distance in relative comfort.
---
Consumer Reviews of the Kelty Eagle 128 Backpack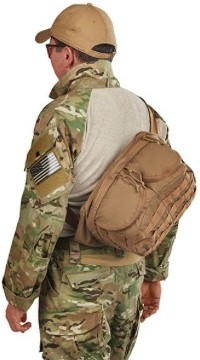 The primary reviews of the Eagle backpack come from soldiers and military contractors. As a tactical backpack, the Eagle 128 has satisfied a variety of needs. One reviewer wrote, "I looked at several packs and decided on this one. Man, am I ever happy I did. This pack has the space to house way more than a month's worth of clothing, plus bedding."
An important consideration for many tactical buyers will be just how much this pack can be loaded down. In this regard, this reviewer's take might be useful. "The pack does not handle loads over 70 or 80 pounds well. While a civilian hiker will probably never go over that, a 96-hour air assault with a PRC-117F plus batters, various ammo, food, water and snivel gear you find yourself approaching that 90 lb mark. The frame just isn't suited frame that weight. . . I give it four stars because the ergonomics are great, and it will carry a 60-pound load very comfortably. It's off by just a couple marks on being a rugged military pack designed for combat operations."
Civilians interested in this pack might also find this take helpful. "For civilian users carrying mostly a lot of lighter bulkier things such as clothing you'll have no troubles what so ever. The length of the pack gives you plenty of room for the annoying things that like to poke out the top. I'd give it 4.5 stars if I could, but I don't feel bad giving it 5."
What seems clear in looking over a number of reviews is that the Kelty Eagle is a great pack for loads under 70 pounds, but can struggle to handle the stress of heavier loads. In all, users seemed happy with the pack's support, durability, and organization.
Is The Kelty Eagle 128 Backpack For YOU?
Ultimately, you'll have to decide if this pack is going to fit your needs. Compare it to other military and tactical packs on the market, such as the Responder 84 ALS Backpack from 5.11 Tactical, the Eberlestock FAC Track Pack, or Kelty's other massive tactical pack, the Falcon 4000.
There are a number of factors that will go into your choice, including your primary use, essential features, durability, and price. If you really need a tactical pack that can carry loads up to 90 pounds, for example, this might not be the perfect fit. But on the other hand, if you're looking for a tactical pack with a high degree of durability and flexibility, the Kelty Eagle 128 Backpack is a great option at its price!
---
About The Backpack Guide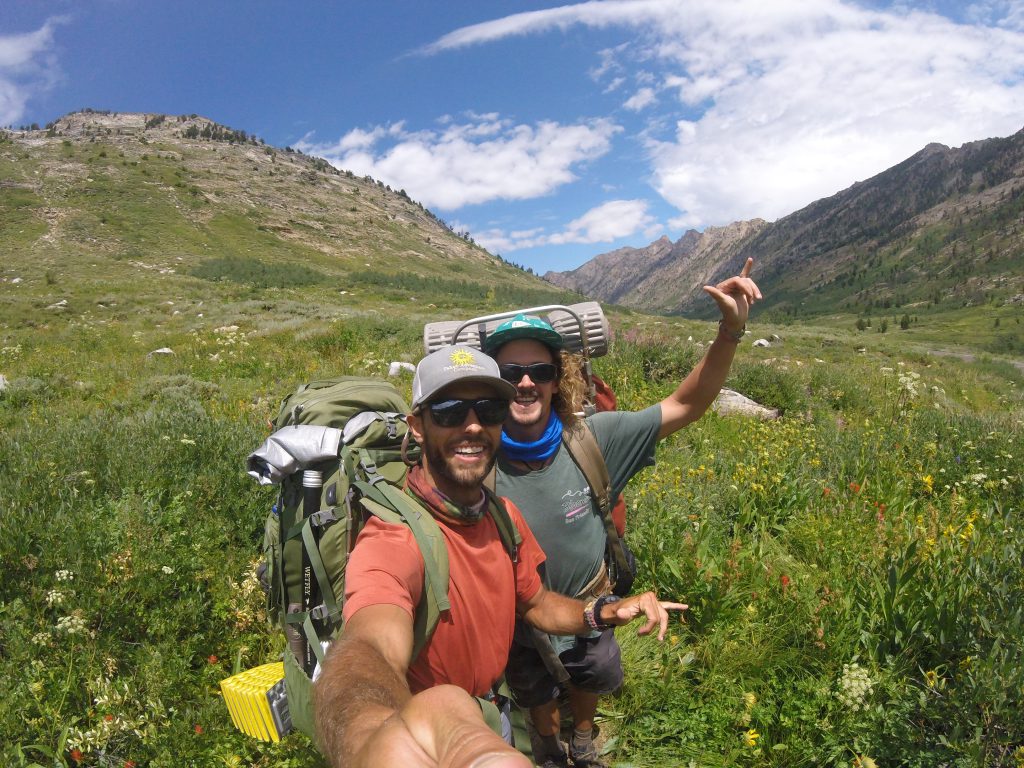 At The Backpack Guide, I'm always looking for new trails and wildernesses to explore. And I'm always on the lookout for new products to test out! If you have feedback on this pack, or any other I've reviewed, I'd love to hear from you! Also, let me know if you'd like to write your own review!
Drop me a line here or find me on social media @thebackpackguide on Instagram and Facebook. Tag me in your photos with your newest pack or from your most recent adventure!
I hope you've enjoyed these tips and I'd love to hear your feedback in the comments section below. I'll be quick to reply to any questions, comments, or concerns you feel like sharing!
Happy Hauling!
The Backpack Guide