I spent almost three hours zipping and unzipping and trying on packs at REI before deciding on this Kelty Redwing 44 backpack. After several months of use, I have enough experience to give it a thorough review.
What Led Me to The Kelty Redwing 44 Backpack?
I was looking for something hardy enough to travel with but still useful for overnight or weekend backpacking trips in the summer. I also wanted something with a protective laptop sleeve, easy access to that sleeve, and a number of pockets for me to organize my travel and/or backpacking essentials.
After testing out and trying on many travel packs from Osprey, REI, North Face, and Patagonia, I wasn't satisfied. But that's when this pack from Kelty caught my eye. To be honest, It didn't check ALL my boxes, but it came closer than any other pack I looked at.
Kelty Redwing 44 Backpack Overview
Capacity: 44 liters or 2,700 cubic inches
Dimensions: 25 x 15 x 12 inches
Weight: 2 pounds, 10 ounces (1.2 kilograms)
---
I was looking for something in the 40 to 50-liter range, but I also was hoping for dimensions that could meet carry-on requirements for most airlines. This ruled most 50-liter packs out, and although the 44-liter's dimensions are technically a bit larger than most airlines published acceptable carry-on dimensions, I've found that you can often get away with it.
In fact, one of the most useful travel tips I've heard recently is to board later if you have a backpack that's slightly over acceptable carry-on dimensions. Since most airlines don't measure at check-in or in the security line (especially if you check-in and print your boarding pass in advance), you'll most likely make it all the way to the gate before anyone realizes your pack might be a little large to fit in the overhead compartment.
At this point, flight attendants will "check" your bag at the gate 9 times out of 10. It'll safely be stored onboard and handed back to you as you exit the plane at your destination.
Kelty Redwing 44 Backpack Technical Specifications
To be honest, the technical specifications were not what sold me on this pack. But they are important details when comparing this pack with similar sizes and styles. So here's a quick list of the Kelty Redwing 44's technical specs:
Frame Type: Internal
Torso Fit Range: 14.5 to 18.5 inches (37 to 47 centimeters)
Body Fabric: 420-Denier Small Black Stafford Polyester
Reinforcement Fabric: 75 x 150-Denier Tasser Coal Polyester
Frame Material: Aluminum + HDPE (High-Density Polyethylene)
The Kelty Redwing doesn't set a new standard for ultralight backpacks, but that's not what I was looking for. This is a relatively lightweight and durable backpacking pack with plenty of space. But what I liked is that it will force me to be more selective in what I choose to bring along and it gives me plenty of pockets to organize essentials for easy access.
My Favorite Features
One feature that caught my eye right from the start is the pack's front stash pocket with closure hook. For my trip to Costa Rica for example, this will hold my swim fins, raincoat, and the Kelty Rain Cover I also purchased. For backpacking trips, I intend to always keep my rain cover handy there, but I'll also use it to store maps, layers, and potentially the rain fly for my tent.
I also really like the side pocket structure of this pack. Both sides offer sleeves that will hold trekking poles or, in my case, will most likely secure my tent poles and water bottle. These sleeves have zippered pockets on each side that are great for my Steri-Pen, LifeStraw, or those celebratory beers that had previously been stored out of reach in my bear canister.
While the Kelty Redwing 44 has a host of additional features, the final ones I'll mention here are the front pocket with organization and the dual-purpose laptop/hydration sleeve. This pack's front pocket offers five different 'compartments' to organize a journal, pens, maps, or in the case of my Costa Rica trip, my passport. The dual-purpose laptop/hydration sleeve meets my immediate needs for a safe place to store my laptop while also giving me a place to store my Camelbak Hydration Sleeve for summer hikes.
The Deciding Factors
One of the packs I thought I was highly interested in before seeing it in person was the Osprey Porter 46. My two main problems with this pack were that I didn't imagine it to be highly useful for backpacking purposes. Essentially, it's a travel pack only. The other factor was the lack of an included rain cover, which I felt necessary for travels to more tropical regions.
Another pack I highly considered was the REI Ruckpack 40. While I liked the organization structure and durability of this pack, as well as the fact that it comes with a built-in rain cover, I ultimately shied away from it due to a lack of external attachment points. Especially when it comes to summer backpacking, I like to have options for attaching extra items to the exterior of my pack, and I felt that the Redwing offered more flexibility in that regard.
Final Verdict On The Kelty Redwing 44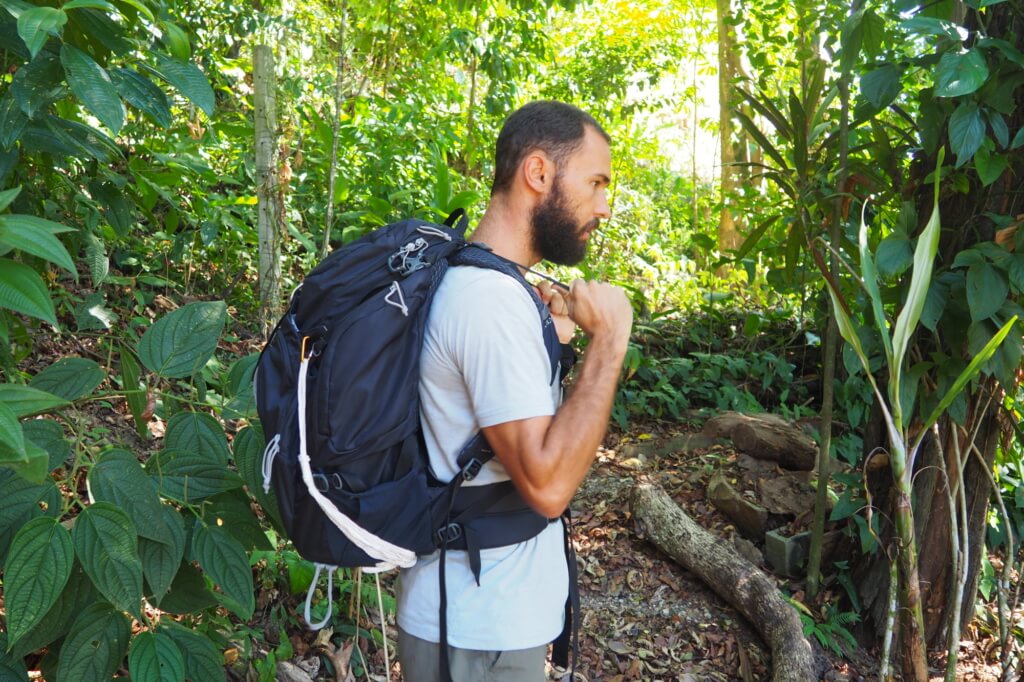 In summary, I chose the Redwing 44 because it had a place to store my laptop when traveling and a hydration pack when backpacking, it offered space for the essentials but not too much space to allow for overpacking (which is a classic nemesis of mine!), and it offered a clear organizational structure to keep supplies separated and easy to access along the trail and while in transit!
---
About The Backpack Guide
At The Backpack Guide, I'm always looking for new trails and wildernesses to explore. And I'm always on the lookout for new products to test out! If you have feedback on this pack, or any other I've reviewed, I'd love to hear from you! Also, let me know if you'd like to write your own review!
Drop me a line here or find me on social media @thebackpackguide on Instagram and Facebook, or @backpackguide1 on Twitter. Tag me in your photos with your newest pack or from your most recent adventure!
I hope you've enjoyed these tips and I'd love to hear your feedback in the comments section below. I'll be quick to reply to any questions, comments, or concerns you feel like sharing!
More Resources From The Backpack Guide
I'd also like to kindly invite you to check out the other content on my site. That includes Hiking Tips and Trails and my Outdoor Gear page with reviews on water filters, tents, hiking shoes, trekking poles, and more. Also, you might enjoy my Backpack Reviews if you're in need of a new pack, which includes brands like Kelty, REI, and Gregory. 
Finally, my YouTube Channel is full of informative video content if you're not really into reading! I do receive a commission on purchases made through the affiliate links on this website. Those earnings go directly back into my efforts to produce more informative content for my readers!
Happy Hiking!
The Backpack Guide